Celedon of Kawase Shinobu
Three standing vases 13×5 3/4"(l); 19 1/2×7 3/4"( c); 16×5 1/4"(r)
Photography by Ôtsuka Toshiyuki
by Joan Mirviss: Kawase Shinobu: Turning the Page on Celedon History In honor of our first meeting thirty years ago, next month, I am thrilled to be presenting our gallery's third solo exhibition of the celadon master Kawase Shinobu (September 15th–October 31st, 2014). It was in 1983 at the Japan Ceramics Today exhibition at the Smithsonian Museum in Washington, DC that I first fell in love with his work and soon thereafter arranged to meet him on my next trip to Japan. Even in those early years, the seductiveness of his forms and glazing proved irresistible. In honor of our first meeting thirty years ago, next month, I am thrilled to be presenting our gallery's third solo exhibition of the celadon master Kawase Shinobu.
Seiji five-pointed bowl 5 1/4" x 13 3/4"
Potting by age eighteen, Kawase Shinobu (b. 1950) was taught by his grandfather, Kawase Chikushun I and father, Chikushun II, both potters of blue-and-white and wucai polychrome ware. Through a fortuitous timing accident in his firing, the young Kawase created a piece with a glaze that resembled Song Dynasty official (Kuan) celadon ware. Soon thereafter he traveled abroad to study firsthand these celadon ceramics at museums in Taiwan, and then later in China and Europe. The interplay between the softness of the clay body and the suppleness of the glaze, together with the clarity of the silhouettes of these antique vessels, spoke directly to his aesthetic appreciation of the medium.
Studio view of drying bowls
Over the past forty years, Kawase has refined his own formulas for the ideal blue-green color through extensive and meticulous testing, blending in iron oxide, yellow sand, and sometimes even magnetic powder (used in the production of recording tape.) His works are created from both red porcelainous stoneware and white porcelain; his organic forms, all drawn from nature, are both painstakingly perfect and sensuous. In 1981, Kawase was the youngest ceramist to have ever been awarded the prestigious Japan Ceramic Society Prize. This past year, he was further honored as the recipient of the Ceramic Society's lifetime achievement award, the Gold Prize.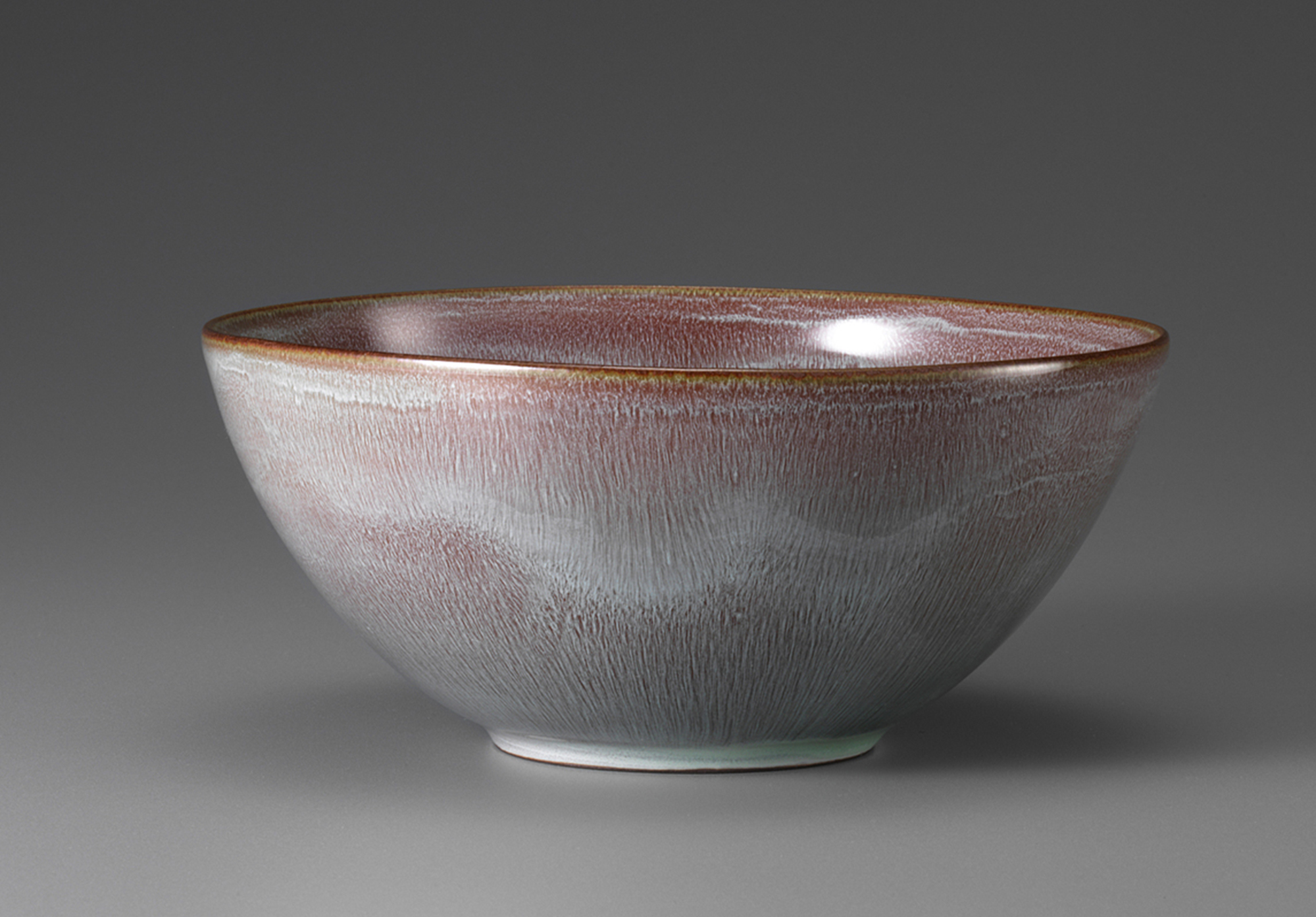 Suiji teabowl 2 1/2 x 5 3/4 inches
Dubbed In Japan seiji sensei or Master of Celadon, this year, Kawase has introduced a dynamic new body of work in this exhibition featuring his tenmoku-style celadon glaze that he has termed suiji glaze. Even for an artist as exacting and methodical as Kawase, who uses only the highest quality clay from both China and Japan and never releases a piece with a single flaw, this glazing technique is extremely difficult and is suitable only for smaller-scale works. Each vessel requires up to eight separate firings. It is only in the final firing process that an intricately feathered pattern emerges and variations in color from a rich jade green to deep burgundy and crimson are revealed. Continually mining his natural surroundings for inspiration, the artist likens this affect and coloration to the flamboyant plumage of the kingfisher. With his new suiji glaze, Kawase states he's "moving into a new world of challenges," but does so focusing on the most revered and elemental form in Japanese ceramics – the teabowl.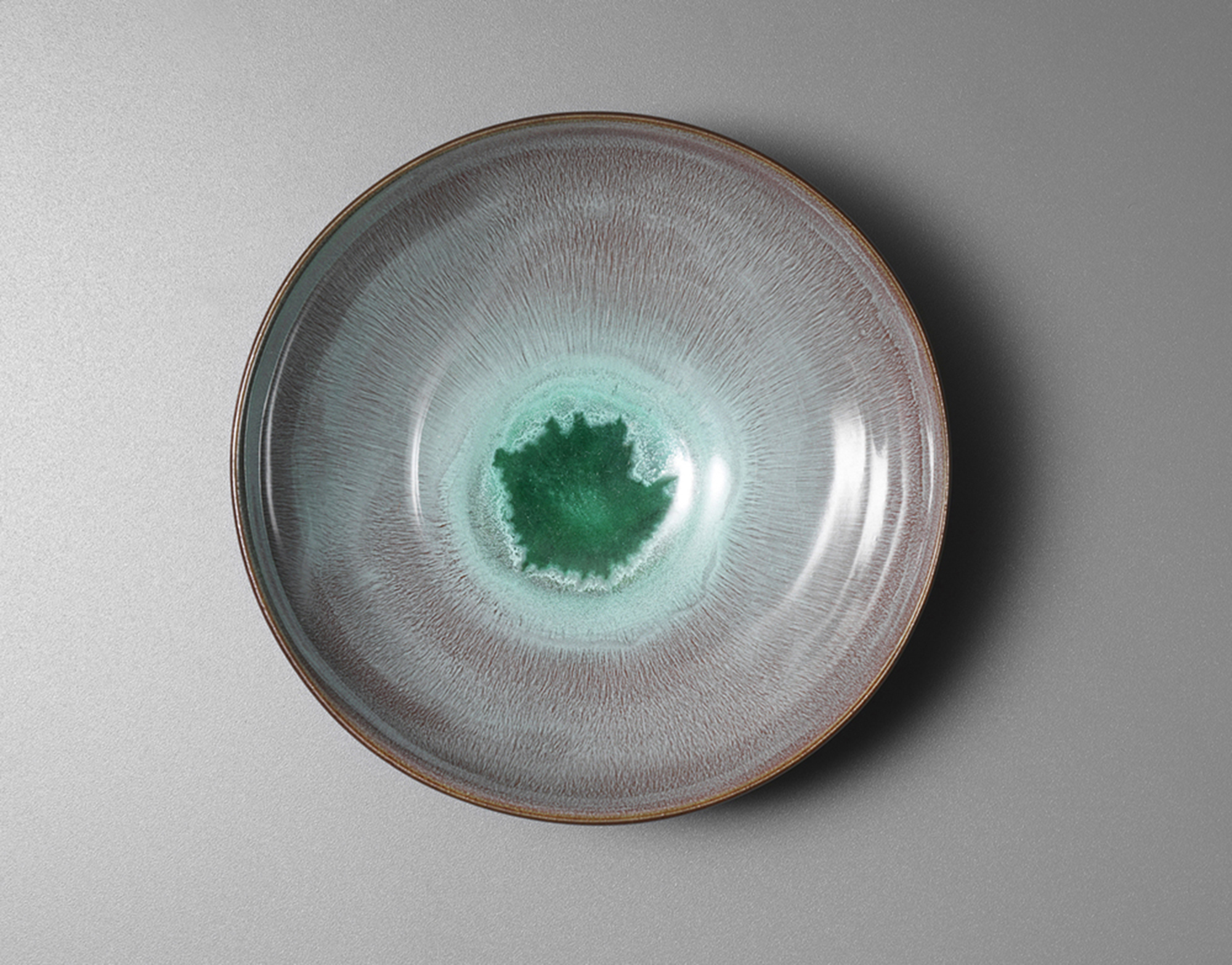 Interior of suiji teabowl
"With his new suiji teabowls, evocative of Song Dynasty rabbit's hair tenmoku, Kawase has turned the page on celadon history." —-Hayashiya Seizō, Curator Emeritus Tokyo National Museum and Musée Tomo, Tosetsu Magazine, July 2014
Joan B. Mirviss is the leading Western dealer in the field of modern and contemporary Japanese ceramics, and from her New York gallery on Madison Avenue, JOAN B MIRVISS LTD exclusively represents the topJapanese clay artists. As a widely published and highly respected specialist in many areas of Japanese modern and antique art for over thirty-five years, Mirviss has advised and built collections for many museums, major private collectors, and corporations.