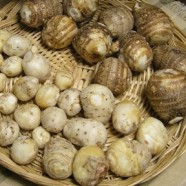 Dec

27
Tags
Related Posts
Share This
Elizabeth Andoh
里芋
Sato Imo "Country Potatoes"
by Elizabeth Andoh
Sato imo ("country potatoes") Colocasia esculenta are also known as taro potatoes in many markets. They boast a creamy texture and a low Glycemic Index (unlike other potatoes with a high GI that cause peaks and crashes in blood-sugar readings). The tubers are thought to have originated in eastern India and have traveled east to Southeast Asia, China and Japan… and west to Egypt, West Africa and from there to the Americas.
Cultivated for their edible corms (tubers, or "potatoes") and stalks (these are sold sun-dried as zuiki), the plant contains (toxic) calcium oxalate that must be treated before consumption.
Possibly the earliest known cultivated plant, sato imo remains an important staple in many food cultures throughout the world today. In Japan, there is evidence that the tubers were first consumed by Jōmon-jin, the hunter-gathers who inhabited the archipelago thousands of years ago.
Before they can be eaten, sato imo must be washed and boiled (or otherwise cooked). If the tubers are peeled raw, naturally occurring but irritating oxalic acid can cause hands to itch. The Japanese down-home remedy for this is vinegar; washing itching fingers with acidulated water does bring relief. Many Japanese cooks, though, prefer to avoid peeling altogether. Instead, they rough-wash the raw tubers imo arai-style to the point they can be cooked with their thin, tasty and nutrient-rich "skins" intact.
IMO ARAI potato-washing is done either by harnessing Nature's energy in the form of a fast-flowing stream (the imo arai kuruma wheel, to the left).
Or, by hand with paddles in a barrel (the community-sponsored, post-harvest festival, below).
imo arai ・washing sato imo
Goro goro, goro goro…
… the sound of tumbling tubers being rubbed and scrubbed…
IDIOM of INTEREST: the phrase imo arai is used to describe people in over-crowded conditions. Peeking inside the barrel, you can understand why the agitated action of potato-washing is a fitting way to portray packed trains at rush hour and swimming pools with standing-room only!
Detox methods include steaming, par-boiling, and/or soaking for at least 8 hours in an alum solution (yaki myōban sui). Instructions for this are included in this downloadable recipe:
Country Potatoes with Chicken Sauce (Sato Imo no Tori An Kaké)
My cookbook, WASHOKU:Recipes from the Japanese Home Kitchen (Ten Speed Press, 2005) provides a solid introduction to the principles and practice of harmony and balance (washoku) in the kitchen and at table. This workshop page enables me to guide you further. ENJOY!
On-Line WORKSHOPS
At each of my websites I have created a Workshop page that features SATO IMO. Recipes can be downloaded from the workshop pages. ENJOY!!!
At KANSHAcooking sato imo are soy-stewed with root vegetables, thick fried tōfu and shiitaké mushrooms to make a satisfying main course.
At KIBOcooking you'll find a Tohoku hot-pot classic from Yamagata: Imo ni kai. This meat and potato casserole is served at community and family gatherings.
Born, raised and educated in America, Elizabeth Andoh has made Japan her home for more than four decades. A graduate of the University of Michigan (Ann Arbor), Andoh's formal culinary training was taken at the Yanagihara School of Classical Japanese Cuisine (Tokyo).
Andoh is the author of six books on Japanese cooking, including two IACP award-winners, An Ocean of Flavor (Morrow, 1988) and Washoku (Ten Speed, 2005). She was Gourmet's Japan correspondent for more than three decades and was a regular contributor to the New York Times travel section for many years. Andoh lectures internationally on Japanese food and culture and directs A Taste of Culture, a culinary program based in Tokyo, Japan.
Elizabeth Andoh's website, http://www.tasteofculture.com/