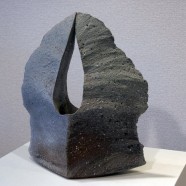 Jul

23
Tags
Related Posts
Share This
Kohyama Yasuhisa: Ceramic Artist
Kohyama Yasuhisa has lived his entire life in the ceramics kiln village of Shigaraki, outside of Kyoto. There is a hilly area near his house called Kohyama, where his grandfather came from. "Just about the time I was building my kiln, someone showed me where my great grandfather's kiln had been. Until that time I didn't even know that my great grandfather had been a potter."
After junior high, Kohyama-san worked in a ceramics company by day and learned the potters' wheel in night school. Mostly self-taught, he learned design through his work. "Design as a profession did not really exist in Japan at that time. My job was to design things like ceramic chairs and tile and items related to architectural installation. I also designed functional tableware." Shigaraki was only producing traditional items such as hibachi braziers in the 1950's. "Our company's exhibition of designer-type Shigaraki functional dinner ware at the Matsuya Ginza Department Store in 1959 was a major breakthrough."

In 1968, Kohyama-san built the first anagama (tunnel kiln) to be seen in Shigaraki since the late 1500's. "I wanted to create at a level of quality that had not been seen since the Momoyama period, the Golden Age of Japanese ceramics. I knew that I could only achieve that with a tunnel kiln. After much time, trial and error I was finally able to build one." Though affording less control than the more economical climbing kiln, the tunnel kiln offers the possibility of creating really extraordinary pieces. His first solo exhibition was held at the Nihonbashi Mitsukoshi Department store in 1972. Because it was the first time since the Momoyama era that such works were produced, the exhibition caused a sensation and all works sold out in about a half an hour. "People were shocked that such a hippy-looking person like myself could create such a caliber of work. Many of the pieces were very contemporary style." Kohyama was told by Kuroda (legendary Tokyo ceramics dealer) that he was about 15 to 20 years ahead his time.
As a result of the exhibition, potters all over the country began building anagama tunnel kilns. Kohyama-san then introduced a technique using piano wire for faceting which ever since has been very popular amongst potters. "Piano wire gives the potter a great sense of freedom of movement."

"Unlike a potter who uses glaze and fires for 24-30 hours, I fire my kiln for six or seven days. Sometimes I fire twice, three times, and even four times for six or seven days each time. Ancient sueki ware strongly influenced my work. You can see the gray, smoky surface in some of my pieces. There are places in my kiln where I can actually get this effect.
"I enjoy subtle gradations. When I do two, three or four re-firings, I feel like a painter who paints with many different layers. Each layer brings the painting into a greater focus. The more I fire a piece, the more that certain colors come into being. My surfaces are different from typical Shigaraki ware with its golden fly ash or greenish bidoro glass effects, achieved by sudden increase in heat. The color in my work is a result of a very, very slow heat increase."
Kohyama-san spends considerable time outside of Japan, leading workshops in such places as Australia, Cleveland, Kent State, Europe and Chile. In the late 1980s, "I drove from California through national parks such as Yosemite, then into the deserts of Arizona, Utah and New Mexico. I later expressed my deep attraction to the beauty of that landscape in a piece called "A Slice of Earth" that was to be acquired by Cleveland Museum of Art." It was the first time his work was acquired for the permanent collection of a major institution.
Reflecting back on his career, Kohyama-san shares that "if I had never made contact with or traveled outside of Shigaraki, my work would not have developed as it has. This outside influence was very powerful for me."
In Collaboration with Photographer, Helen Hasenfeld
© Photos by Helen Hasenfeld