Yamaguchi Ryuun
April, 2015
Yamaguchi Ryuun was born in Saga prefecture and graduated in bamboo craft from the Beppu Vocational School in 1957. At the age of twenty-three he was apprenticed to Living National Treasure Shono Shousai. In 1967 won the Award of Excellence at the New Work Exhibition for Bamboo Products.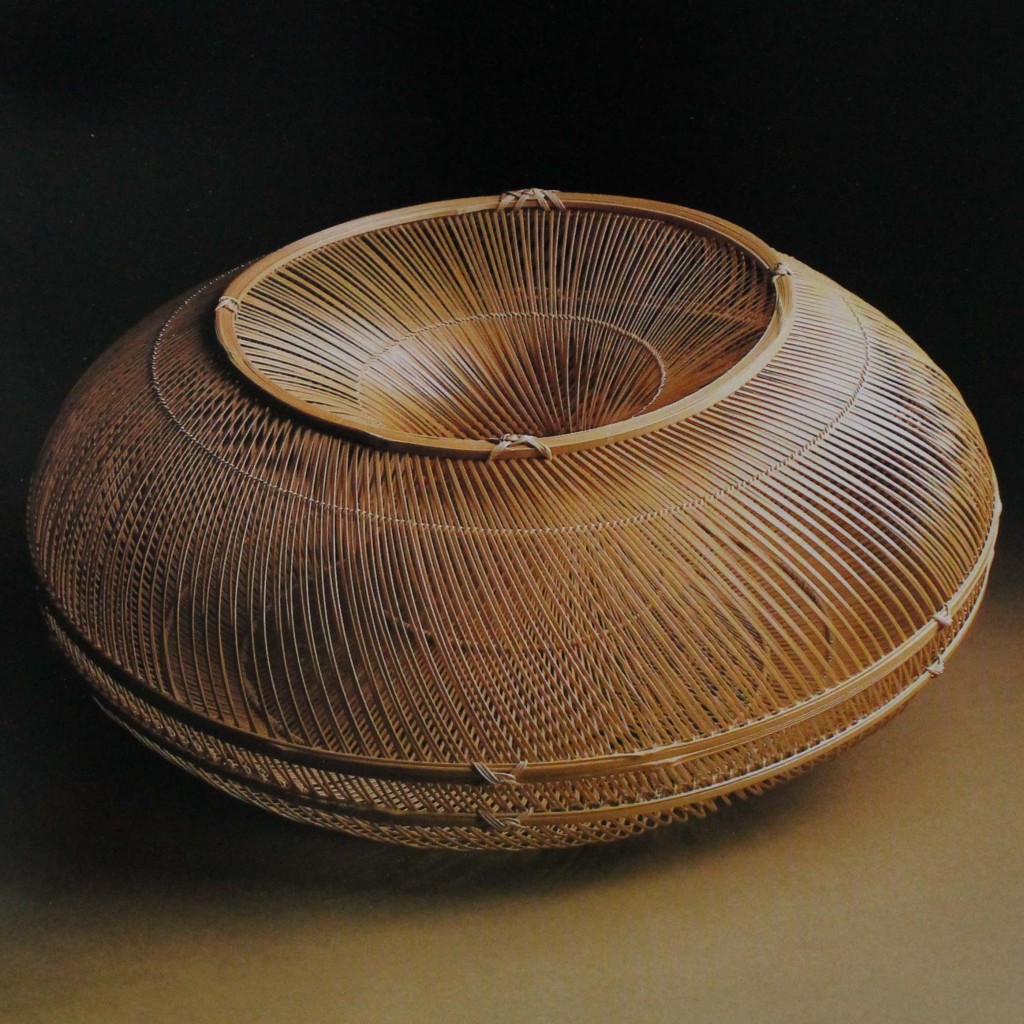 Numerous awards and honors followed including Beppu City Mayor's Awards and Oita Prefecture Governor's Awards. He was admitted to the Japan New Craft Arts Exhibition in 1987 and since has been admitted ten times. In 1990 he was included in the Paris Top Artist Award competition, and in 1993 he won the Northern Kyushu Private Art Museum Award at the Japan New Craft Arts Exhibition. He was admitted to Nitten for the first time in 1994 and again 1997. He has twice won the Oita Art Association's Best Award.
From his studio in Oita he says, "Frankly speaking, I never thought of the possibility of begin an artist until I apprenticed with the first Living National Treasure in bamboo arts, Shono Shusai. His example deeply inspired me to express myself. Even now, it is a great struggle for me with each new piece. I feel the beauty of the flowers. I feel the beauty of water flow. I try to bring that flow into my pattern. At first I was very surprised that people wanted to collect my work in the West, but now it has given me more confidence as an artist."
---
Nagakura Kenichi
June, 2015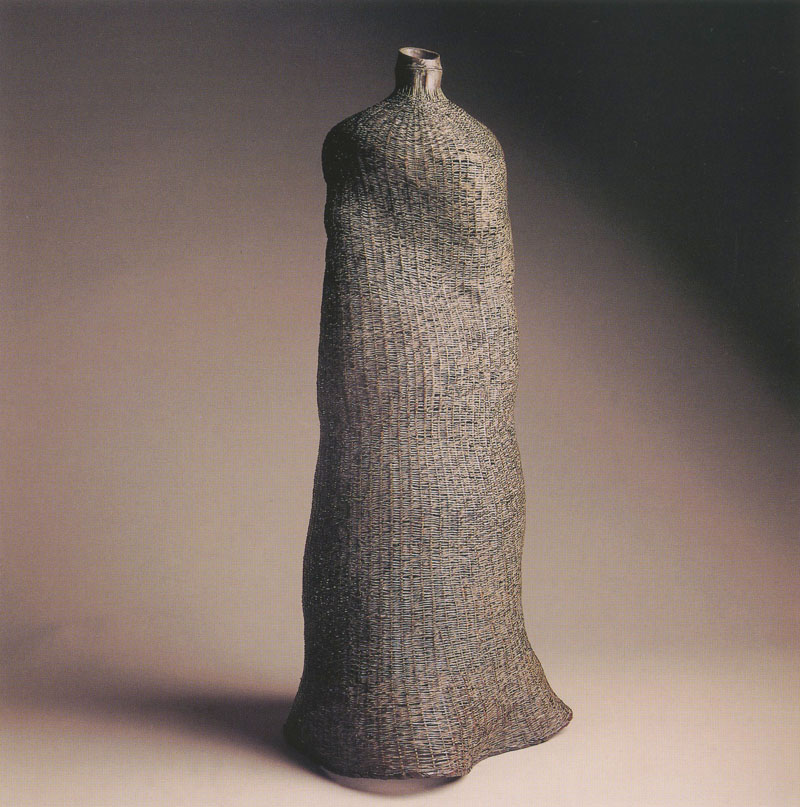 by Rob Coffland……………………………………………
Nagakura Kenichi was born in Shizuoka City and after completing high school, learned the traditional art of yUzen dyeing (a multi-colored paste resist process). After a few years, he became dissatisfied with this and decided to learn bamboo basket making by working with his grandfather. He worked diligently to master the techniques but soon realized that breaking away from traditional forms was his goal.
In 1982 he held his first solo exhibition at Takei Gallery, in Numazu. Numerous solo and group exhibitions followed at department stores, galleries, and museums, in Tokyo, Kyoto, Osaka, Nagoya, Gifu, Hamamatsu, and elsewhere, including Bourgogne, France. He is an independent artist by choice, unaffiliated with any of the craft arts organizations.
He explains his approach by saying that he has always been very interested in European art, and modern American art, including the Pop Art movement. He also studied the work of other cultures, which led him back to examine primitive indigenous forms, such as the energetic cord-patterned pottery works from the Jomon period in Japan, 3rd and 2nd millennia B.C. His most innovative works are based on naturally occurring shapes such as fallen leaves, emerging shoots, roots, cocoons, and decaying apples.
He acts quickly on his materials with an intuitive energy, saying, "I want to reduce the complexity of my feelings into my work like a poet does when writing a haiku. For me it is very important that I can use parts of a bamboo plant from above ground and parts from below ground. I like to add bamboo roots to some of my work as a reminder of the dark side of life. This creates greater harmony.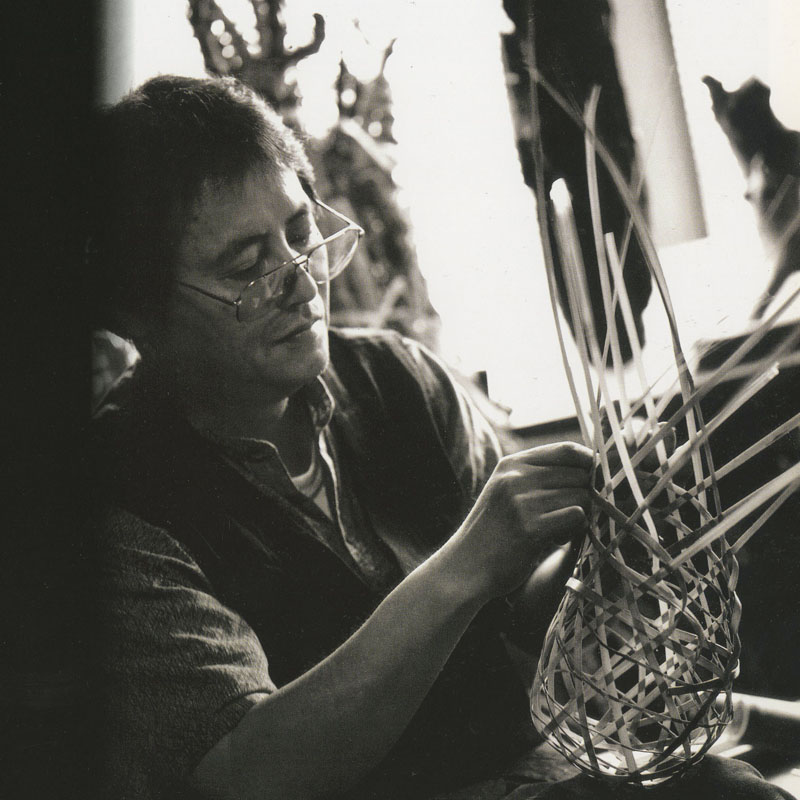 "I feel that the role of the artist is to revitalize the stagnation that comes into people's lives. I want to stimulate people to reconsider their relationship to the world. This is a source of inspiration for me."
Nagakura Kenichi is represented by Tai Modern, a Santa Fe, New Miexico-based fine arts gallery dedicated to exhibiting and supporting contemporary art in a variety of media, with a particular focus on Japanese bamboo art and baskets.
---
Shono Tokuzo
March, 2015
Robert Coffland writes about the highly aclaimed Shono Tokuzo………
Shono Tokuzo, born in Oita prefecture, graduated in 1964 in Sculptural Arts from Musashino Art University. Upon his return to Oita he apprenticed with his father, Shono Shounsai, the first Living National Treasure in bamboo arts.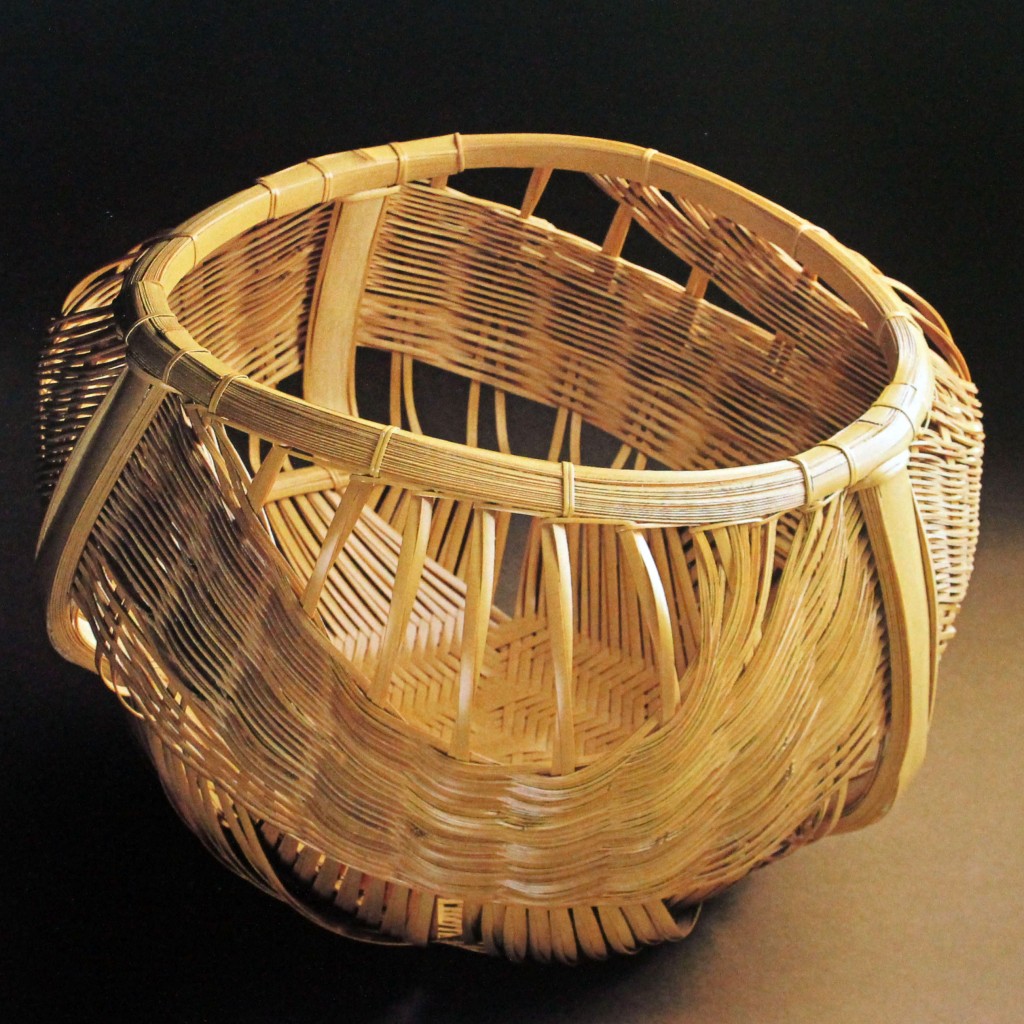 MT.TAI,1995  (43×41×24cm)
After the death of his father in 1974, Shono was commissioned by the Office of the Prime Minister to make a special white bamboo flower vase to be displayed at the Official Guest House in Tokyo. In 1975 he held a solo exhibition at the Tokiwa Department Store, other solo exhibitions followed, and in 1979 he was admitted to Nitten for the first time. He has been admitted every year since. In 1984 and 1988 he received the Grand Prize at the Japan New Craft Arts Exhibition, which led to his full membership in the organization. In 1984 he was invited to exhibit at the Japan-China-Korea Exchange. He won a Grand Prize at Nitten in 1999, and took an important step towards becoming a full Nitten member.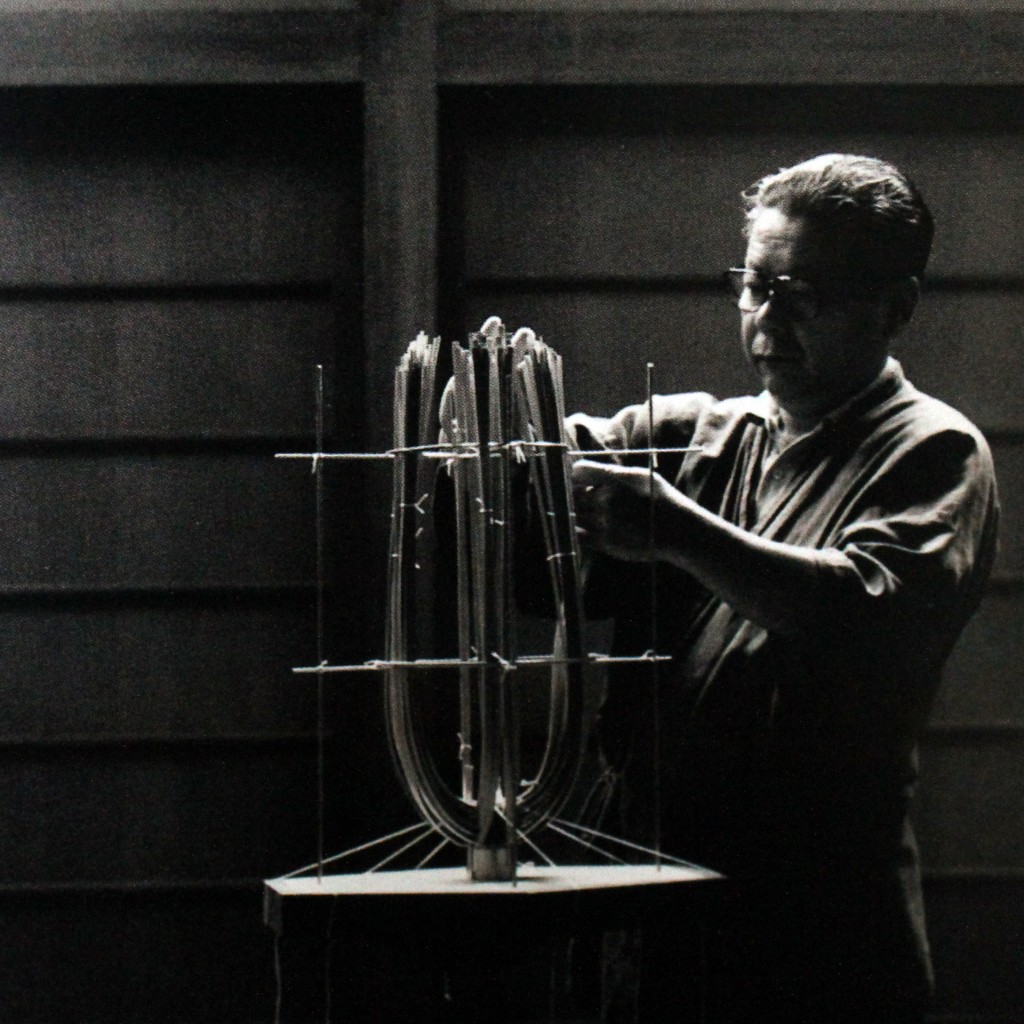 He describes his process in working with bamboo: "The beauty of the material itself is a very important aspect. I do the entire process of preparation by myself for this reason, so that I can have greater control over what I am working with. I use the bamboo that grows in the mountains near my house, and I process it in a traditional manner. I cut my own bamboo during the cold winter days of January or February. Then I stand it in a well-ventilated place for a hundred days or so to dry. After that I leach out the oil and sugar content by heating it over a flame and repeatedly wiping. The bamboo is dried further in a special hot chamber for twenty days. After this it carries a clean ivory color and the luster is greatly increased. It's a painstaking process. In my mind as I compose the work, I carry an image of 'transparency' like a work of clear glass. The purity of the bamboo is what I am looking for, to express the beauty of 'openness' in the work. I want to create something that is original and filled with energy. It is too easy in bamboo arts to become focused on technique. My good fortune was to have studied art at university which has helped make beauty the center of my efforts."
Shono Tokuzo is represented by Tai Modern, a Santa Fe, New Miexico-based fine arts gallery dedicated to exhibiting and supporting contemporary art in a variety of media, with a particular focus on Japanese bamboo art and baskets.
---
Yako Hodo
March, 2015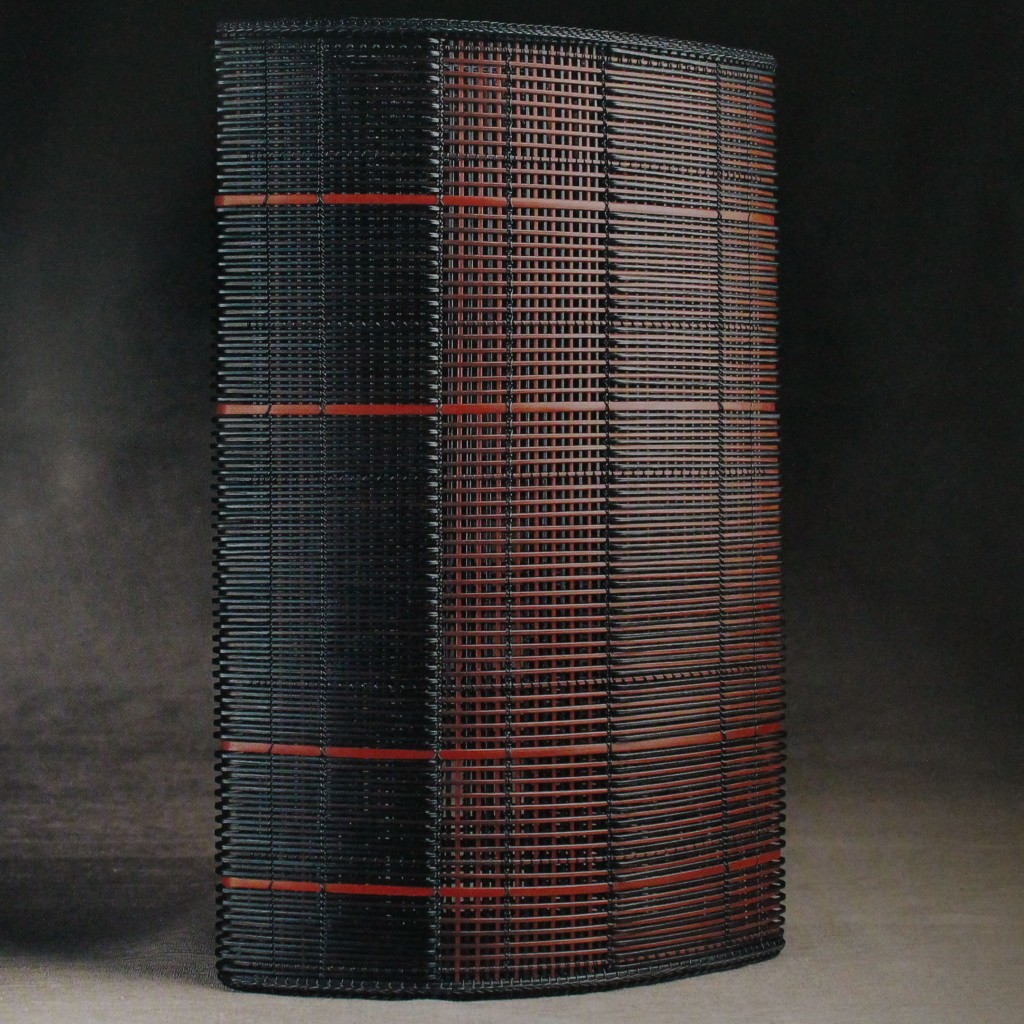 Renowned Japanese bamboo basket expert, Robert Coffland speaks about his long time colleague, Yako Hodo ………….
Yako Hodo was born in Niigata and in 1956, after completing vocational school where he learned the basics of working with bamboo, he was apprenticed at the age of sixteen to master basket maker Nakajima Hoso for four years. He moved to Tokyo in 1964 and spent a year studying with Nakamura Yukosai and another year with Bosa Shodo.
SKY SCRAPER, 1985 
12 1/2″ ×7″ ×30″ (32×18×76cm)
By 1968 he had won the Tokyo Govenor's Award at the Japan Industrial Craft Arts Exhibition. In 1973 he was admitted to Nitten for the first of three times. In the same year he moved to Saitama prefecture to became an independent artist. He crafted thousands of lampshades for years to make a living and continued to create one or two exhibition pieces a year. In 1978 he was admitted to the Modern Craft Arts Exhibition and became a member of the association. He became a judge of the Saitama Prefectural Exhibition, and he won the Saitama Prefecture Governor's Award in 1979. Group and private exhibitions followed. In 1995, he was admitted to the Japan Traditional Craft Arts Exhibition for the first time. The same year he won the Exceptional Technique Award from the Ministry of Labor. This year he became a full member of the Japan Craft Arts Association.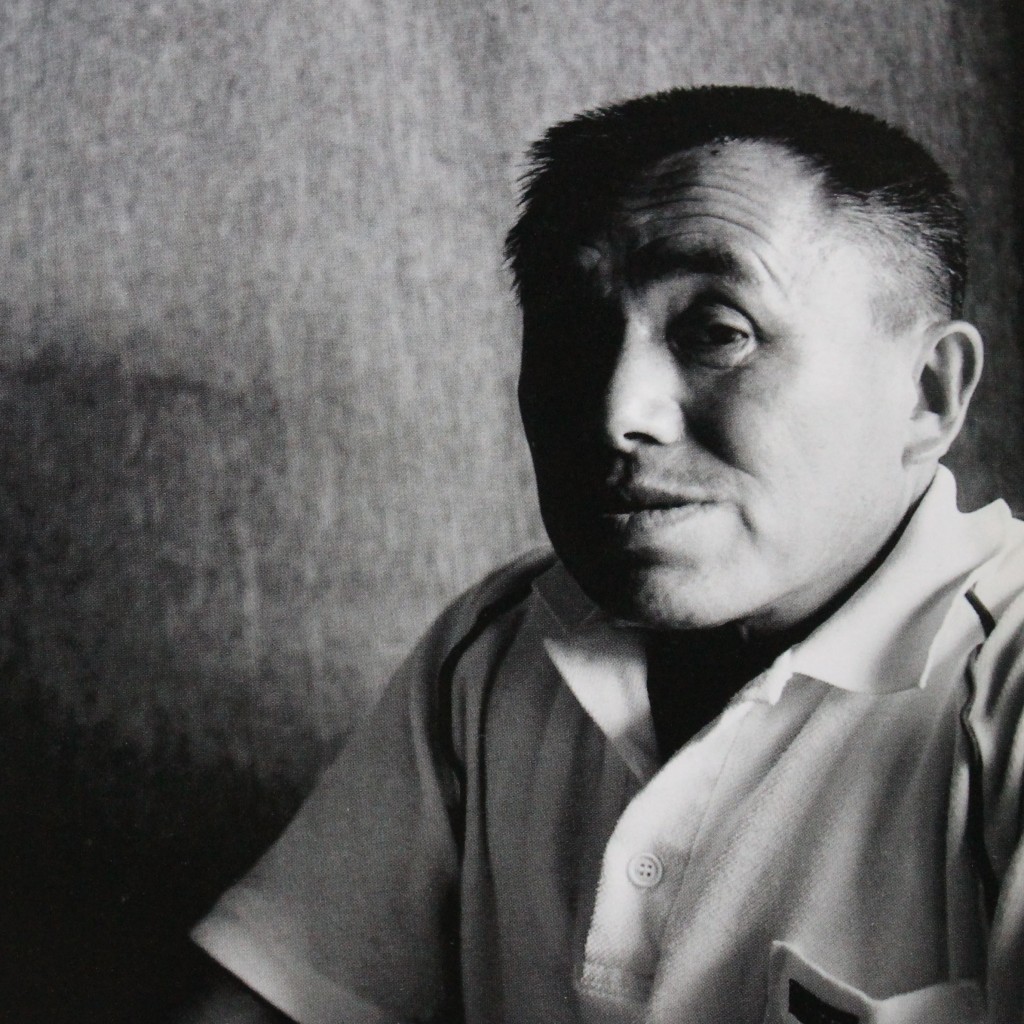 Yako explains his approach to working with bamboo: "When I make a basket, I draw rough sketches first to conceptualize the image I would like to capture. When I get a concrete vision of what I would like to make, I start to prepare the bamboo necessary to complete the piece. this preparation takes as much or more time than actual weaving time. Sometimes I had to make adjustments in the middle of weaving. When I have a hard time finding out what adjustments to make, I try listening to the bamboo and asking it what I should do. It is important to improve one's skills and techniques, but mental preparation and conceptualization are just as important. To see as many works of beauty as possible in order to nurture one's artistic sense is also important. The baskets I make reflect both function and dream."
Yako Hodo is represented by Tai Modern, a Santa Fe, New Miexico-based fine arts gallery dedicated to exhibiting and supporting contemporary art in a variety of media, with a particular focus on Japanese bamboo art and baskets.
---
Torii Ippo
November, 2014
Artist Torii Ippo was born in 1930 in Nishio City, Aichi Prefecture and began his career in bamboo arts in 1951 at the age of twenty-one, after his father's death. There was no choice for him, since the family business was the only means of support for his family. He taught himself making copies of his father's baskets.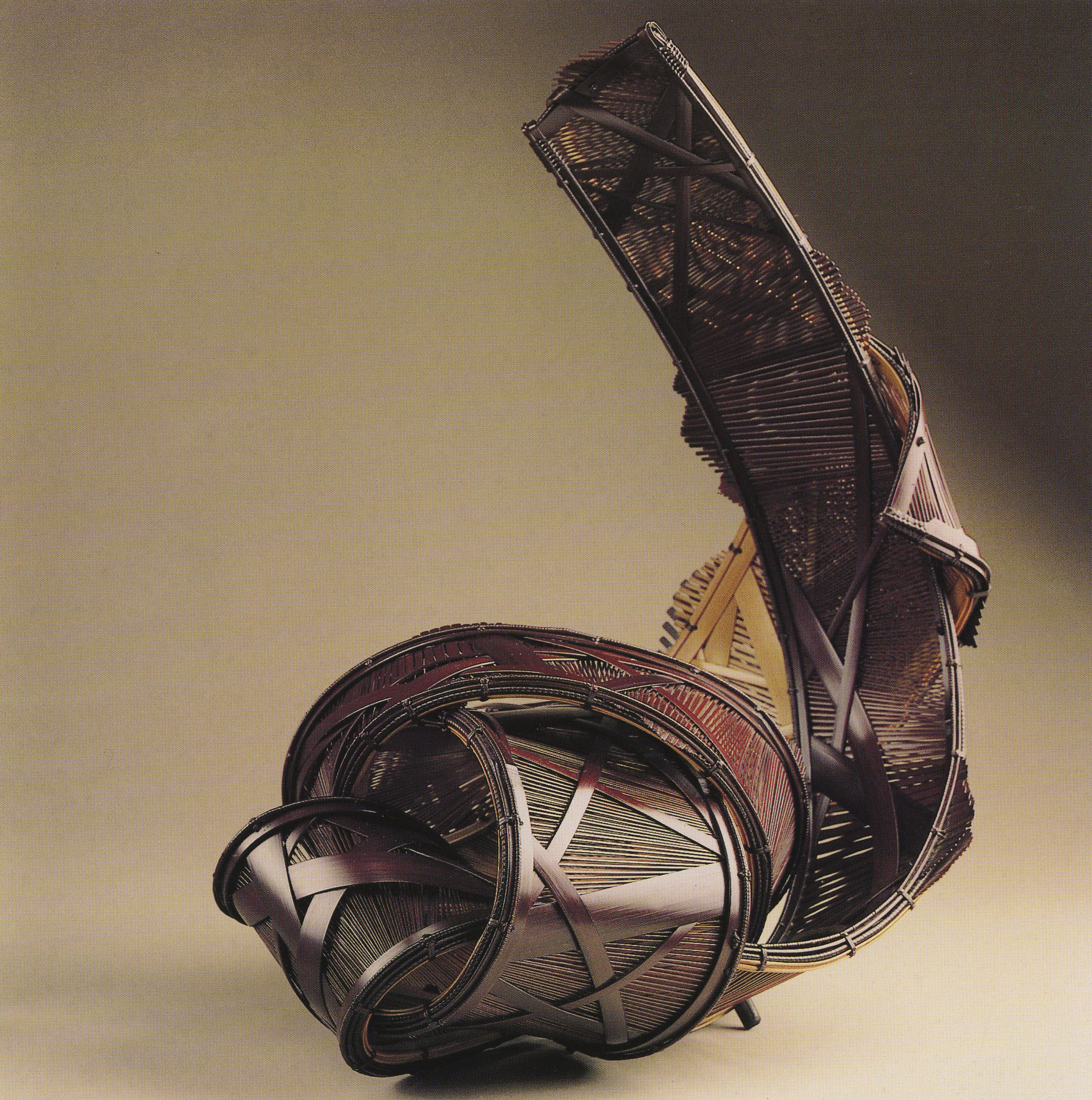 CRASH OF WAVES, 1996   19″ × 13″ × 25″(45×33×64 cm)
In 1957 he won the Tokyo Governor's Award at the Japan Flower and Tea Ware Craft Arts Exhibition. He was admitted to the Japan Modern Craft Arts Exhibition for the first time in 1980, and since then has been admitted eight times. In 1981 he was admitted to Nitten and since then has been admitted seventeen times. He was honored with the Chunichi Newspaper Award at the Japan Modern Craft Arts Exhibition in 1982. In 1987 he became an official member of the Japan Modern Craft Arts Association and won a Members Award that year and again in 1991. In 1992 his work was selected for an exhibition of Japanese modern craft arts that traveled to Germany. Since 1993 he has been a judge of numerous exhibitions, including the Japan Modern Craft Arts Exhibition as well as for regional competitions.
DOUBLE WAVES, 1990  33″ × 19″ × 16 1/2"  (84×48×42 cm)
A story he tells: " I found a catalogue when I was rearranging my bookshelves the other day,−an exhibition catalogue of treasures housed in Nara's Shosoin Temples. It was the second public exhibition after the war of these national treasures, displayed at Tokyo National Museum in 1959. I had gone to Tokyo that year to visit some business associates and by chance I went to see the exhibition. At the time, I was a novice to this craft and was wondering if I should continue. I remember how that day my eyes stopped at a bamboo basket that was said to have been used as a flower basket for the memorial service of Emperor Seimu in 757 A.D. The basket was rather flat−shaped and it had remained in perfect condition for over 1200 years. Its power instantly charmed me. I recalled that moment over forty years ago as if it were yesterday. It determined my career as a bamboo artist."
---
Jozan Sugita
May, 2011
In Collaboration with Photographer, Helen Hasenfeld
© Photos by Helen Hasenfeld
Jozan Sugita, Bamboo Artist
With a few simple tools, Jozan Sugita sits on the floor in front of his studio's window and performs "alchemy" by transforming roughhewn bamboo poles into one-of-a-kind, museum-quality baskets. Thanks to a mentor in the late 1940's, he has performed another kind of "alchemy," by transforming life's hard knocks into opportunities for successful, creative and truly inspiring living.
Born in Osaka in 1932, Sugita experienced a severe illness at age 13 that caused him the loss of his hearing. Soon after came massive fire bombings of Osaka in 1945. The Sugita family fled the burning city to neighboring rural Shiga Prefecture as the war ended.
There was no school for the deaf available in postwar Shiga. Though he was very disappointed, it was at this time that his fascination with basketry began. He had seen a farmer weaving a basket made from bamboo, and began teaching himself the craft. Eventually, he entered a middle school for the deaf and took classes in bamboo work. Determined to learn, he practiced diligently and improved rapidly; but the public high school, unable to accommodate his handicap, denied him entrance. Fortunately, Sugita met American-educated Makiko Hitotsuyanagi, head of the Omi Brotherhood School she had founded with her American husband, William Merrill Vories, architect, missionary and visionary. She became Sugita's mentor, personally taught him English and typing and gave him a work study job. Most importantly, she instilled in him the belief that "handicapped people could accomplish great things if they put forth the effort" and encouraged him to take advantage of any opportunities he could find. Sugita went on to earn a degree in industrial design and obtained a teaching certificate, enabling him to begin a lifelong career teaching bamboo crafts to the deaf. Throughout his years teaching, he created his own body of work and bamboo basketry became a serious avocation.
Japanese fine art basketry dates back to the 1700s when the literati, who practiced flower arrangement, imported expensive baskets from China. Admiring Japanese craftsmen created imitations in secret, and soon the imitations surpassed the originals. Long before Sugita's years, Japan was leading the world artistically and technically in basket creation. Sugita was particularly inspired by the work of Tanabe Chizuunsai II, a great bamboo artist of the 20th century. He very much admired the characteristic hexagonal plaiting. Through intensely focused practice he was able to acquire similarly fine precision skills and the restrained and subtle style we now know as characteristic of his own work.
Of the 250 varieties of bamboo that grow in Japan, only a few are suitable for basket construction. After the appropriate green bamboo is properly dried and the oil removed, Sugita cuts it to precision dimensions, dyes it, plaits it and applies lacquer. The ocean has been a recurring theme in his work. The "big wave" means life challenge, and his choice may reflect his own personal life challenges.
Sugita explains that of the 250 varieties of bamboo that grow in Japan, only a few are suitable for basket construction. After he properly dries the appropriate green, thus removing the oil, he cuts it to precision dimensions, dyes it, plaits it and applies lacquer. "I especially like fine, delicate work. I began to create patterns which are doubled, where two identically patterned baskets are woven in parallel, slightly staggered, one inside the other." By winding durable and pliable rattan vine through the fragile bamboo patterns, he is able to control the strength of the basket while preserving the design.
The continuing process of refinement in design and technique has defined the course of Sugita's work, evident with the successive completion of each new basket. Each surpasses the prior one in innovation and quality of execution. Weaving flat surfaces can be demanding, creating an underlying connection to the wave is technically challenging, but it is the transition from flat to curved surfaces within a basket that reveals Sugita's complex artistry. The process of creating a basket takes many periods of thought, many tries, many errors; a single piece can take three months. Though weaving a second one identical to it would take only a third of that time, Sugita chooses instead to move on to a new and untried design.
Over the years, Sugita's work became increasingly successful in craft competitions. He gained exhibitor status with the Japan Fine Arts Exhibition (Nitten) and the Traditional Japan Association shows. He was also selected as an Intangible Cultural Asset for the Shiga district, the local equivalent of Living National Treasure. When he retired from teaching a few years ago, Sugita was already an internationally known artist with representation by TAI Gallery of Santa Fe. His works are in the renowned Lloyd Cotsen Collection and in the permanent collections of the National Museum of Modern Art in Tokyo, the Museum of Modern Art in Shiga and the Chong-Moon Lee Center for Asian Art in San Francisco.
"Making bamboo baskets brings joy into my life, and I hope into the life of other people. When I make a basket, I want it to be sure to have technical excellence and good design." Personally speaking, my life has been significantly touched by the beauty and delicacy of his work and by his focus and intention. When Sugita speaks about his childhood mentor and points to her photograph on the wall of his studio, he shares that he wants to "help create a world where handicapped people are judged fairly by their abilities and accomplishments and are not limited by prejudice for their handicaps." He hopes to continue to make works based on his own techniques, and "to leave a legacy that will encourage other handicapped people to reach high in their pursuits."