August, 2018
I ONLY HAVE EYES FOR BLUE (AND WHITE)
By Amy Katoh
Steve Beimel: JLA shares Amy Katoh's life affirming view of "Found Japan".  Amy has spent nearly her entire adult life celebrating the treasures of Japanese indigo, as shown in the following re-post of Amy's blog.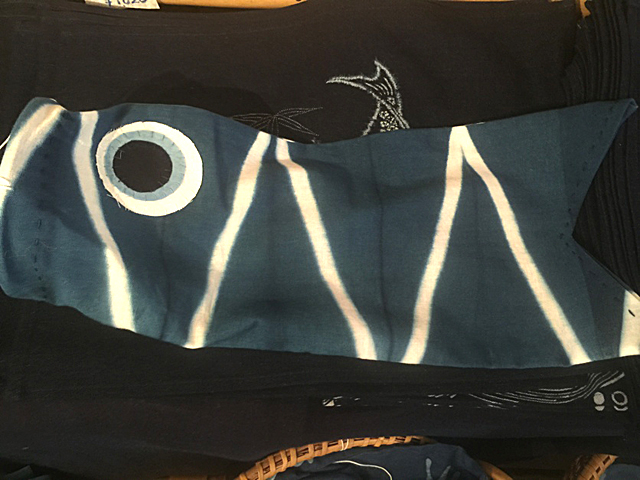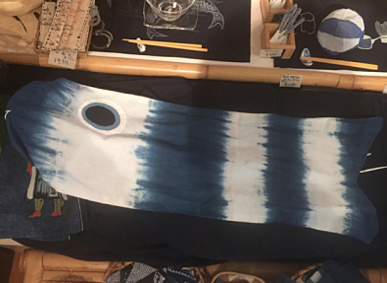 Far too soon to be posting again, but I must share the glorious indigo that has been pouring into my life this week. Today is Boys' Day, the 5th day of the 5th month when families celebrate their sons. Colorful carp banners fly in all the skies of Japan, signifying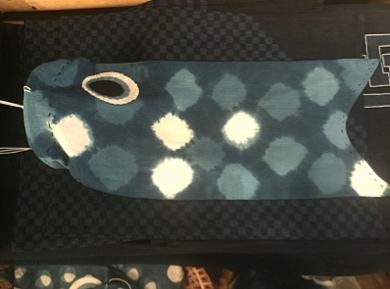 courage and bravery. The sight of lines of brilliant carp banners strung over rooftops and even rivers gives great joy.
 At Blue & White our banners are indigo, cotton dyed blue and sewn by Ai Kobo, a workshop for people with special abilities. And needs. And one of their needs is to not only make things, but share what they have made with the outside world. They get plenty of this at Blue & White. The whole world comes to see what they have made.
Indigo is happening elsewhere in Tokyo this week through May 18. Above, a brilliant composition of small indigo squares with points of light collaged together into an indigo universe by Fukumoto Shihoko of Kyoto.
Below Fukumoto san's Indigo Space within a gossamer Tea House. Photos cannot capture the magic of space or the intensity of the indigo.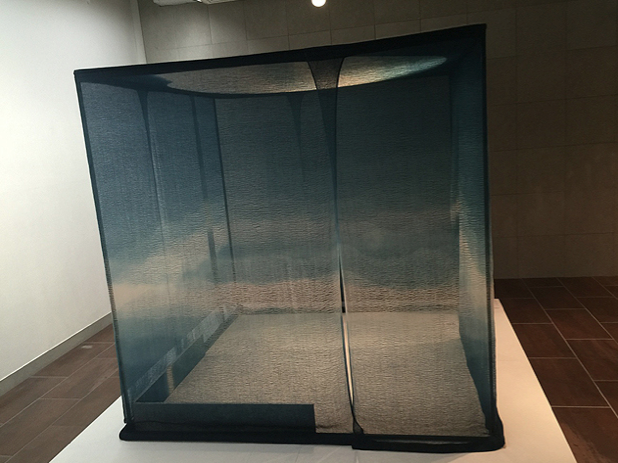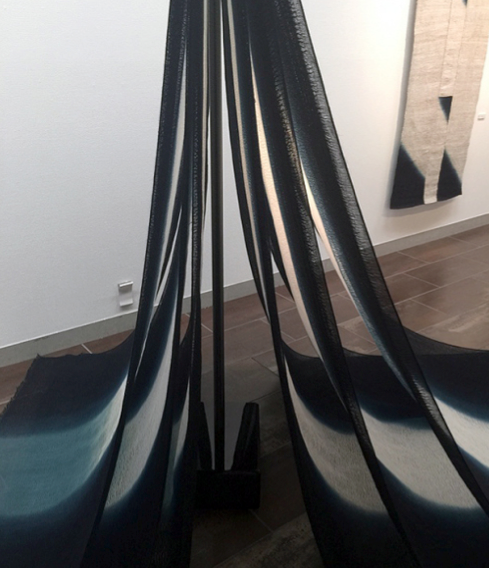 Fukumoto Shoko's multilayered lengths of diaphanous open weave cotton at Takashimaya Art Gallery, Nihonbashi, 6th floor.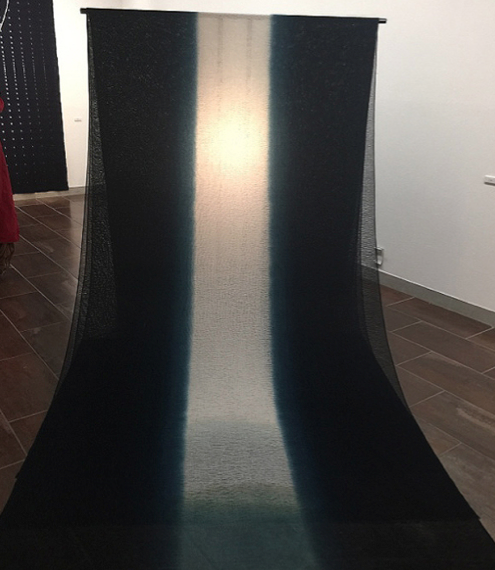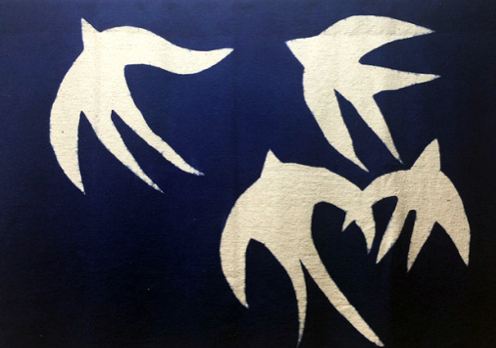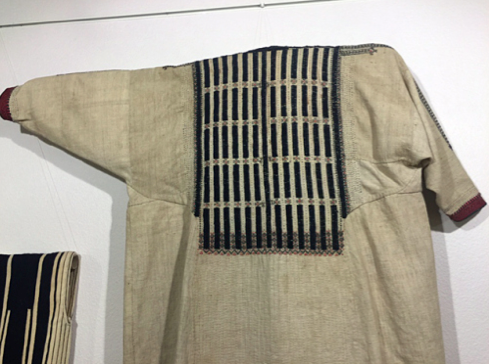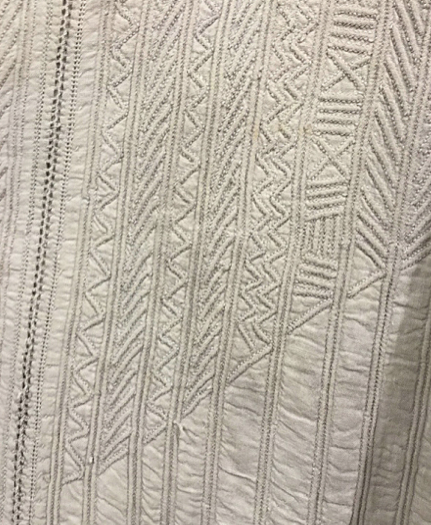 Above Flying Birds. Weaving by Samiro Yunoki at the Iwatate Folk Textile Museum in Tokyo's Jiyugaoka Details of Afghan Jacket show the subtlety of white on white.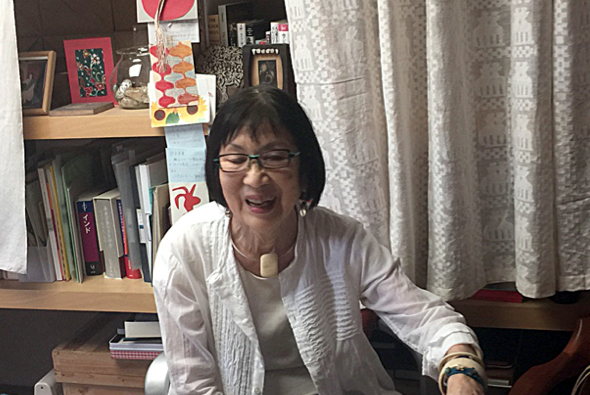 The incredible Hiroko Iwatate in her Museum of Folk Textiles office in Jiyugaoka. Her remarkable museum is filled with treasures she has single mindedly collected in Asia and Africa for the last 50 years. Exhibits change 4 times a year. This season features White on White (blue is hiding) – brilliant!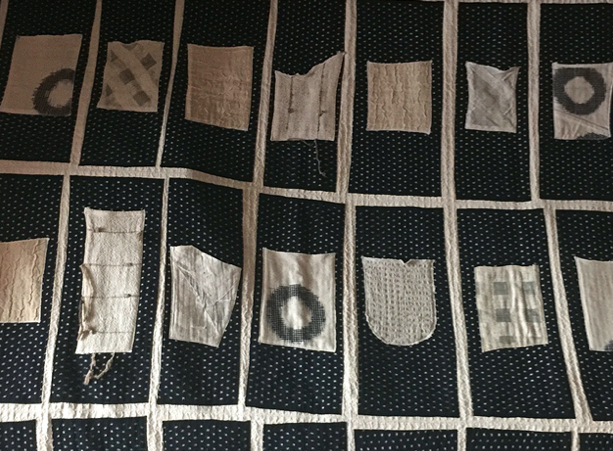 Textile collage of pockets of intriguing mostly white textiles on indigo kasuri by Ayako Takakuwa 30 years ago, hangs in the office of Hiroko Iwatate atthe Iwatate Museum of Folk Textiles in Jiyugaoka.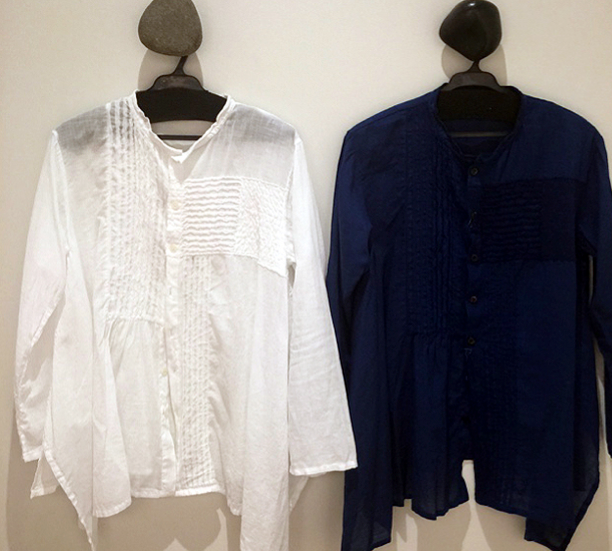 Which one to choose?
Blue & White shirts at Plantation in Jiyugaoka.
Of course I chose the blue.
Indigo shibori and clamp dyed T shirt at Blue & White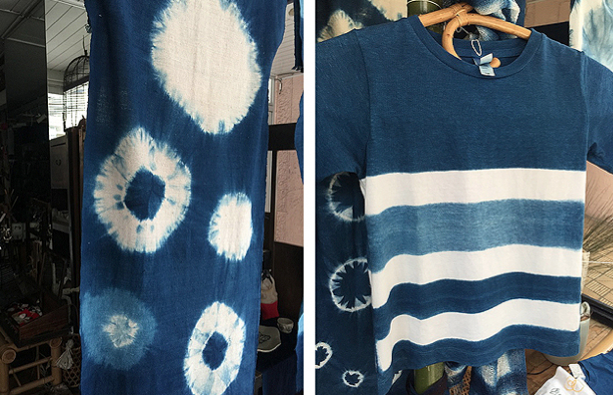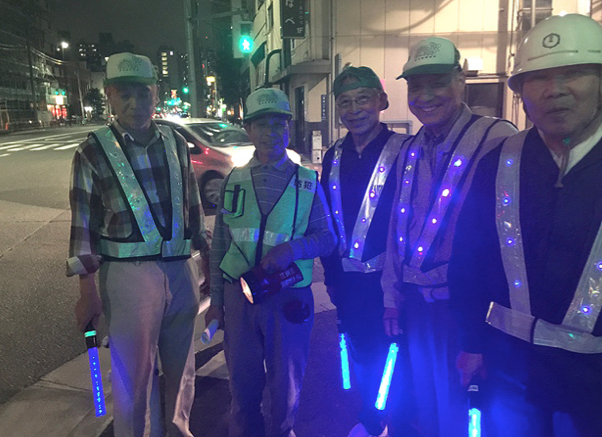 Indigo Incandescence
Neighborhood Night Patrol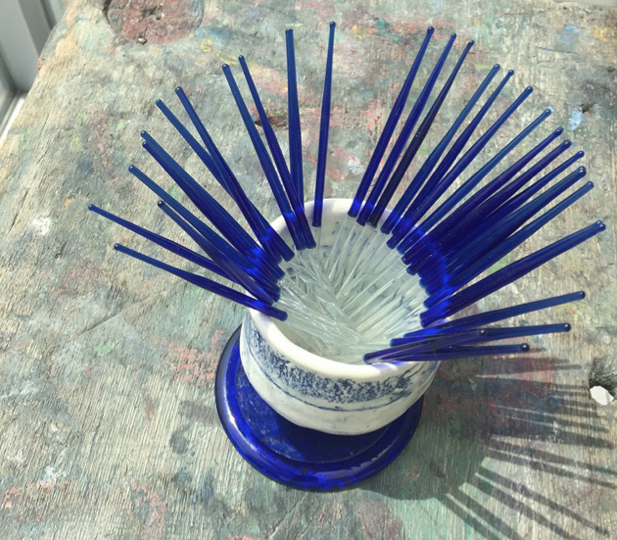 Eye swabs, glass, early 20th c. OUCH! Recent Flea Market find.
Read more blog postings by Amy Katoh on her site :   http://blueandwhitetokyo.com
---
January, 2017
COASTERS FOR CHRISTMAS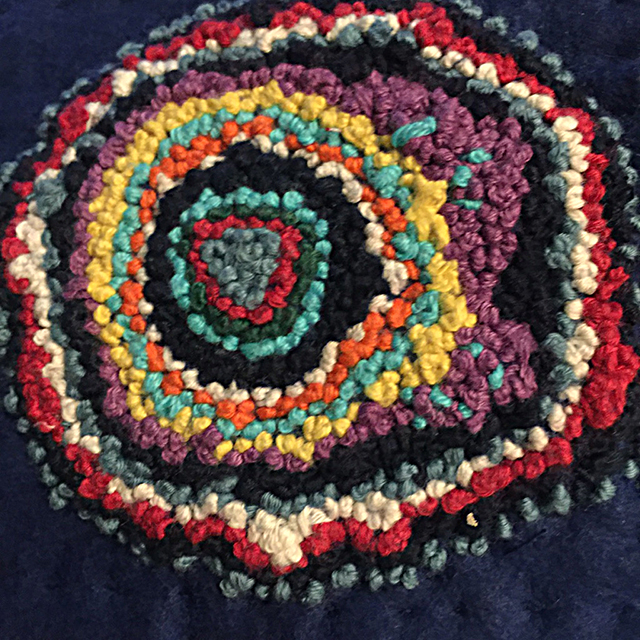 Have you ever thought about how important the lowly coaster can be? Not only is it the go-between between table and glass or cup, but the humble coaster is also micro universe, nano cosmos unto itself.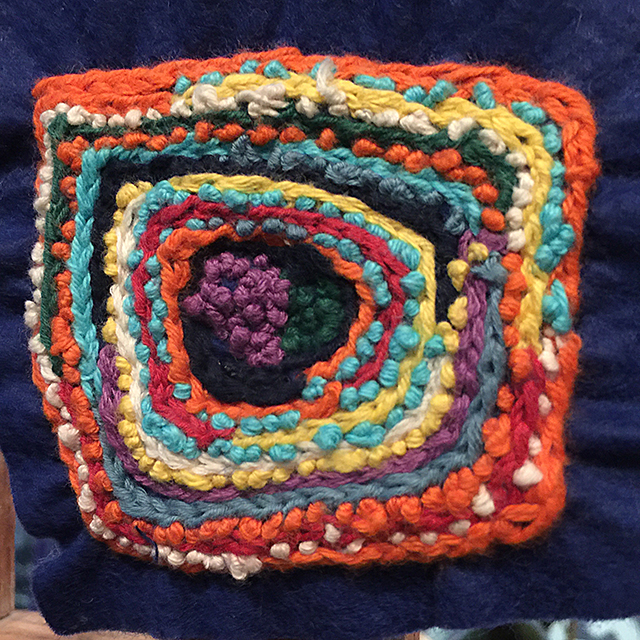 And coasters of all kinds came flying into Blue & White to decorate our architectural Christmas tree of leftover bamboo from the magnificent green bamboo yard in our neighborhood. I often do my shopping there ! The tree was constructed by 2 young and resourceful architect friends, Shuetsu Udono and Kumiko Nishihara out of cut up pieces of bamboo leftovers and rice straw. Buckminster Fuller would have been astounded. Envious even. On its own, the tree was a beauty, but the gradual addition of colorful and inventive coasters made by all our friends and makers and students created a wonderful panoply of expressions of thread on cloth.
The arrival of thirty intense and colorful coasters of Tamagawa Sagyosho, a special abilities craft training center in Tokyo's Setagaya was a windfall of coaster energy. Our display of their mini masterpieces in the window of the Hotel Okura was widely admired, though difficult to photograph in all its splendor. The touching spirit of a handmade Christmas from the heart.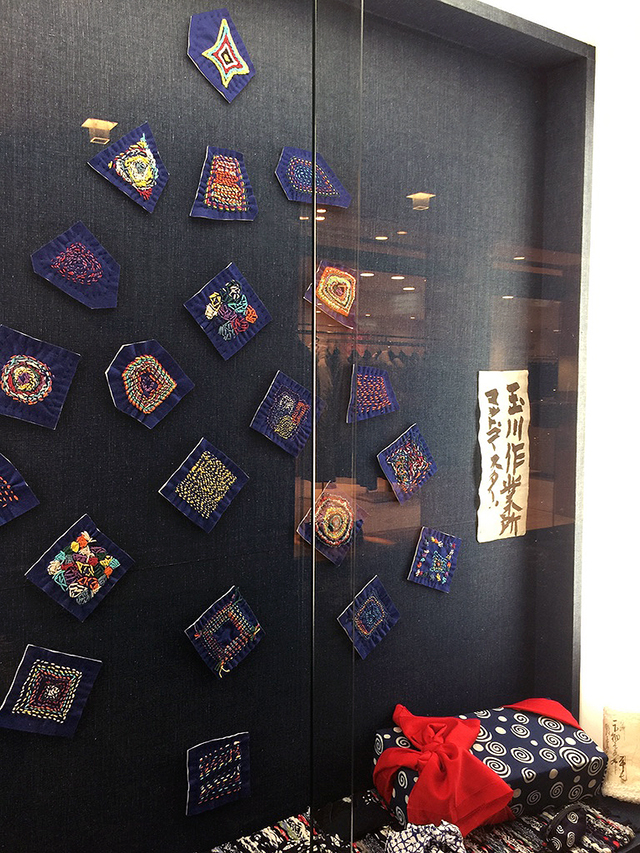 Our display of their mini masterpieces in the Hotel Okra window was widely admired, though difficult to photograph in all its splendor. The touching spirit of a handmade Christmas from the heart.
Much to my delight our very first coaster entry was Otafuku, made by Susanna Wellenberg of Munich out of the leftover cut ends of rolls of tenugui material. Such radiating joy and resourcefulness!
Susanna, an incredibly gifted seamstress, designer, origami folder, computer whiz, linguist, humanitarian friend from Germany, was first with scraps she picked up at Blue & White. She comes to Japan each fall and quietly parades her spectacular sashiko clothing in all shades of indigo, but in these playful creations, she shows what can be done with scraps and a boundless imagination.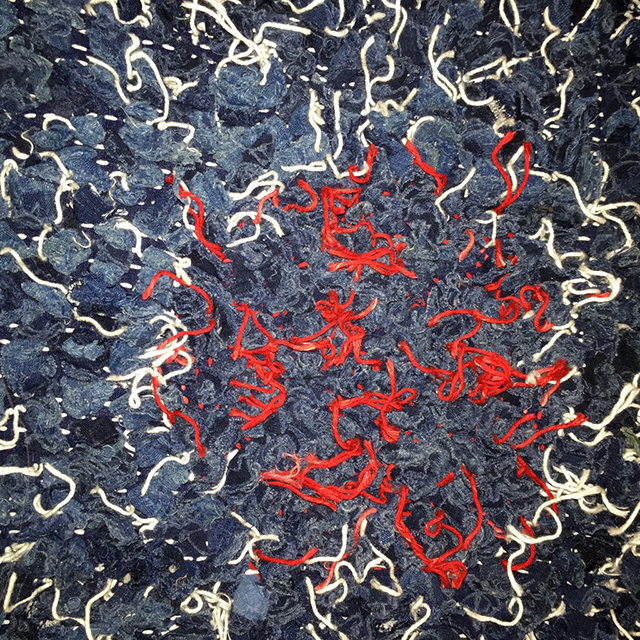 A blue and white universe of threads by Susanna Wellenberg.
Front or back, both have a strong message. Chaos or order. Freedom or discipline.
HAPPY BIRTHDAY BLUE & WHITE!
And a Merry Coaster Christmas to the world!
At the same time as the arrival of our Christmas coasters, Blue & White celebrated its 41stbirthday in delicious style with contributions from family and friends, starring the wonderful creations of Takako Nishikawa who flew in from Ishikawa Prefecture just for the occasion!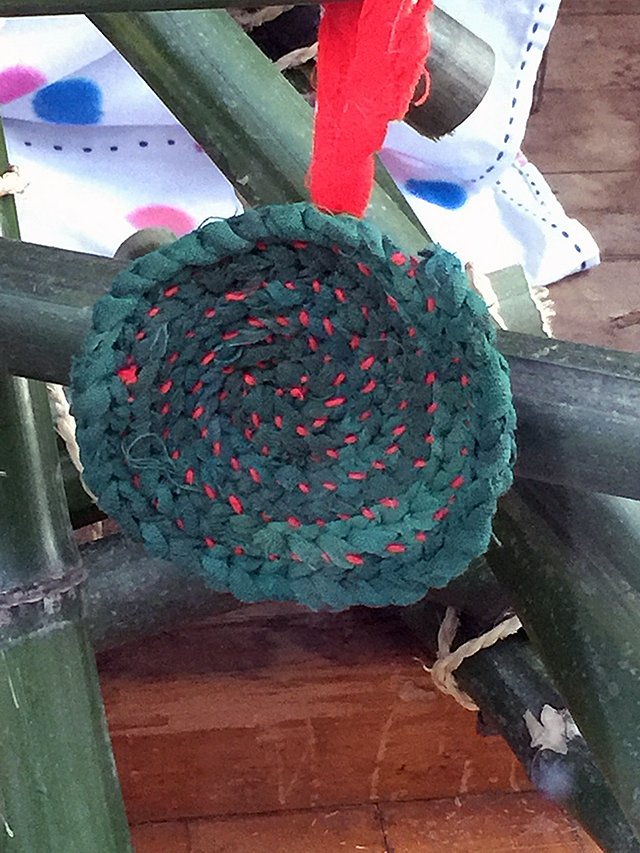 Our handsome bamboo tree changed with the times. From coasters for Chrismas, and our 41st birthday celebration, to displays of the elegant Shime Kazari New Year's decorations by our talented clothing designer, (and chef) Takako Nishikawa (who also cooked and brought most of the delicious and beautiful birthday dishes from Ishikawa Prefecture!) and finally to this simple New Year's display with nandina and pine. Sadly our last window display in the old Blue & White. Kazuko Yoshiura's magnificent Sashiko Universe stitched on indigo hangs in the background.
Today, unbelievably, will be the last day of The Old Blue & White after 41 years of joys, discoveries, creations, friendships, to say nothing of surprises. You can see it is time for a face lift. And we will have more than just that!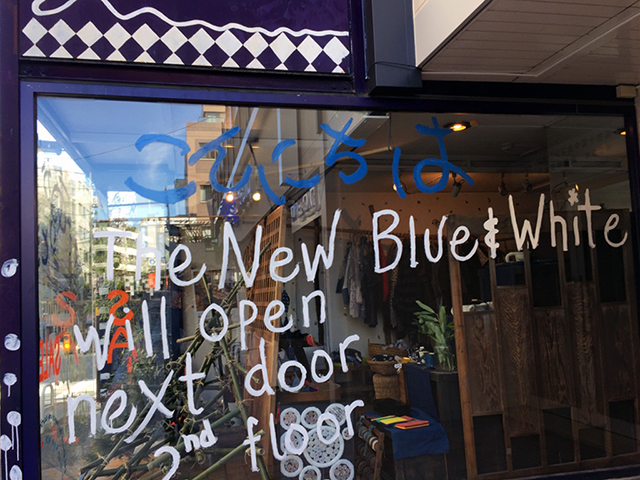 The NEW BLUE & WHITE will open soon – date yet to be decided – in a bright new space on the 2nd floor of the next door market, Aeon. We will keep you posted when it will happen. Young and exciting and bringing you new blue & white discoveries, Blue & White will undergo not just a Face Lift, but a total Rejuvenation!
You will be dazzled!
We promise!
Good things are coming in 2017! A Happy New Year to you all!
---
February, 2017
SOMETHING OLD SOMETHING NEW – SOMETHING WHITE SOMETHING BLUE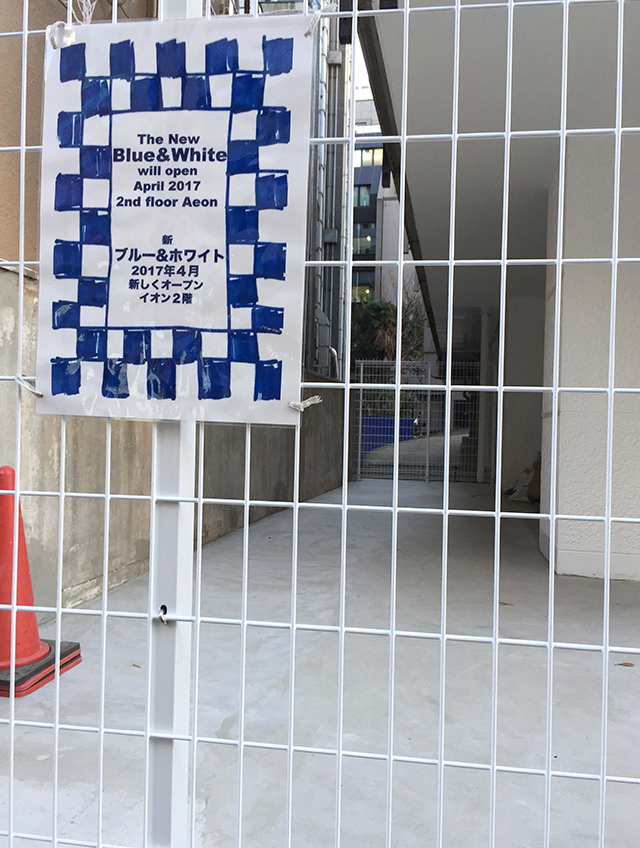 BLUE & WHITE has suddenly and mysteriously vanished.
Poof!
In one quick day, 41 years of colorful history disappeared.
Totally demolished and leveled and fenced in. What a Shock!
We hope some of you have worried where we have gone, and wondered what has happened to us.
Into hibernation might be the best answer.
What was once a cozy shop filled with charm and quirkiness is now a memory, or a photograph.
The front of the shop was studded with ancient imari shards collected from the beaches of Japan. The walls were hung with old textiles and quits.
Even the bathroom had pizazz!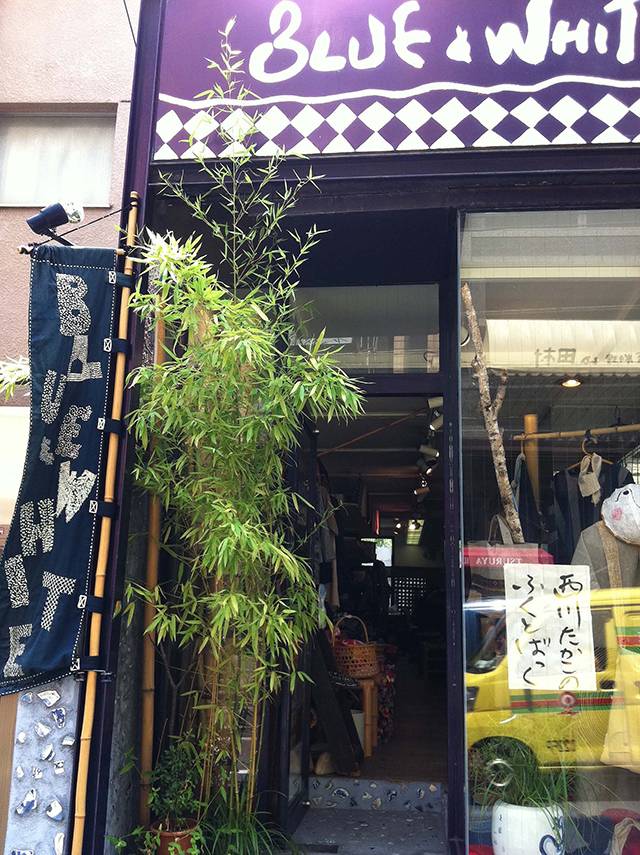 The old shop, created in the open space beside a supermarket, was deemed illegal and demolished to make way for the new market, super power AEON.
Blue & White was leveled and given space upstairs on the other side of the building.
We moved out of our 41 plus year premises on January 10, six weeks ago, and packed ourselves up into hundreds of boxes to sort and cull and edit for the New Edition of Blue & White – Fresh and Young and Sleek – to Debut in April of this year. Our new space on the second floor of Aeon Market in a bright window filled corner is sure to become a new landmark in Tokyo for those looking for Indigo, sashiko, handmade ceramics, tenugui, clothing, bags and presents in all shades of blue and white.
The pick of Japan.
All made by hand. All made with heart.
We will be even more exciting than before and showcase the best that Japan has to offer in blue and white.
We are excited about the change in Blue & White. We will be bright and beautiful and look out over the charming neighborhood of Azabu Juban. A new perspective/ vantage point.
We will be new and different in many ways, but still, as always, bring to the world the best and most extraordinary handmade crafts of Japan.
We take this change as a chance for us to remake ourselves into a young, dynamic and slightly zany, fun-loving place where people will be welcome to come and chat and enjoy themselves. Do come and have a good time, while having a look at what we have chosen. We offer you the cream of blue and white creations in Japan. Blue & White presents old ideas in new ways.
Look for the Blue & White checkerboard banners. They will show the way to the newest hot spot in town.
The New Blue & White in Azabu Juban –
Coming soon!
Think April.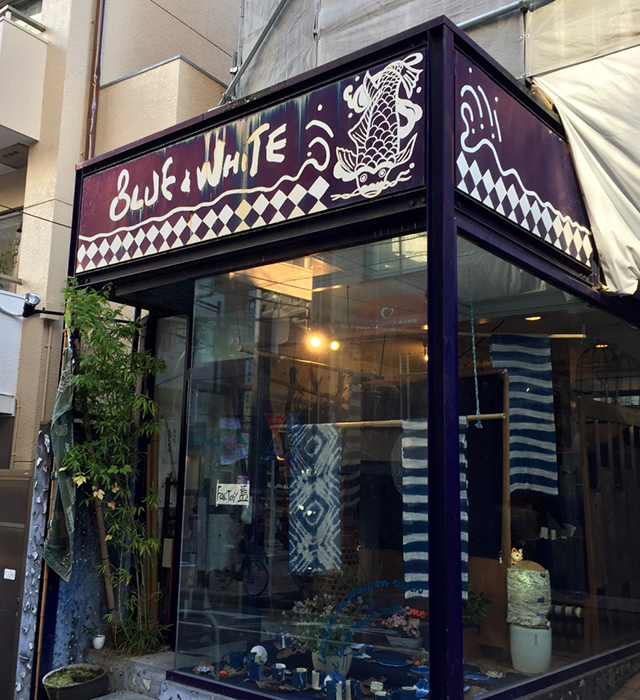 The last dance in the old Blue & White
Indigo stoles by Ai Kobo Special
Abilities Workshop in Tokyo's Meguro Ward.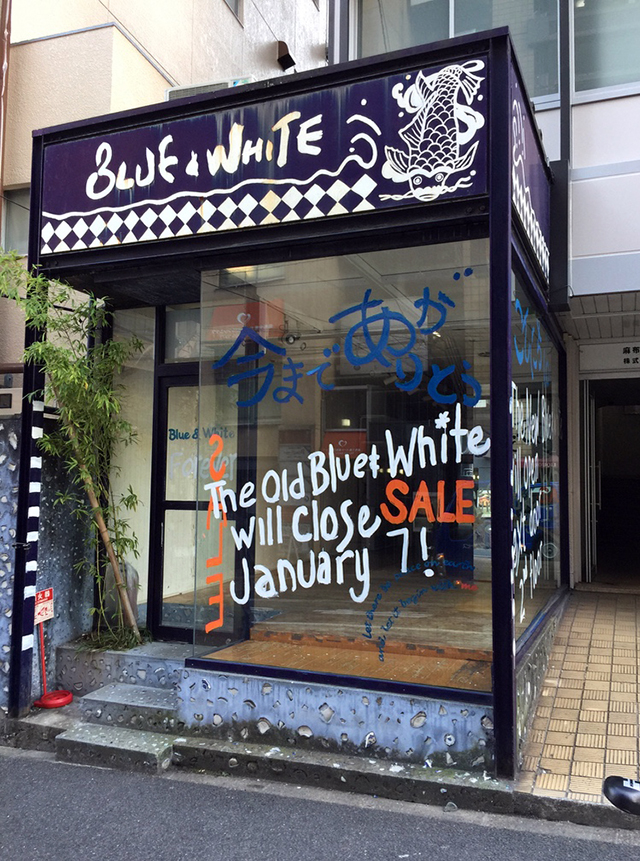 By word of window
We let the neighborhood know,
it was time for a change . . .
However undesired.
After the party was over and we had moved out, we realized what a beautiful space it was for 41 years, in the very heart of one of Tokyo's most lively and charming old times/new times neighborhoods where we could not just watch the world go by, but be a vital part of the neighborhood.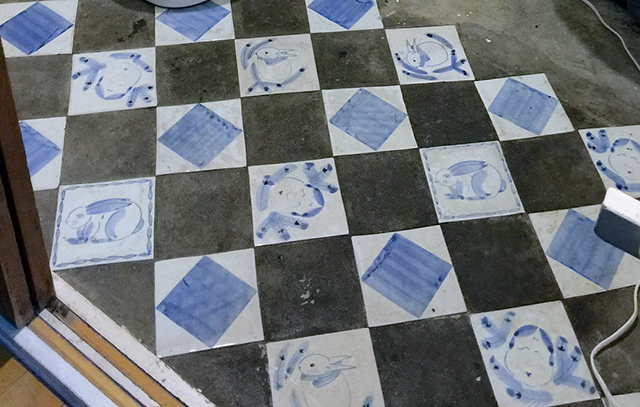 Down to the bathroom floors, the eternal blue and white combination was everywhere!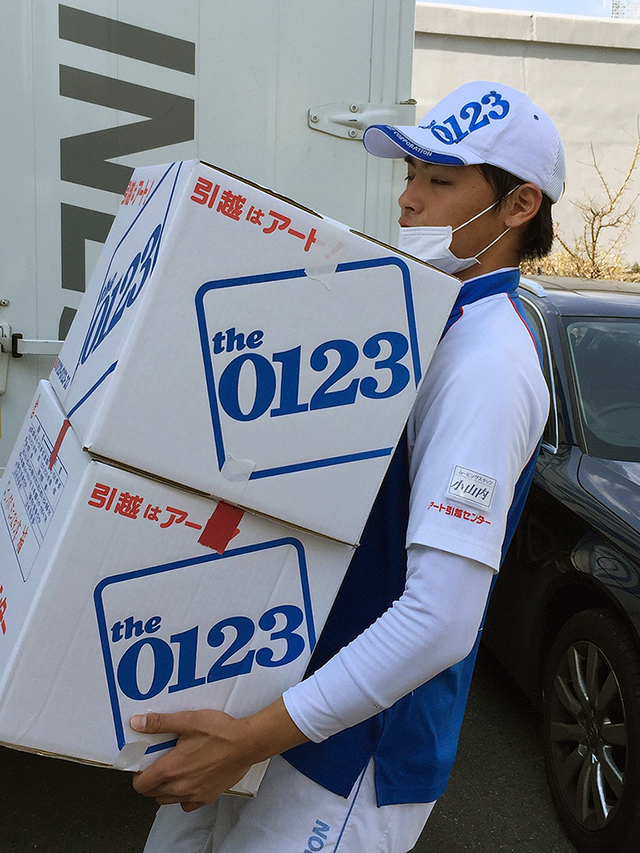 The movers wore blue & white And they RAN to deliver their blue and white boxes from storage.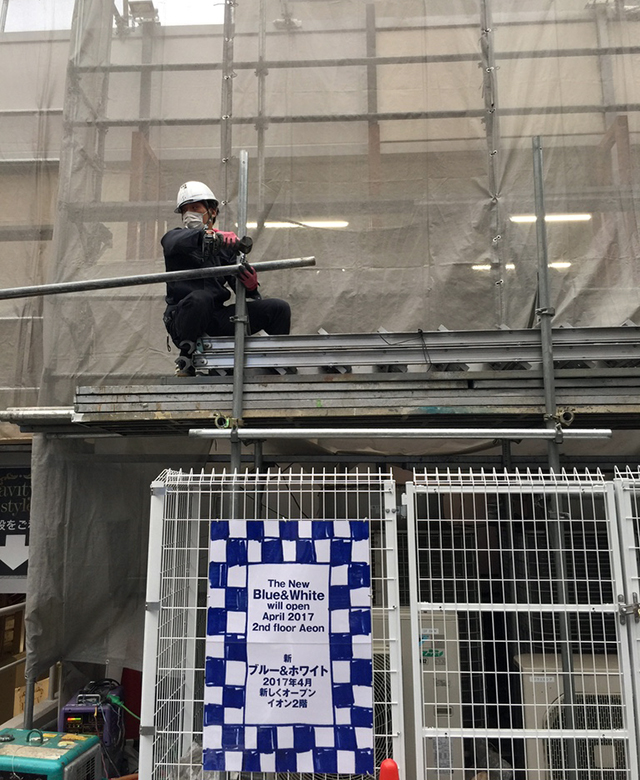 Construction began yesterday. Wrap around windows will make Blue & White a new look out point on Azabu Juban, the charming old fashioned neighborhood where we have been for 42 years now.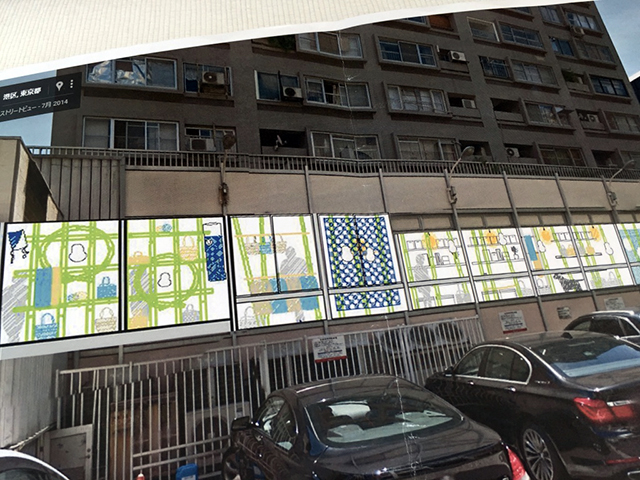 Blue & White dreaming . . .  of all we can do with all those windows on the world, windows on Azabu Juban windows on the parking lot!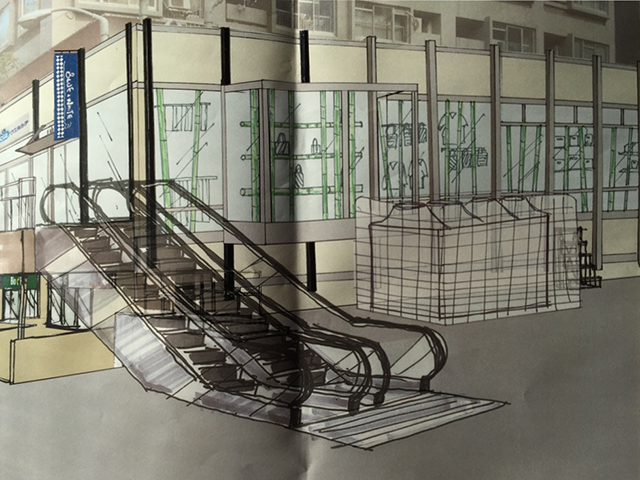 One artist's rendering of what we will look like. But this is not half of it!
Our new space on the second floor of Aeon Market in a bright window filled corner will become a new landmark in Tokyo for those looking for Indigo, sashiko, handmade ceramics, tenugui, clothing, bags and presents in all shades of blue and white.
However new we become,
we will always embrace the old, the broken, the imperfect.
Surprising you with old things in new ways and new things you've never seen before.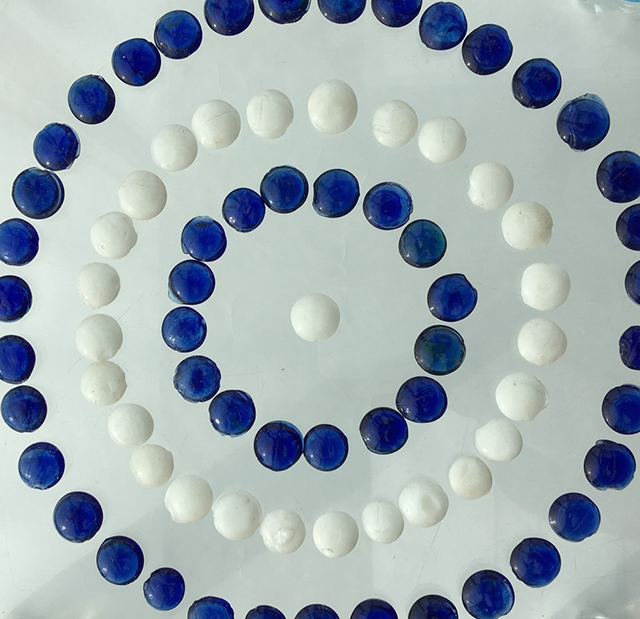 Antique glass Go pieces, a Japanese game of chess.
Blue & White
forever spinning
forever presenting new ways of seeing Japan
and appreciating, no, loving it!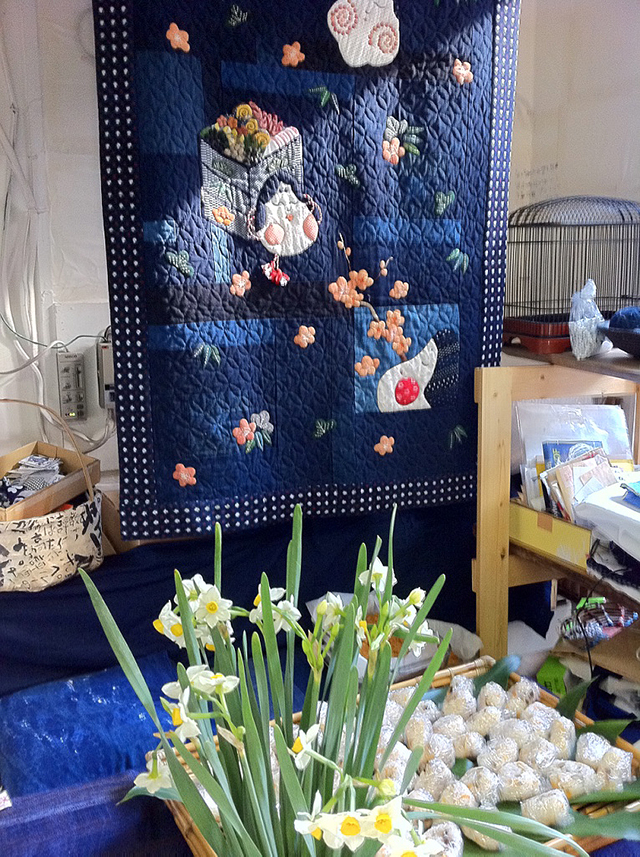 The good times will roll again soon.
Look for us on the 2nd floor right side of Aeon Supermarket.
We'll be there as soon as we can.
Soft opening at the beginning of April.
Enter through the market, upstairs through the side door.
Formal opening: 29th of April when the escalator entrance to Blue & White is completed and you can enter through our front door.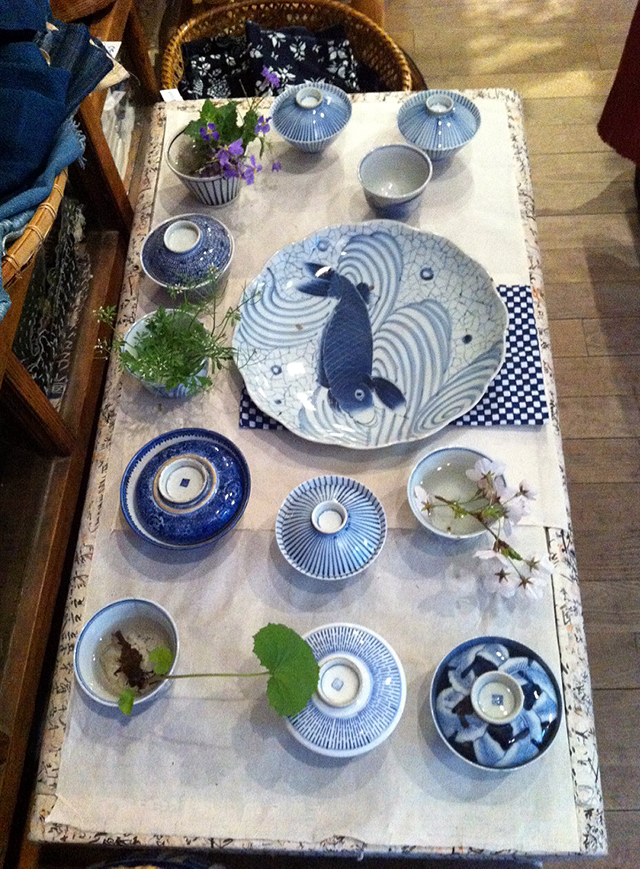 Surprising you with old things in new ways and new things you've never seen before.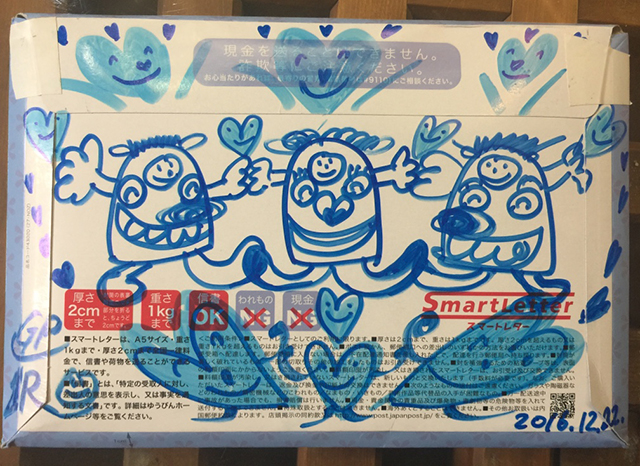 Old friends will be there.
Yoshida Ichiro, a wild and wonderful textile artist from Shikoku.
Below: Shobu Gakuen, an inspired and inspiring Art Center for People with Special Abilities in Kagoshima, Kyushu.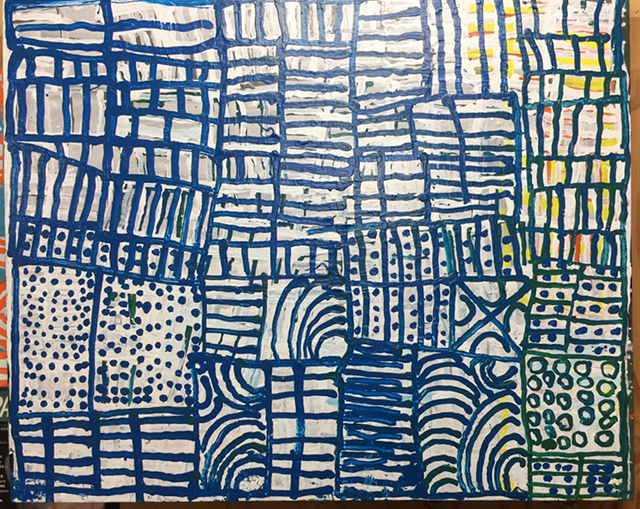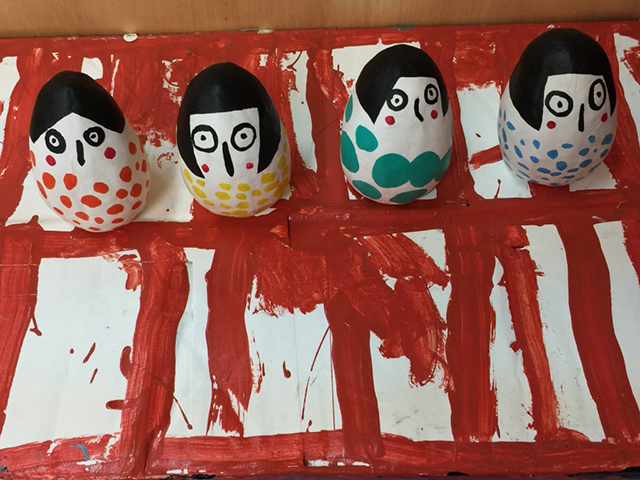 We will all be waiting for you to come and bless our new home
and join us making merry!
---
April, 2017
STILL SPINNING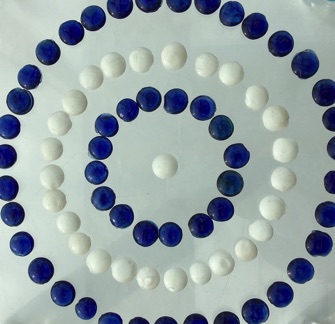 In January of 2017, Blue &White moved from its original site of 41 years in Azabu Juban. The last 3 months have given us a chance to regroup and refresh and observe the world around us more closely
and see how much is going on in the world outside flying kites, trimming trees, smokey moons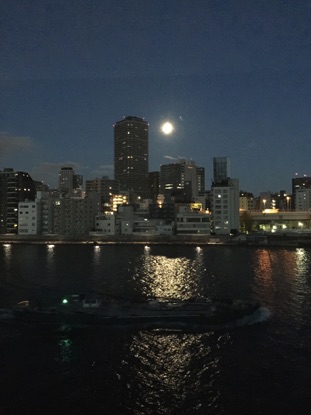 Our world spins in blues and whites:  
Previous page:
Tenugui roosters drying at Asahi Dye Works
Woman modelling kimono at O Edo Antique Market, first and third Sundays 
Above: 
Exhibit of Tenugui and Yukata creations by Todaya Shoten, attests to future possibilities for tenugui. 
And February on the thick handmade washi calendar of Shobu Gakuen in Kagoshima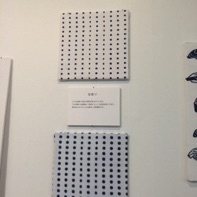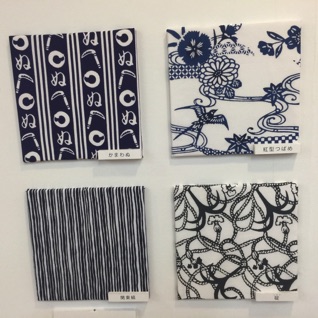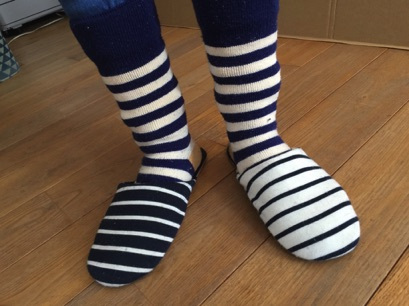 We have not been idle !
We have been working hard getting ready for the new shop. Thinking of new ways to dress, new fashions to present!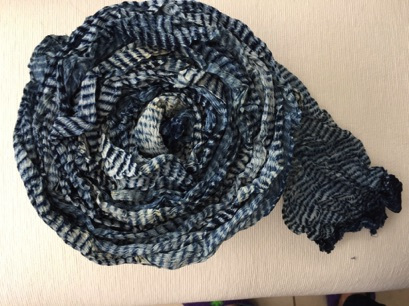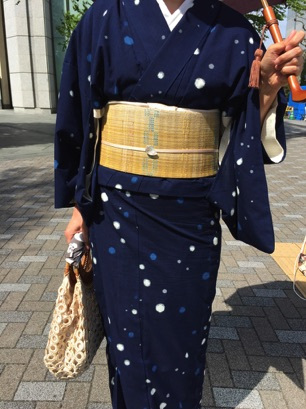 We have had time to take in Blue & White street scenes
Elegant spotted shades of indigo and white kasuri on a masterful but seemingly carefree Kurume kasuri kimono.  (She agreed to being photographed, but asked me not to include her face.)
More blue and white spots at a neighborhood festival bringing a Tai, red snapper of congratulations to offer to the tiny shrine with blazing red and white banners lining the path to the Matsuri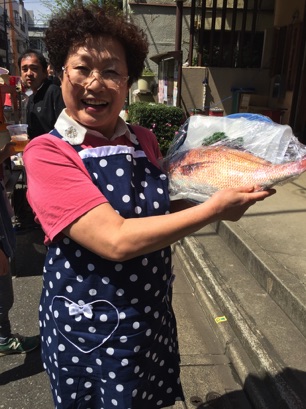 S U R P R I S E !
Not ready to show photos of the shop – everything's covered and barred in now, but the New Blue & White will open soon – white, bright and filled with new creations in indigo, tenugui and ceramics..
Opening April 29th!   Look for the Checkerboard Banners.  They will show the way to the fresh and bright new shop bursting with energy, ideas and Indigo.  Old things, too.
BLUE & WHITE
A NEW LANDMARK IN AZABU JUBAN !
THE  NEW  DESTINATION
FOR THE BEST OF JAPAN IN BLUE & WHITE TEXTILES AND CERAMICS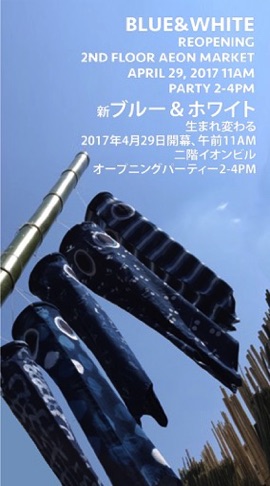 ---
May, 2017
JUMP FOR JOY!
JUMP FOR JOY !
Rocket scientists and bamboo dealers, potters and poets have come to see the new Blue & White and have declared it a great success.
WHEW ! We have been working hard on getting the move upstairs right so that the new shop would carry the Blue & White spirit, and yet go forward with new energy and a fresh young persona.
Blue & White has reinvented itself in a bright new space, open-to-the-world where people are welcome to come and see our choice of the best of Japan in rotation.
We are jumping for joy!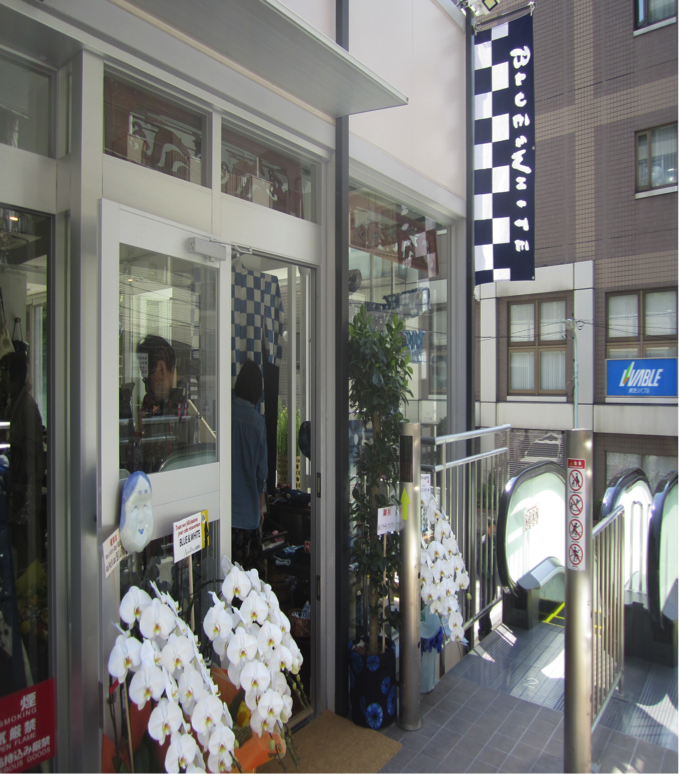 We were deluged with flowers from many fields. Orchids from Okinawa and from across the street, wild flowers and wheat from Ishikawa Prefecture.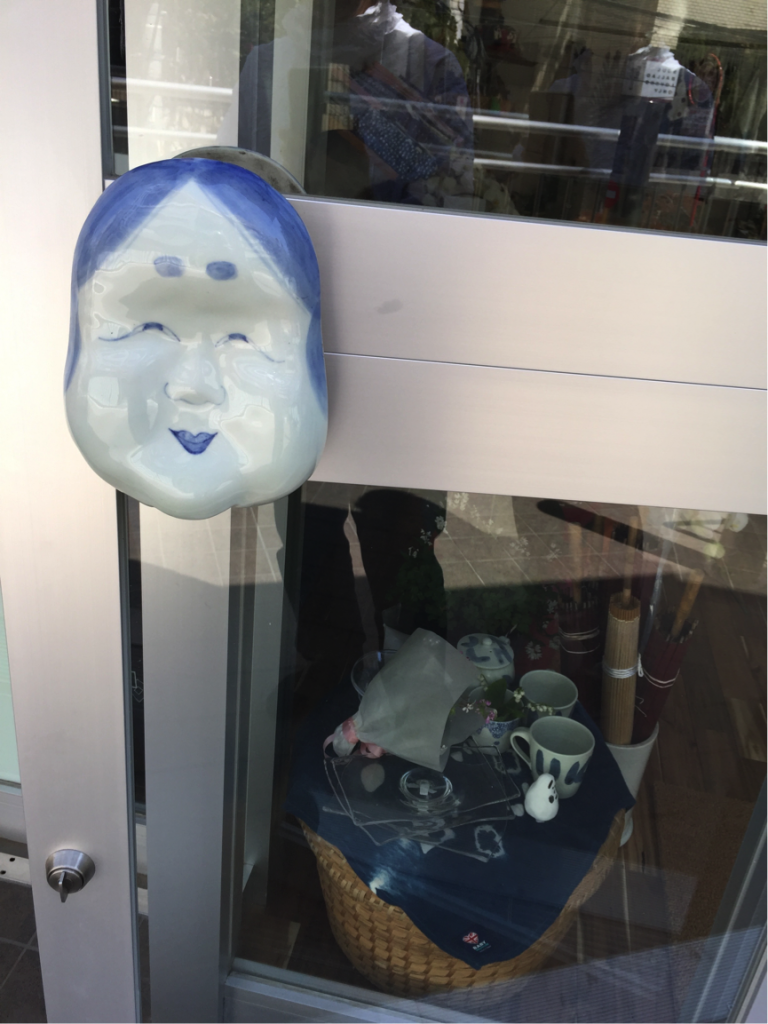 Our smiling ceramic Otafuku door handle still welcomes all to Blue & White.
After four busy months of preparing for the new shop, we reopened on April 29, the birthday of the Showa Emperor with delicious homemade food and cup cakes and cookies and drinks.
Robbie Belgrade and Bruce Huebner provided music that set the perfect tone of celebration. Their fabulous music was unexpectedly interrupted by the drumbeat and wacky music of 3 Chindonya, a musical troupe of riotous musicians dressed in comical Japanese costume, beating drums and symbols, and playing clarinets, who have an age-old tradition of going around neighborhoods to announce the opening of a new shop. They were a marvelous surprise from secret admirers in New York!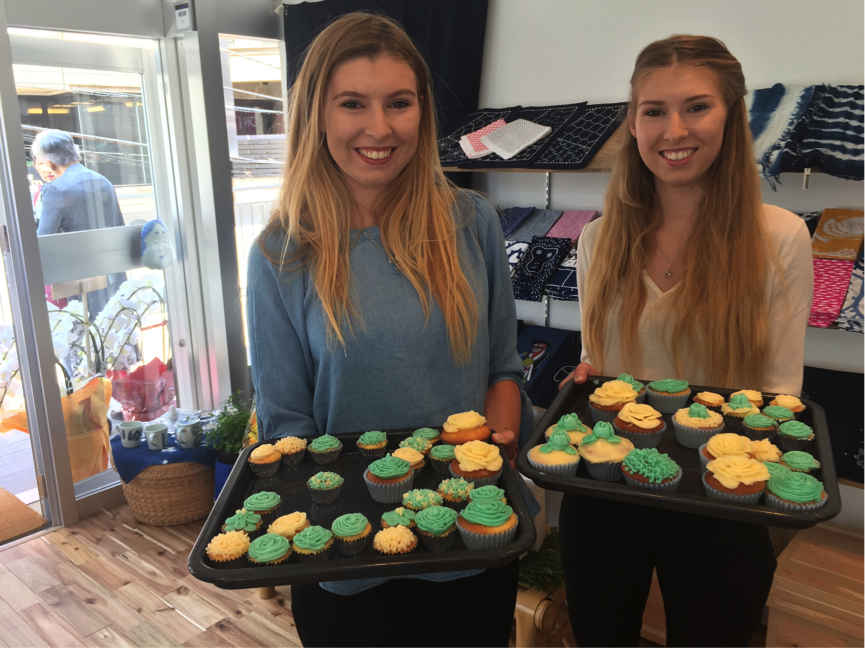 Food was homemade and delicious. Generous friends came and brought their home cooked specialties.
The hit of the day were cookies and cupcakes from twin chefs, Zoe and Jemima who put their artistry into their baked goods.
Their lacey blue filigree cookies went so fast that they were gone before I could take a photo . Fortunately one of our guests took one for me.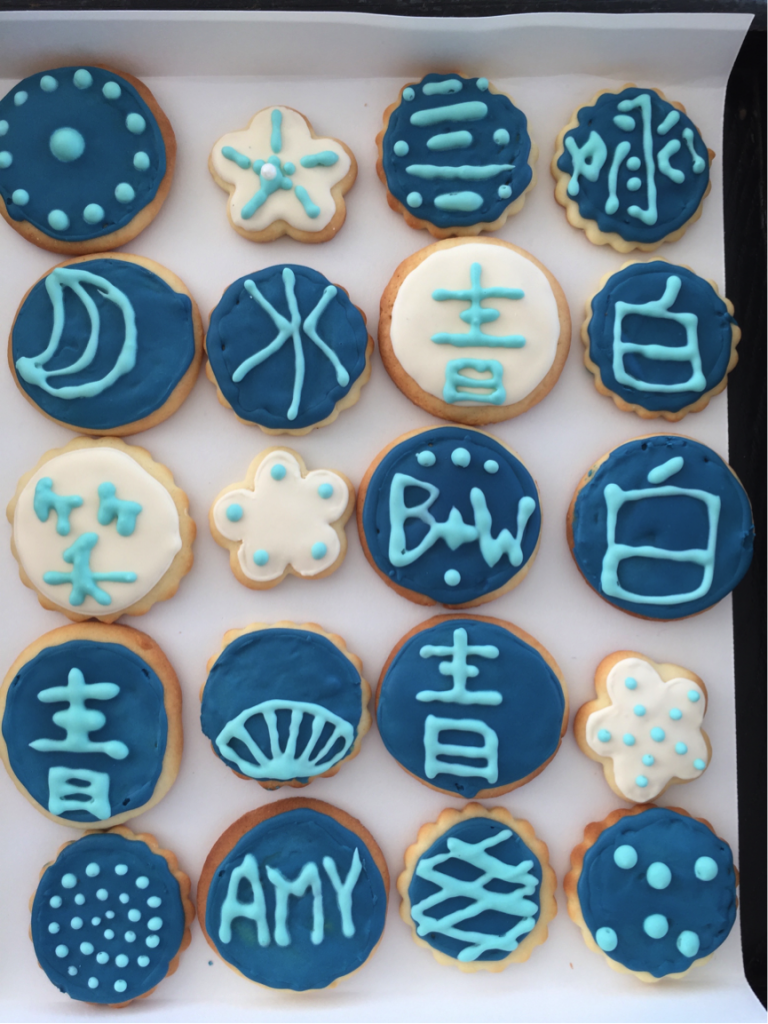 WOW!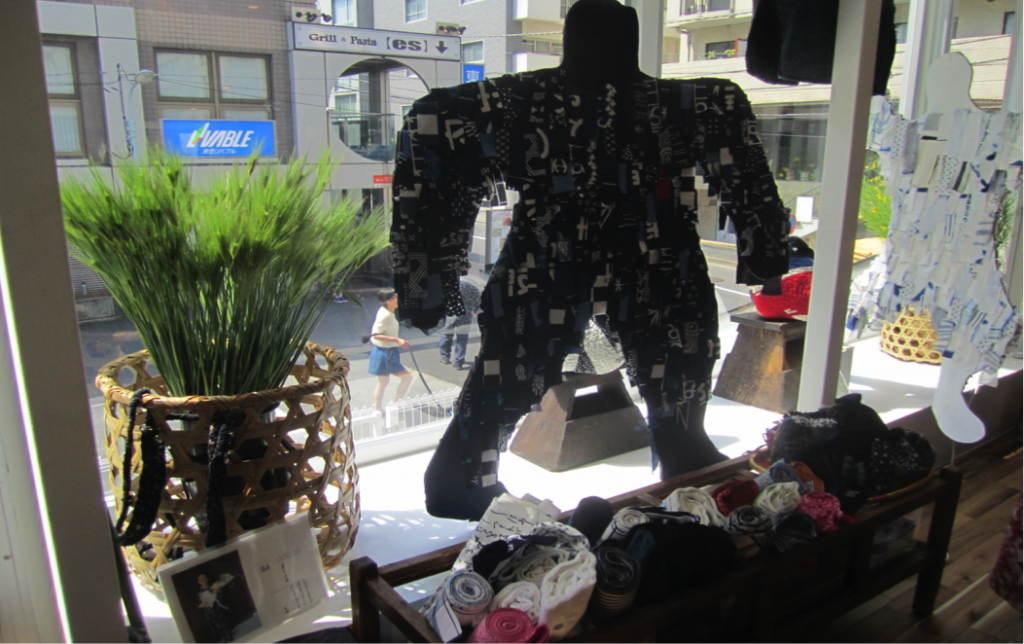 The New Blue & White is filled with vitality, ideas and a palpable atmosphere of welcome and communication.
Joy Boy and Genki Girl are giant welcomes of fabric patches on both sides: of cut cardboard, old indigo on one side, contemporary strips of tenugui and yukata patches on the other. They stand in the large double display window inviting people to come in and see how we have fused old Japan and new, and forged them together into a new configuration for all to enjoy.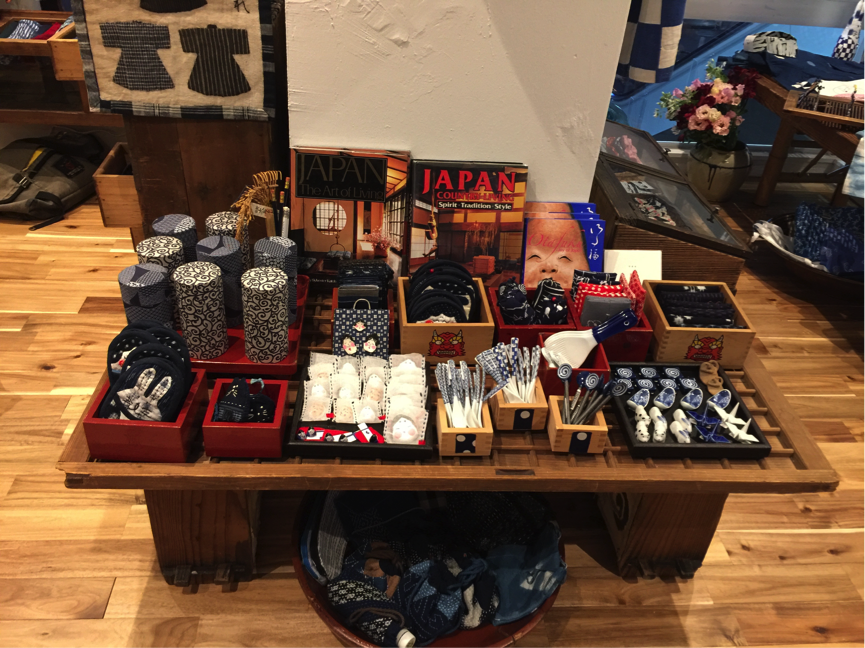 Each corner is a small vignette of like objects grouped together:
paper goods, things for sewing, ceramics and table ware.
An indigo corner.
Books and oddities. All manner of ideas for present giving.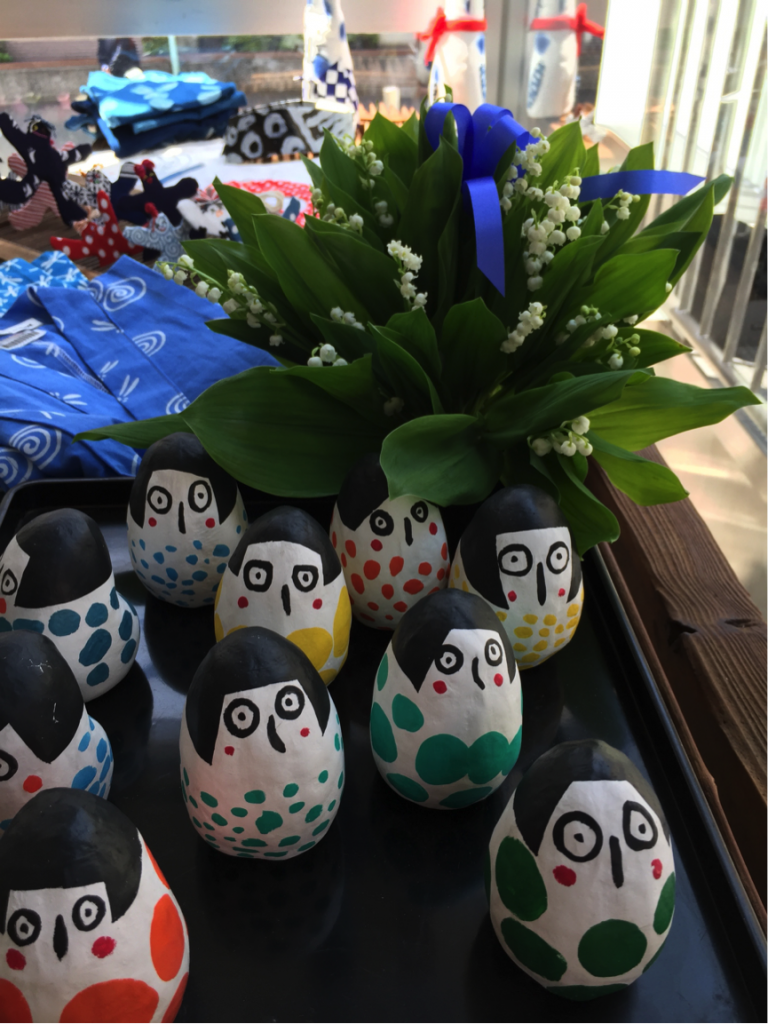 These owly ladies made by Shobu Gakuen seem like a modern day Otafuku, making people laugh.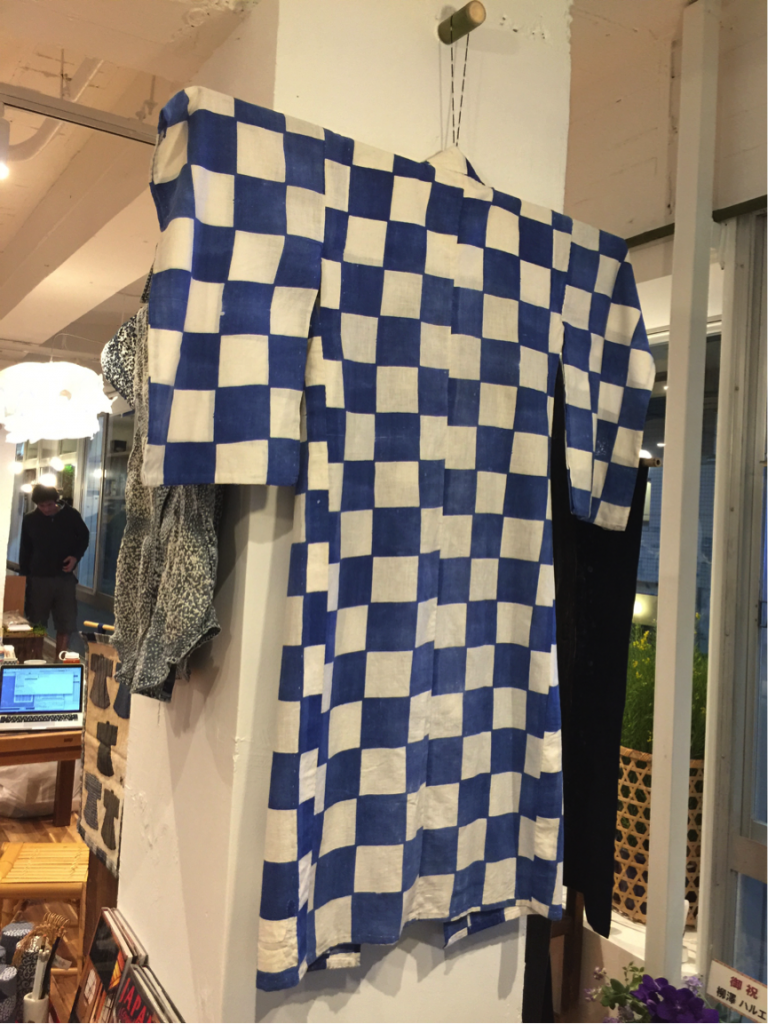 Bags, paper, ceramics and tableware
And of course our signature Tenugui and Yukata
Indigo koi nobori fly in the windows
An escalator delivers people right to our door, and outside there is a safe space at our entrance at the top of the escalator for children to test drive their indigo koi nobori made by the artisans of Factory Ai (indigo), a special abilities workshop.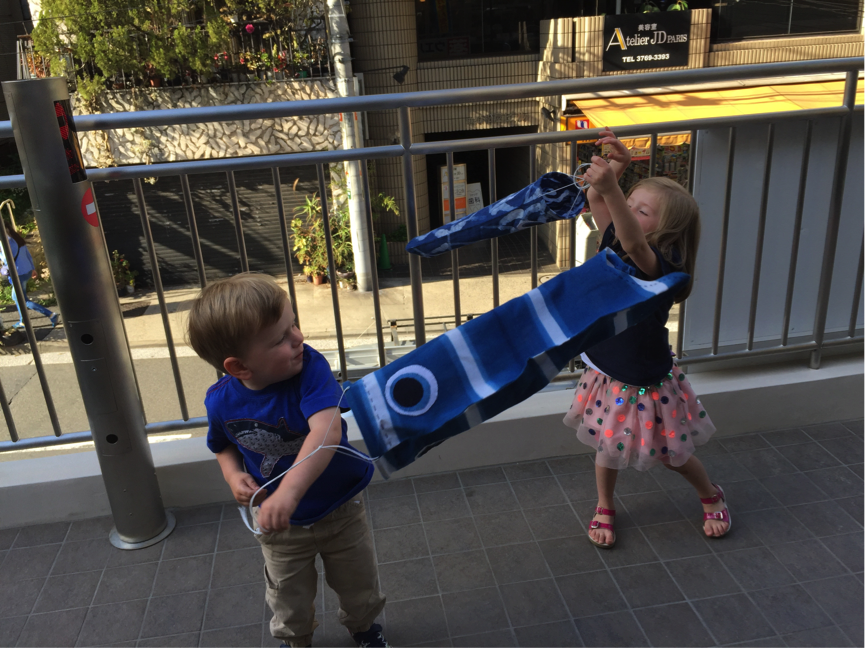 It is very clear.
Blue & White has created a space where koi nobori and sashiko and handmade things of old Japan and new can play together happily in their new windows on the world for all to enjoy.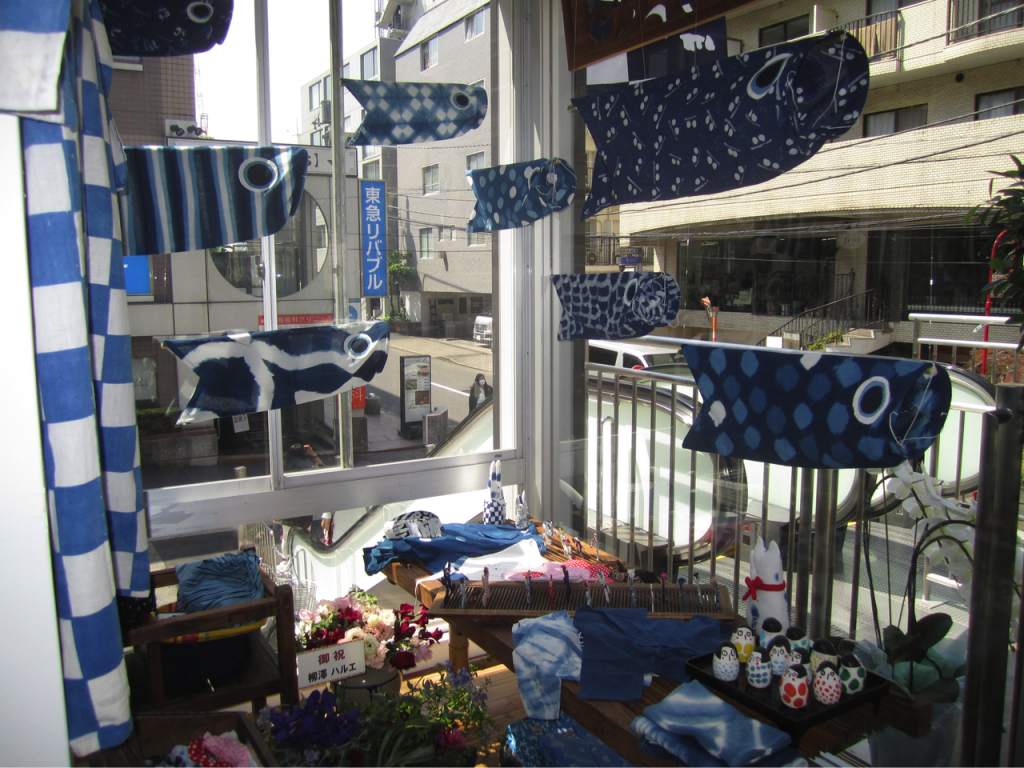 ---
June, 2017
BLUES KEEP COMING TO ME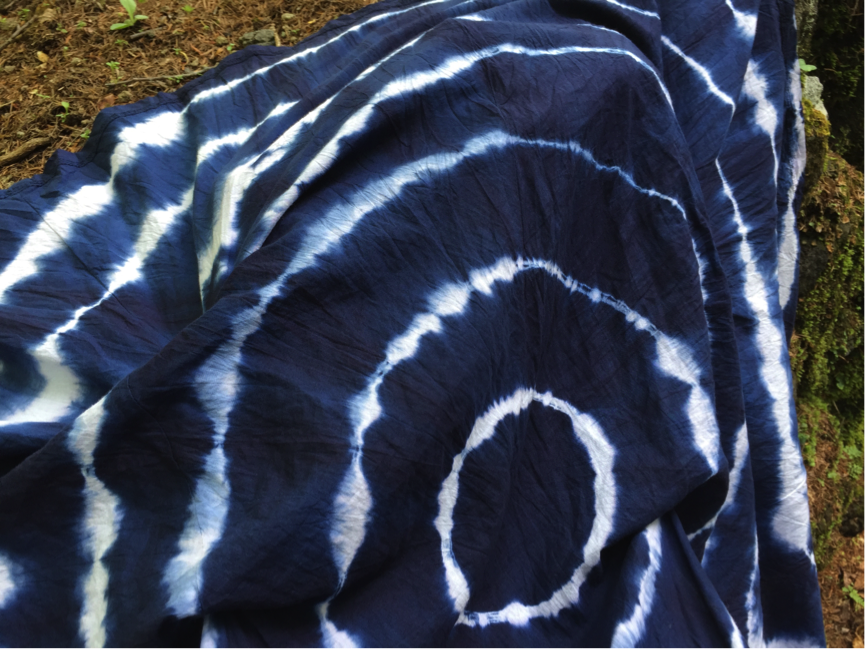 BLUES KEEP COMING TO ME
HEART FILLED BLUES, HAND MADE BLUES
OUT OF THE BLUE BLUES
The New Blue & White seems to be a magnet for new blues.
And that is what we feature in Blue & White to show to the world and to all who visit.
The parade of blues is unending and I can NEVER have enough. Nor do I ever cease to be amazed by the NEW BLUES !
Look at what just moved in to the small Palette Gallery next door to Blue& White! The luminous one stroke! Blue paintings of Mina Kazuki, a young artist similarly obsessed with blue. Her group show ended on June 19.
I am asking her to paint a special One Stroke Blue for Blue & White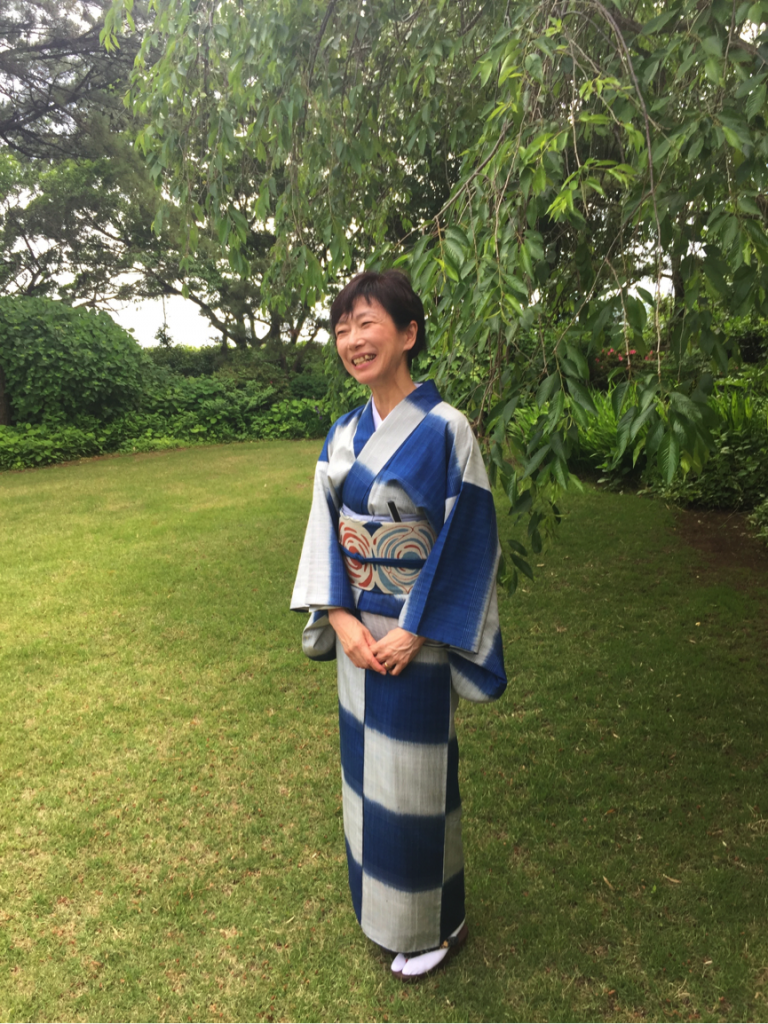 Blues to wear always draw my eye, but this kimono worn by Mayumi Barakan after her stunning dance performance was Divine.
At last I have seen the PERFECT kimono! Mayumi told me she had had it for 20 years or so, but it was still fresh and lustrous.  Silk kasuri in all its glory.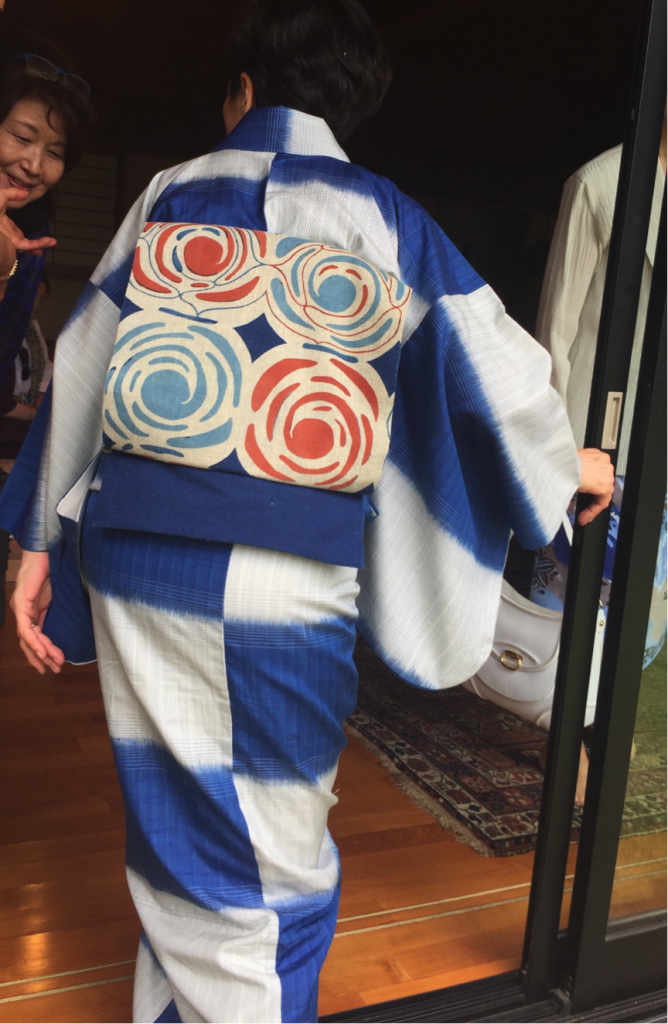 Even from the back it was mesmerizing.  I couldn't stop staring!  Or taking photos.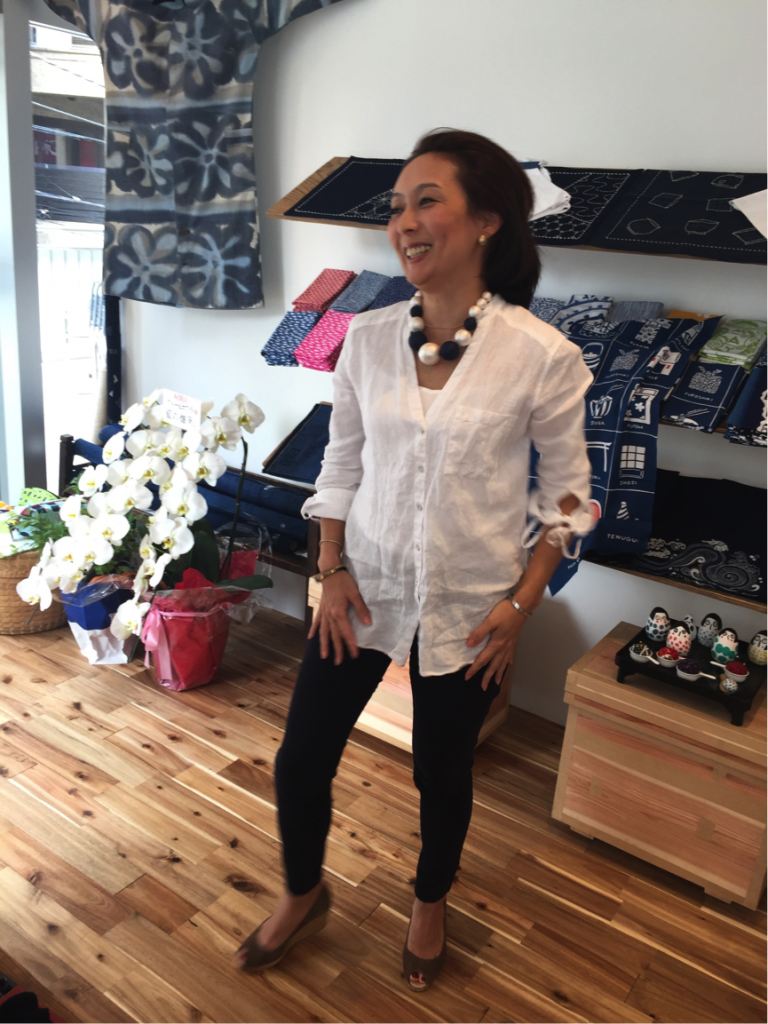 The blue and white washi, Japanese paper necklaces of Kyoko Fujimura bring joy and playfulness to all who try them.  This amusing woman who lives in Azabu Juban performed a jig of joy for us inspired by her new necklace.  She bought two.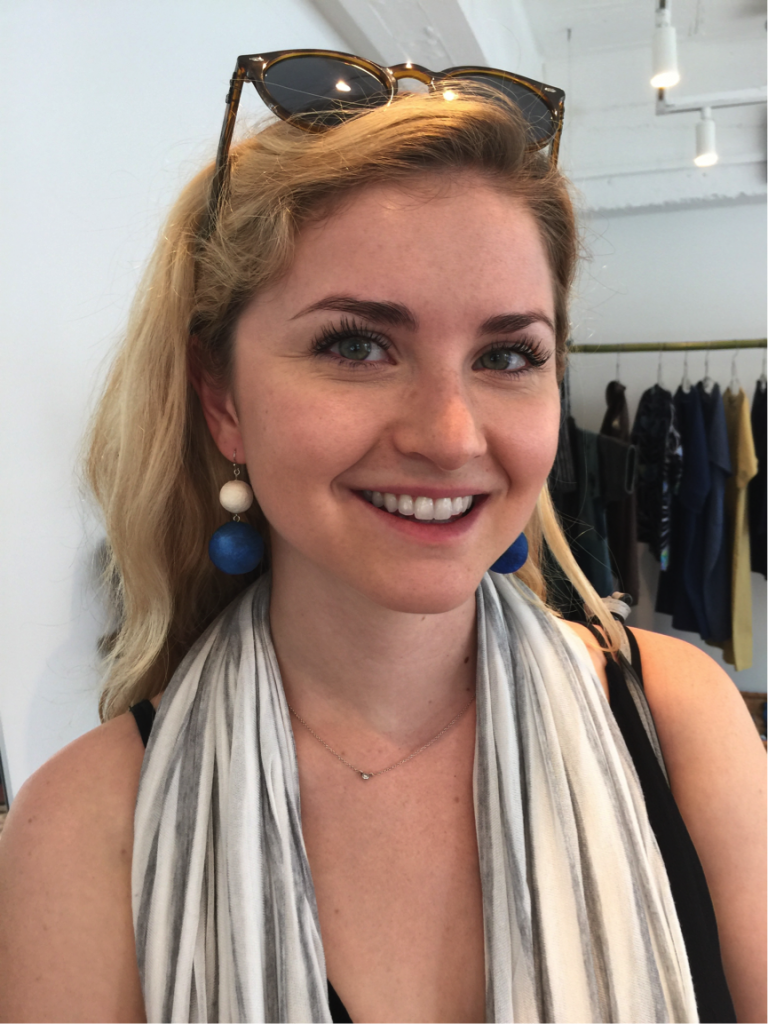 This customer from Seattle was happy to take the washi earrings home with her.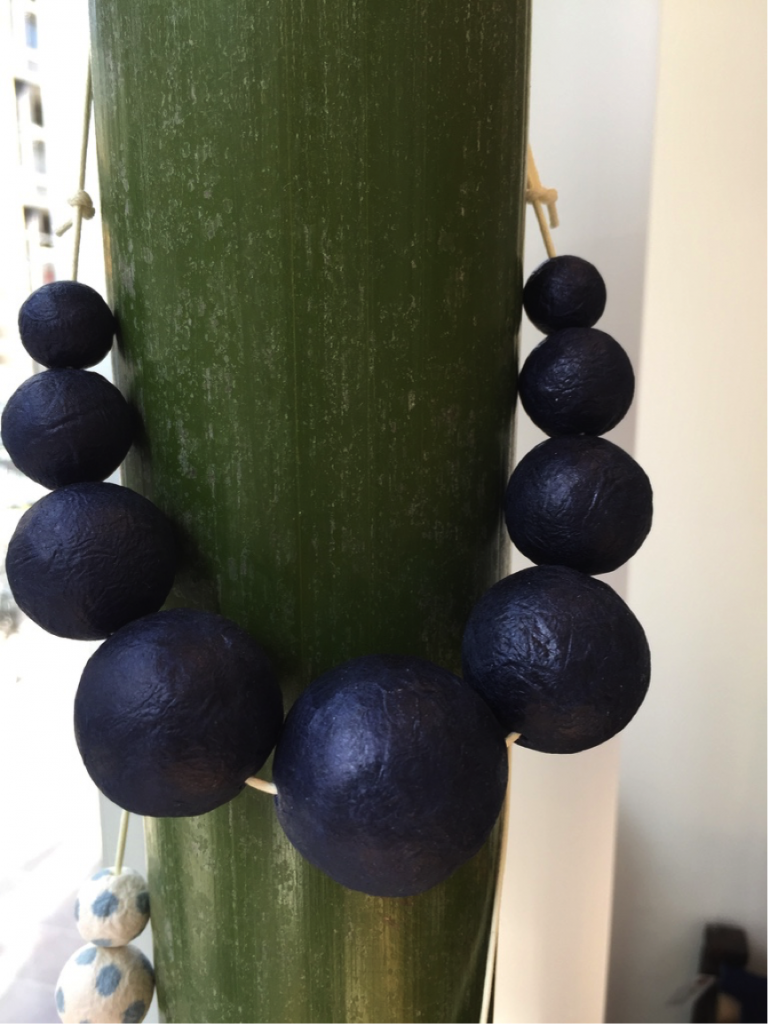 Necklace made from deep indigo washi by Kyoko Fujimura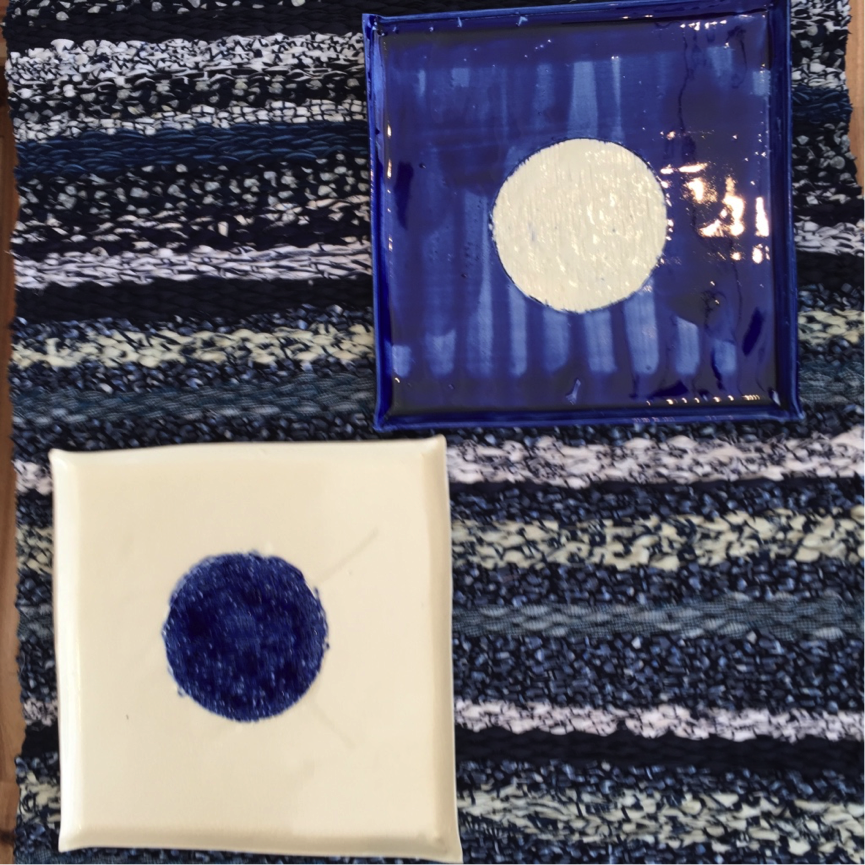 Blue plates and rag weave rug by artisans of Tamagawa Special Abilities craftsmen sell out as soon as they come in.
When our new visitor, Monica met the artisan who made the rag weave tapestry, she immediately wrapped it around her to wear and take home. Both were thrilled !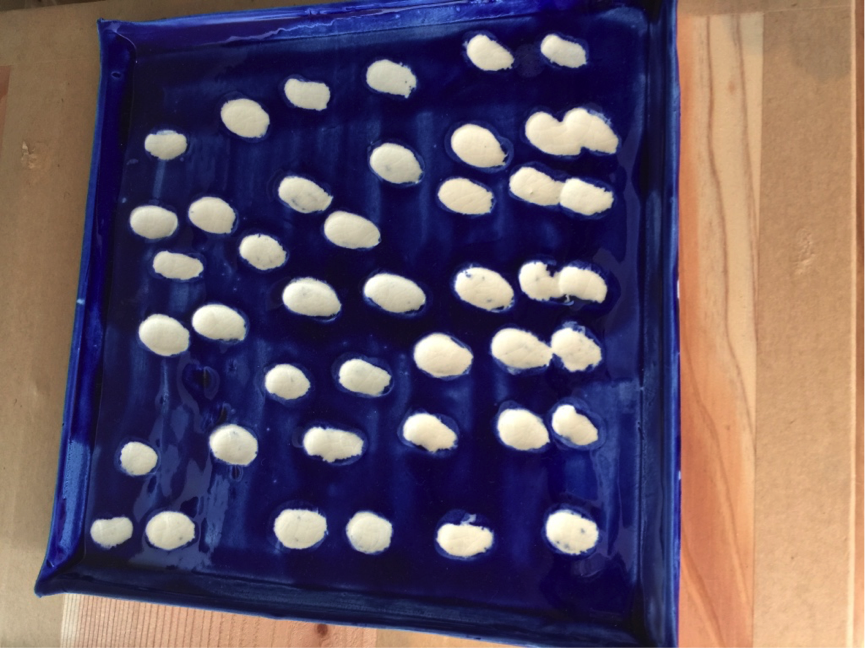 Gouged blue plate by Tamagawa Workshop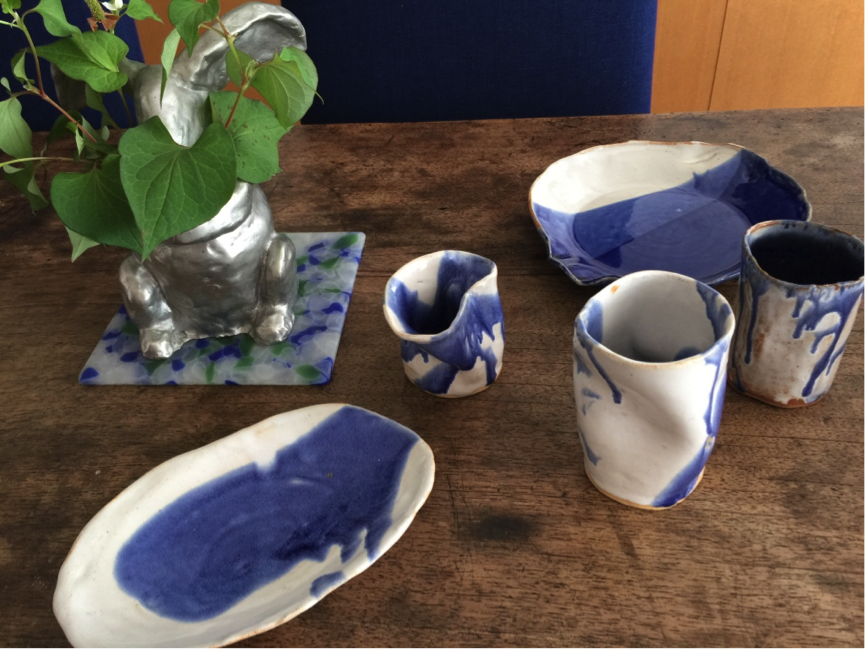 Even my dearest friend has caught the blue and white bug – and mastered it ! Voila!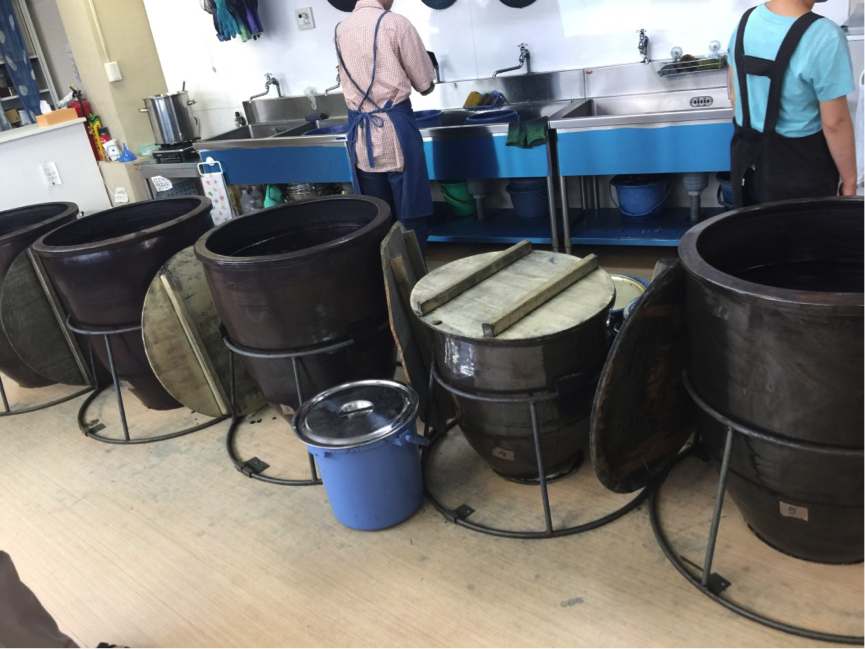 Blue cloth.
Indigo dyeing at Ai Kobo, now named Factory Ai.
Traditional earthenware indigo pots filled with indigo grown and processed in Shikoku.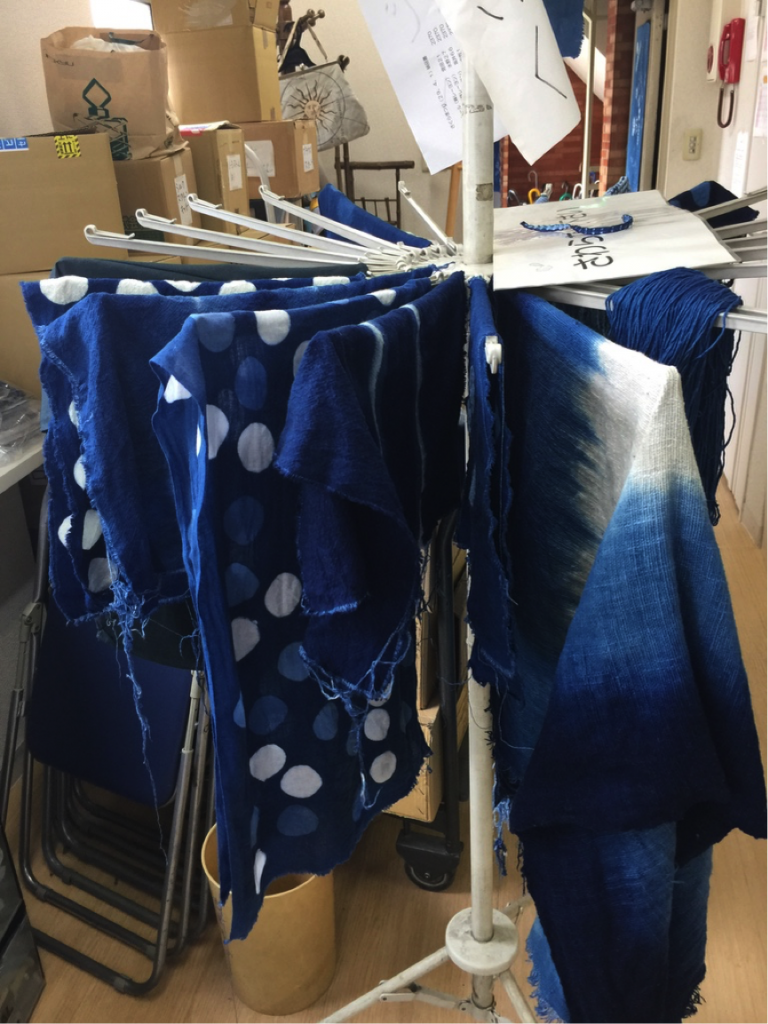 When I made a sudden visit to Ai Kobo, I found things being dyed, hanging out to dry, and ready for me to take back to Blue & White.
I was overwhelmed by their industry.
And organization.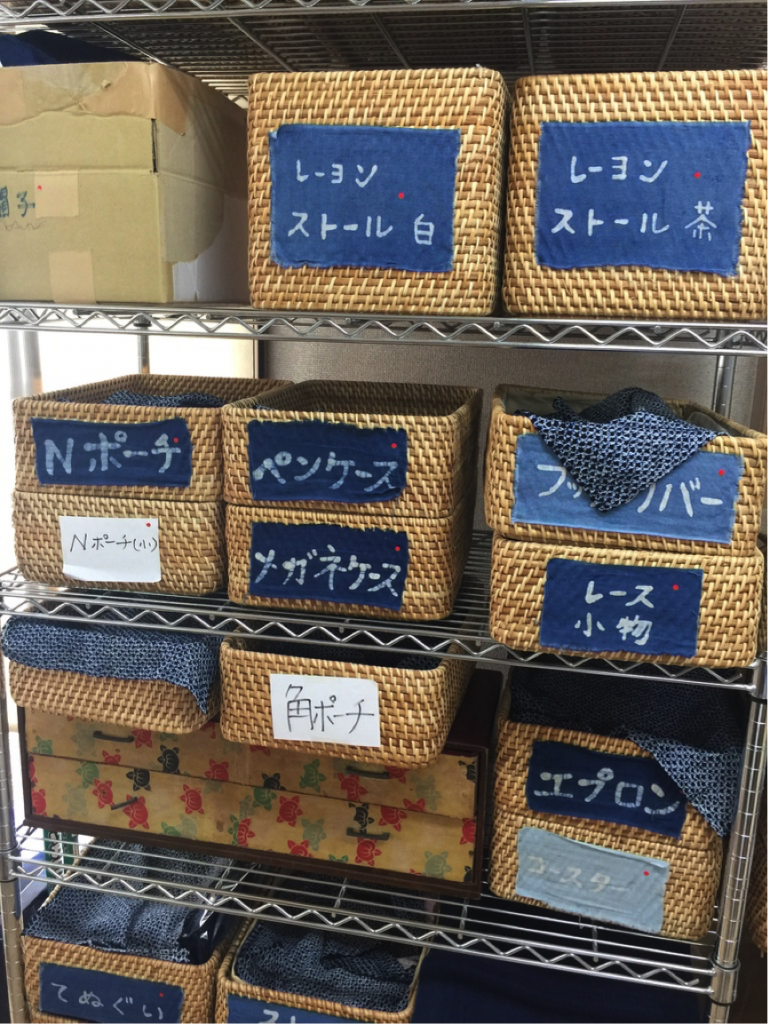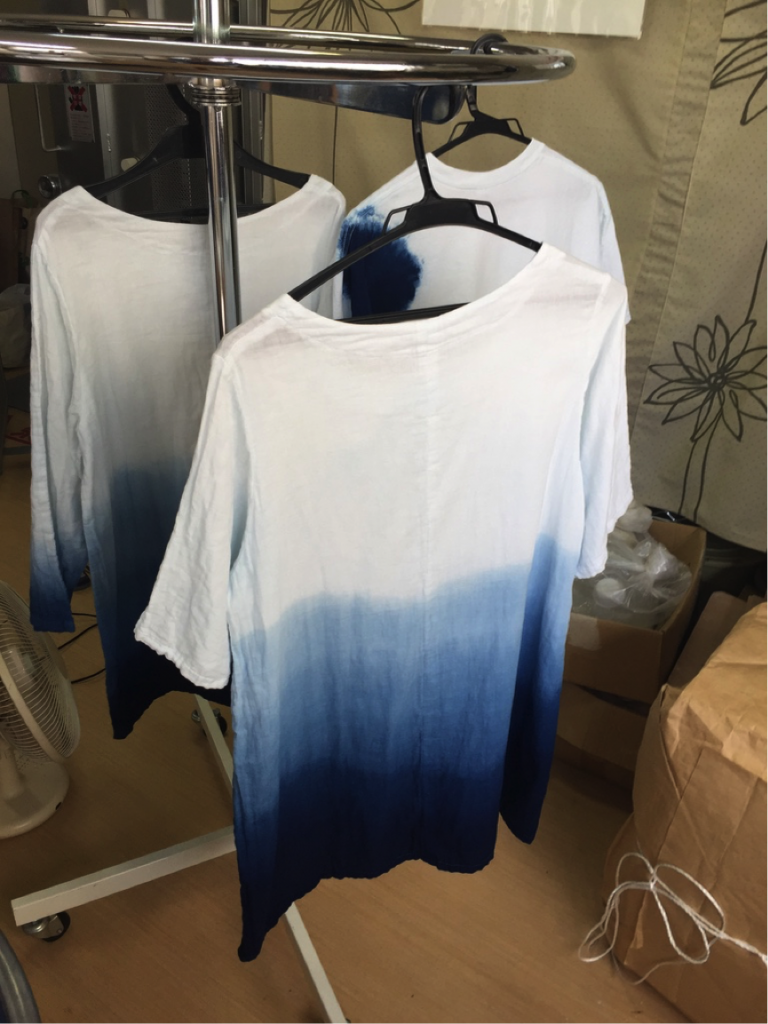 Members of Ai Kobo all have specialties.
This woman's specialty is graduated indigo.  A deep clear indigo disappears into white.  Not an easy technique!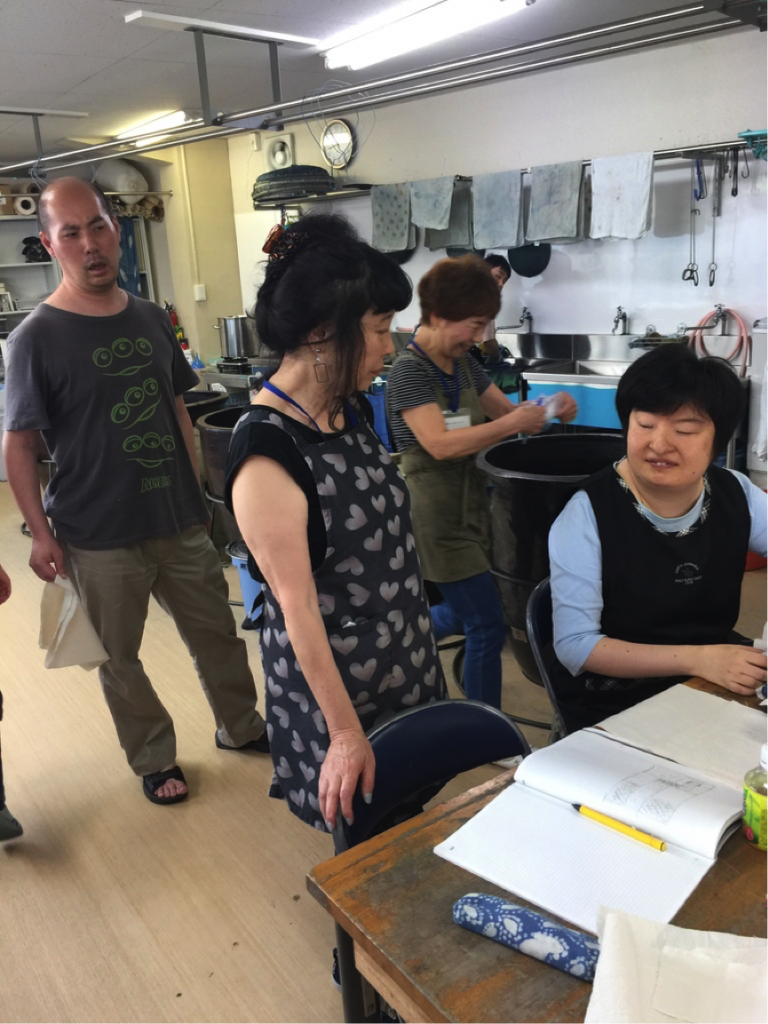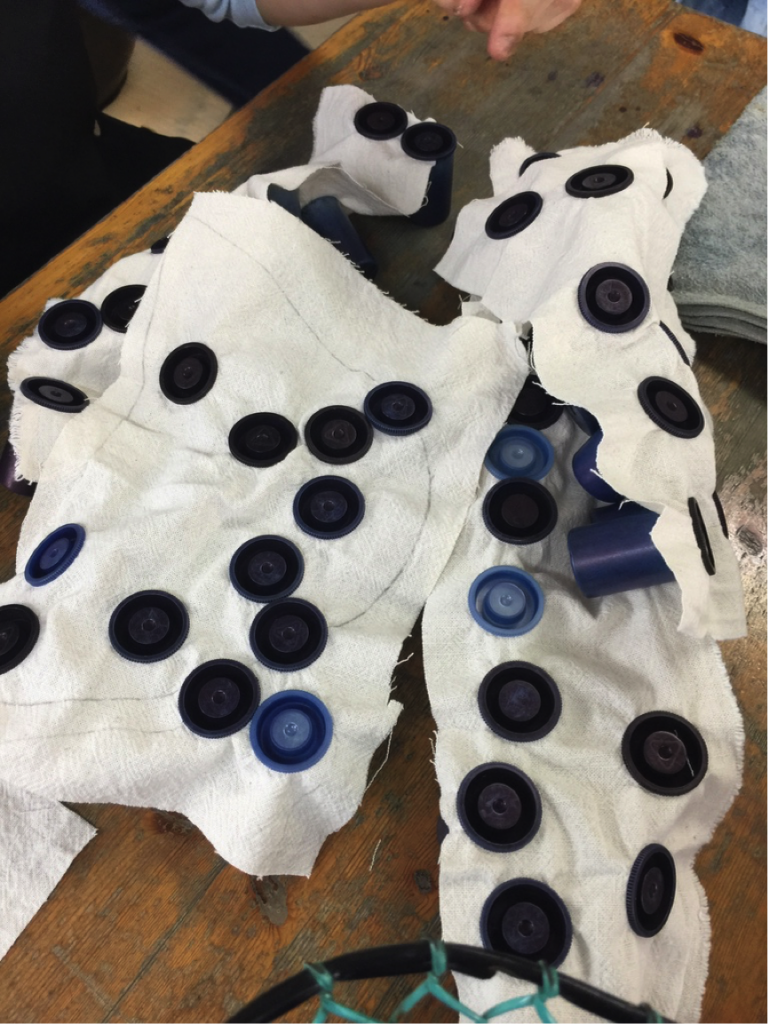 This woman uses old film canisters to  clamp the cloth and produce hear white circles when the shirt is immersed in the indigo dye..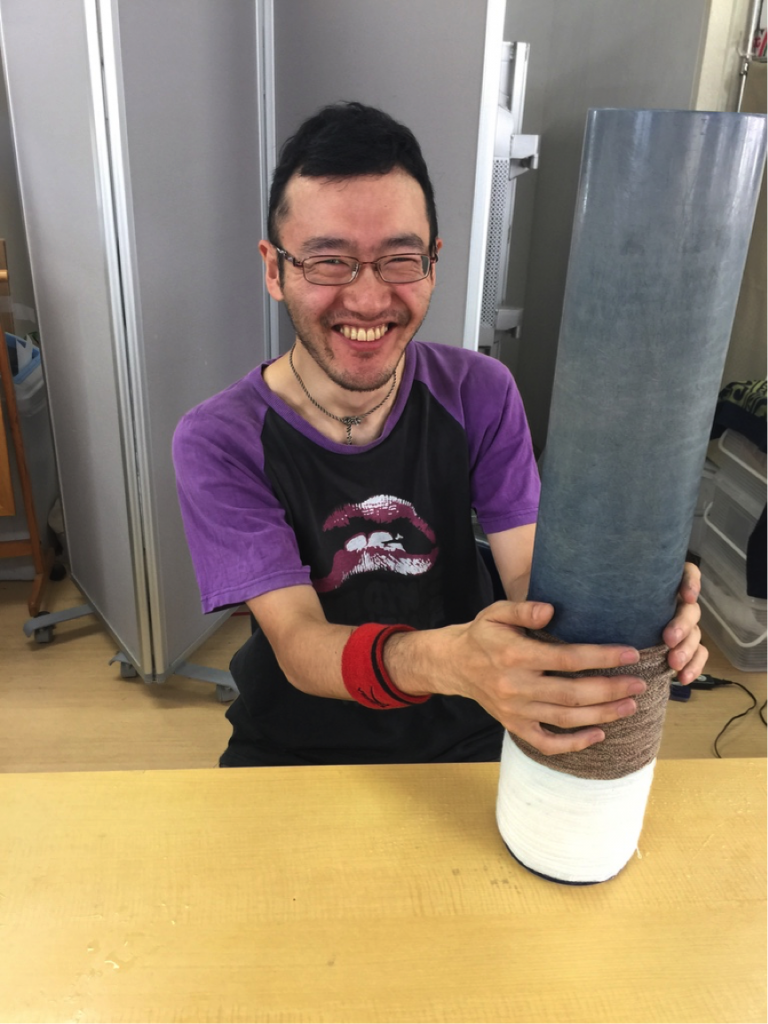 Mastering one technique is a key to the success of Ai Kobo / Factory Ai.  It nurtures pride in one's own work. This man does pole dyeing shibori.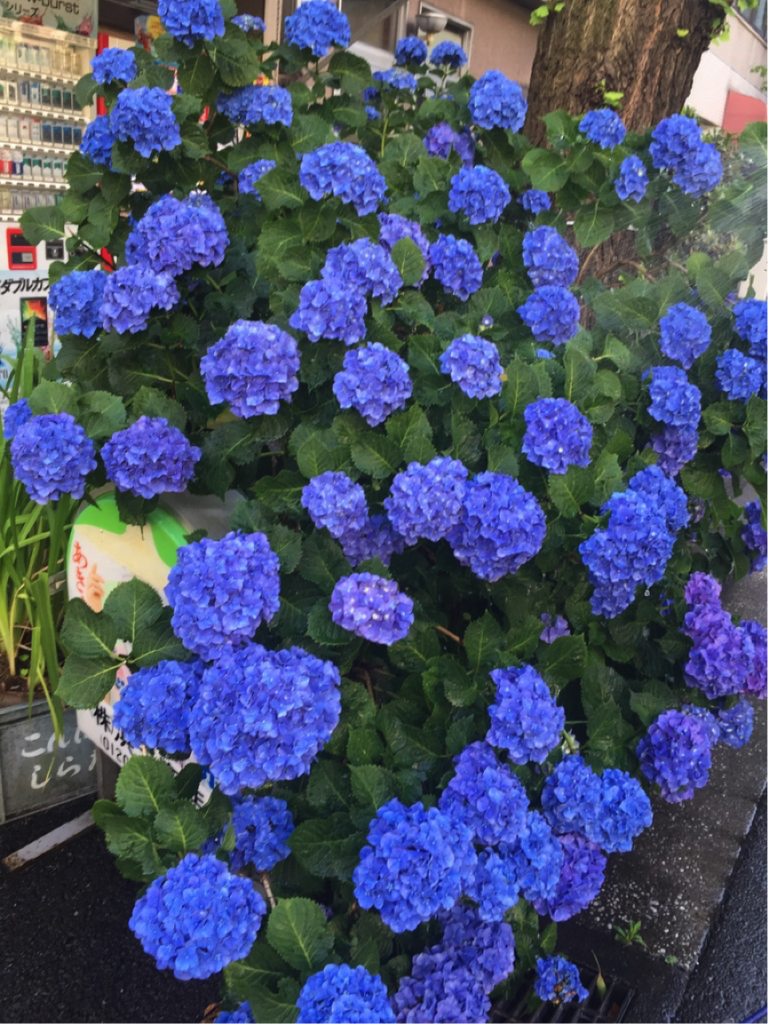 Man replicates the blues of nature.In the rainy season, hydrangeas treat us to an infinity of Blue.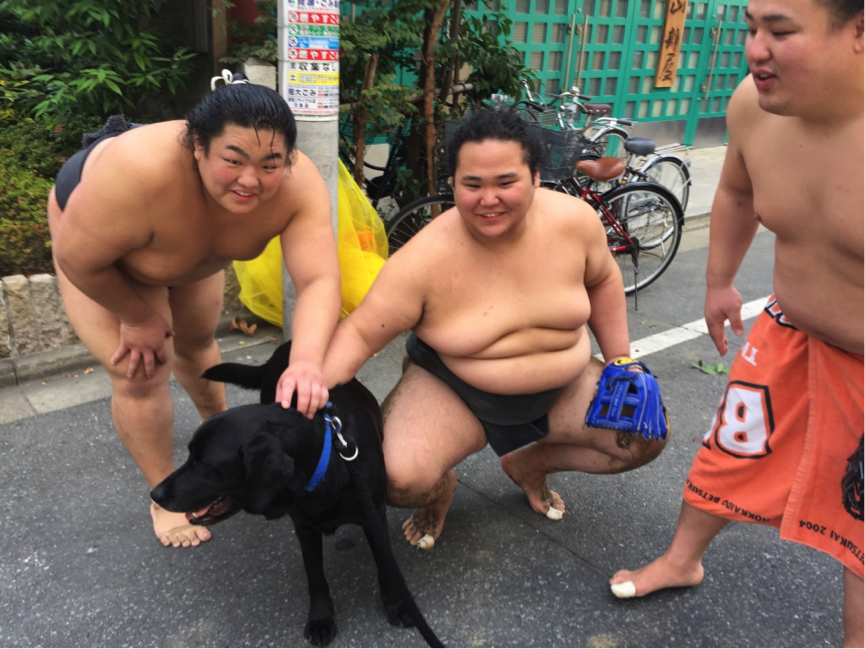 New best friends. We came across them playing baseball after sumo practice!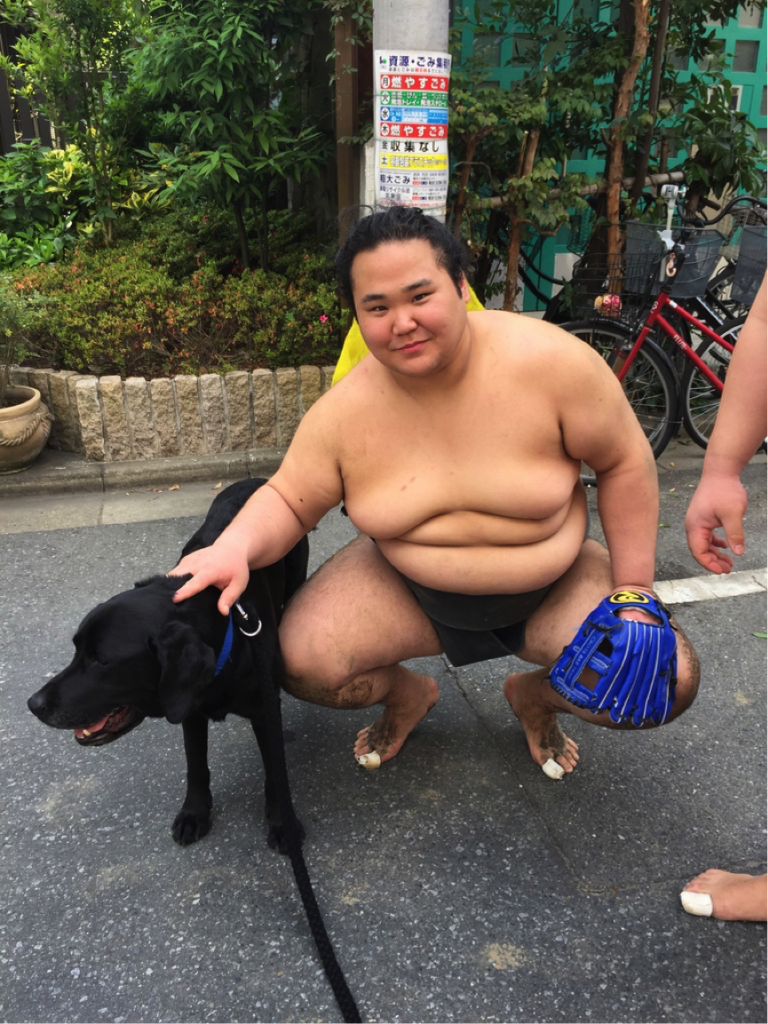 A young sumo wrestler
Black dog Basho
Blue collar
Blue glove
True Blue !
---
June, 2017
A Basket Case!
Blue & White will be having a special Basket Case SALE from Monday June 26 until July 3!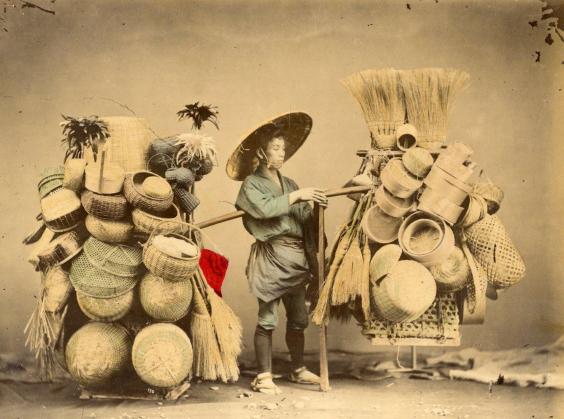 ---
September, 2017
YUKATA CHIC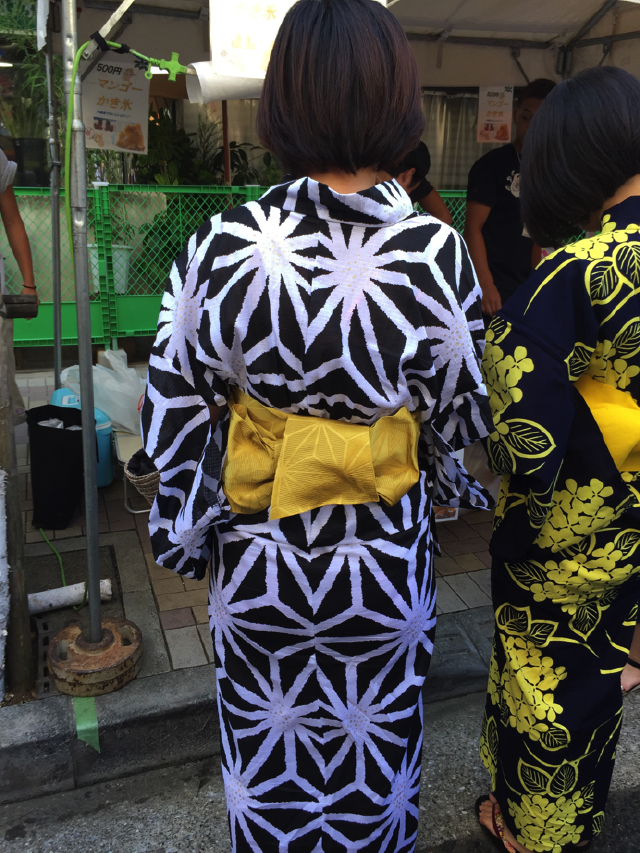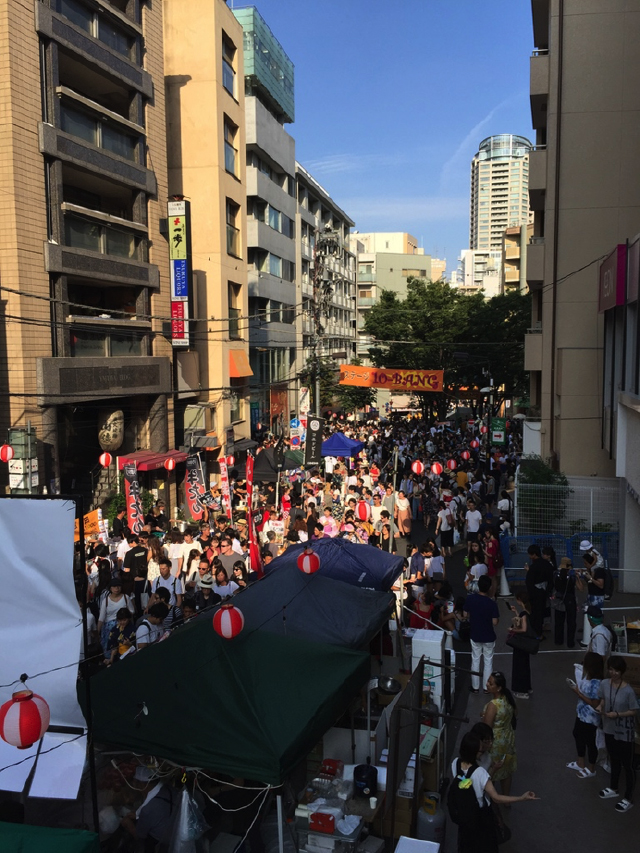 AZABU JUBAN MATSURI  AUGUST 26,27, 2017
Yukata are HOT this year!
Yukata means summer!  And Tokyo summers are HOT!
The long stencil patterned cotton robes for summer have made a come back this summer and everyone was wearing them at Tokyo's Azabu Juban Matsuri on the last weekend of August.  Thousands of people came for the two day summer festival and many were wearing Yukata in big, bold and surprising combinations.
And they weren't just the cheap multi colored yukata that were popular a few years ago.  This year there were bold designs, brilliant colors, and fine quality weaves and dyes.  And above all, they were worn with pizazz, and Japanache !   A fan tucked in here or there, a chic obi tie, good looking geta on the feet.  Everyone was young !  The thinking was young.  (I was by FAR the oldest celebrant, though not in Yukata myself).  Everyone seemed at home in their "native dress", as though they had come back home from long years of experimenting with western fashions.   Yukata came naturally to them and the taste was surprising and excellent.
As is the tradition in kimono and yukata, there is a sometimes subtle, sometimes not so subtle sense of fashion, of knowing what is good, how to put different parts together, of tapping into what is cool.  Look at me, the yukata said. What good taste I have! about the parade of people celebrating Juban Matsuri.  Juban means number 10 district in Azabu Ward, and this year they added a G to their banners and it became JUBANG. And rightly so !  It was a loud and exciting two days of music and fun.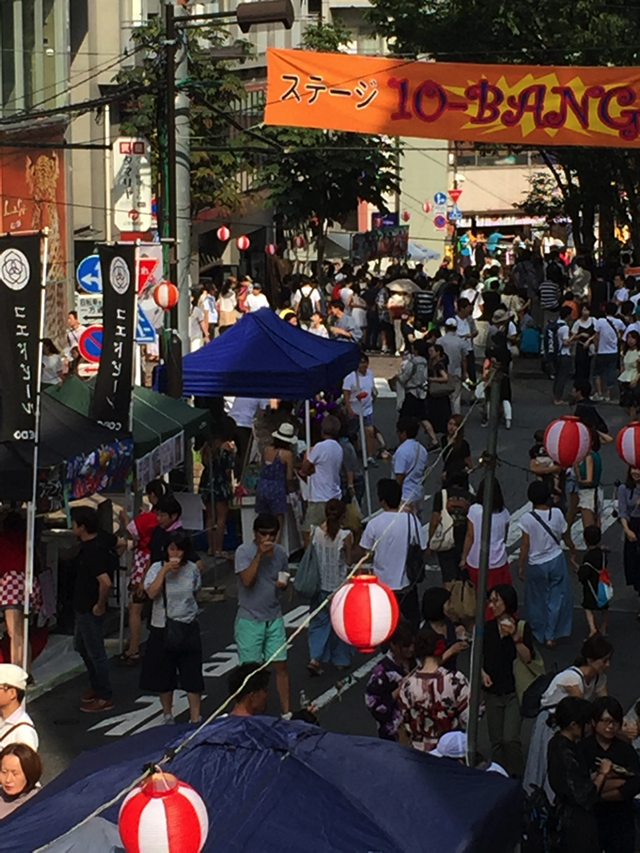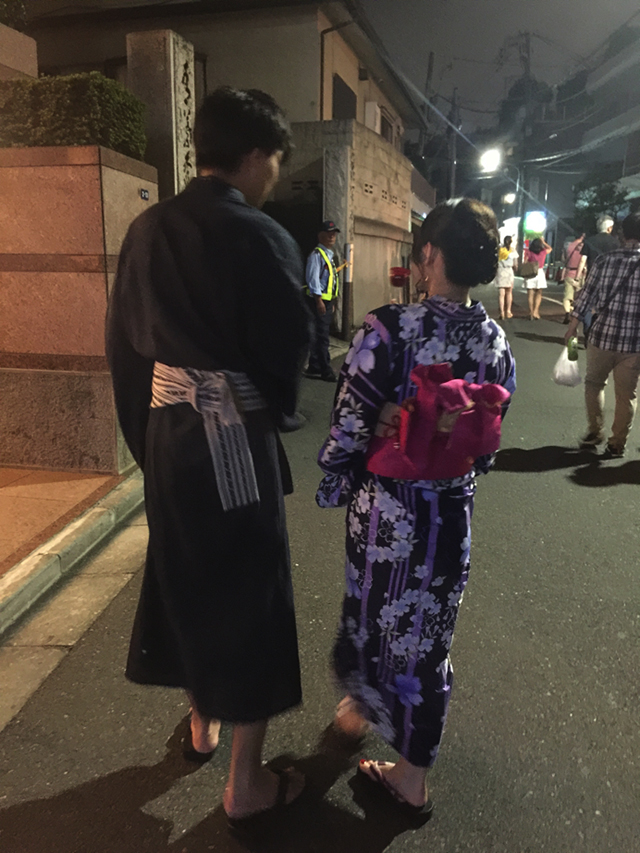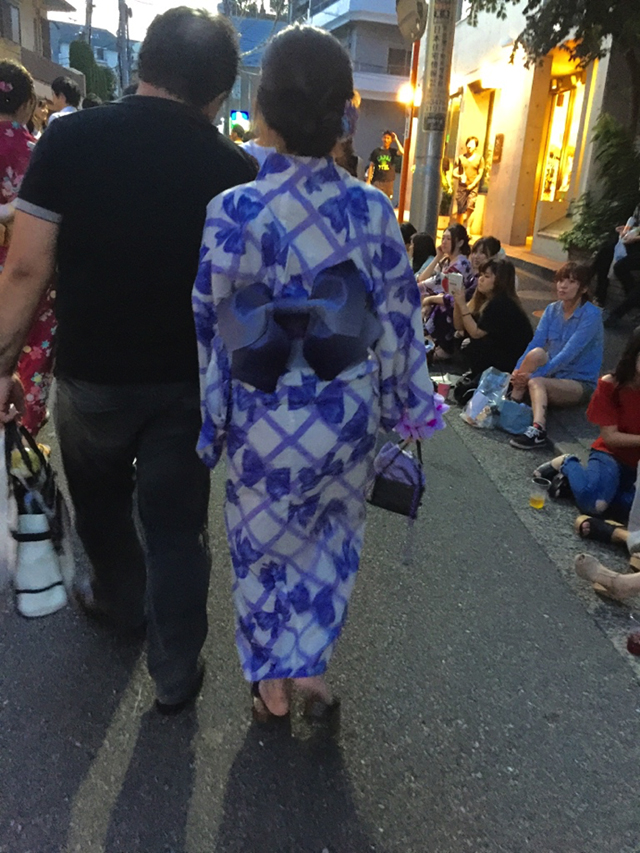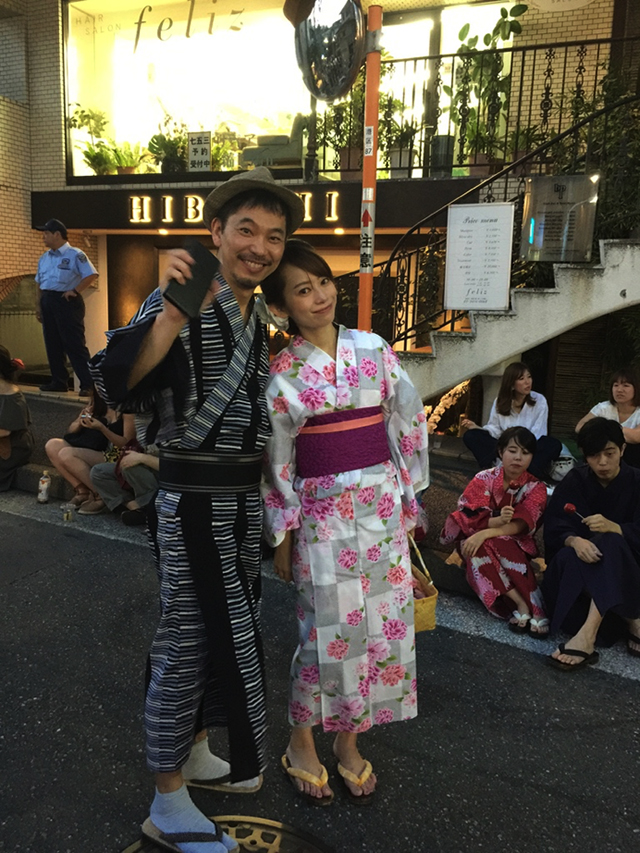 There was a real bang in the crowd, people came to have a good time, eat well – food was more gourmet than the usual festival fare of tako yaki (grilled octopus) and yaki soba.  Apparently the restaurants in the neighborhood were providing the food.  I couldn't stop taking pictures, though when I got back to the shop, the building's security fellow scolded me for not asking permission when I took photos.  But that would have spoiled the spontaneity, I thought to myself as I tried to explain myself.  Many shots are from the back anyway, and I hereby apologize to those whose photos I snuck. Some gladly posed.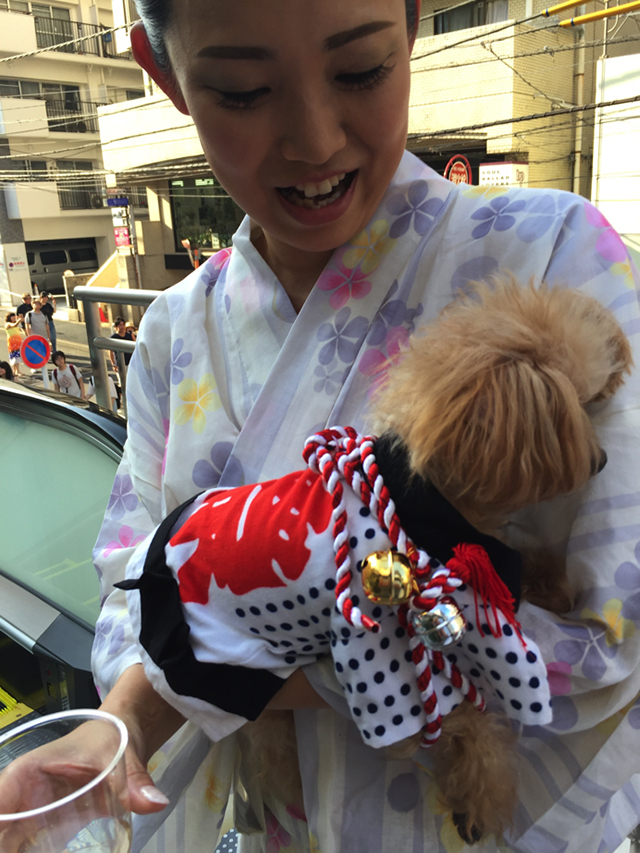 There are many ways of dressing for the festival. This woman was proud to pose with her dapper showpiece dog and gladly gave me permission to take their photo
I did not ask this woman, but modesty didn't seem to be her stye!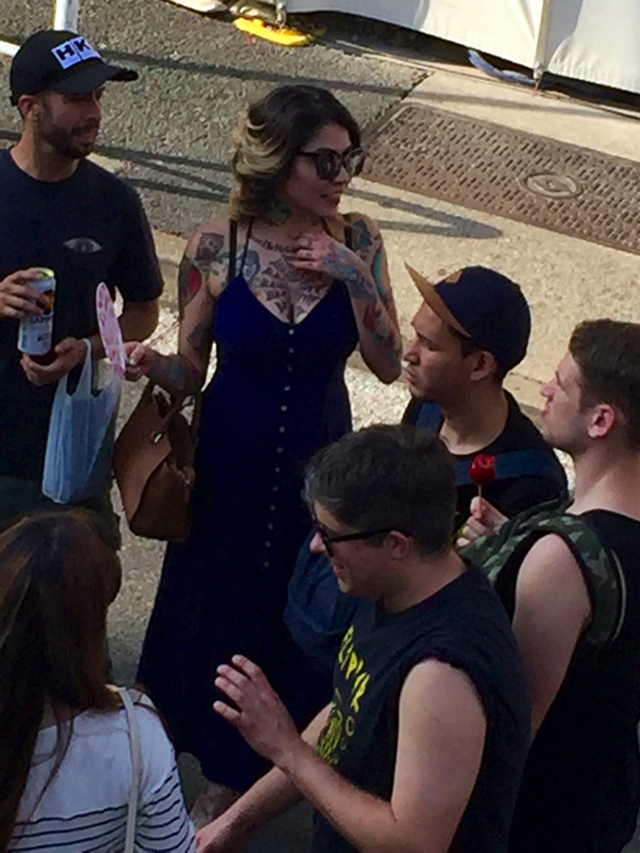 Tatoos are all over the place this year.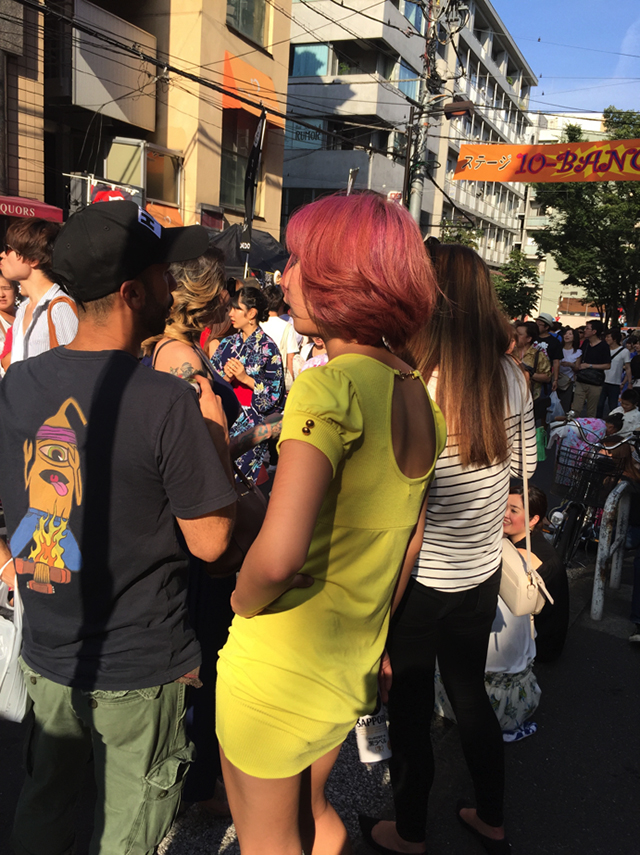 Not everyone wore Yukata. There were other forms of chic as well, enjoying yourself, and other ways of getting attention!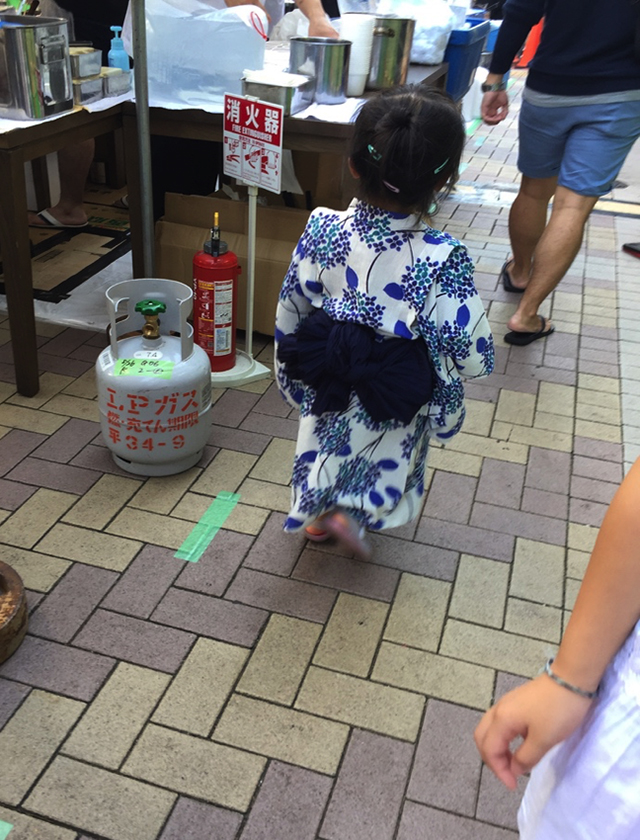 But Yukata style clearly was the popular mode for the festival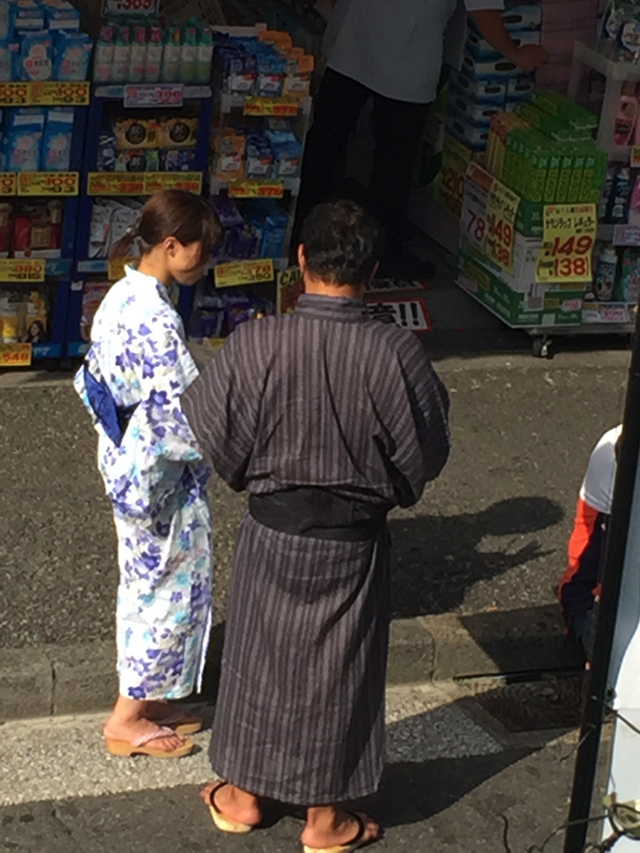 IKI, Japanese word for simple sophistication, cool front and back, was in.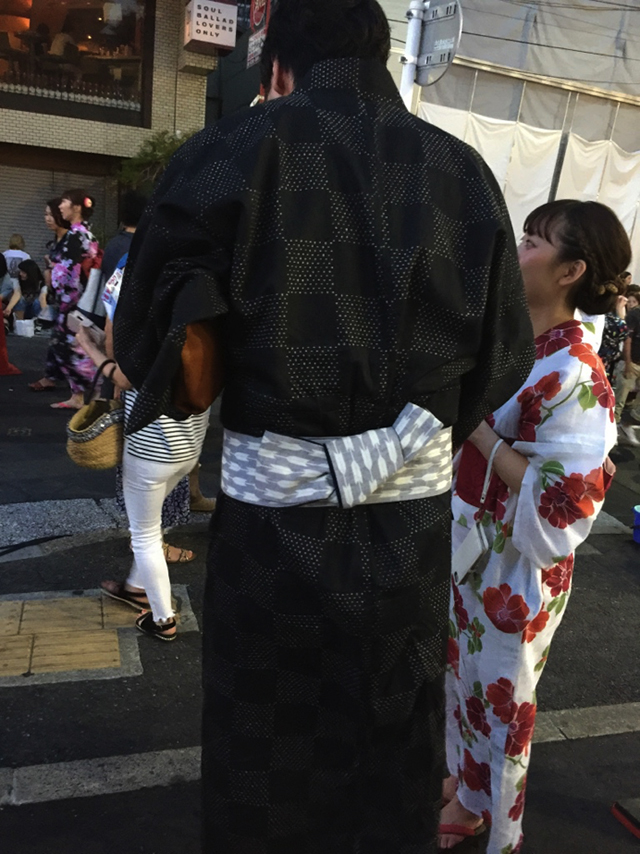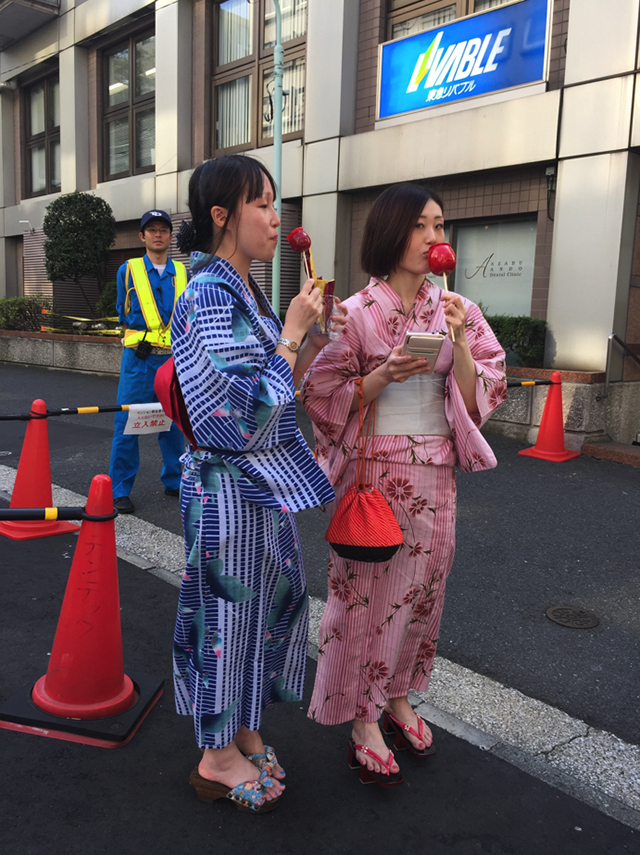 People by the thousands came to Jubang Matsuri to have a good time and relax in/show off their summer yukata.  It was a style show in good taste and enjoying life.  And reassuring to see that the Yukata is still with it and cool and a return to Japanese roots. Tadaima! I'm home, these fashions seemed to be saying, echoing the "MADE IN JAPAN" signs that are popping up on products in shops these days. There is a new pride in things Japanese, along with a realization – finally! – of the excellence of Japanese designs and craftsmanship.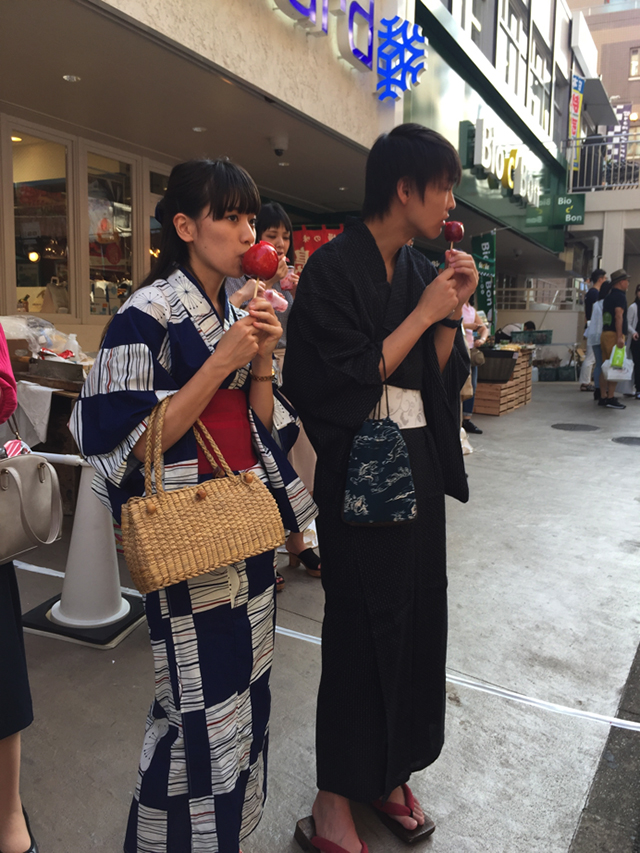 People by the thousands came to Jubang Matsuri to have a good time and relax in/ show off their summer yukata.  It was a style show in good taste and enjoying life.  And reassuring to see that the Yukata is still with it and cool and ULTIMATE JAPAN.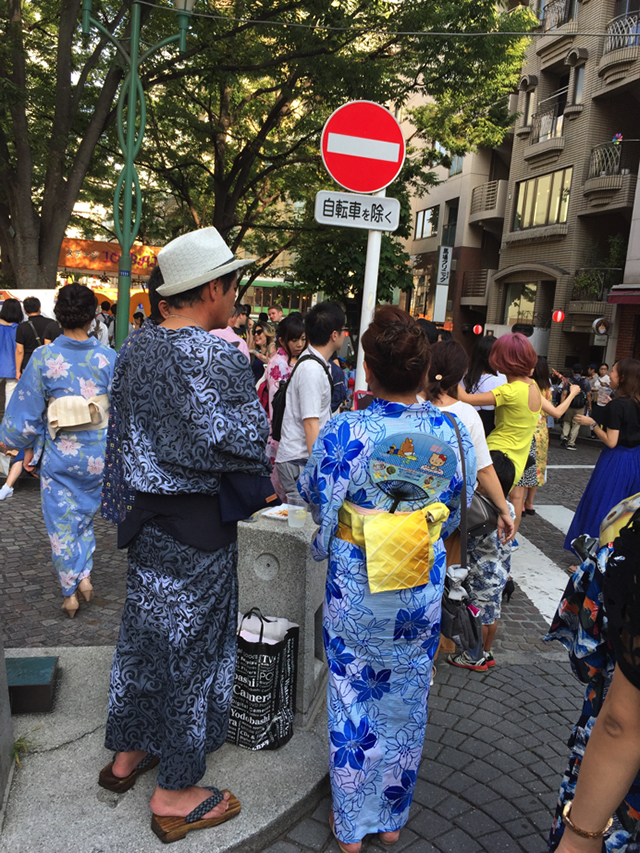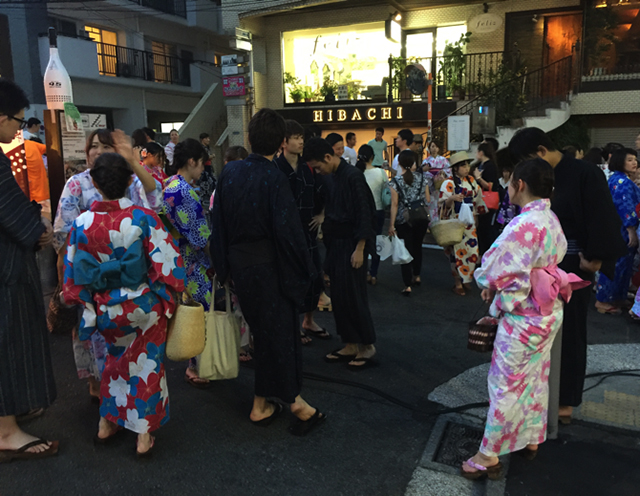 AZABU JUBANG MATSURI was the place to be.
And Yukata was the way to dress!
Little customers posed in their recently bought jinbei from. The Matsuri spirit was shared by all and as happens at festivals, you chatted with the person next to you, complimented him on what he is wearing, asked where he got what he is eating. Instant friendship were formed. Drinks were  free flowing, but Yukata chic was what  gave the Matsuri its spark.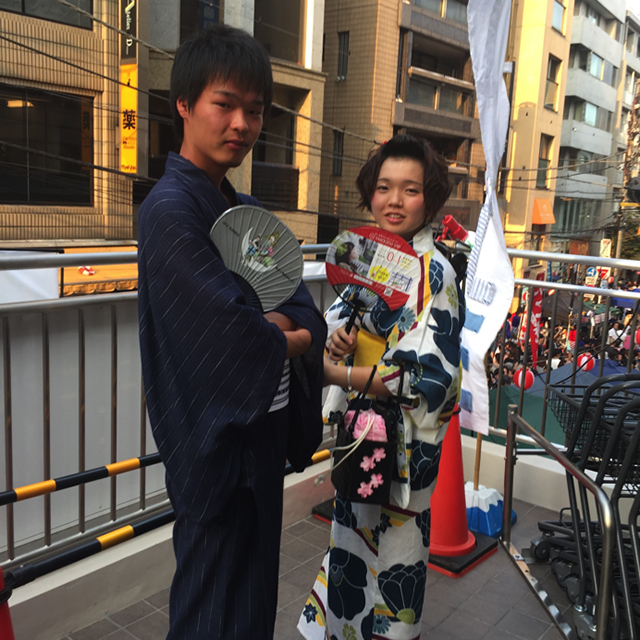 At the top of the escalator, the Blue & White landing gave a great view on the festivities below.  People came to have a look at the Matsuri below and at the peaceful shop filled with yukata derivatives and accessories.
They also came to check in and catch up.
Yukata naturals.  The woman on the right and left below are mother and daughter, 7th and 8th generations of Todaya Shoten, our oldest and most trusted dyer. Perfect models for living Yukata! Yakata in real life!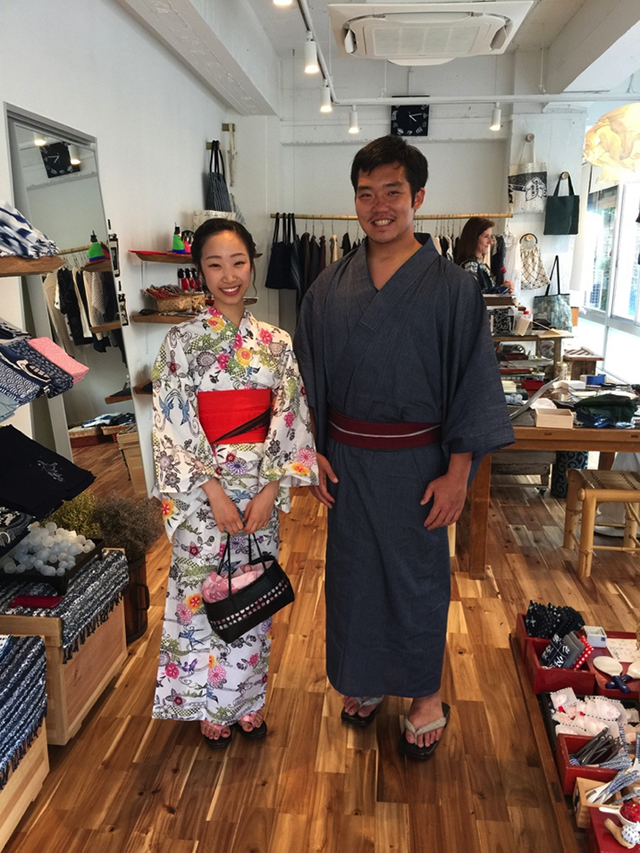 Inside Blue & White there was still more fashion.  People came to see what we had, and also to show us their sense of style, and just to say Hi!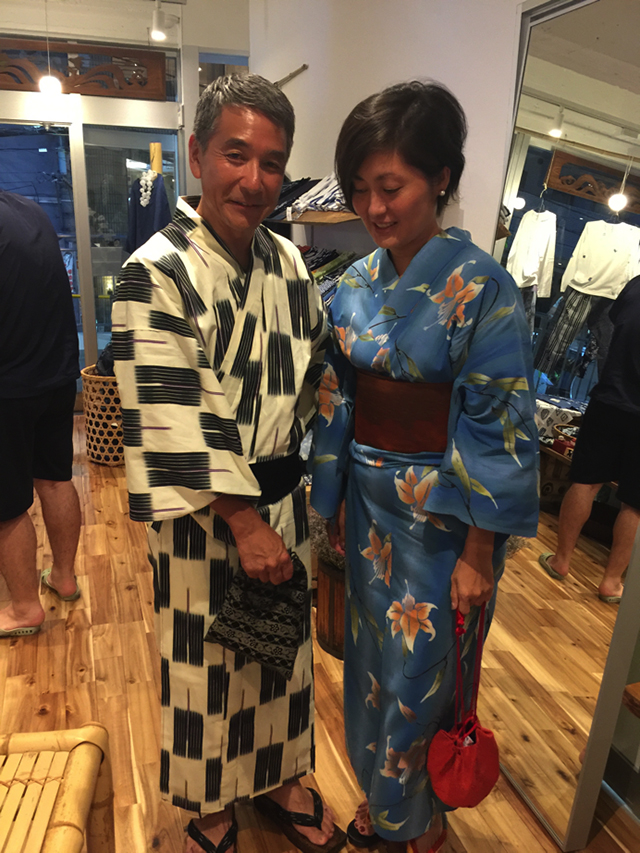 Show us what they had.
Natural Yukata Style.
At home in yukata.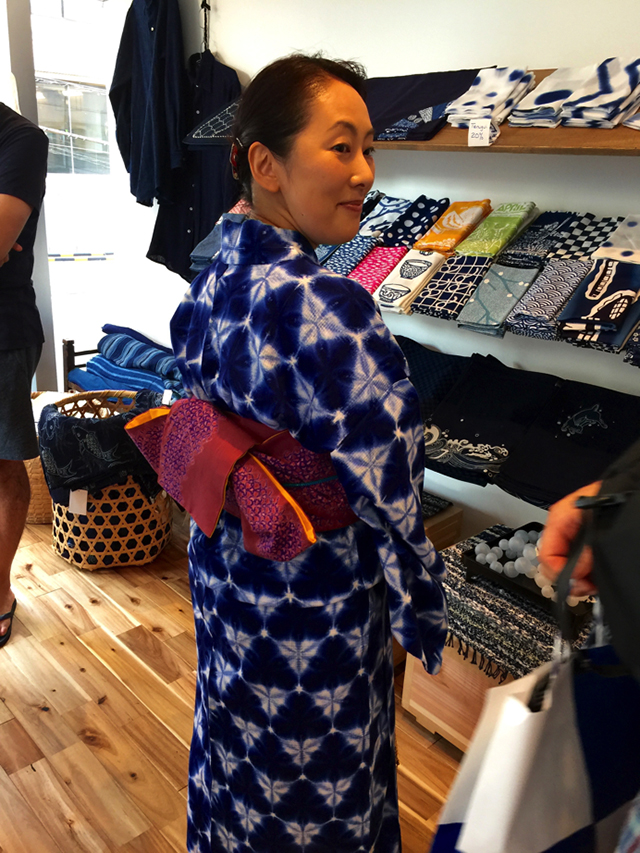 A beautiful shibori yukata.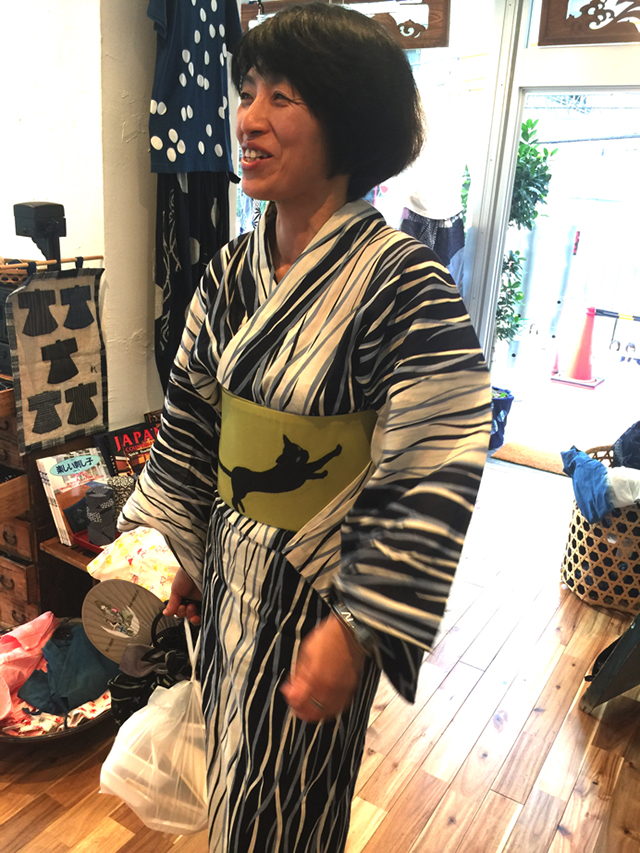 Kimono came too, natural kimono.
This woman, seemed quite at home in kimono with beautifully orchestrated parts that play and communicate lifestyles.
So free and natural in her kimono, she found the perfect "Tsuno (horned) indigo shibori bag by Hiroyuki Shindo of Kyoto.  Her kimonoed friend wanted one too and ordered another.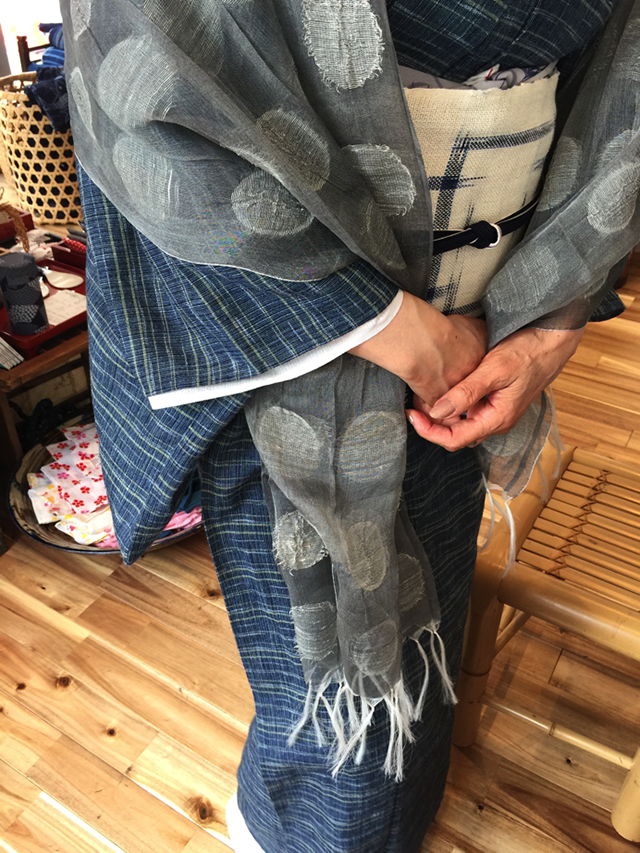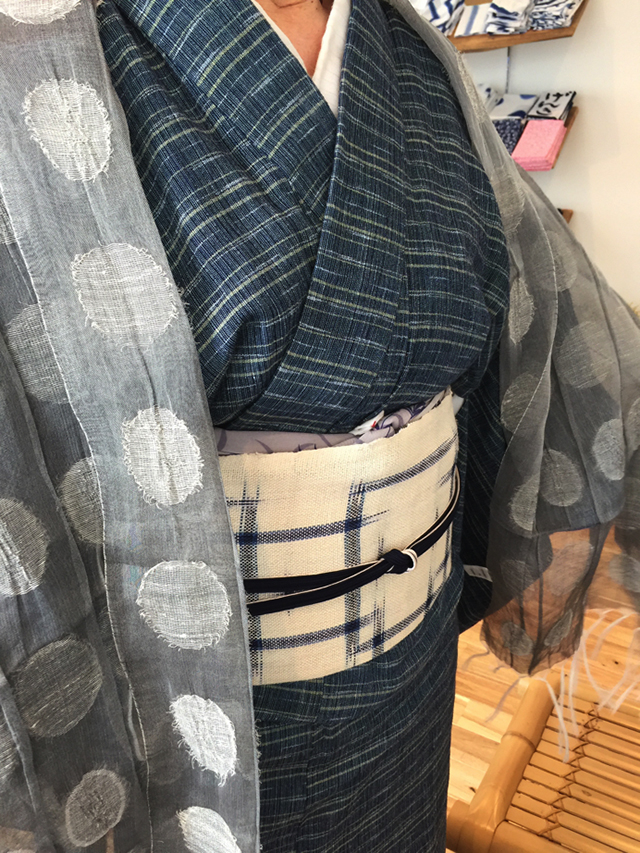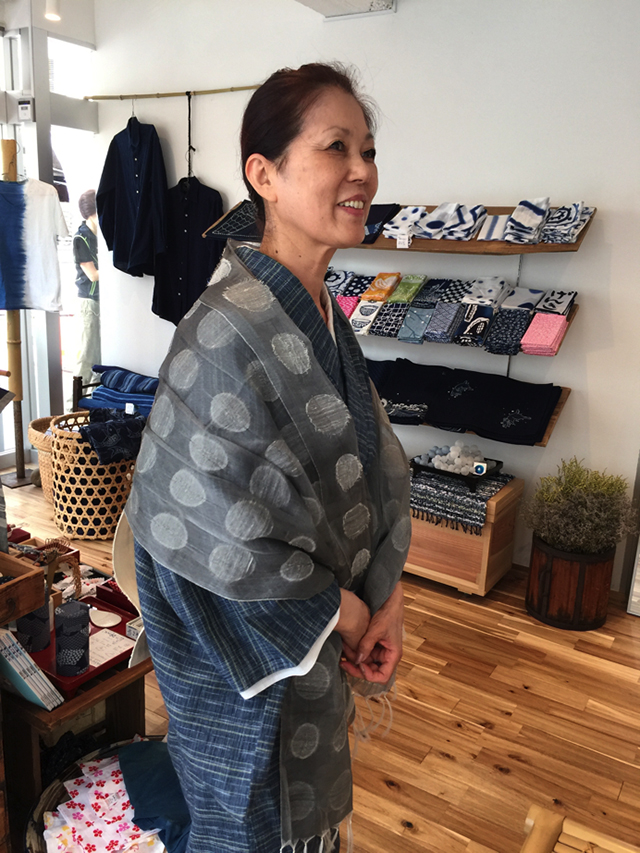 Ultimate good taste.
The subtle combining of kimono and obi, under layers, and magical kibiso stole made of leftover silk cocoons is a lesson in kimono elegance by a woman who teaches Japanese to fortunate foreigners She is an ambassador of style and craftsmanship and their combining.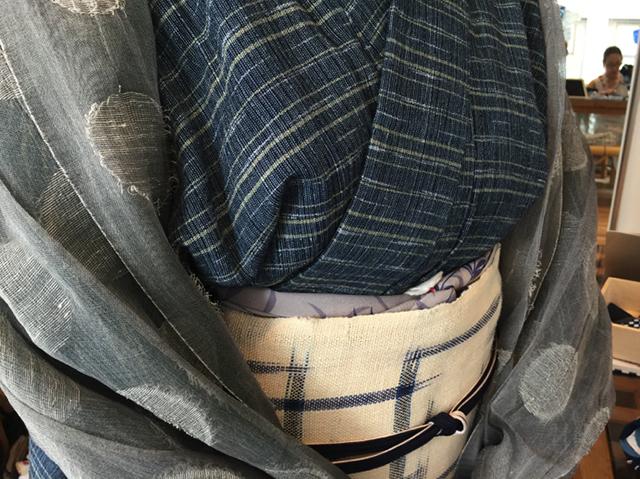 Without realizing it, Blue & White has become a destination for people who wear Yukata and Kimono.  They are happy to show us and know we appreciate their sharing of their great sense of style.  We encourage people to keep leading the way in the renaissance of this quintessential form of Japanese dress and style and carefully choosing all the critical pieces of craftsmanship that make up its totality.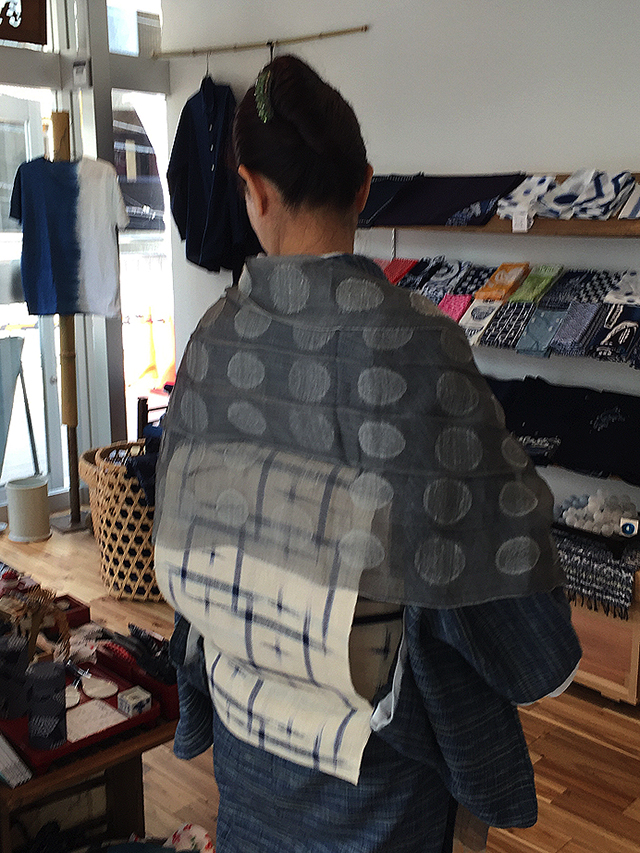 Why do I continue to take photos from the rear? I am not sure why, but maybe it is because that is where the obi blooms in its pattern and weave and the way it is knotted. How it is tied and how it offsets the graceful shoulders and the slim figure and the graceful neck of the wearer.  And also maybe so I won't get in trouble for not asking permission.  (Not the case here! I even wrote a letter to confirm her agreement to be used on this blog. She kindly consented.)
---
October, 2017
I MET A MAN
After a morning compiling Mottainai images of Boro and old Meiji era patched washi ledgers at home, my head was filled with patches and mends I couldn't have enough of all the things I had collected over many years. Once you fall in love with Boro and things that have been saved and mended and patched and treasured, you can't stop. You just want to see more, have more.
Late for work (again!), I rushed to the subway for the 20 minute ride to Blue & White in Azabu Juban . I had missed rush hour, so it shouldn't be crowded, I thought. I found a seat, and across from me was an older man rifling through his rather large plastic bag of shopping. I saw a banana pass by. He took a pair of chopsticks in his hand and I wondered if he was going to eat lunch on the train. But no, he was just making sure he hadn't forgotten anything. From another bag he took out of large scruffy greenish folder of what seemed to be more Mottainai. Patched and layered, bent with use and constant handling, his bulging album of scraps was clearly a treasure and I watched as he pored through the pages, wetting my curiosity to see what was inside. I couldn't resist. I went over and sat beside him and asked whether that was a scrapbook. He tentatively said yes, and I told him that I had spent the morning looking at old Japanese Boro papers and cloth and rope and was very interested in scraps. Would he mind showing me what he had assembled.
He forgot his hesitation and was surprised at my interest. He told me he read the Nihon Keizai Shinbun, Japan's Wall Street Journal every day and cut out articles and pasted them in his album. He underlined, crossed out, highlighted, circled cross hatched, colored in and annotated the important bits.
I was impressed that he only saved articles from The Japan Economic Journal and clearly prized what he read and saved. When I asked whether he ever went back to read what he had saved and pasted, he said "of course it is very important information."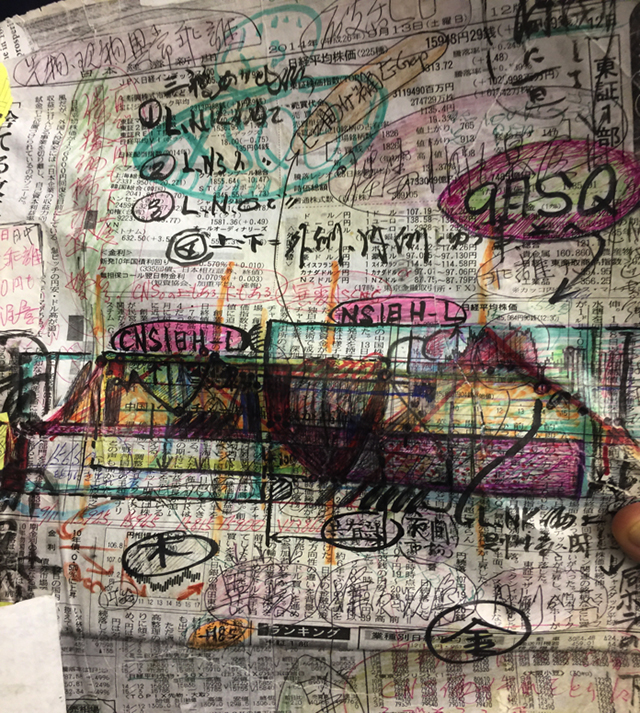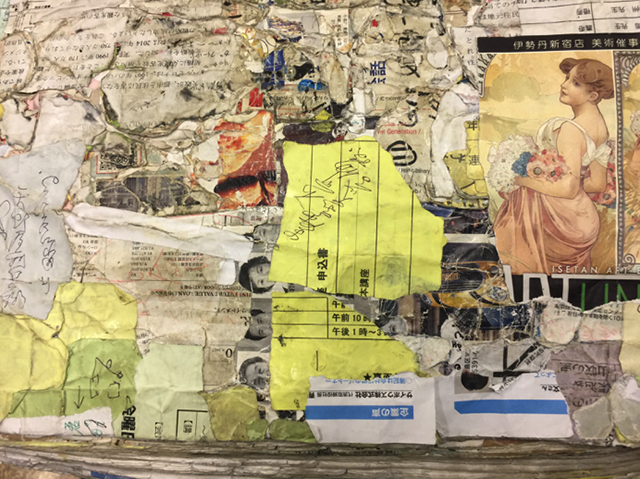 His album was thick and well worn, well read, well glued. He said he had patched the pages over and over. I asked him how long it took him to compile a scrapbook of this size, and he said he filled it in just a few months. When I remarked that his house must be overflowing with these collages, he sheepishly nodded but said that each volume was a treasure.
A few weeks ago, he told me, he had several of them with him when he put them down to buy a drink on the train, and he forgot them. When he went back to retrieve them, they were gone. He was heart broken and very upset to have lost them. He had put all his reading and thinking and composing into each one.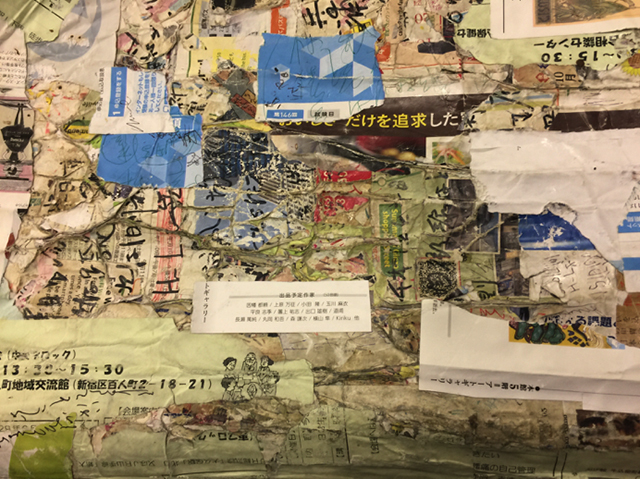 He soon became used to my nosey questions and when I asked if I could see the cover, he gladly showed me, pointing out the number of mends and additions and overlays. Not unlike the spirit of Boro, a somewhat unconscious work of patching things together to strengthen and fortify, his collages had a new life of their own removed from the original boxy orthodoxy of a newspaper. I asked him if he referred to his collages after he had created them and he said, Oh yes! They are very important to me.
When I told him I was interested in cloth collages, indigo boro, he told me he was from Okayama and his grandmother used to weave Asa or hemp, so he was very familiar with what I told him I collected. He looked at my workman's pants and recognized them, realizing that we had many, eccentricities in common.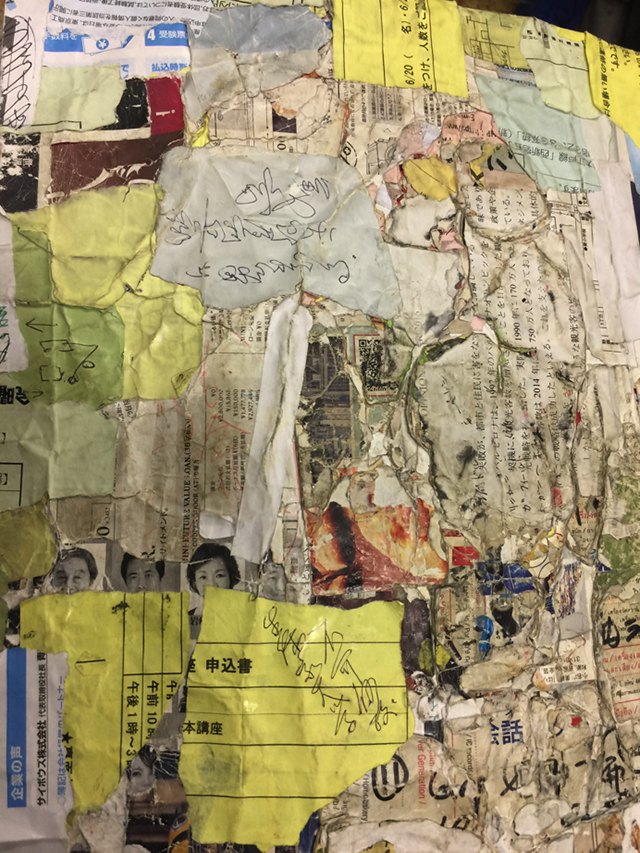 His workmanship had a sense of urgency to it – underlines, circles, blackouts, cross hatches. It must have meant something to him, but I couldn't even tell which side was up. I couldn't read it, shame to say, so there was no invasion of privacy – other than brazenly sitting next to him on the train and asking none-of-my-business questions.
He told me he used to work in the oil industry in Texas but said nothing of his current life other than making scrapbooks of admirable heft and girth. I was impressed at the amount of reading that must have precluded them.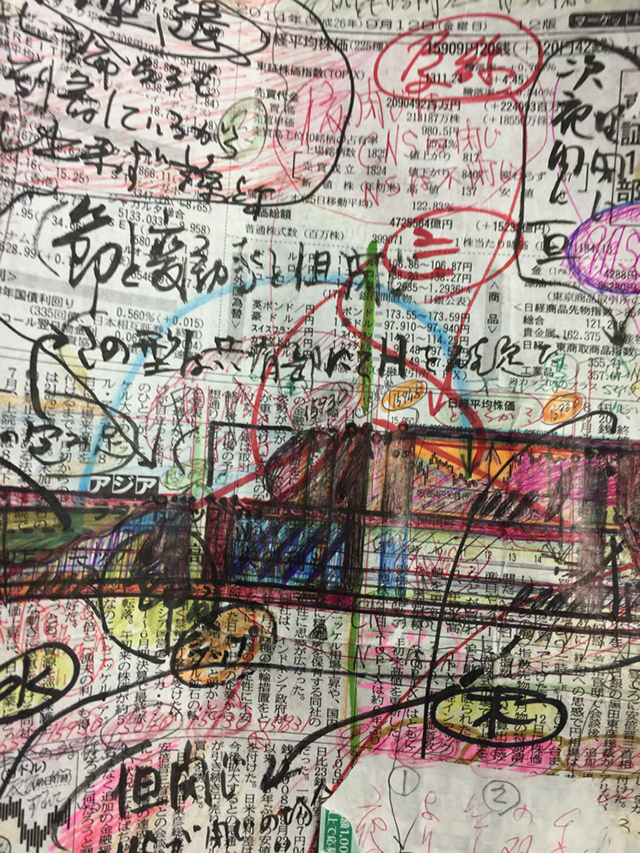 After he had recovered from the surprise of having a strange looking old woman across him and start barraging him with questions, he wound up maybe even gratified that he had found a soul mate – fellow hoarder? who could appreciate his obsession with preserving and annotating newspaper clippings.
Time was up. Azabu Juban was the next stop and I asked if I could take a photo of him. He gladly smiled with his scrapbook of treasures on his lap.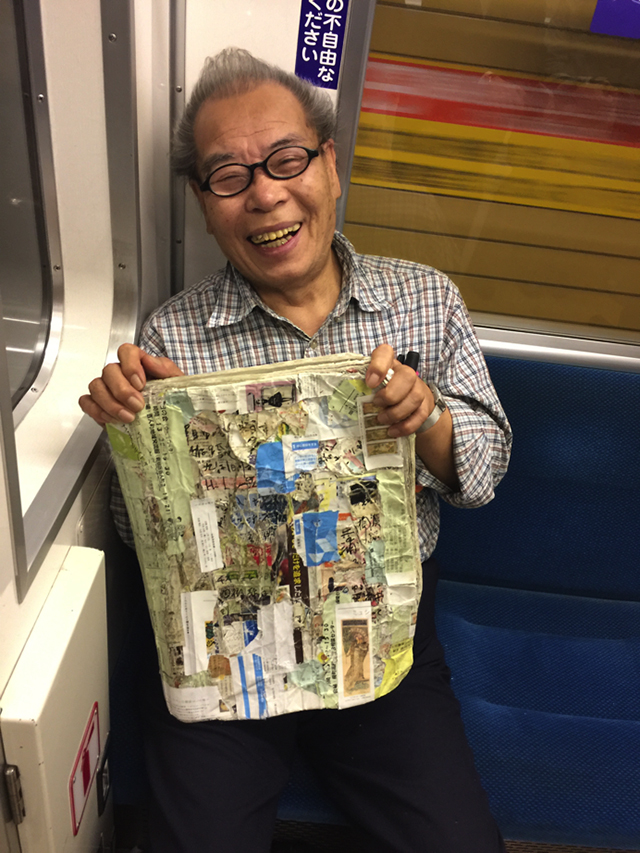 ---
December, 2017
CONSIDER THE LOWLY THREAD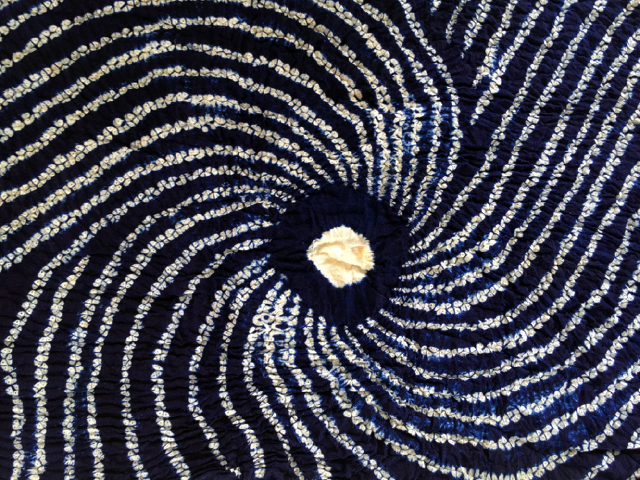 From its humble origins as a cotton boll, its fibers are plucked and stretched and twisted into multi-ply threads that are stripped down to single ply then twisted into strands to make a sturdier thread for weaving and stitching, the cotton thread has been a staple for Japanese cloth for centuries.  Studies vary, but the cotton culture has been actively maintained since the 15th century, having been introduced in the late Nara period or early Heian around the 9th century.
Its fortuitous meeting with indigo in about the 15th century and their dance in the dexterous hands and sensitive minds of Japanese craftsmen has produced a tradition of extraordinary indigo textiles that is unparalleled in the world.  (this report might be biased!)
It is ongoing today in the workplaces of increasing numbers of dedicated dyers, spinners, and weavers throughout Japan.
Last week I had the excitement of visiting one such enterprise.  Japan Blue Textile Company in Hamamatsu, Shizuoka, where two brothers maintain their family business in a compound of spinning and dyeing and weaving and rolling and selling their work in a manner not far advanced from their industrial beginnings, working on ancient weaving machines thumping away at their work.
Not afraid to stitch or dye, Shoji Tsujimura enjoys experimenting with his own clothes and devising new variations with indigo.
I was happily surprised to learn that there are a number of weaving and dyeing companies in the surrounding area.
In this hands-on industry, there are never enough hands to man the dye pots and the loom upwarping, the weavings, the overseeing.  More people are necessary to perpetuate this tenuous industry. Here a man bends to the somewhat mechanized task of wringing out the indigo dyed fibers.
The aibana, indigo flower in the indigo brew needs stirring and tending to each day to maintain its vitality to produce rich tones of indigo.
Tedious bindings of threads produce striking blue and white threads.
The ultimate blue and white thread is one mysteriously blended in alternating shades of indigo.
In Japan a red thread is thought to connect lovers and is often alluded to at wedding ceremonies.  But to my mind, it is an indigo thread that connects people and weaves them together, in Japan and beyond: from blue jeans to uniforms to flags.  You find it everywhere, the indigo thread of destiny.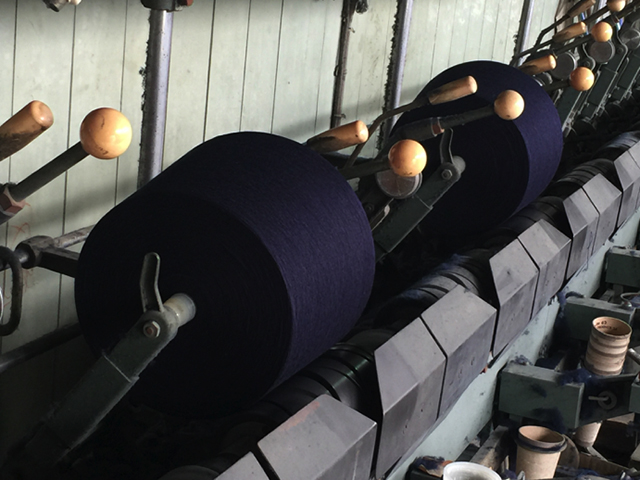 Spools of indigo thread feed into the clackety looms that operate on programmed design cards at Japan Blue Textile Company.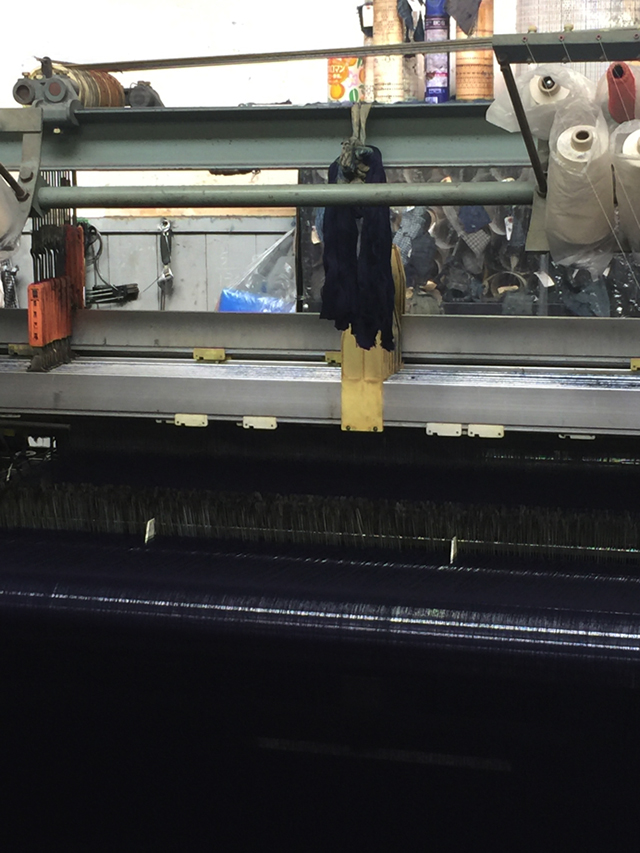 Smooth sailing in the weaving room.
Experienced eyes oversee the looms and check for errors.
Too much to do, too few to do it is an often heard remark in these labor intensive enterprises.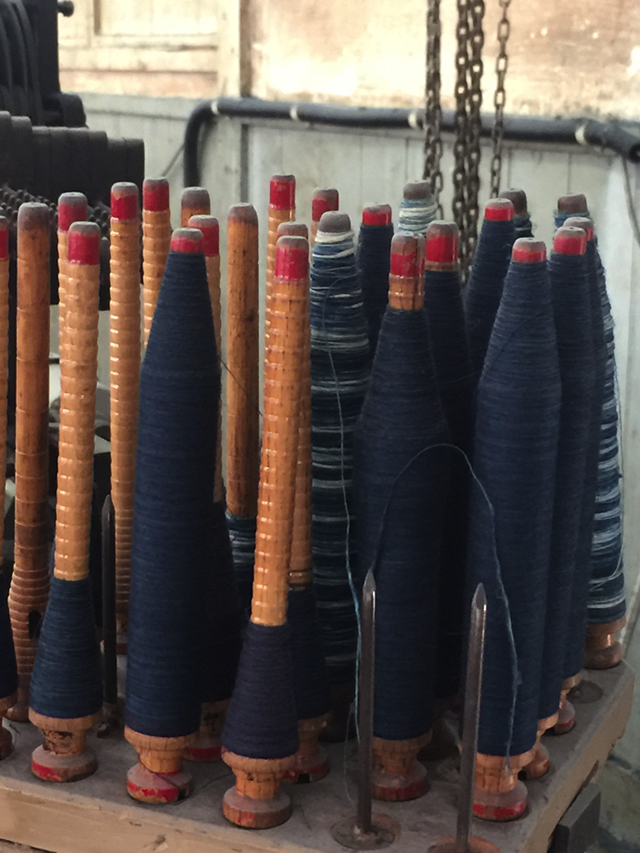 Tall spindly bobbins of various indigo threads are grooved by time and use in the weaving process.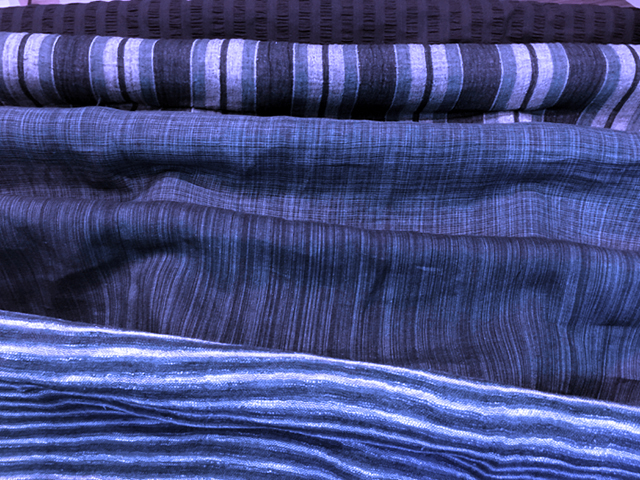 End result!  Brilliant blues in varying shades and weaves and textures of indigo cotton and hemp show the infinite variety and hand of the color blue!
Perfect for cushions, clothing for table, for daily living, and clothes to wear.
Indigo brings tranquility and simple elegance to wherever it is used.
Coming soon to Blue & White will be cool indigo jackets and handsome shirts for men.  Get with it.  Wear something with hand and heart and history.
Go Indigo!
For centuries indigo threads have been the foundation of Japanese textiles. Here a 19th century Yogi of stenciled karakusa with crane roundels has deepened into a soft shade of indigo with white motifs with a unique family crest on the back.  It was probably created as part of a dowry and filled with cotton or silk batting as a sleeping kimono.  From Amy Katoh's collection of antique indigo textiles that she is reluctantly winnowing.
Indigo threads of all kinds are hanging in the window of the shop now and for sale at Blue & White. They brighten life with their endless variations and shades of eternal blue.
---
December, 2017
THE 12 JOYS OF 2018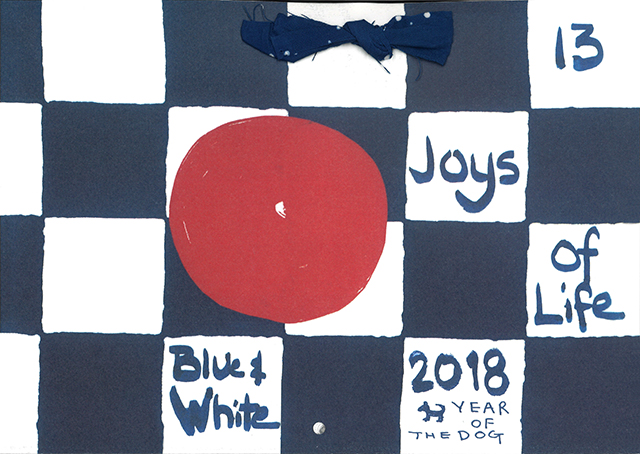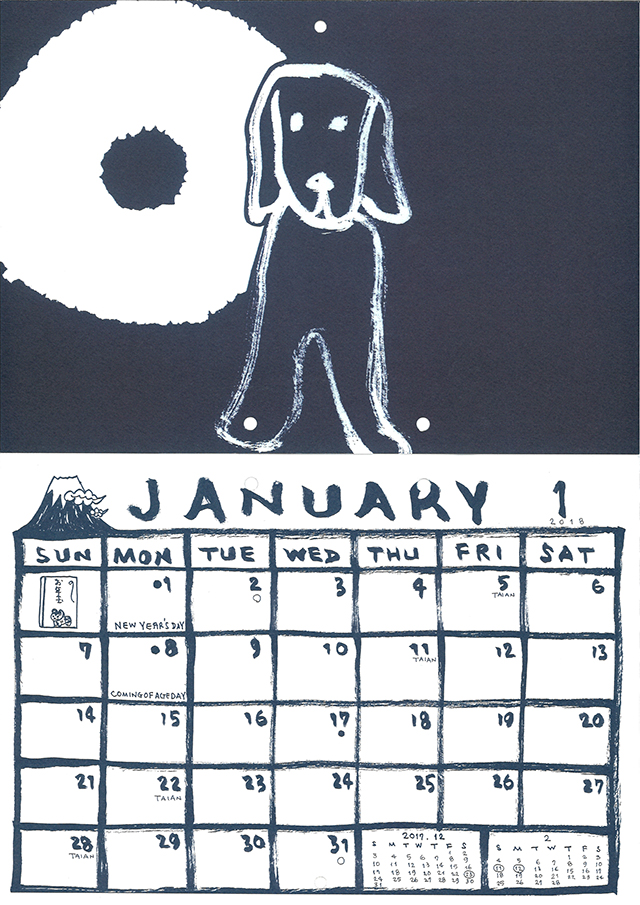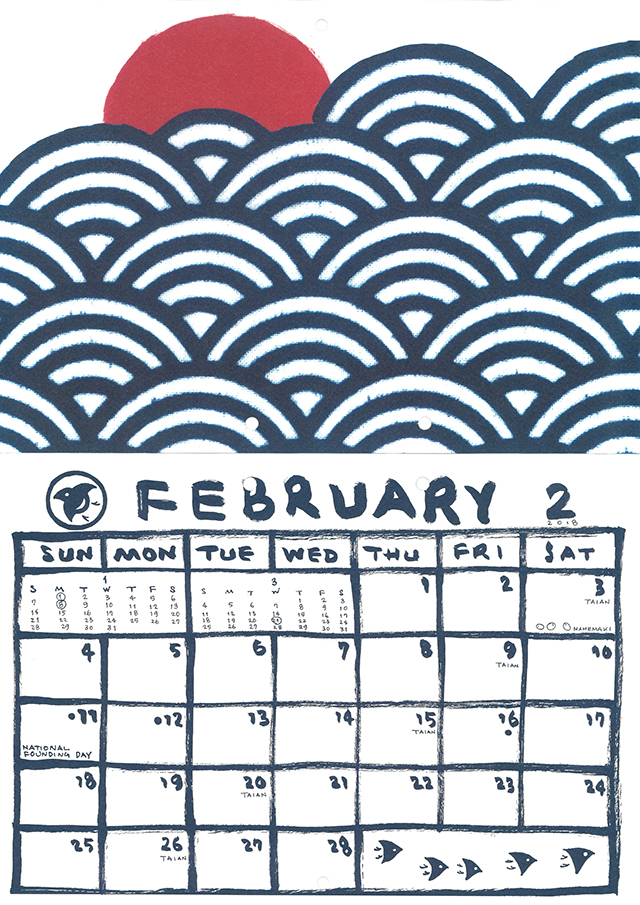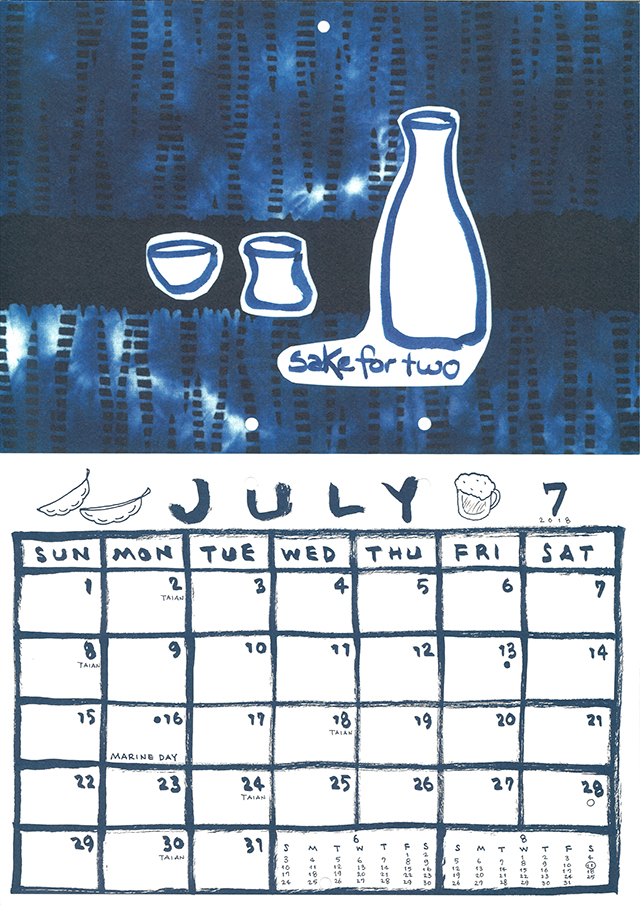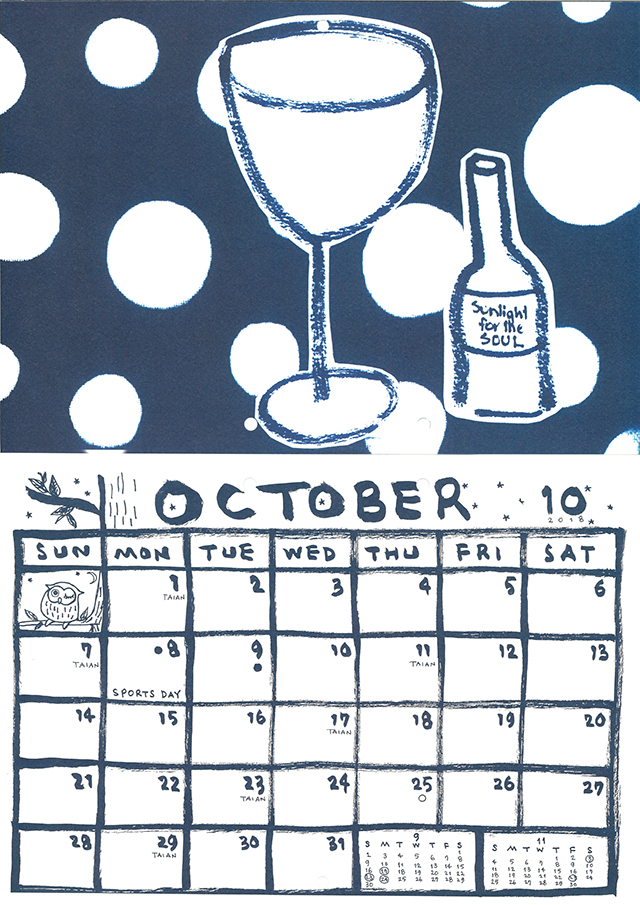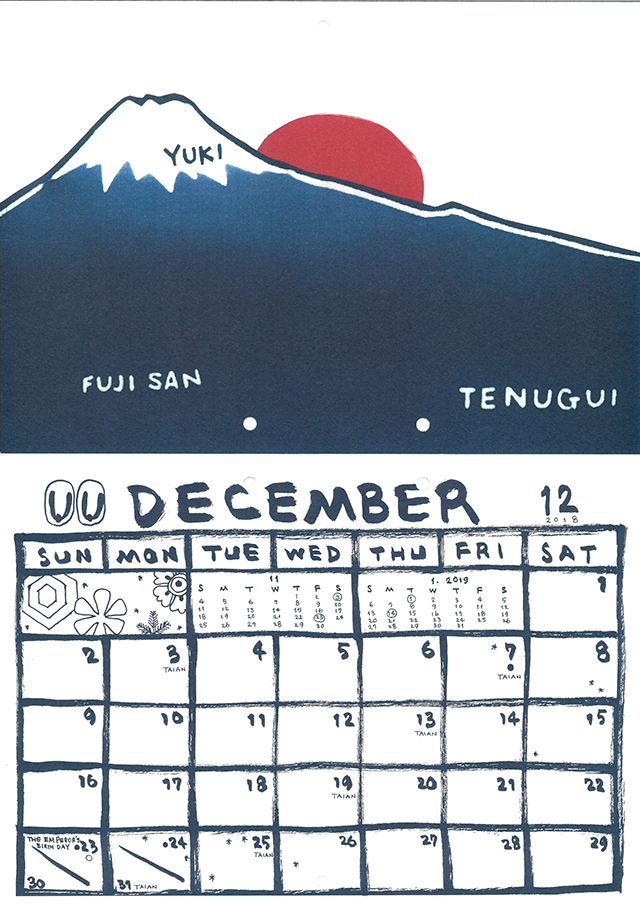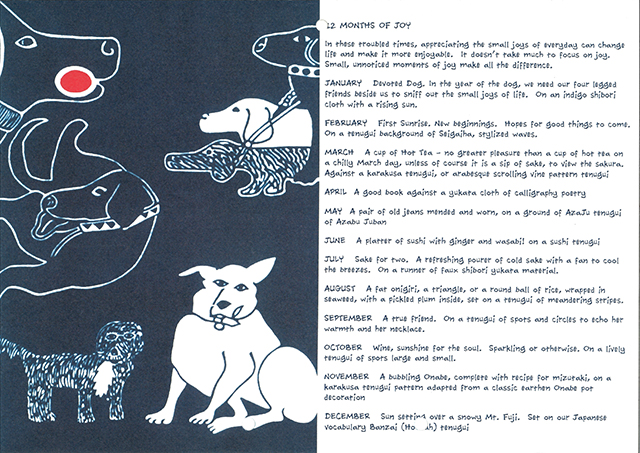 TO ORDER
Calendar   ¥2,400
Number of calendars:
Name:
Address:
Card company:
Card number:
Expiration date:
Security code:
Shipping charges
To                           Asia      USA, Europe, Australia       South America, Africa
Airmail:                ¥780                    ¥1,090                                     ¥1,490
Printed Matter:   ¥610                       ¥780                                      ¥1,010
EMS:                  ¥1,400                   ¥2,000                                     ¥2,200
Order by email at:
---
January, 2018
AKEMASHITE OMEDETOU GOZAIMASU
Blue & White sends you the very best of Japan.
A rising Sun of red chili.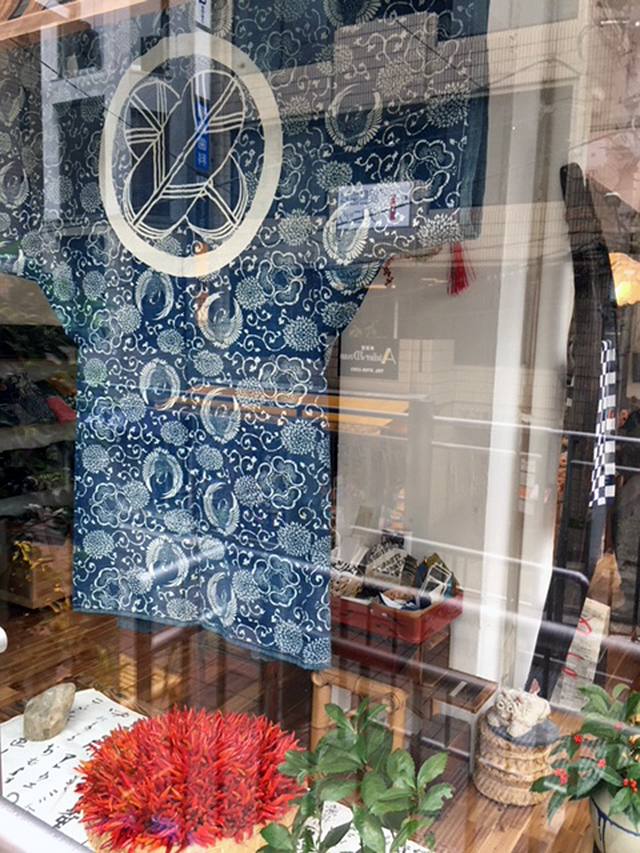 An antiques indigo katazome sleeping futon. 19th century.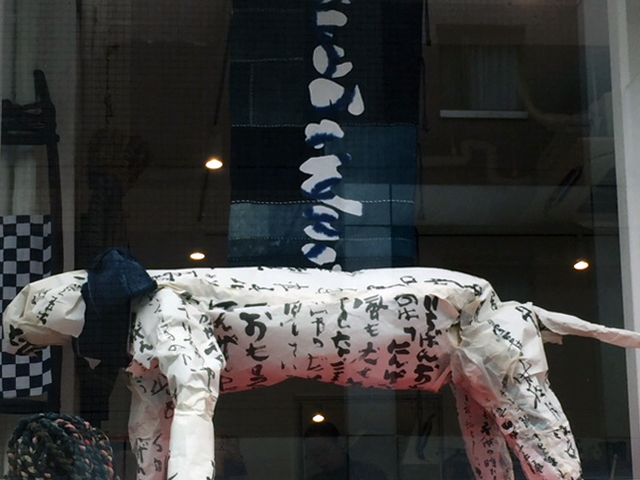 A washi Dog of characters for the New Year.
With Best Indigo wishes
And hopes you will come see Blue & White in the New Year.
---
January, 2018
ROUND IN CIRCLES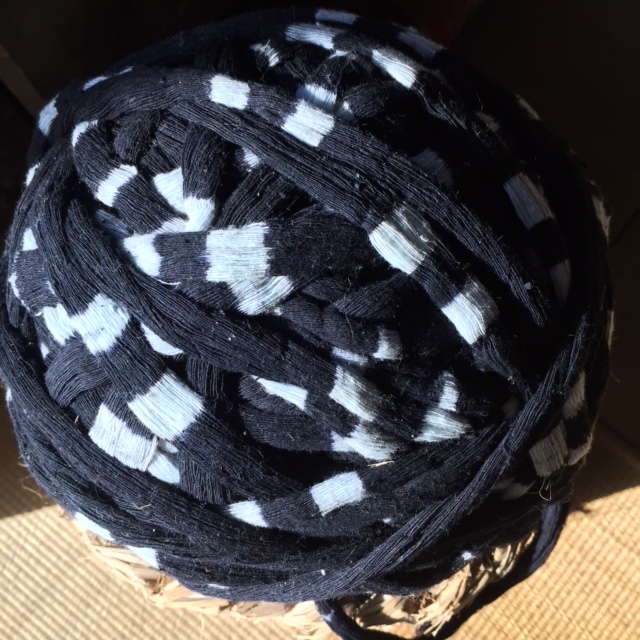 After travel to Pakistan! And Sri Lanka for several weeks at Christmas time, a return to our 300 year old Minka, Japanese farmhouse in the wilds of Karuizawa, gave me a new perspective on our life there. The beautiful old barebones house was hauled from Gifu 40 plus years ago, all ancient straight beams on flatbed trucks and reconstructed as a gasshozuri, A frame house in the shape of hands in prayer, mostly post and beam construction. Since then, quiet circles have crept into our life there, and soften it with their roundness. A morning with my iphone catalogued a surpising number of circles that have unwittingly taken up residence there.
Words are not necessary here. Only a brief explanation of what the objects are and sometimes where they came from.
Above: a beautiful ball of indigo kasuri/ ikat indigo thread predyed before weaving.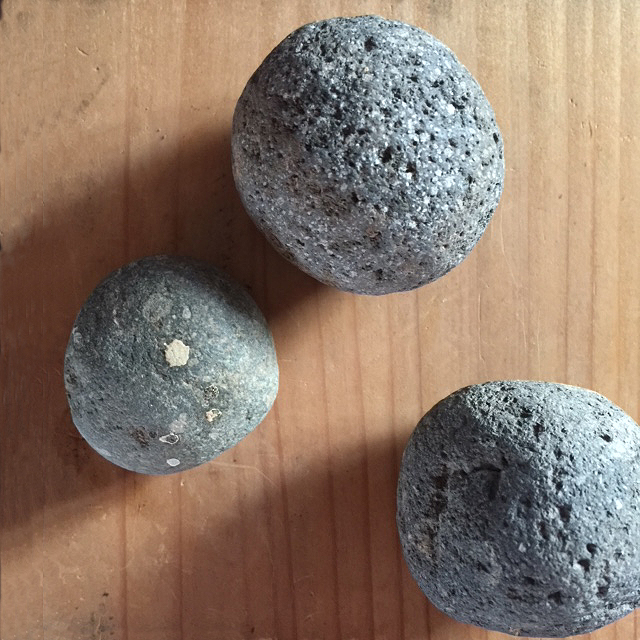 On my desk, three nearly perfect round pebbles picked up on walks in the woods, remind me of the perfect maru ishi, round stones that are objects of worship in some Shinto beliefs. Nearly perfect is fine with me.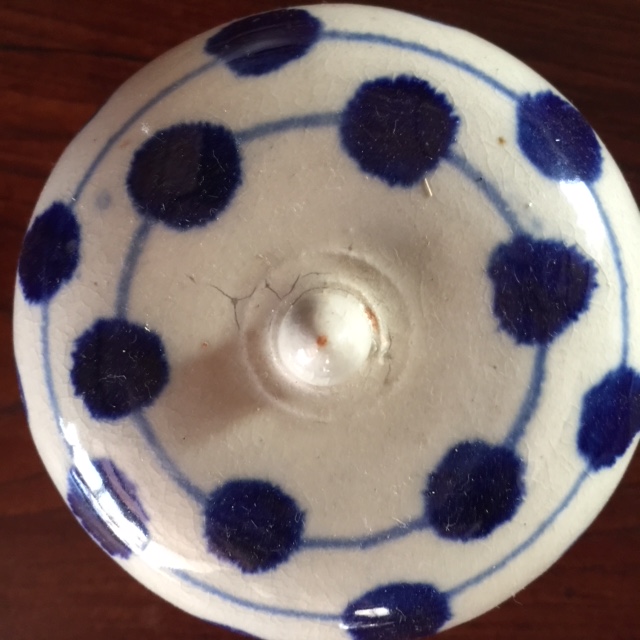 Nearby, a round covered dish is encircled with a necklace of circles painted by Yasuko Omine to enhance her husband, Jissei Sensei's dignified pot.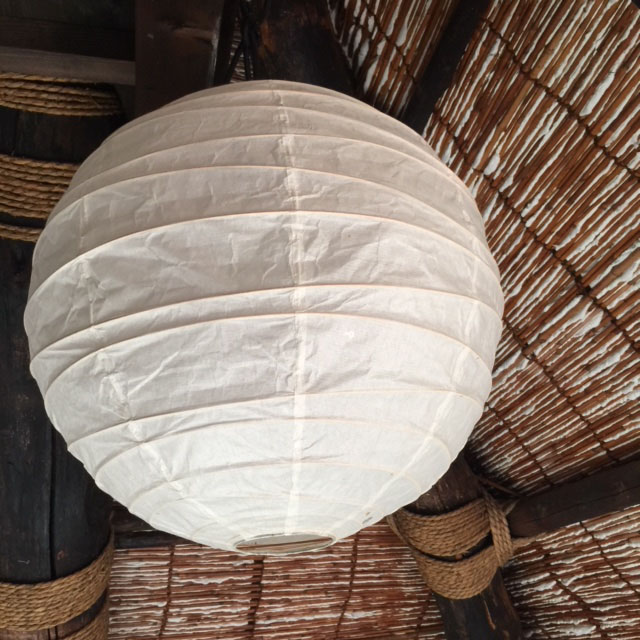 A pure white orb of white washi, this Akari lamp is the creation of Isamu Noguchi in the 1950's and still strikingly modern today. Its soft light gives glow to the persimmon stained bamboo reeds that hold the white plaster in place and makes for a texture and design that no wallpaper could ever match.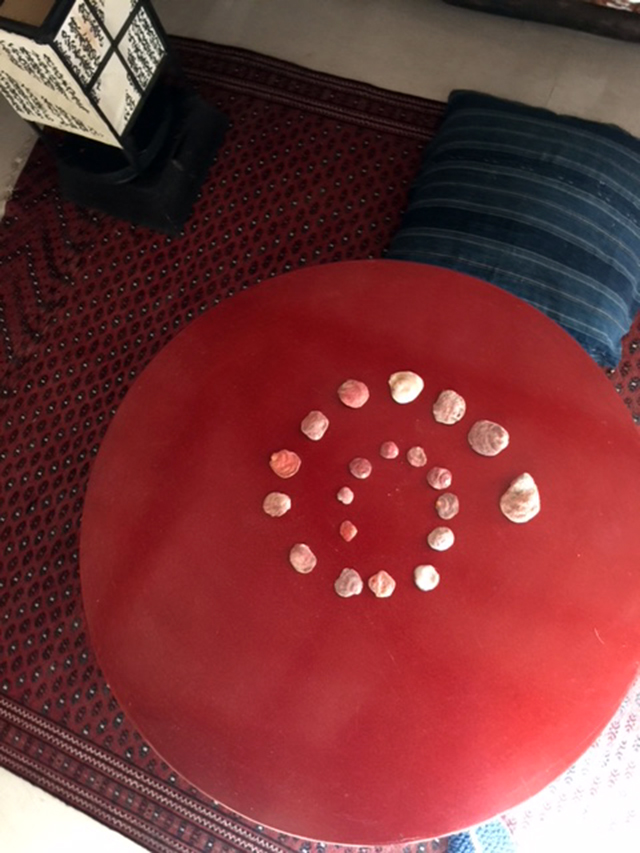 Translucent red shells picked up on a Bali beach years ago, still spiral on the antique family heirloom red lacquer table.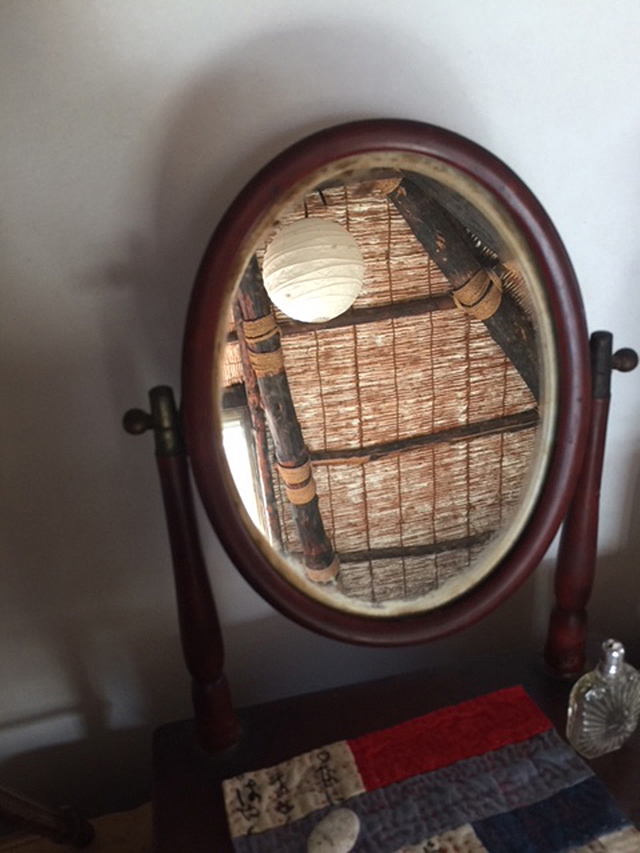 A sweet oval mirror on the bureau is too low to use really, but still does its part reflecting the beams and rope construction of the ceiling, and the mesmerizing bamboo lattice ceiling.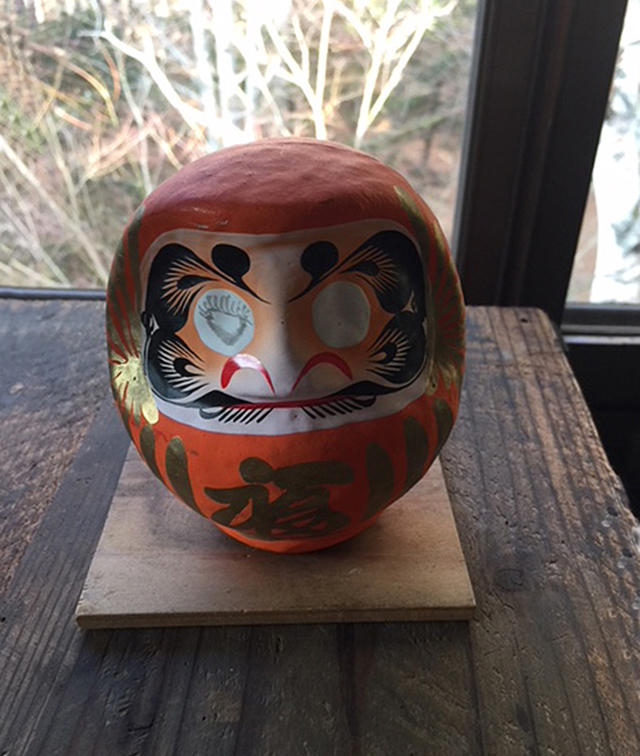 A round red daruma is for making wishes by filling in one eye when you make a wish. They are a common toy sold at the New Year when everything is possible.
When the wish comes true, you fill in the other eye. Not sure what the state of wishes is here.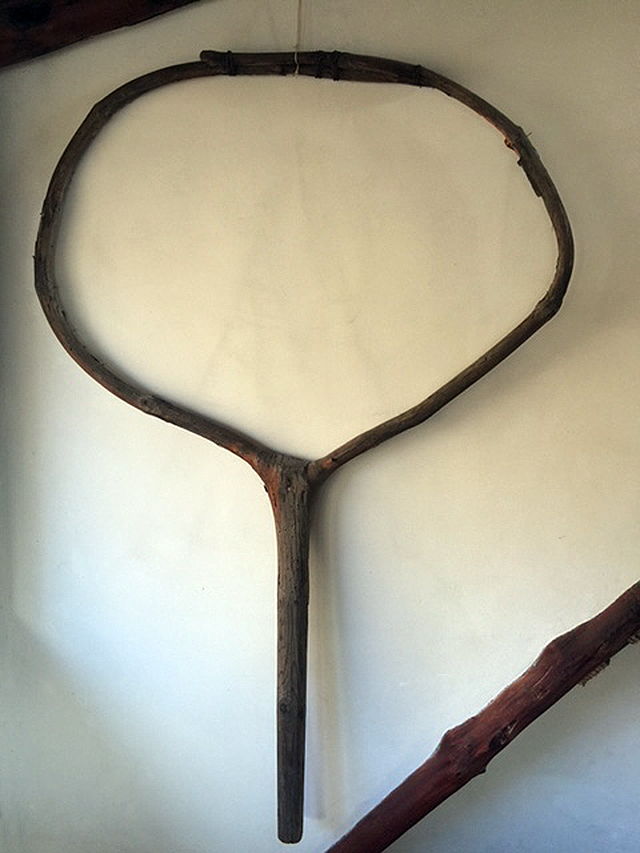 A beautiful use of shapes in nature is this fishing tool whose net has long since vanished. A resourceful fisherman a hundred plus years ago found just the right shaped tree branch for his work and bent it to this pure form.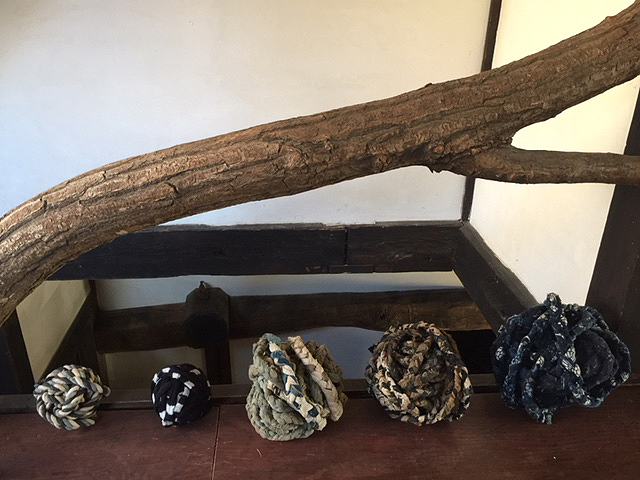 The last role for country textiles is often as lengths of rope made of the last bits of tattered textiles. Who knows what they were used for! Hanging festival banners and curtains, for mosquito netting, for anything that needed hanging or securing in the days before plastic. There were always loops of these ropes made by idle hands with unused material, hanging around waiting for use.
I can never resist their colorful braided compositions and had to slap my own hand from picking up another bundle last week at the Hachiman Shrine flea market. You can still find them occasionally today, but it won't be long before they disappear completely from the scene.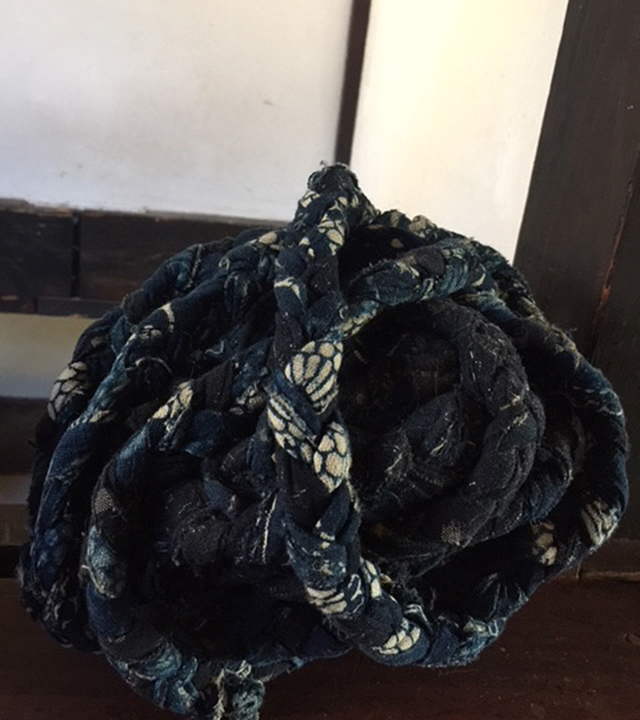 Big fat ball of old stencil dyed indigo cloth braided into rope.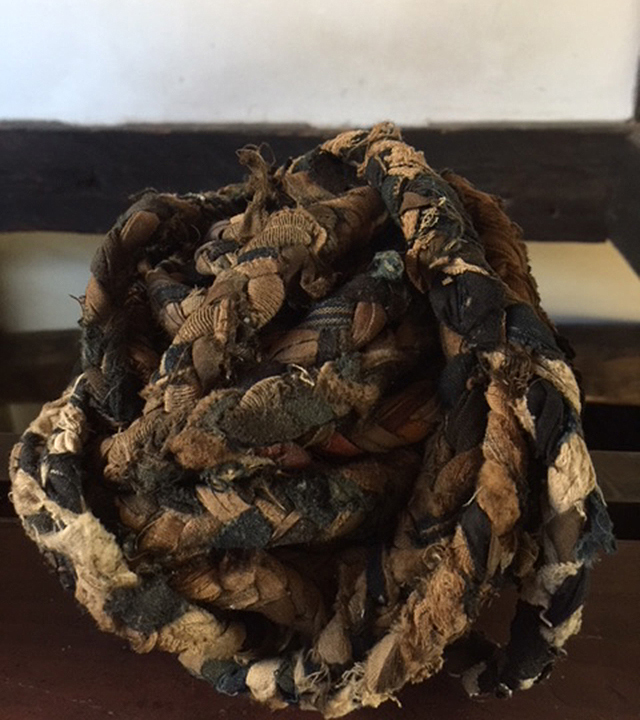 Last gasp of old materials which, when braided together, still have strength and consummate beauty.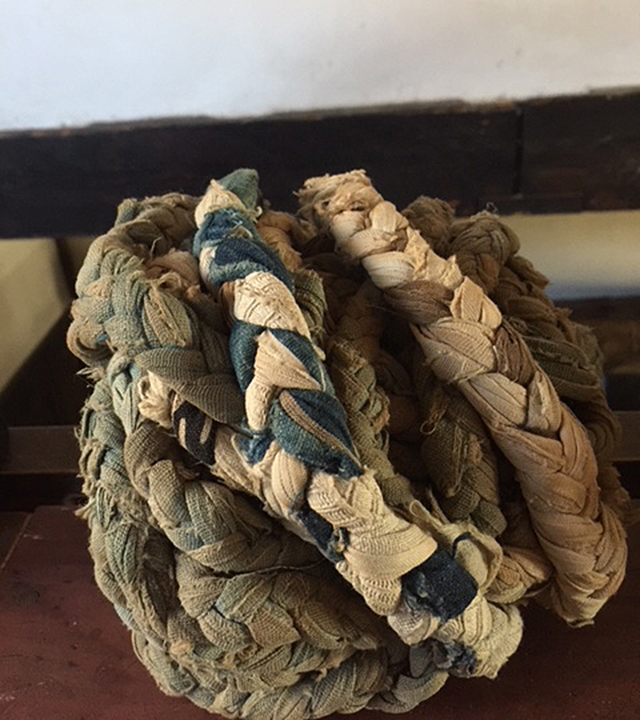 Shy but beautiful muted colors and end-of-the-road materials make a poignant portrait of Mottainai rope – too good to waste. Don't throw it away. It can still be used!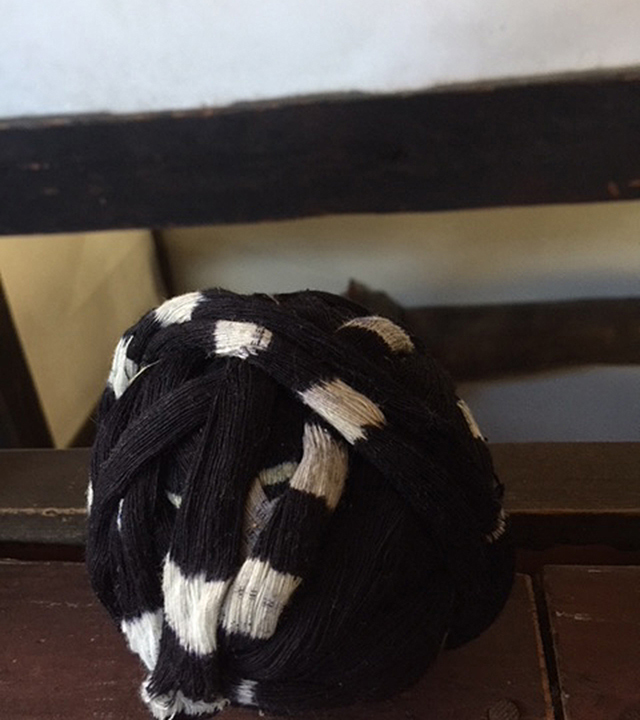 Bright and striking indigo and white thread intended for Ikat/ Kasuri dyeing.
I am grateful I found it first.
We will be using a similar slender thread to tie around customers' wrists from this week to make them members of the blue and white club connected by the indigo thread that ties us all together.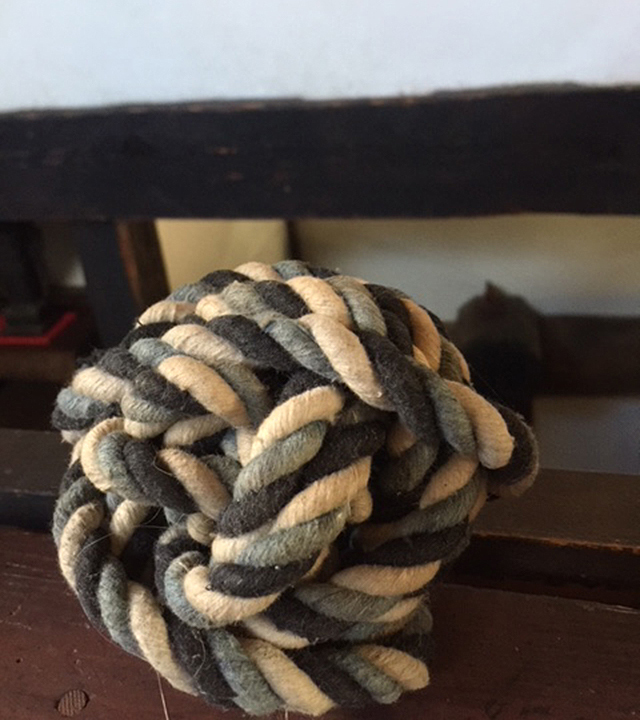 Strong indigo rope with a sturdy rice straw core would be used for hanging banners and curtains at Matsuri festivals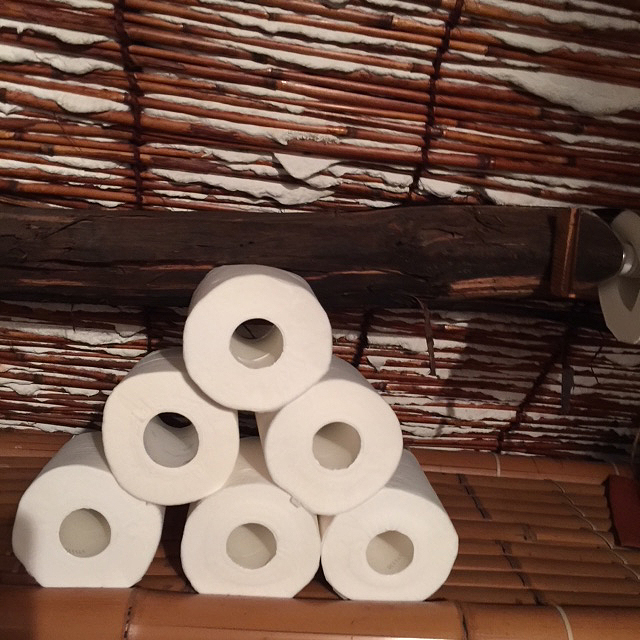 Universal circles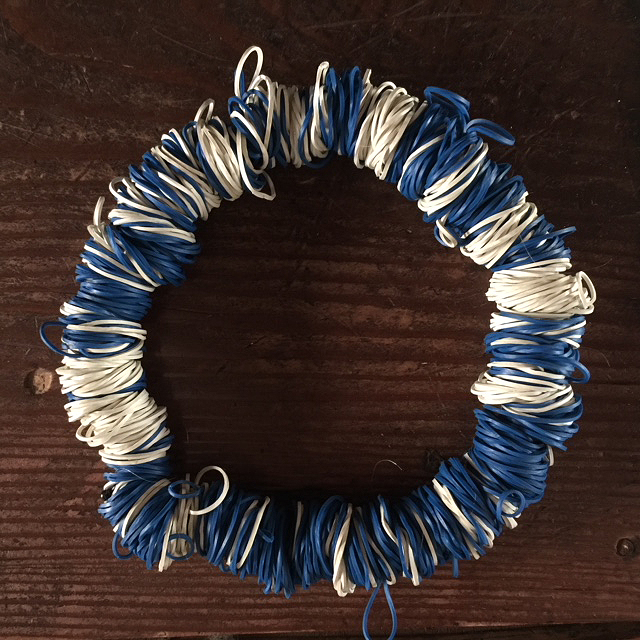 A charming circle of blue and white rubber bands made and given to me by our youngest and most creative member of Blue & White, Akiko Morimoto.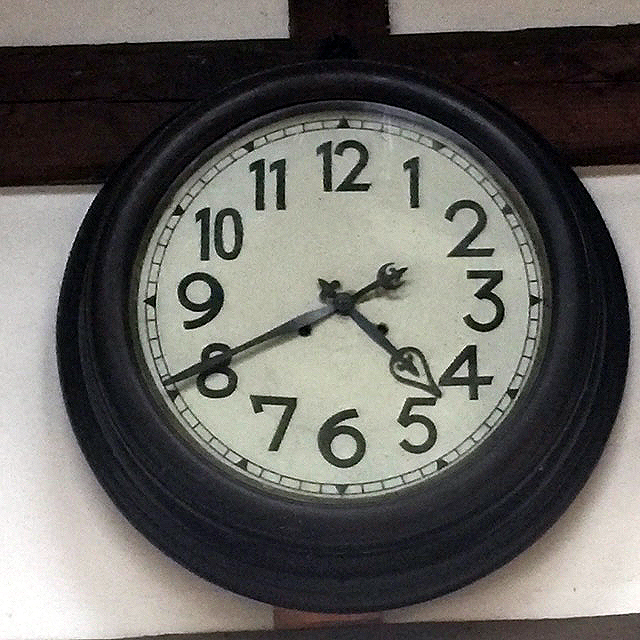 Time stands still in the kitchen of our old farmhouse. The hands of time have never moved since we hung it forty years ago.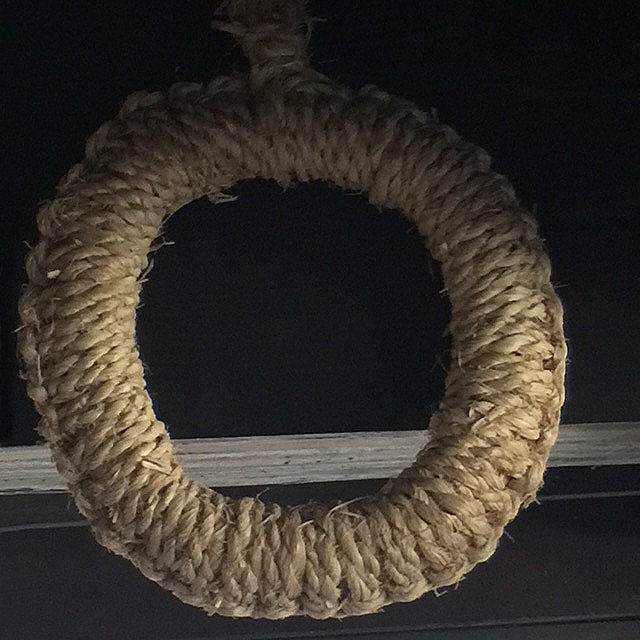 A pure circle of rice straw meticulously bound a round a base of bamboo or twigs? A perfect trivet that sees much use on our tables.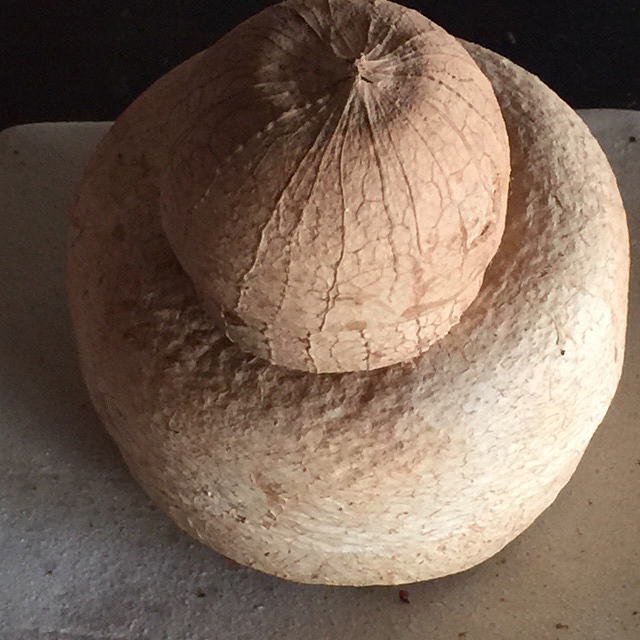 Minnesota Mingei, folk craft, exclaimed the unforgettable and irrepressible Nucy Meech when she presented it to me probably thirty years ago. These two covered containers were made of dried orange peels by American Indians and are a prize display on our large kuruma dansu that holds special artifacts of spirit.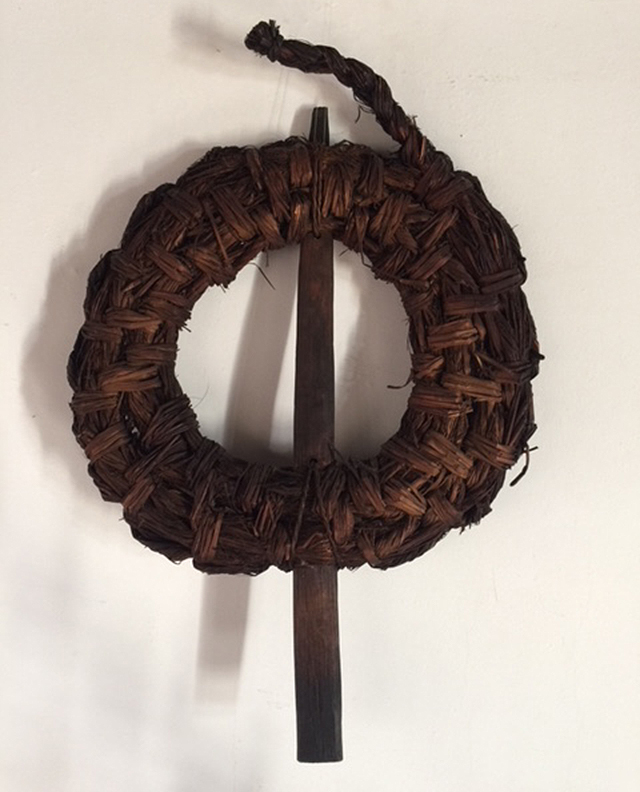 Bamboo and rice straw – using what was available. An Edo era hunter devised this trap for catching rabbits.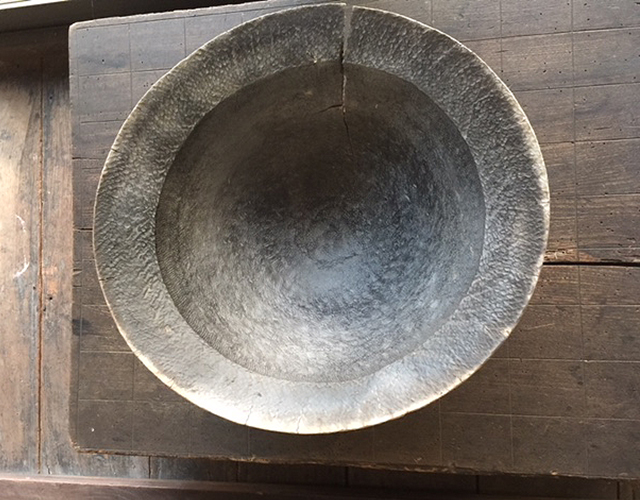 Cracked platter by Omine Jissei of Okinawa was not fit to sell, and so he magnanimously gave it to my husband Yuichi who treasured it so that he carried all the way back to Tokyo and then Karuizawa alternately on his head, and sometimes on his lap. It holds a place of honor in our engawa, veranda in the old Minka.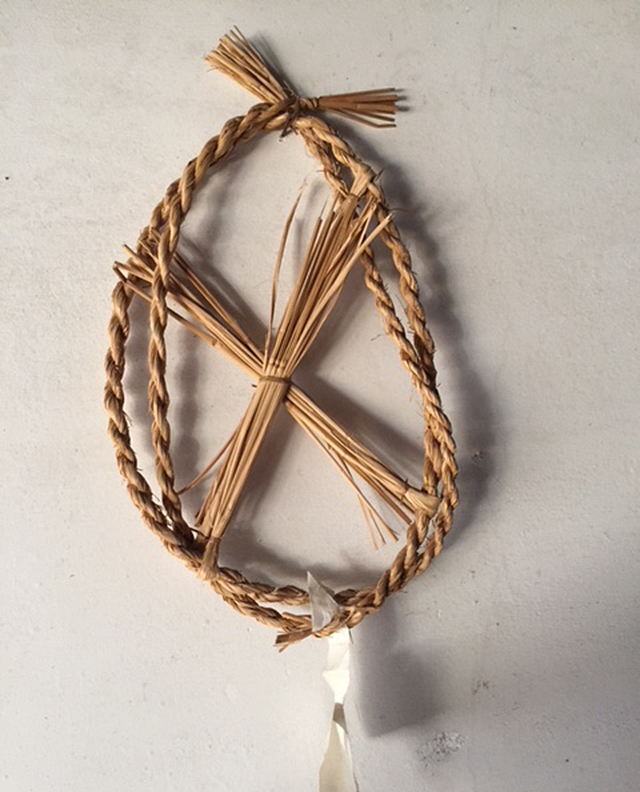 A rice straw amulet from Futami Okitama Jinja, a tiny shrine near the famous Meoto Iwa, the wedded rocks in the sea bound together by giant rice straw tethers, near Ise Jingu Shrine in Mie Prefecture.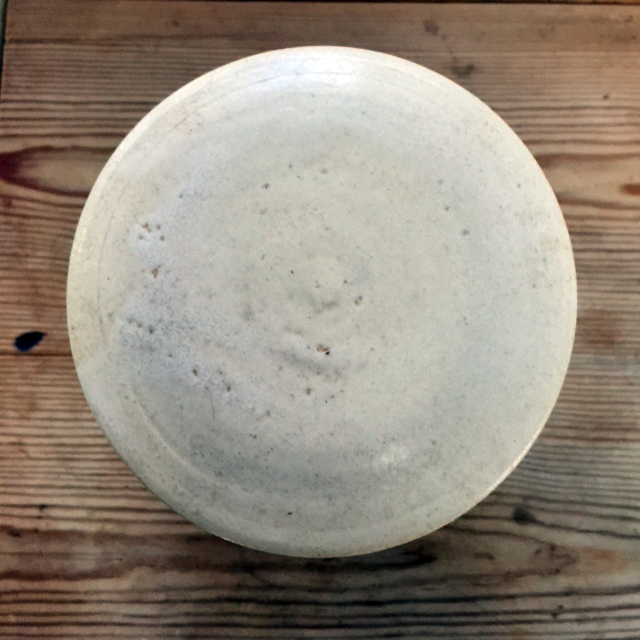 A perfect moon shaped lid of a salt pot from Okinawa, a traditional shape that has been recreated by Omine Jissei.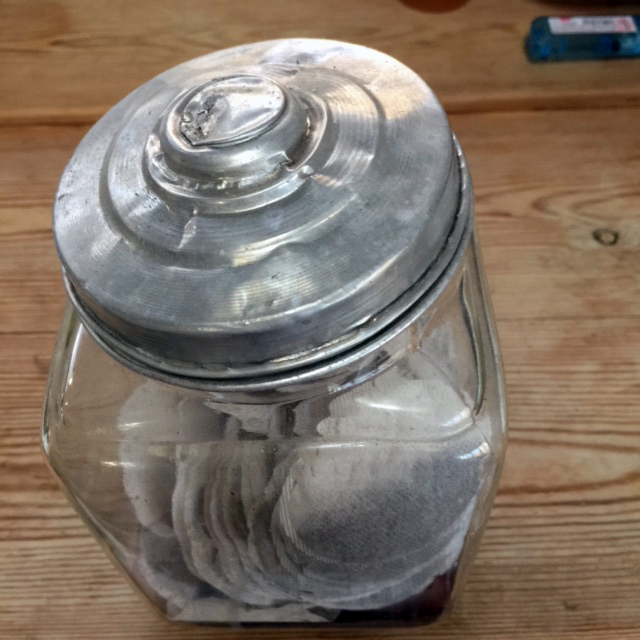 Round and round. Round teabags of Typhoon tea from the UK under a battered round tin lid of a container originally used for senbei, crackers probably.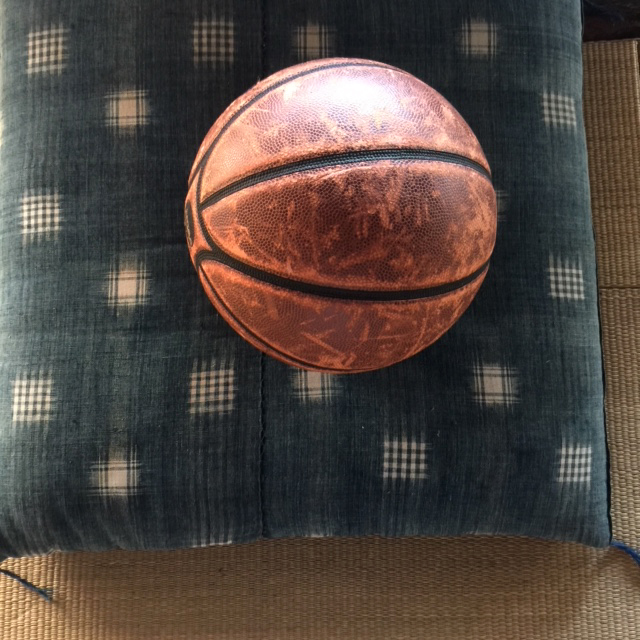 Composition of old well used things – a basketball and a zabuton, floor cushion of antique indigo kasuri cloth.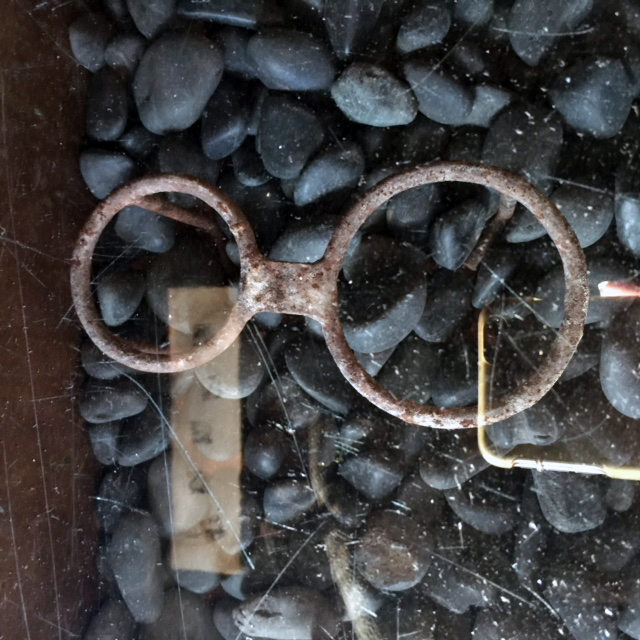 Originally used to hold a hot kettle by the irori, fire pit in the center of old farm houses, this rusted iron trivet is useful for holding hot things when we grill meat and vegetables at the table.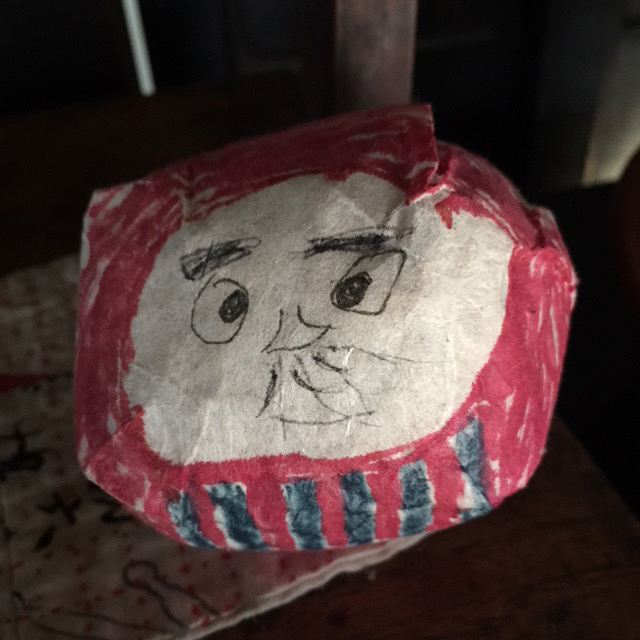 Charming homemade Daruma made of what was available in the house by Sooichiro Izumi nearly 18 years ago. It looks as though his wishes will come true!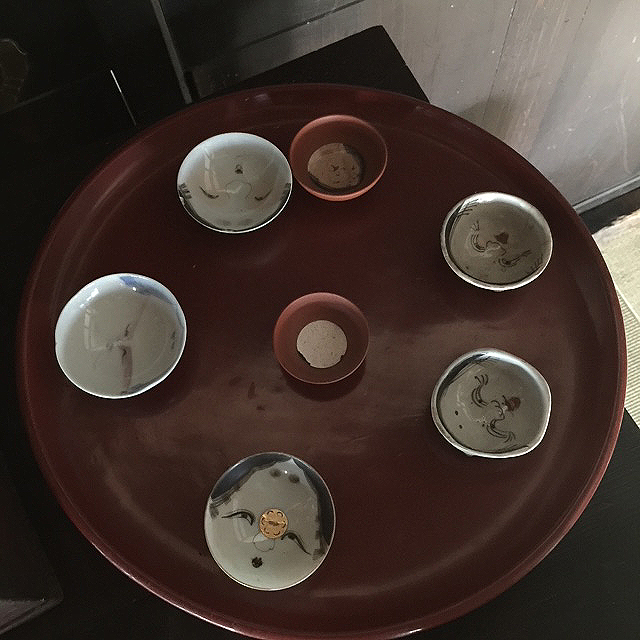 Smiling Otafuku sake cups on a footed lacquer tray. On the bottom of the cups are faces of demons which is an insightful observation of the power of sake to change moods.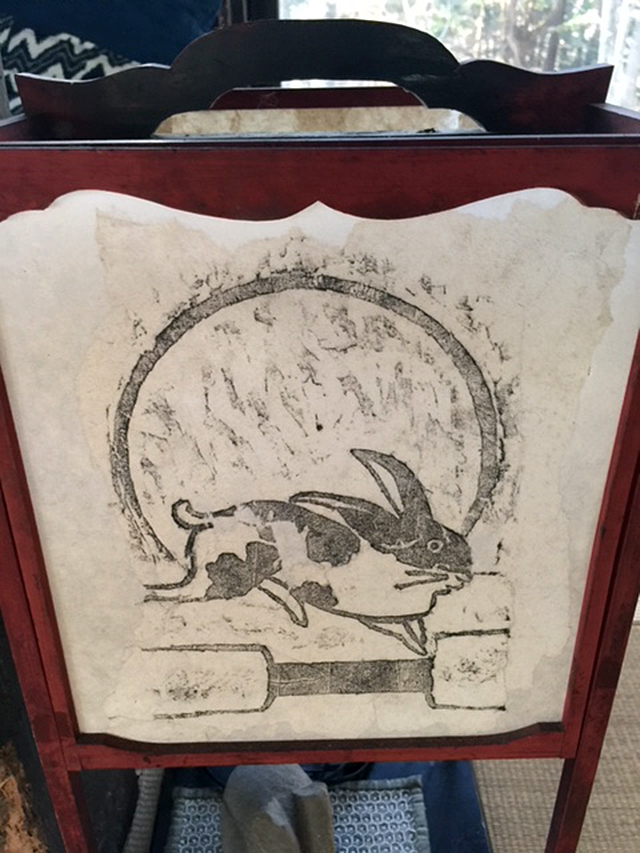 A stone rubbing of a rabbit jumping in front of charcoal moon is one side of the tall rectangular Meiji era lamp that has been converted from oil burning to electricity.
The oil light was softer and more beautiful.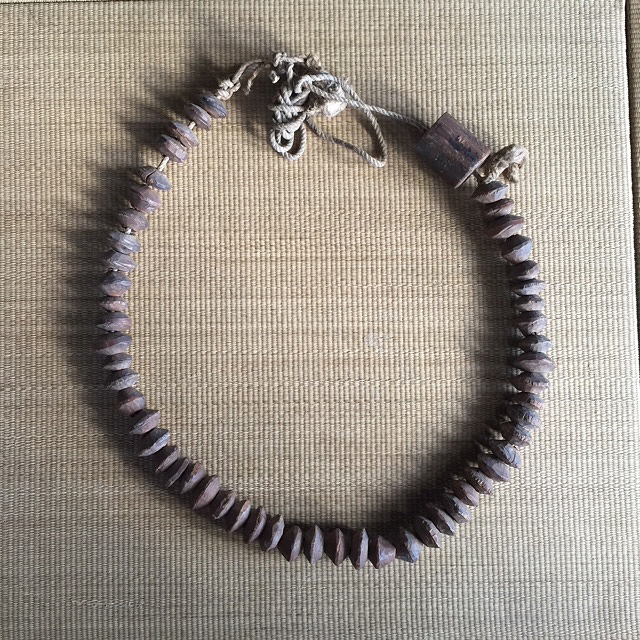 A large circle of prayer beads roughly carved by a Yamabushi, mountain priest, for his arduous mountain pilgrimages hundreds of years ago.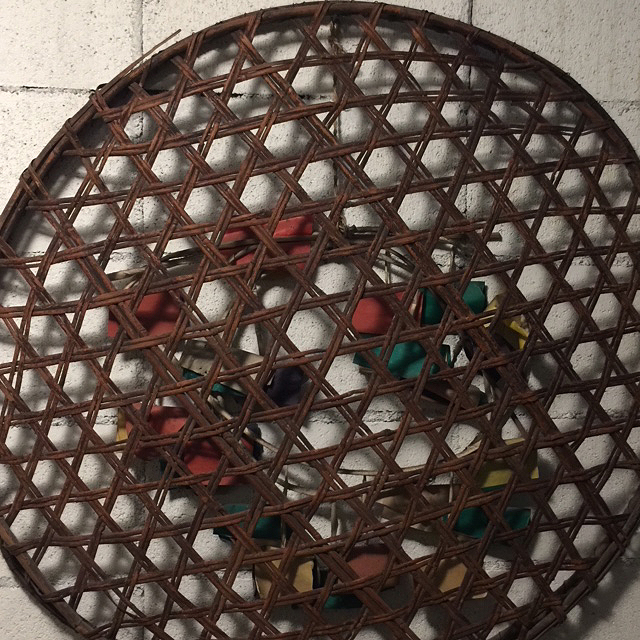 Matsuri papers decorations inside a circular basket for cultivating silk worms in the 19thcentury.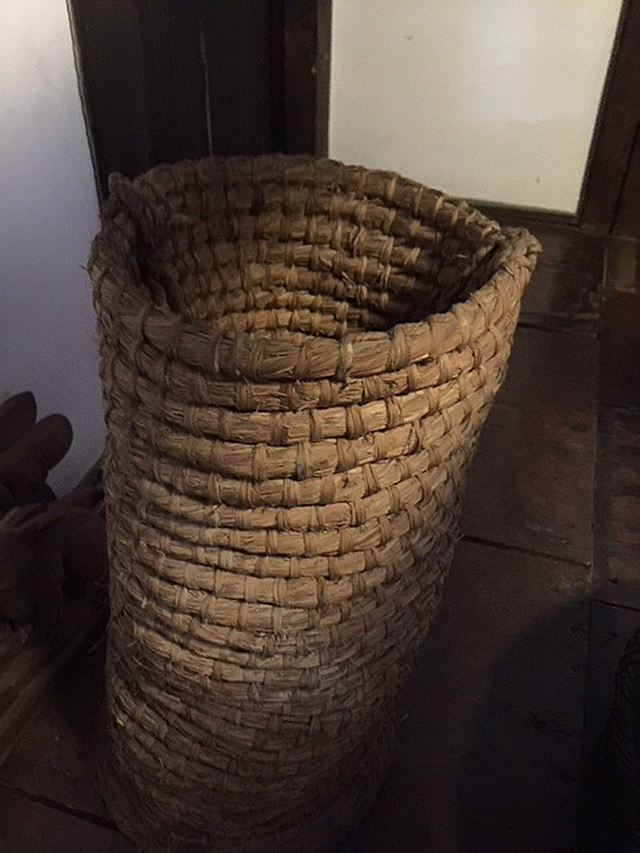 Primitive circles of straw bound with bamboo form a basket used for storing and protecting ceramic plates in the 19th century.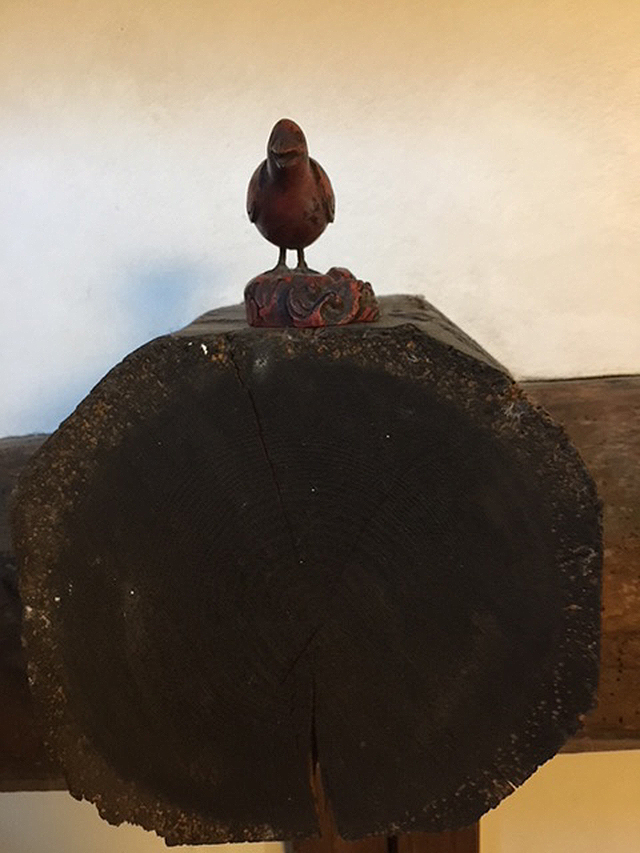 Lacquered bird on a beam finial.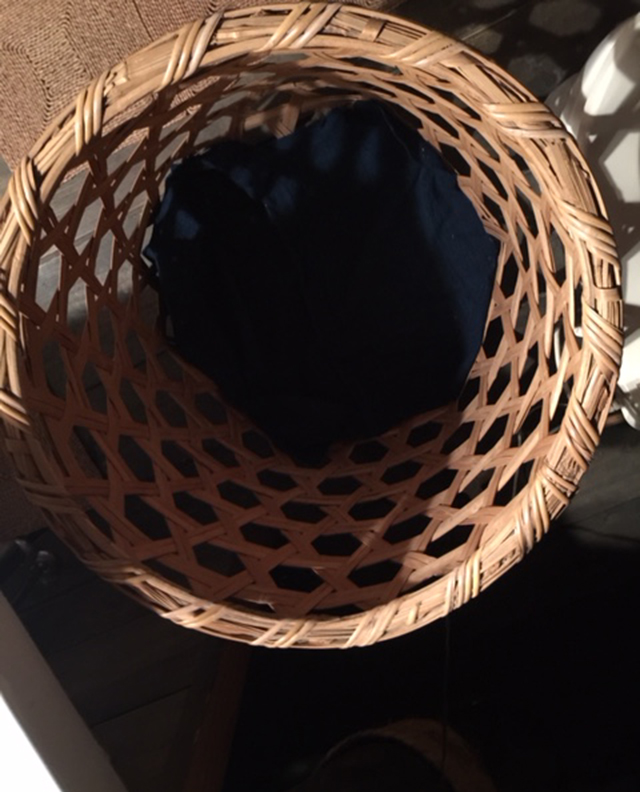 Bamboo laundry basket is so large, it is thankfully never full.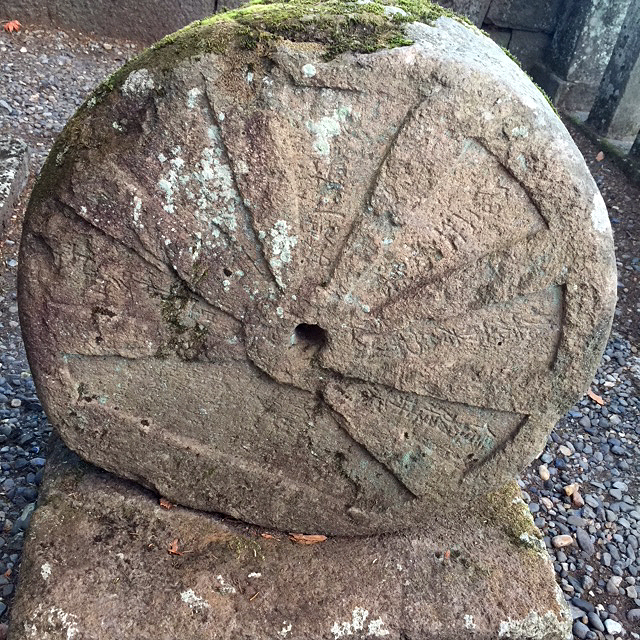 Ancient stone prayer wheel from Kumana Jinja in the mountains of Karuizawa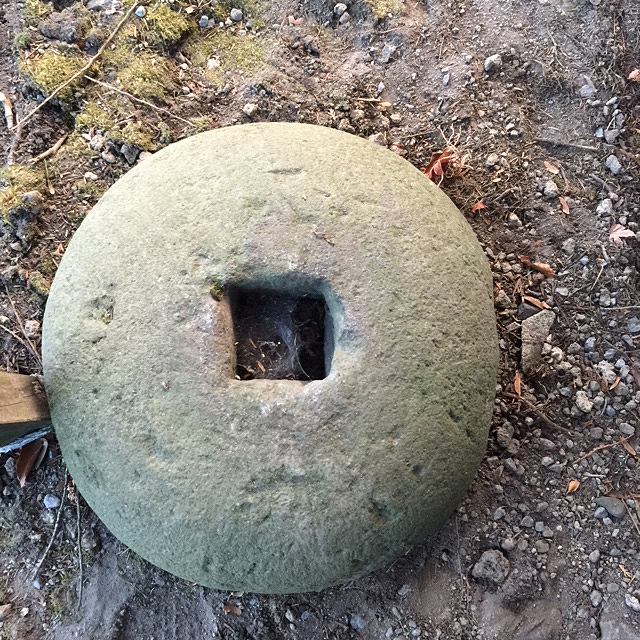 An old stone base for supporting banner poles – I think!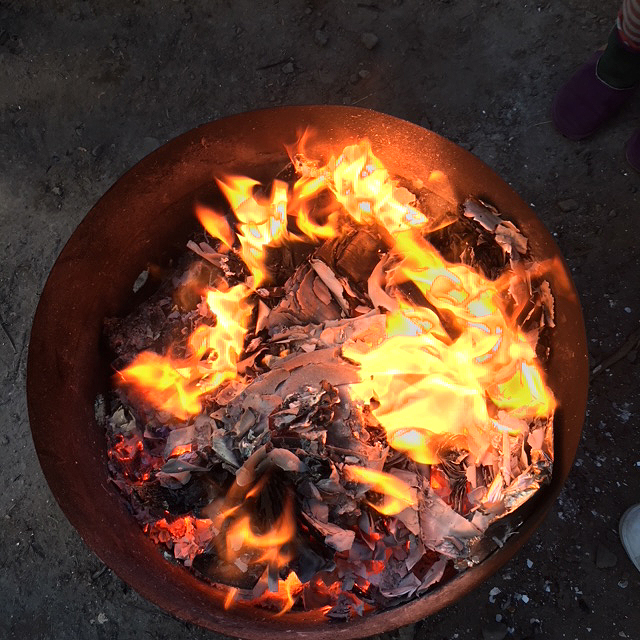 Fires to warm the faithful who come to Kumano Jinja to pay their first respects of the year to the old shrine at the top of the hill.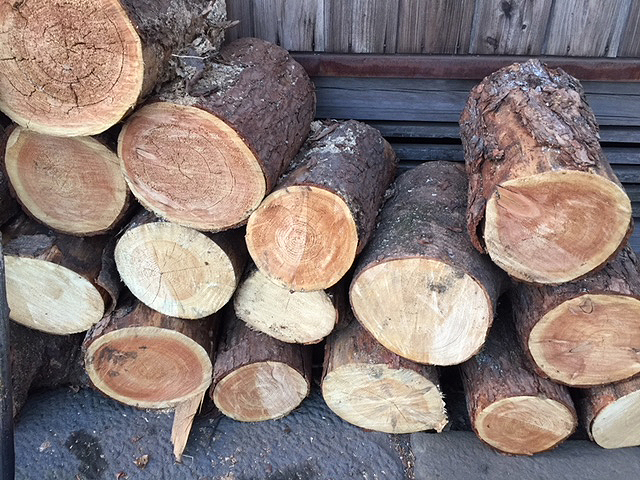 Round cuts of logs to be used for the fires to heat the line of worshippers.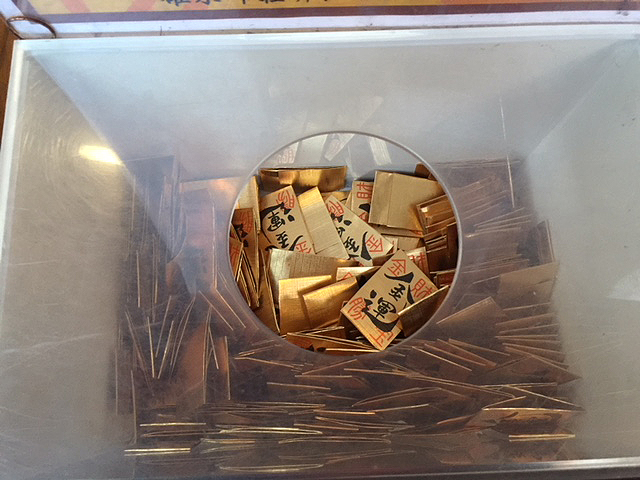 Round container for Omikuji fortune papers that foresee the fortunes of the year ahead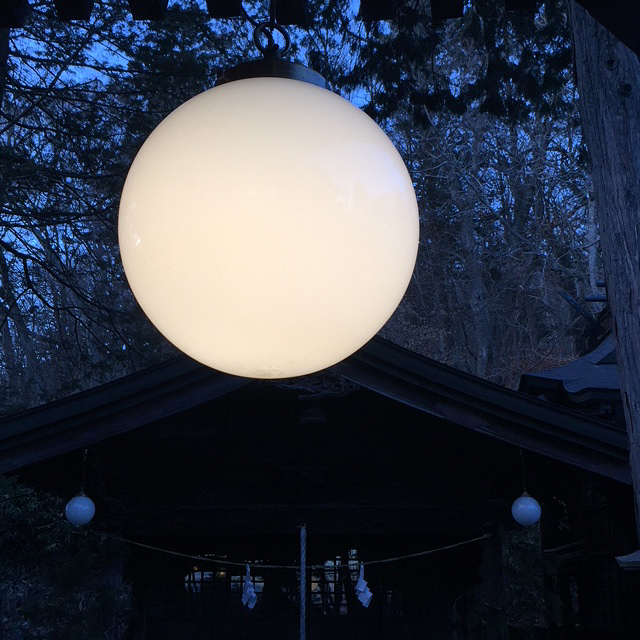 Round light at Kumano Jinja that reflects the coming moon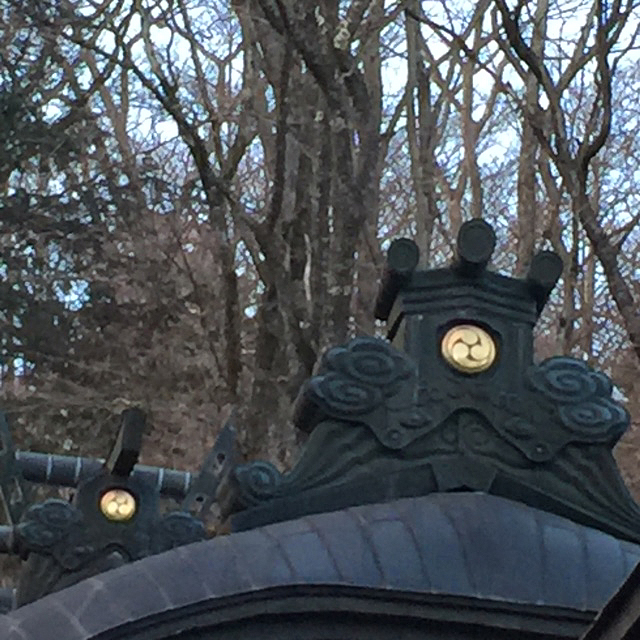 Circular Mitsudomoe, triple commas, the crest of Kumano Jinja on the roof tiles.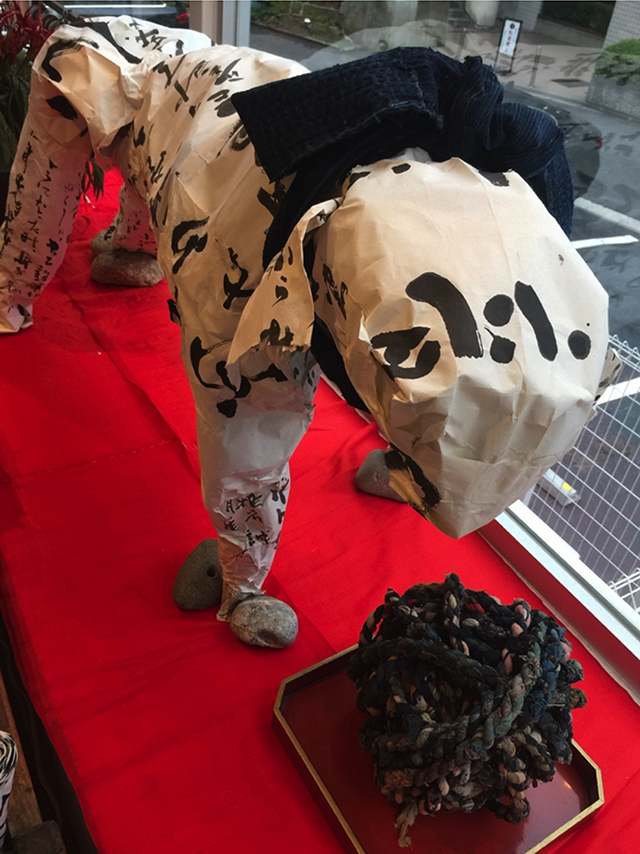 And finally a papier mache dog of the New Year with his mottainai ball of braided rags, and his Boro collar, wishing everyone the best of all good things in the New Year, the Year of the Loyal and Faithful and Honest Dog!
---
March, 2018
THE MAGIC FINGERS OF REIKO OKUNUSHI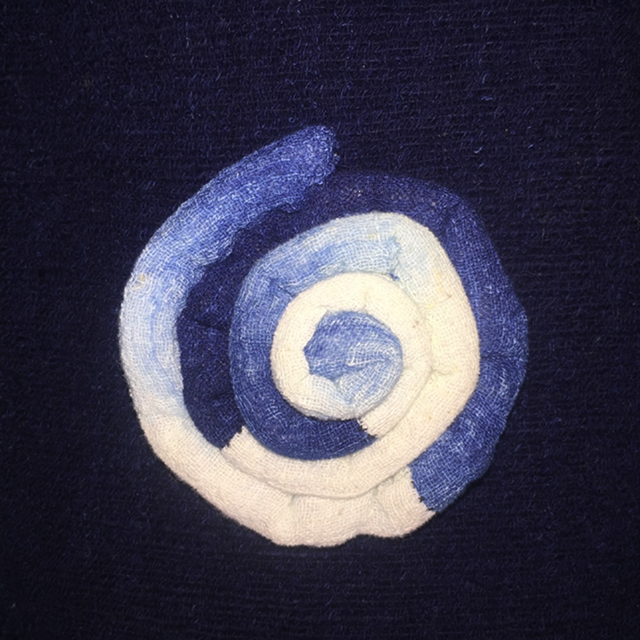 The third day of the third month, 3 March, Girls Day, is coming soon and though it is a time for excited preparation for all families with daughters, few work so hard to prepare for it as our beloved Okunushi san (who in fact has two sons). For close to 40 years, she has been making whimsical princes and princesses and their entourage in colorful silk kimono material and bold kasuri patterns for Blue & White. Reimagining the stately and imposing OHina sama, Okunushi san puts humor and playfulness into her creations. And LOVE too – lots of it!
Whatever she puts her hands to – paper, cotton, silk, even rice in her delicious onigiri and out of this world shrimp and lotus root patties, Okunushi san is a wizard at making things.  And she has been creating her joy filled creations for Blue & White and delighting all who visit the shop for years.
With fingers and needle and thread Okunushi san brings life from forgotten cloth and stuffing. – sometimes using bamboo, sometimes cotton batting, sometimes even shells!
The Okunushis have been eating nothing but clams for the last month to empty the shells she planned to use for her original OHina Sama dolls, wrapped in bright vintage silk kimono material.
She even has her way with paper as seen in this washi bag, made of humble shoji paper, she has dyed with tea to dull its whiteness. scrunched and stitched to give me a present of the spiralling pin at the beginning of this article, and a long rope of braided leftover yukata and tenugui material. Nothing wasted!
Bamboo too, hidden beneath the colorful vintage silk kimono of these Sayonara dolls is a wrapping of washi for writing messages, or addresses – love letters even! – all covering a bamboo core. All natural materials worked with painstaking detail in the loving stitches of Okunushi san's needle.
A covey of fat Hime Daruma. Daruma Princesses sit in the window under peach blossoms waiting for OHina Sama, Girls' Day. Dressed in vintage indigo kasuri with white kasuri faces, they radiate the freshness of country.
Prince and Princesses of all types are set in small boxes for ready display in the genkan, entranceway for OHina sama season.
Rabbits too can become royalty in Okunushi san's hands.
Princesses come in all species. These rabbits would make a lovely pair greeting people in an entrance hall in their yukata finery in their private boxes.
Personalities are clearly depicted in needle and thread.
A pleased with herself Princess, and a grumpyish Prince.
Okunushi san also captures the simple innocence of creatures – rabbits have long been a favorite.  This one is a popular toy for children in his natty plaid yukata chanchanko, vest.
An open faced beckoning cat welcomes good fortune and happiness in the window.  Who doesn't need these friends! He sits on a rag weave mat of old yukatas.
Okunushi san can make anything:  jewelry, pins, and charming necklaces of old leftover indigo fabric.
She recycles old fabrics and gives them new life.
She throws nothing away.
These flexible braided bracelets of old indigo are always popular.  They fit everyone!
Our smiling Goddess of mirth Otafuku is her particular favorite. Okunushi san has made quilts of Otafuku in every activity imaginable, this one portraying Setsubun, the bean throwing ceremony chasing out devils, welcoming good fortune – always inviting good spirits and laughter.
She cooks. She sews. She laughs.
She works very hard.
Isshokemmei – she does her very best in whatever she tries.
She always says she only wants to be Katoh san's hands.
Aren't I the lucky one!
---
March, 2018
Scrunch At Blue & White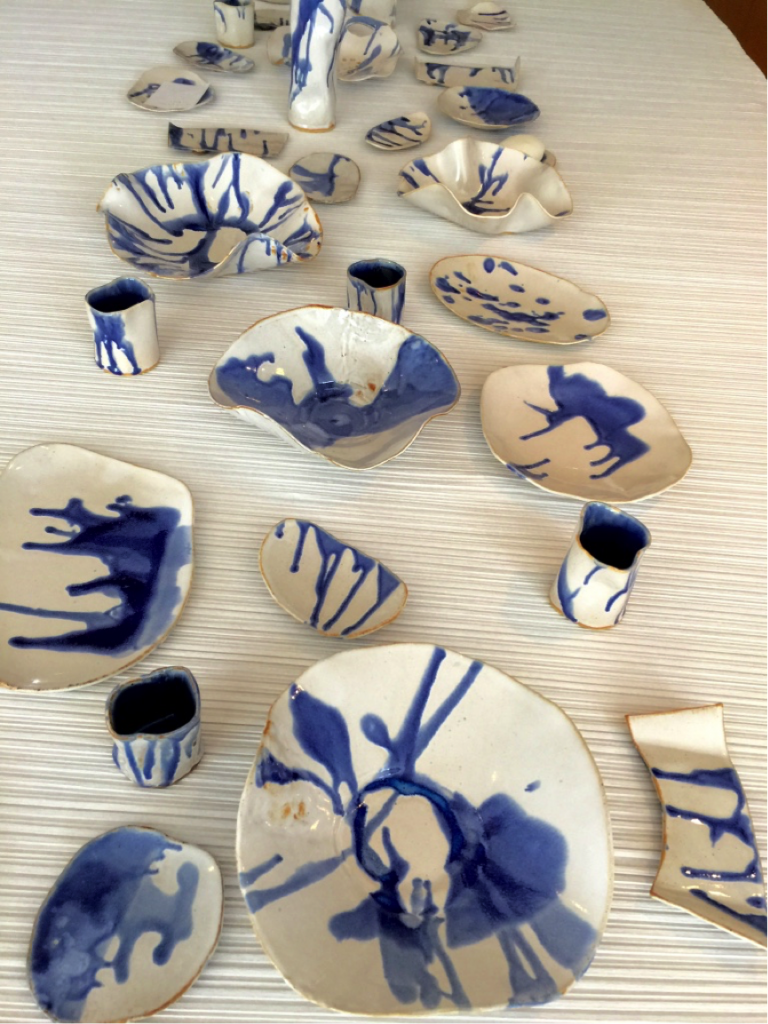 ---
Mar, 2018
A BLUE AND WHITE BIKE TRIP
After a world first inaugural showing of blue and white ceramic SCRUNCH ware at Blue & White
its creator, my BFF, Jill Harken Hall, and I departed for a largely unplanned bike trip over the bridges of the Inland Sea, on a route   invitingly described by the Japan Times' peripatetic writer, Amy Chavez who lives on Shiraishi, one of the many Inland Sea Islands.   We asked a Japan-loving and Japan-curious English friend, Becky Wells, an artist from the UK, to join us and flew to Matsuyama on Shikoku Island where we started our journey with an abbreviated, and mostly motorized pilgrimage to 6 of the 88 famous temples of the Shikoku Pilgrimage.  Surely we needed prayer first! Our kind taxi driver was concerned with our total lack of hotel accommodations at this very busy time of year, and brought us to a hotel to book the first night anyway, and leave our bags.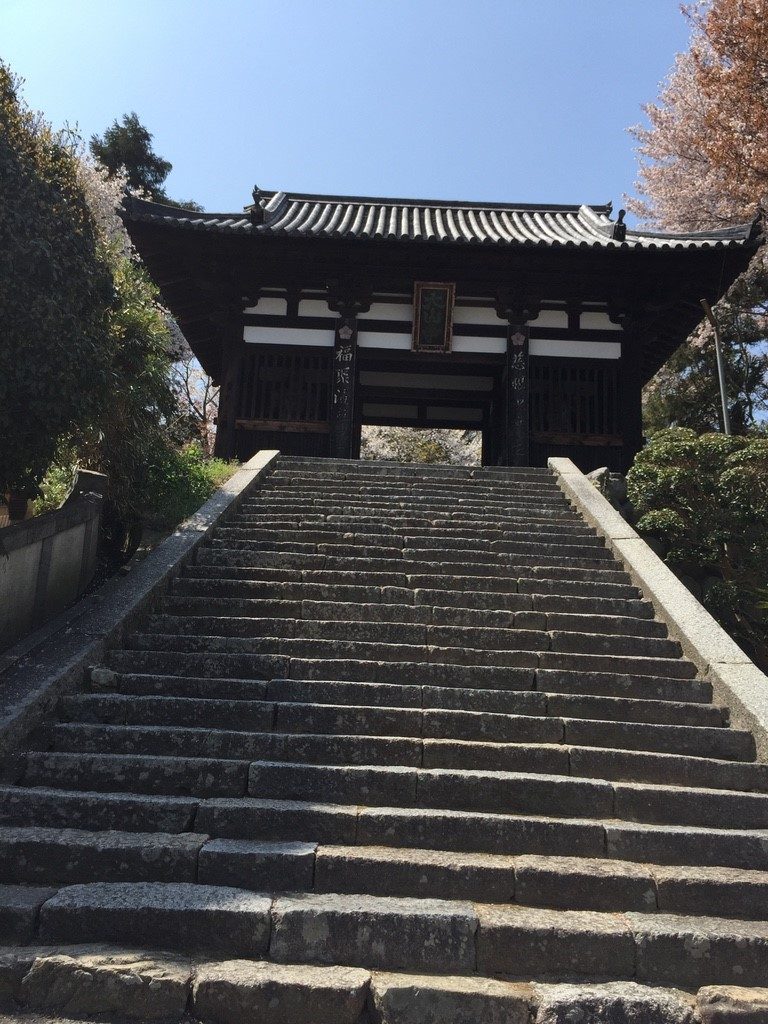 After driving us to 4 temples, he proceeded to take us to a Ramen restaurant – it was late and we were all very hungry. His wife was worried because he usually went home for lunch but he stayed with us instead and insisted on paying for our delicious lunch and then we parted ways.  He to go home because he was way overdue and we proceeded on foot to two more temples, winding up invited by a handsome young gardener to a luxurious foot bath in the garden where he had been working. We got to sit, enjoy the chatter of two young families, and treat ourselves to a hot spring for the feet!  A good beginning for a bike trip!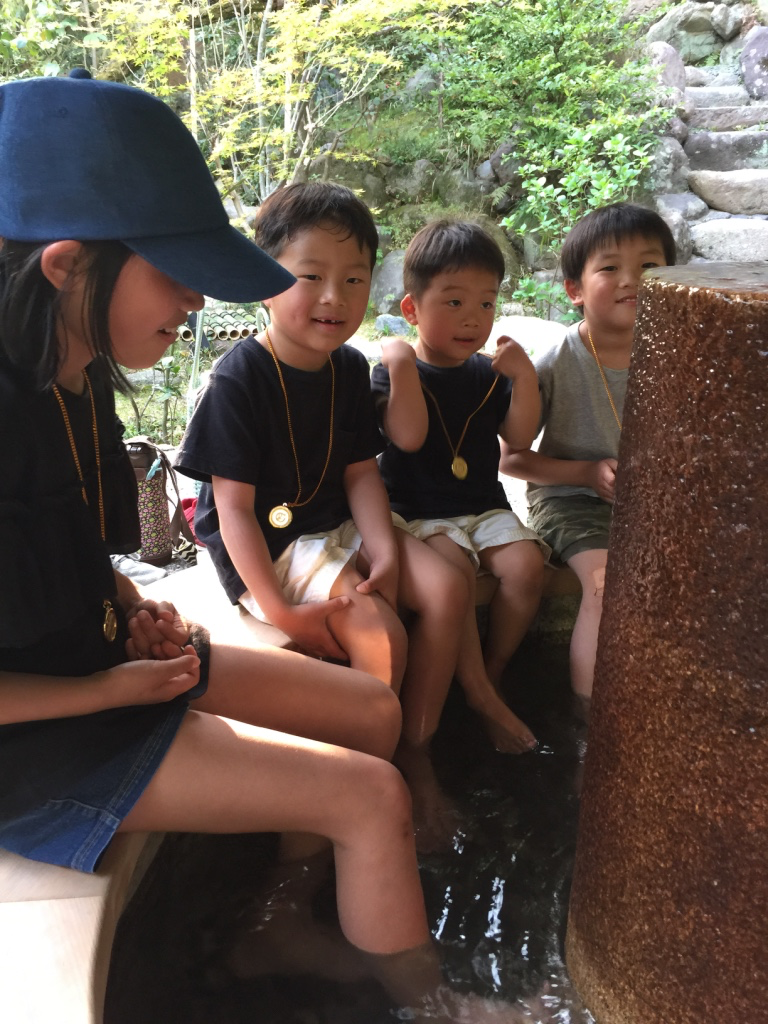 In the morning after viewing the charismatic Dogo Onsen, a late 19th century massive wooden bathhouse, more a temple really – cleanliness is next to godliness in Japan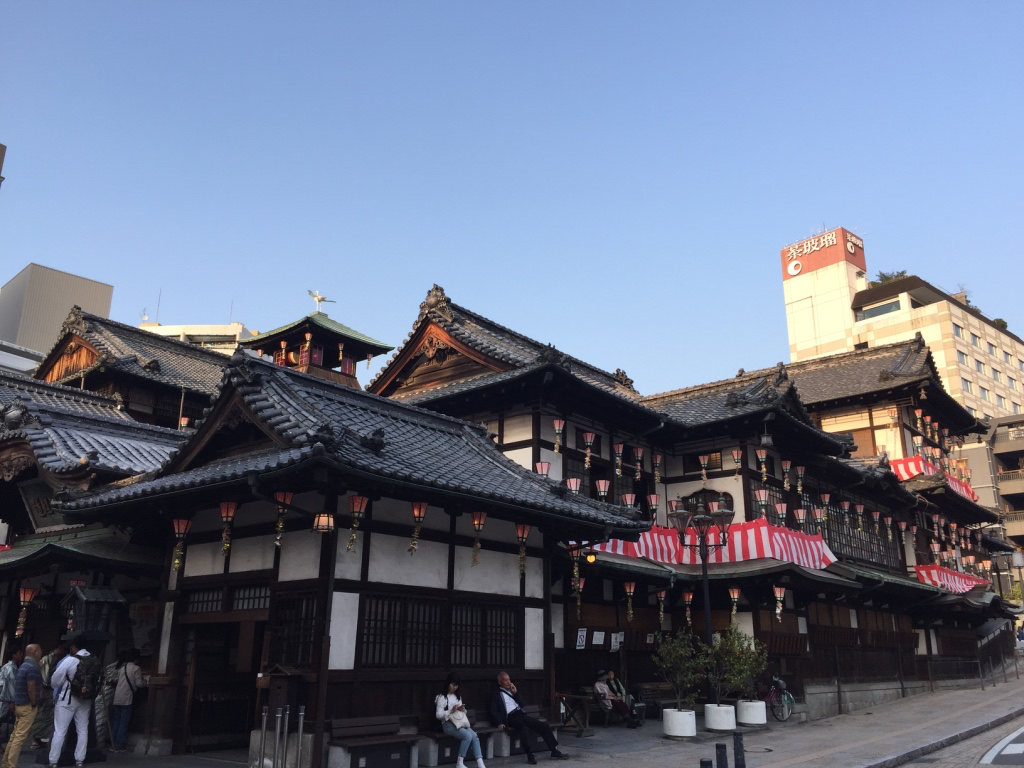 We arrived at our starting point, Kurushima Kaikyo bridge, the world's longest suspension bridge, 4015 meters long, a high, high bridge over the Inland Sea – the view was spectacular and breath stopping on many levels.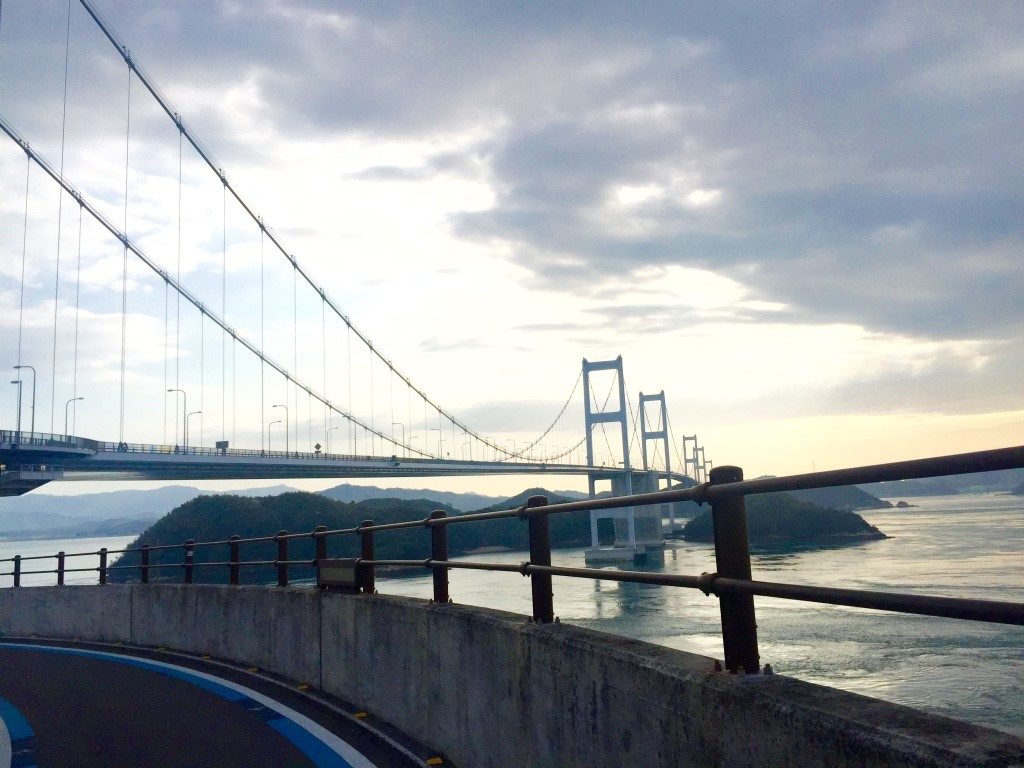 Yikes!  Were we really planning to bike across that?
and at this hour?
Somehow we did – and 6 more.
These are serious bridges!  High and long, extending over 11? Islands of the Inland Sea.
The saving grace for bikers, even cowards like us, was the beautiful blue and white line indicating the enclosed lane dedicated to bikers, while serious heavy traffic for trucks and buses and cars whizzed by on the other side of the divider. It was often hard to keep our eyes on the road.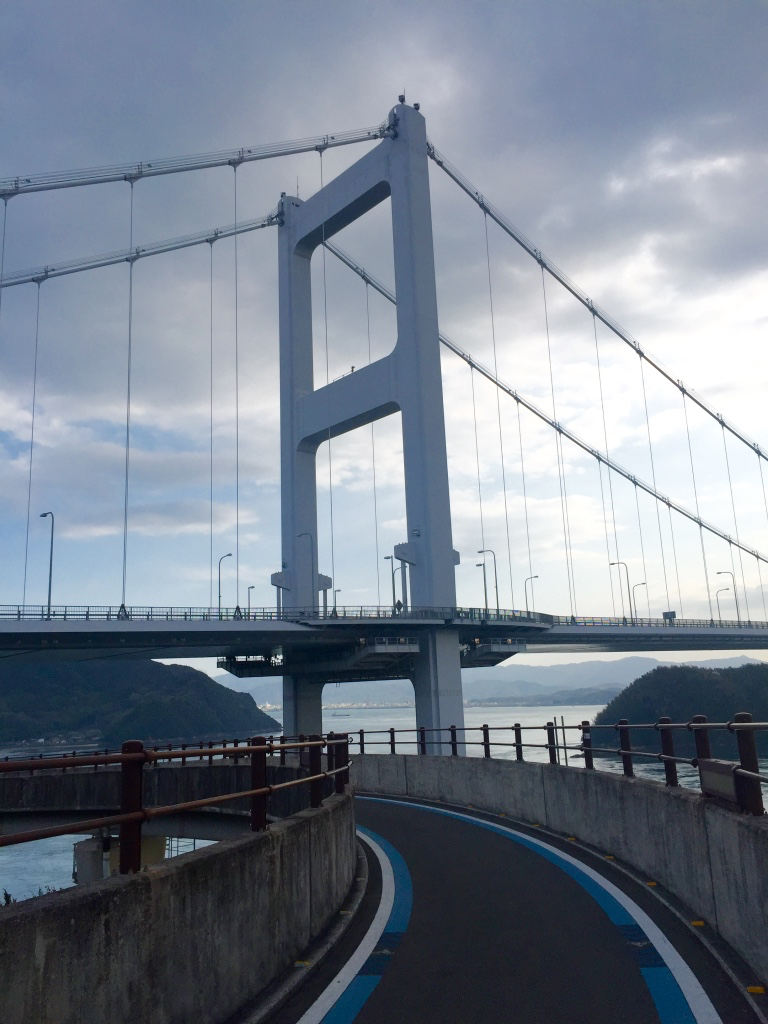 Bridges of staggering engineering and grace!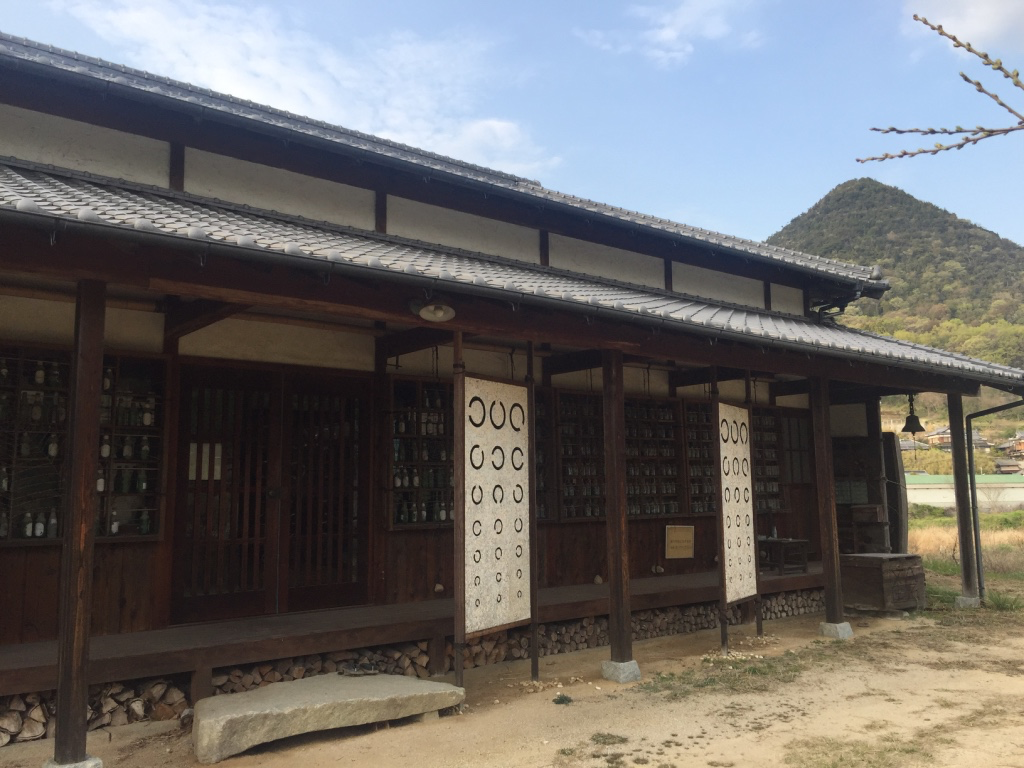 The beauty of a bicycle is that with the possible exception of bridge crossing, you can stop whenever something catches your eye.
There was much on this trip to stop for, and one unforgettable site was a simple wooden Shikoku style house, somewhat reminiscent of Isamu Noguchi's house in Takamatsu, with a curious signboard of eyeglass testing charts in front.
We swerved into the driveway and found lots of other curiosities.  Large rocks drilled and tracked with mysterious paths of color.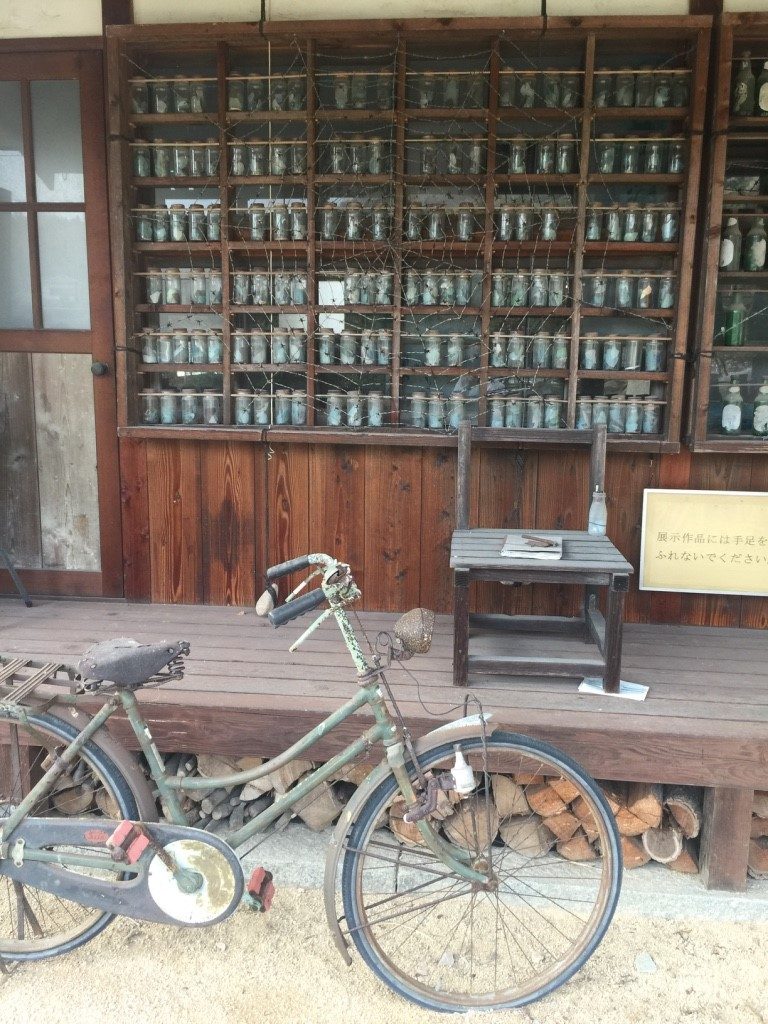 and bottles and objects of experimentation and education, stopped in a moment of time.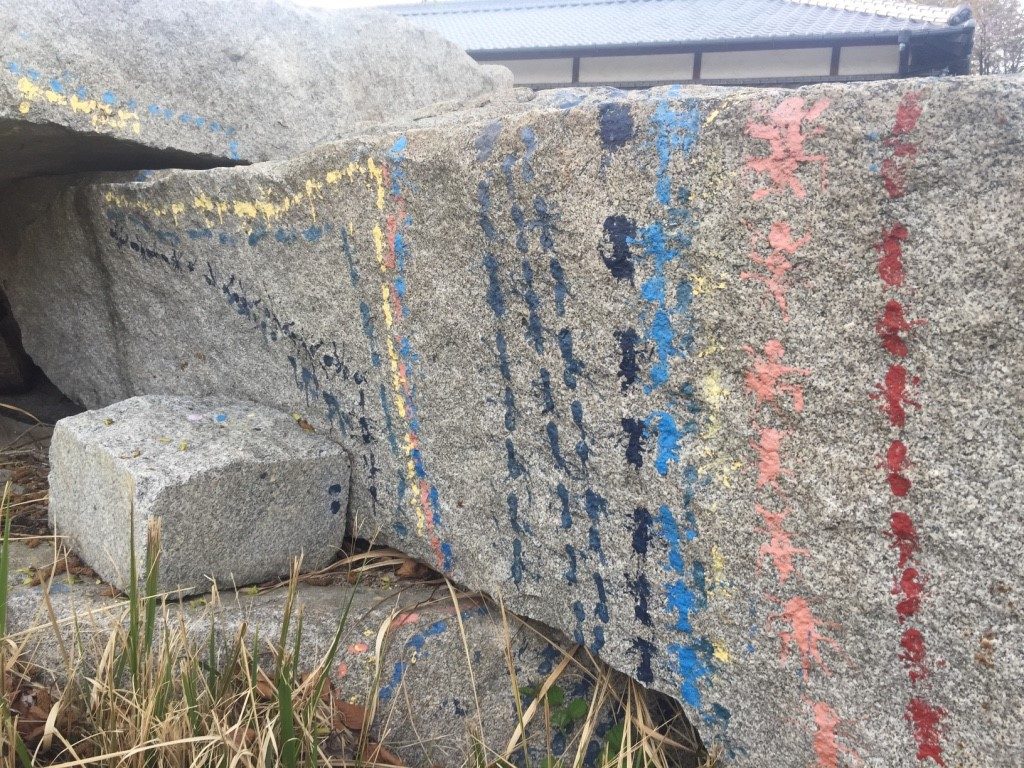 Mysterious colorful petrographs were incised in large blocks of granite.
What did they mean?  What were they saying?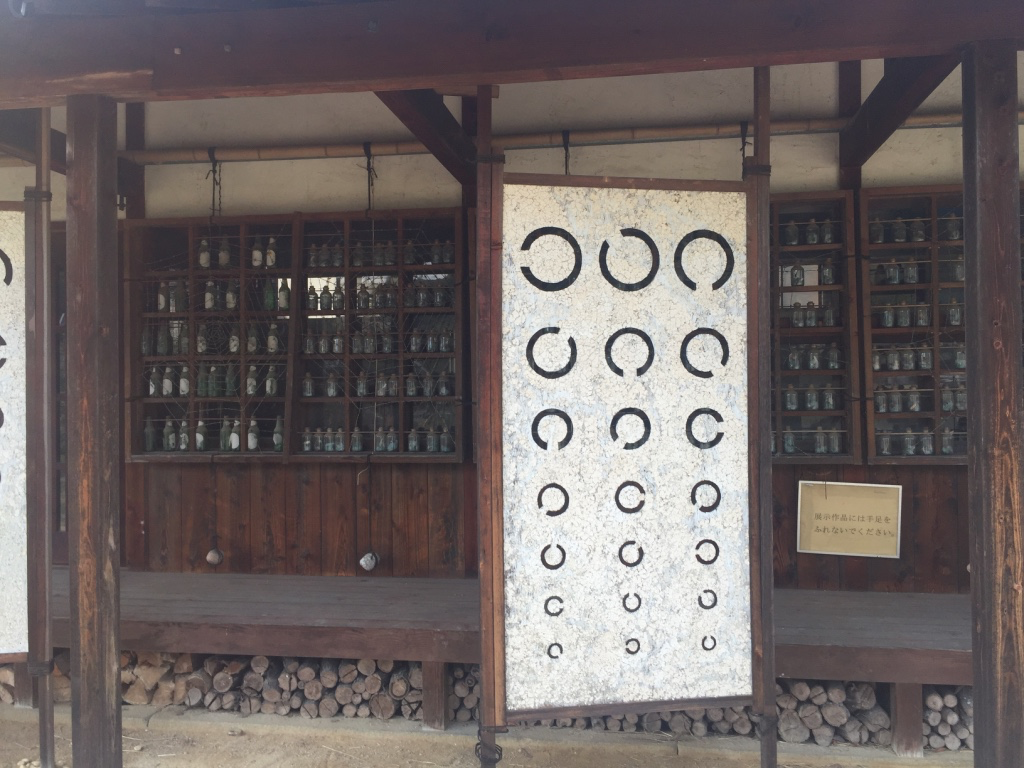 A fascinating house of science and mysterious intelligence.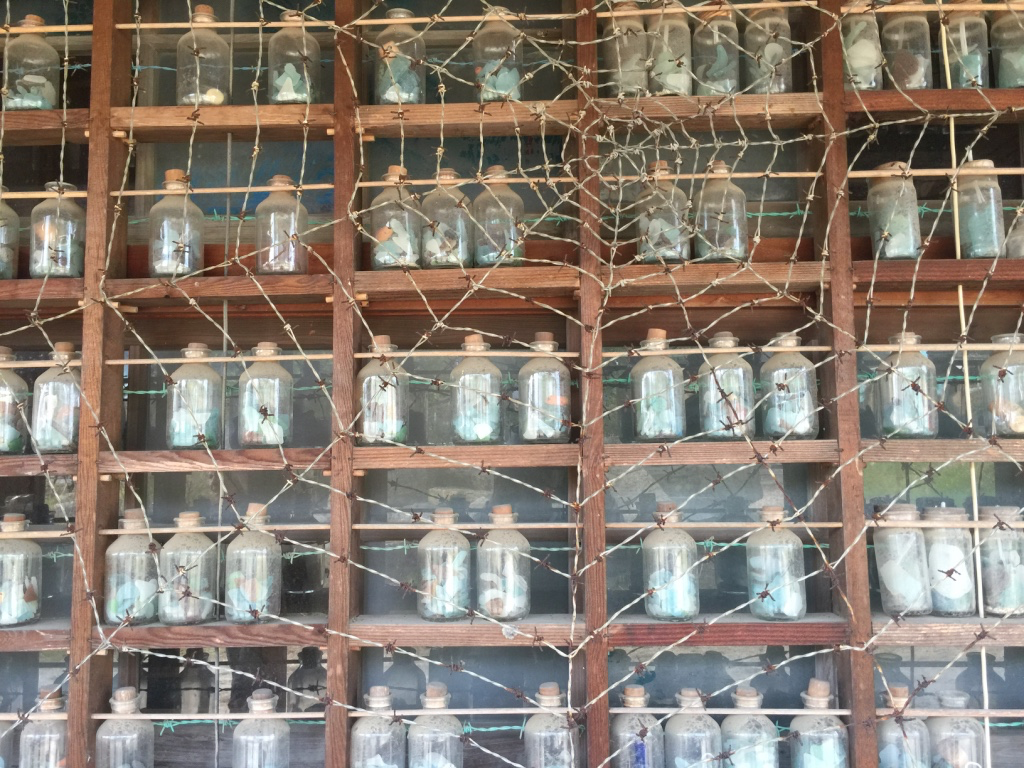 Spider webs of wires in front of the windows.  Test tubes, and other signs of intellectual activity.  Who lived here we wondered?  What were they doing in this house where time seemed to have stopped.  Fascinated, we asked a farmer passing by who told us that it had been a classroom for children that a teacher had organized, but he was in hospital now, and not expected to return.  How sad, we thought, we who would return there often in our dreams.  It was a small scientific paradise.
Pink sakura and brilliant yellow rape flowers and every other blossom imaginable were putting on a spring spectacular.  Our eyes were filled with the technicolor of nature, as well as man made curiosities that we felt compelled to explore.  6 eyes were simply not enough!
After more bridges, more exquisite nature and dreamy deep Setouchi blue green waters and islands, we came to our own Paradiso, in the form of a b&b in Setoda named Koune Paradiso.    On the way, we happened upon a bizarre scene of a lady covered in a voluminous red cape, having her hair cut. She looked like a female Jizo saint. Animated and filled with life, she told us she was 100 years old! and her daughter was cutting her hair.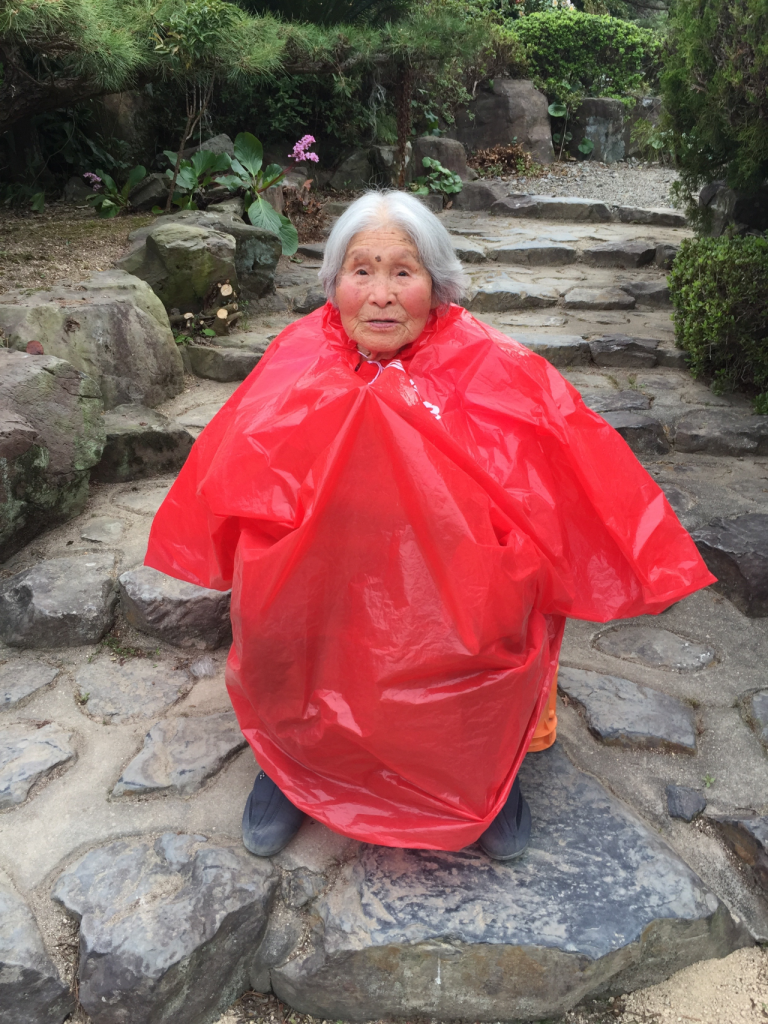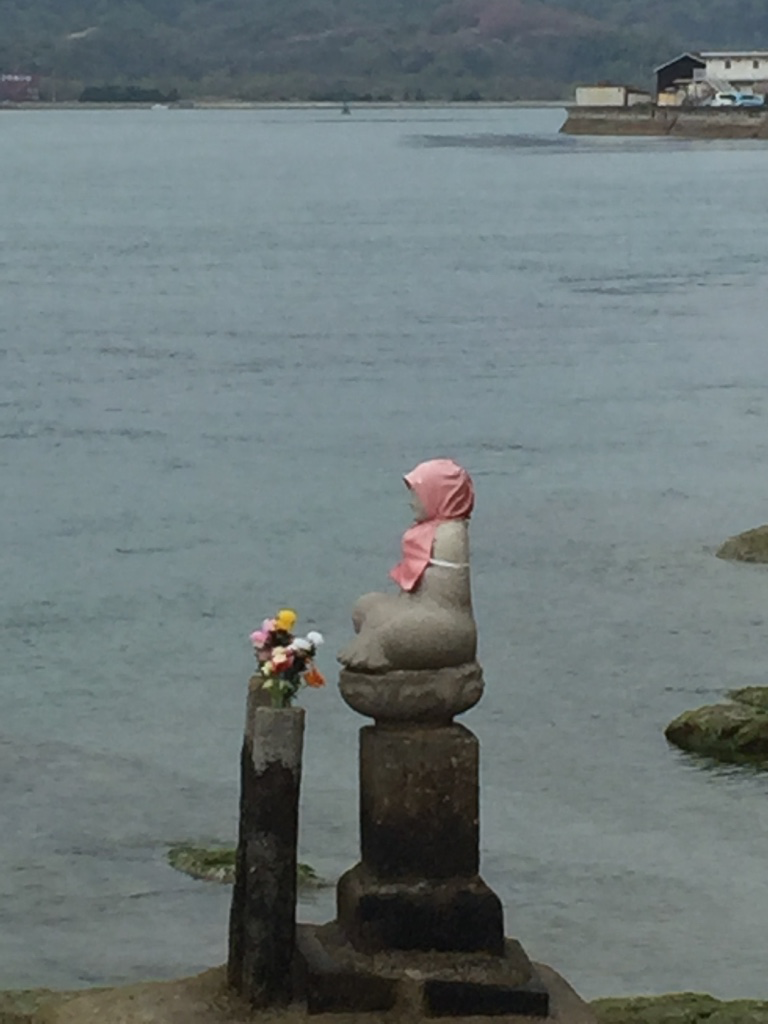 A kindred spirit was in the water as we biked by.
People stopped to help us find our way. This lovely farm couple was filled with smiles as they set us straight, we who had been going in exactly the opposite direction from our destination for some time.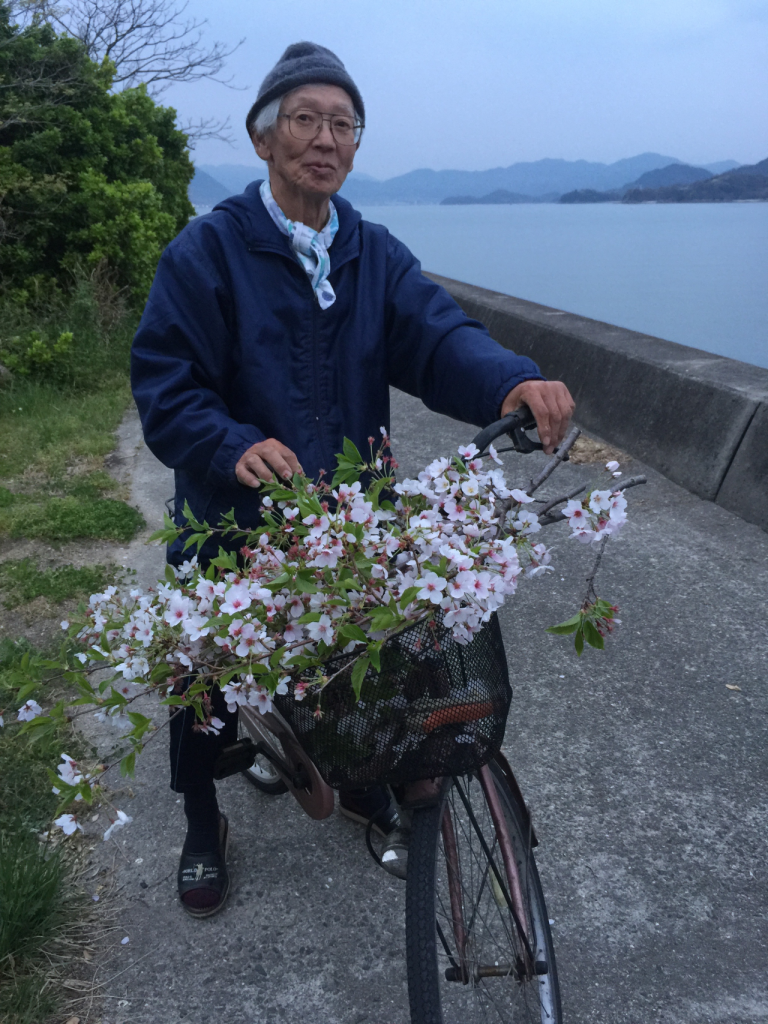 And this dapper fellow cyclist was cutting cherry blossoms for his party that he invited us to that evening, promising karaoke and sake.
Our b&b hosts firmly advised that we not go.  Who knew how the party would turn out, they warned !
We finally made our way to our own Paradiso a charming b&b run by an industrious couple – fabulous cooks – and their small son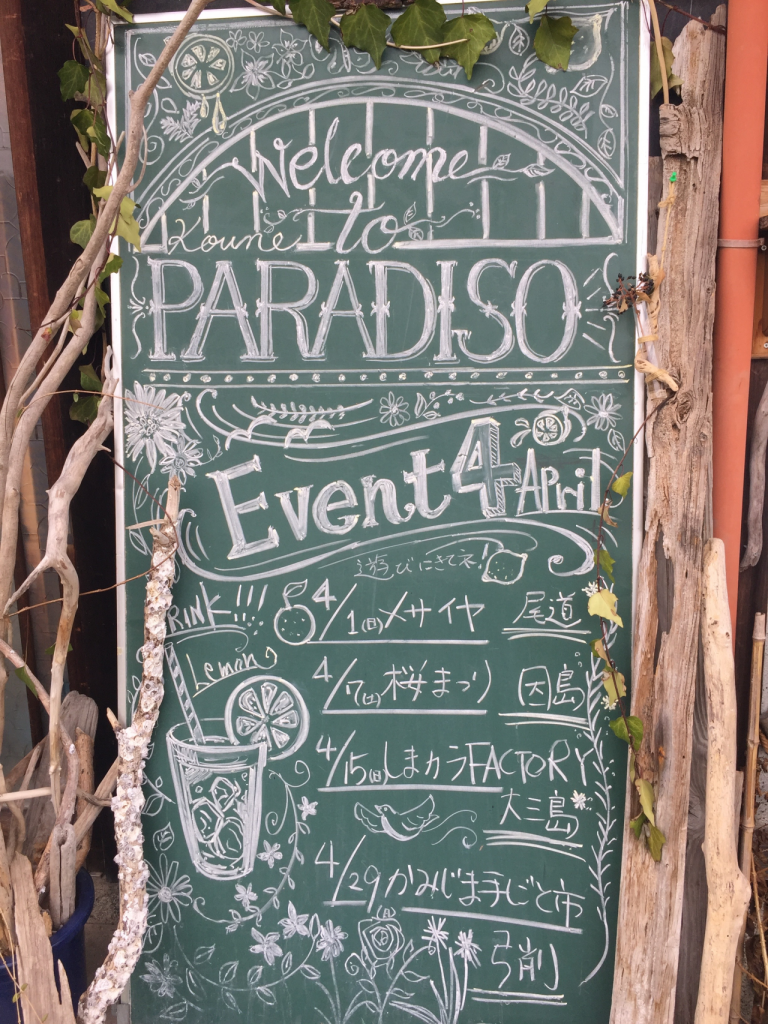 We were happy to get off of our bikes to walk with our inn's wife and toddler to a small beach — a beach combers' delight!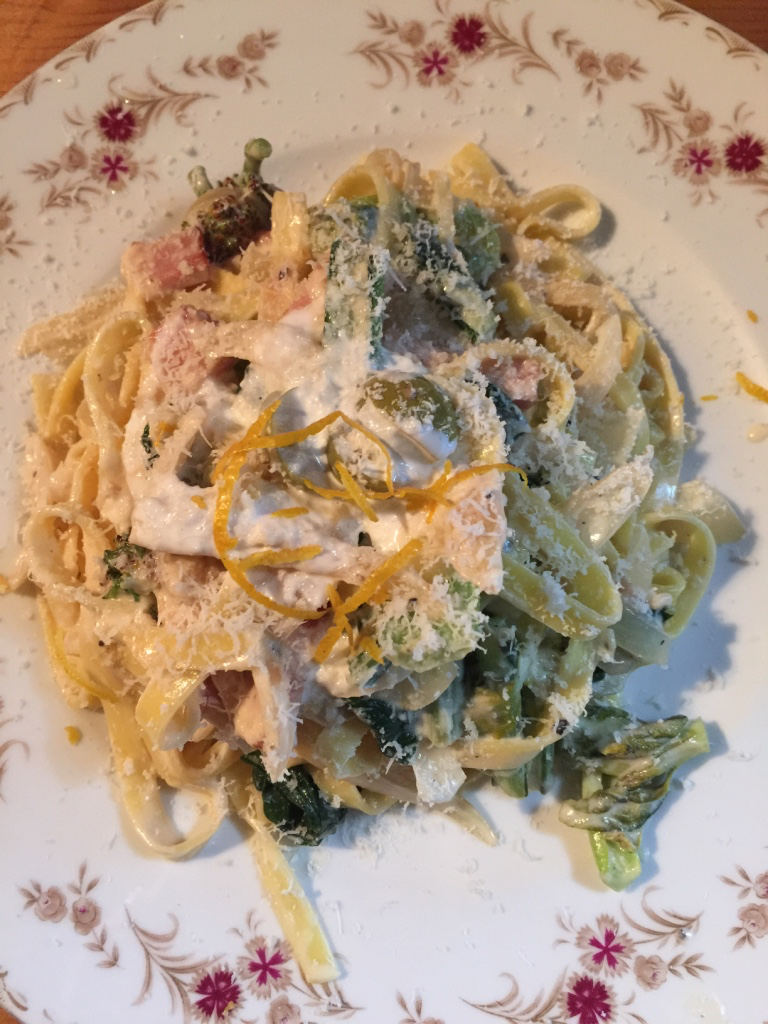 We dined on perfect lemon pasta, lemons and other citrus being a great specialty throughout the area. The citrus trees on all of the islands gave the air a sweet lemony fragrance throughout our ride.  The b&b was out of their featured wild boar sausages when we asked but they couldn't have been better than what we were served.
Her article was what inspired us to take this trip in the first place, we skipped the last two bridges over two more industrialized islands, and took a small yellow ferry to Onomichi.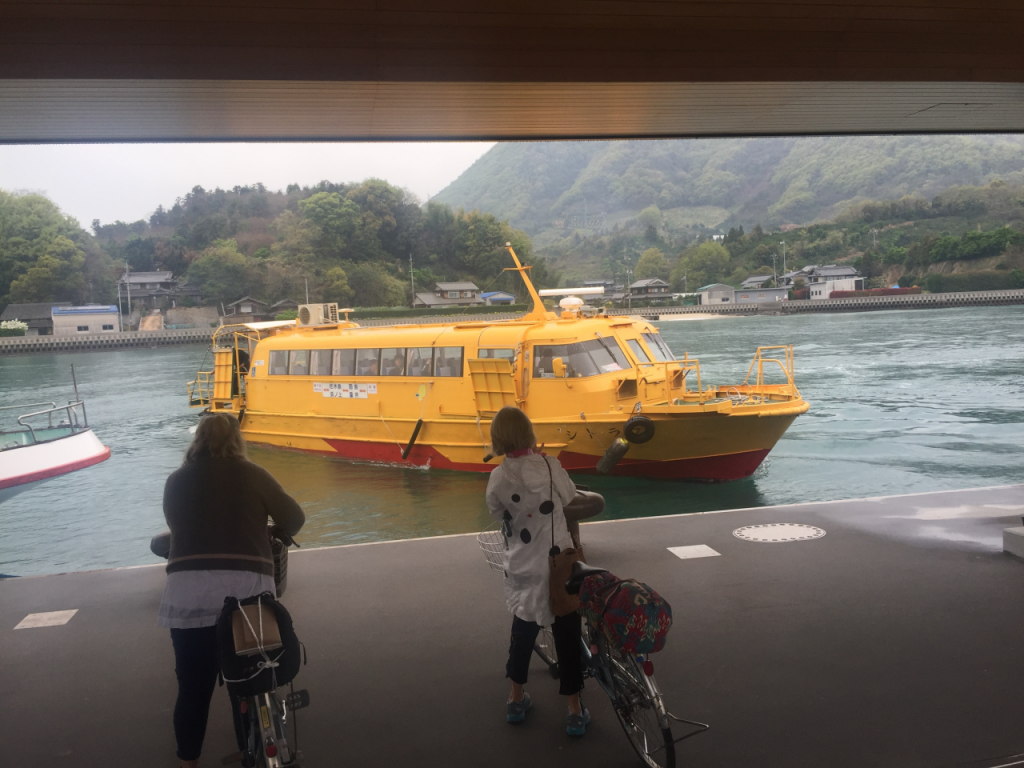 The pilot stepped away from his steering wheel to welcome us and give us a box of chocolate covered almonds. We ferried from Setoda, where the inspiring museum, (handsome architecture, impressive collection) of the paintings of native born Hirayama Ikuo enchanted us with his work, to Onomichi. We left our bikes at the U2 Cycle drop off to explore the trend-setting and confident restaurant and shop complex – a spectacular transformed warehouse – replete with a Cycle Hotel where we were sorry not to have the time to spend the night,. It is the last word in cool travel in Japan.
Rain on the last day did nothing whatsoever to dampen our spirits or discourage me from getting out of the taxi for closer inspection of the curious monuments of amassed plastic discards we found in Onomichi on our way to the station.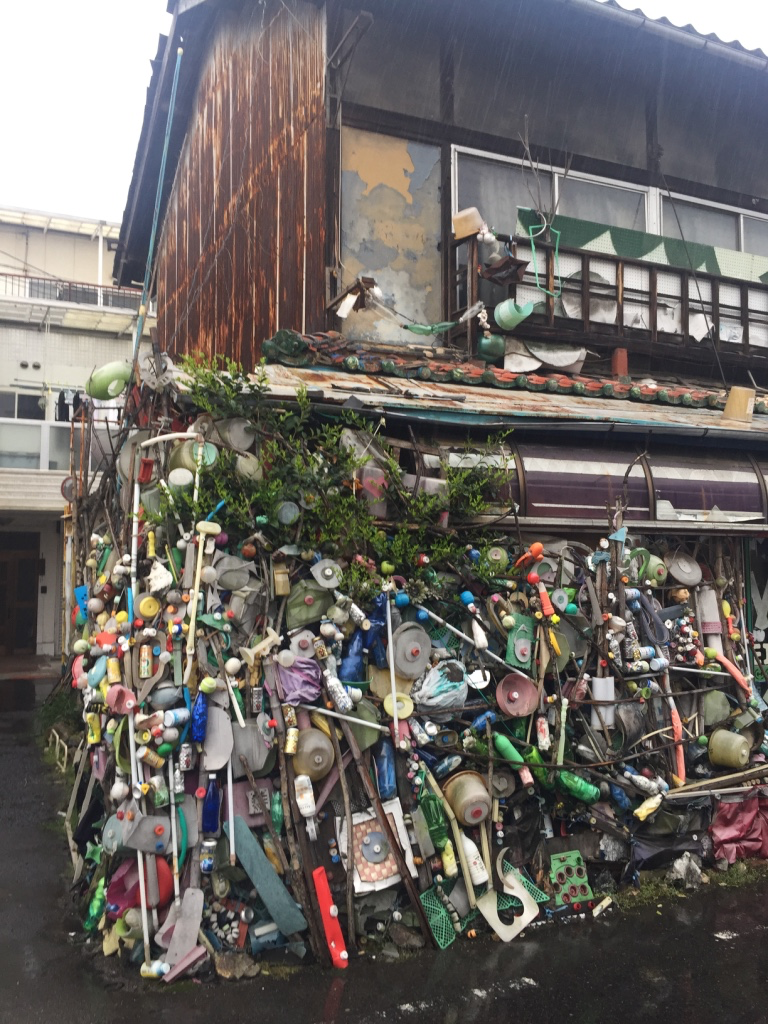 a hoarder's art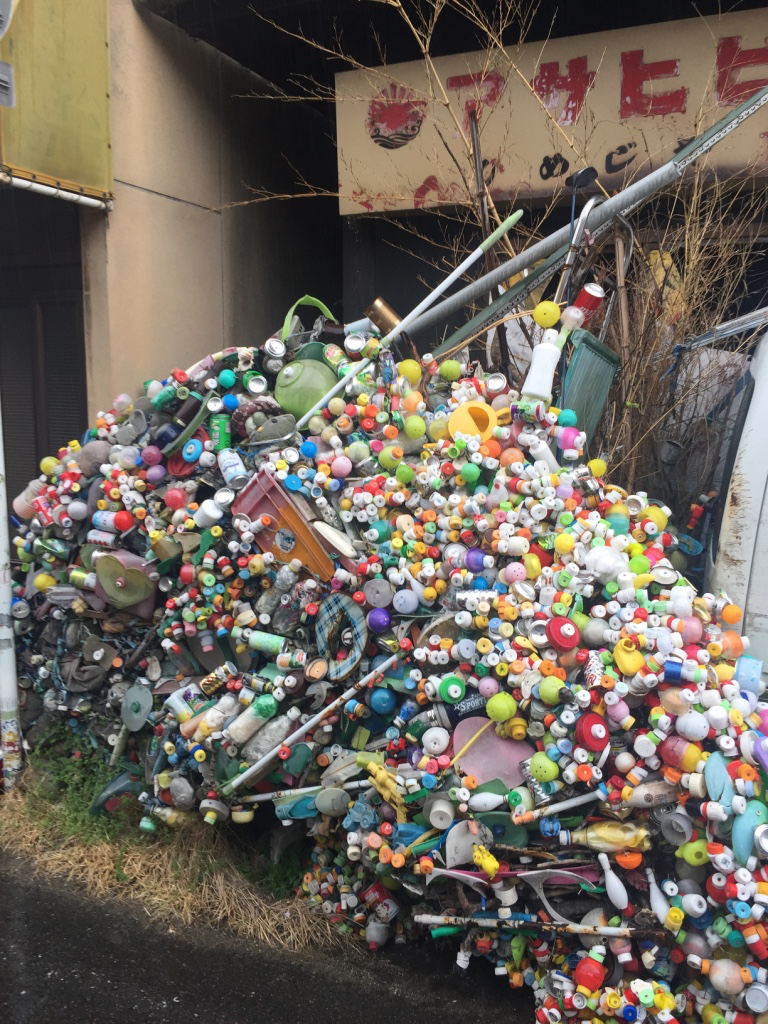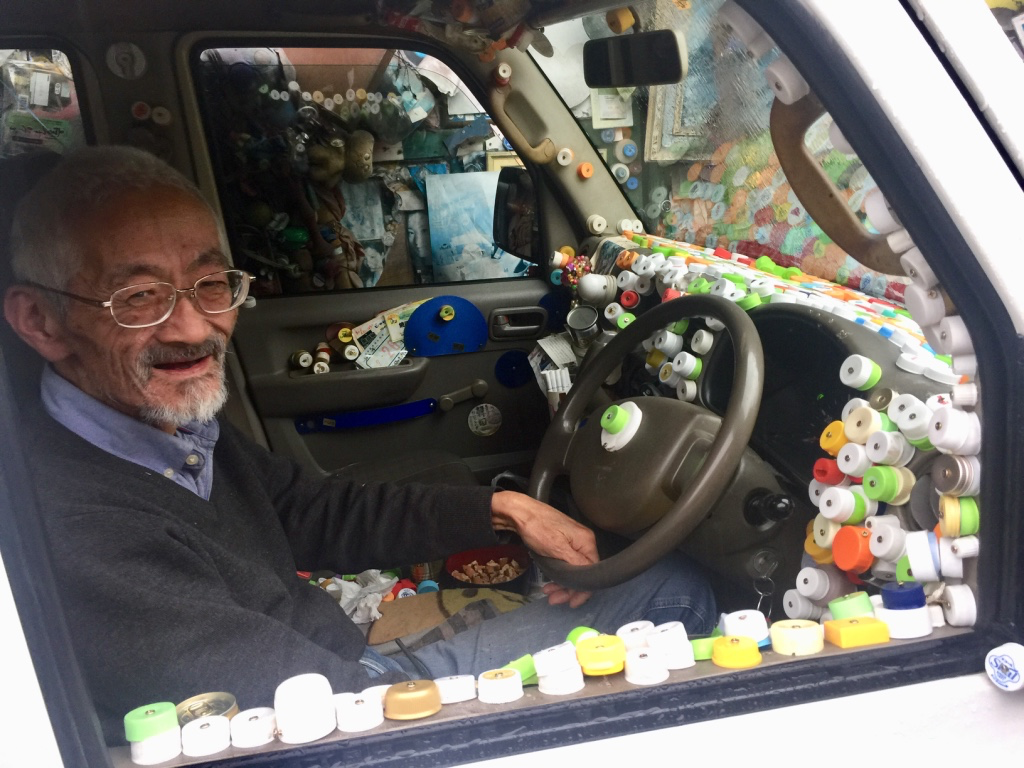 Fortunately the artist was sitting in his bedecked car, smiling at our delighted reaction to his creations.
Somehow we made it! With the help of our deep pink bike tenugui from Todaya Shoten dyers – the tenugui were made for the Tokyo Bike ride going on at the same time but we were on our own adventure.
From start to finish, our blue & white journey on the Shimanami Kaido was one of the most exciting, beautiful and surprising experiences I have EVER had in Japan.
And I have had a few !
We simply followed the BLUE & WHITE LINE.
There was much to see and do and eat on this exciting trip.  The lemon cake near the base of the Tatara bridge was delicious, the Imabari towels were world class, the delicious lemon pasta for at the b&b Koune Paradiso was from the heart, and our beach combing there was fruitful.  In my heart I will go back there often, and if I hurry and not get too much older, I will return to bike again and take my time riding over those graceful bridges, the lemony air, and the luminous lazuline paradise that is the Inland Sea and the Shimanami Kaido that arches over it.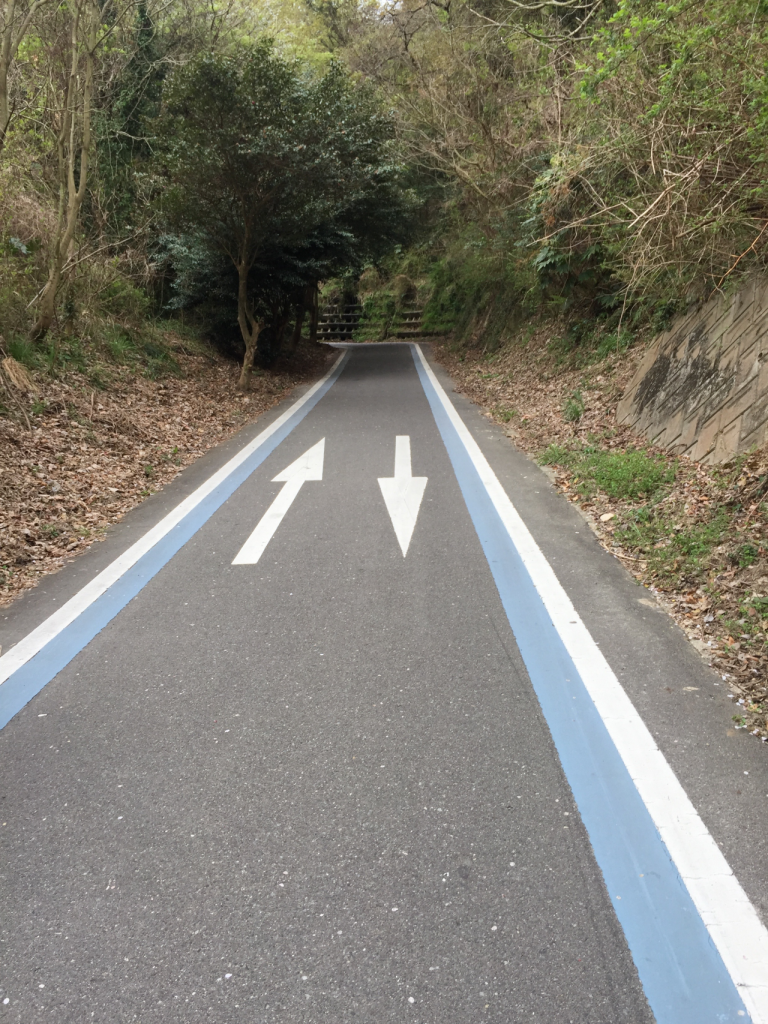 ---
June, 2018
NATSU MIKAN A SWEET TALE
Fumiko Kikuchi, the soon to be 97 year old Mother of my dear friend, Yuri, has been making delicious marmalade from the fruitful natsu mikan tree in her magical Tokyo garden for years.  It was what Yuichi, my sweets-loving husband, lived for each year. (She should open a shop in Paris and sell it, he always told her!) We planted our own natsu mikan tree at home, which grew quickly and bore fruit generously. But I never dreamed of trying to emulate Kikuchi san's natsu mikan marmalade.
Instead, I opted for candied peels that I never tire of cutting and simmering, because I adore them myself, and am proud to give to friends something I have made myself.  I too often rely on giving what others have made!
This year, we didn't have enough natsu mikan, so I foolishly asked my friend whose tree had borne 100 fruits last year, if she had any extras.  Sadly she said that there were only 30 on her tree this year, so I forgot about my request.  But she didn't and last week, true to her thoughtful ways, she arrived in Blue & White with a huge shopping bag so heavy she could barely lift it.  And herein lies the tale.
Yuri had felt badly that she couldn't spare any fruit, so she mustered up her courage and went to an adjoining and unknown neighbor's house whose tree was large and laden with fruit.  Her heart pounding, she rang his door bell and a very old man with a slightly grumpy look on his face, appeared and asked her what she wanted. In all those years of living next door to each other, they had never met.  She explained that her friend wanted to make natsu mikan peels and she wondered if he was going to use his fruit.  She had waited til late in the season to make sure that he wasn't.  The garden was a jungle and clearly hadn't been touched for years!
He said help yourself.  And just come in to the garden freely.  You don't need to ring the bell, he said as he teetered unsteadily on his wooden geta to show her the tree.
She waited to go until Sunday when her husband could help her, and give courage.  He carried the ladder.  She climbed it!  And like monkeys, she said – not such young ones at that! – they picked every mikan they could reach !  There were many more than 20 big fat natsu mikan in the  heavy bag she brought.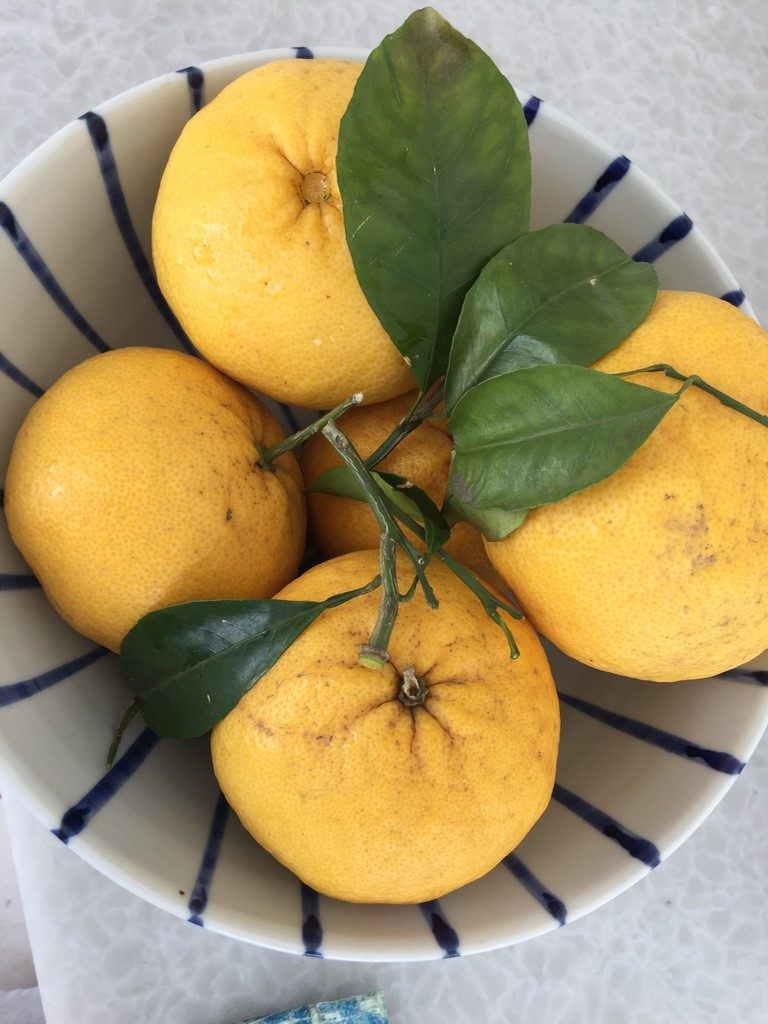 When I heard the story and the dangers my friend and her husband had subjected themselves to for love of a friend and love of natsu mikan, the fruit tasted that much sweeter, and the old old friendship that much deeper.
RECIPE FOR CANDIED NATSU MIKAN PEELS
4 or 5 Natsu Mikan
2 ½ cups sugar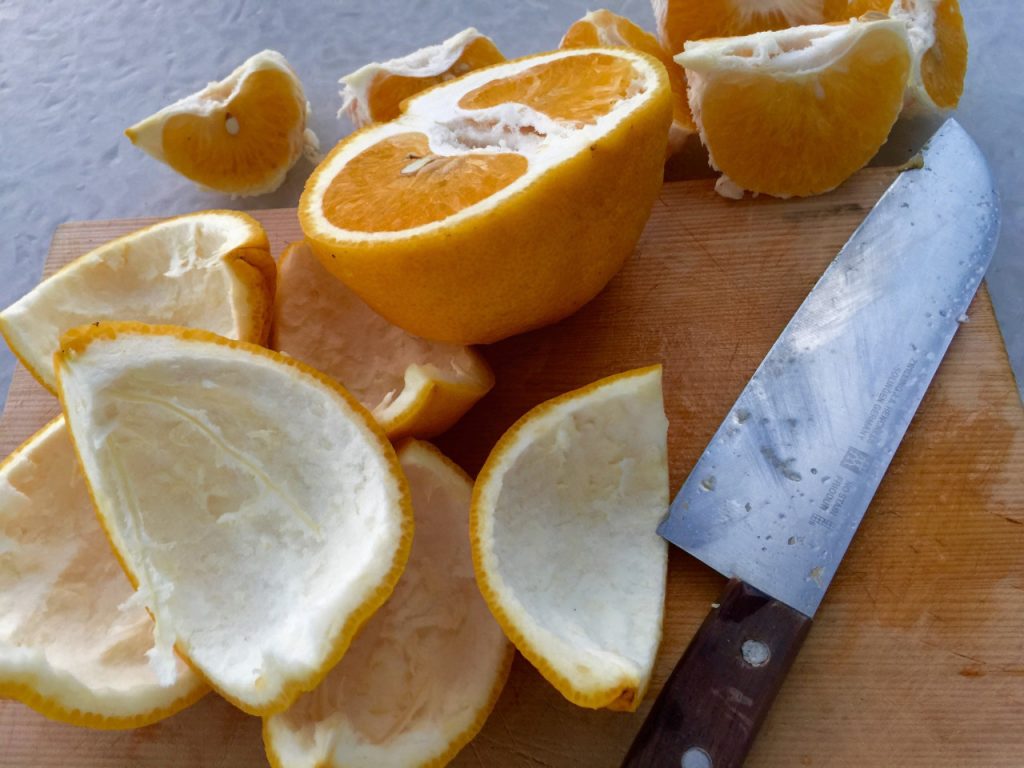 Cut the natsu mikan peels into thin slivers with a sharp knife.
Place in a thick pan filled with cold water.
Bring to a boil over high heat and blanch for 5 minutes.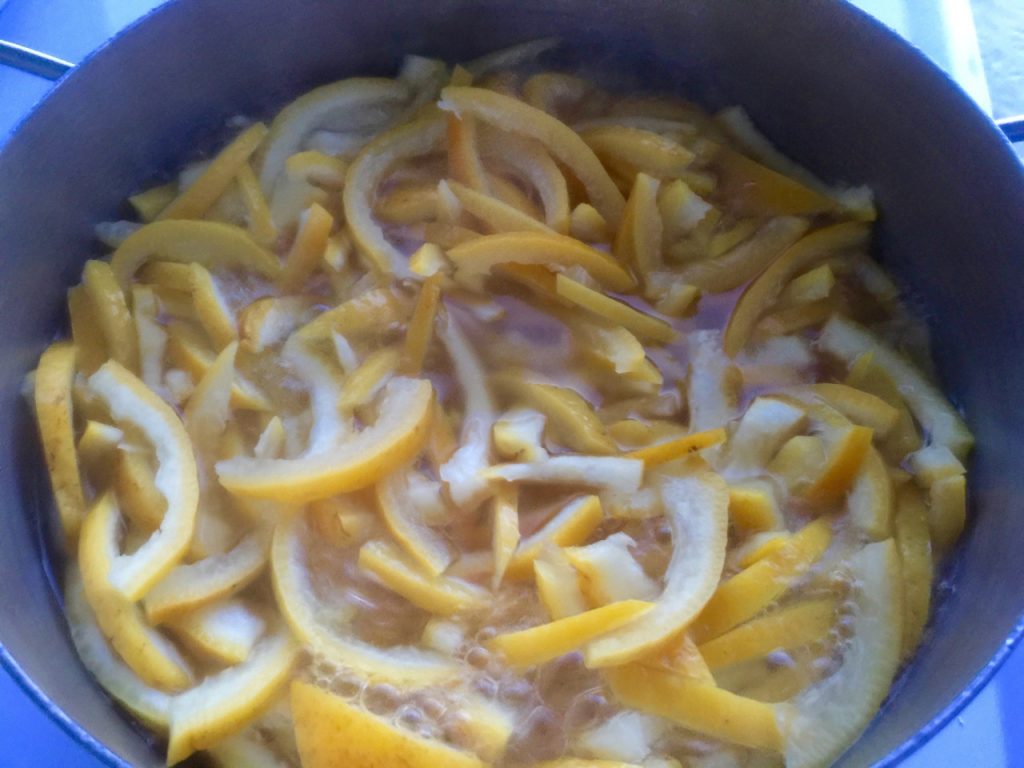 Drain the water, cool and repeat three times.
ave the fruit inside for jelly or marmalade
In the same pan, combine 1½ cups of sugar and 1 cup water
Bring to a boil over high heat.  Let it become slightly syrupy then add the peels.
Simmer very gently until peels become translucent and they have absorbed the syrup. Stir frequently to keep from burning.
Drain the peels, and let them cool.
When cool roll them in the remaining cup of sugar – you may need more  – on a flattish plate – and spread them to dry on a rack with parchment paper underneath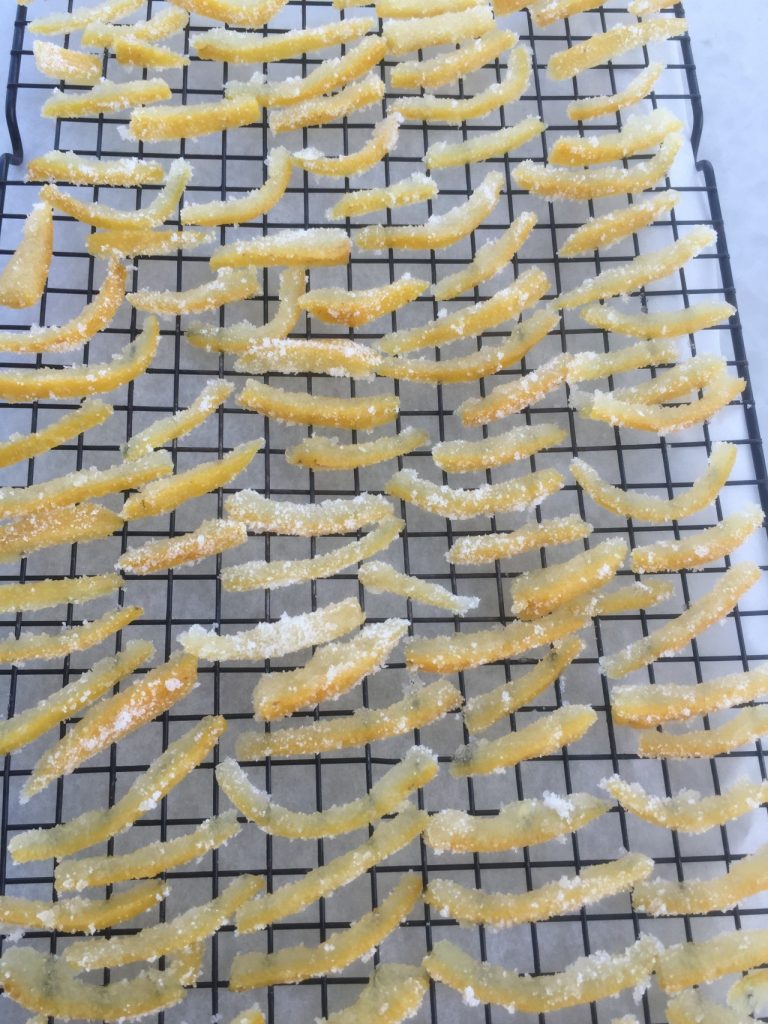 Let them dry for 4 or 5 hours, or overnight.
Store in an airtight container in a cool dry place.
It works for yuzu, grapefruit or other thick skinned citrus fruit.
But there is no recipe for a friendship like that.
Just great good fortune!
Above is the recipe for these golden peels.
---
July, 2018
A TREE MOVES IN MINATO-KU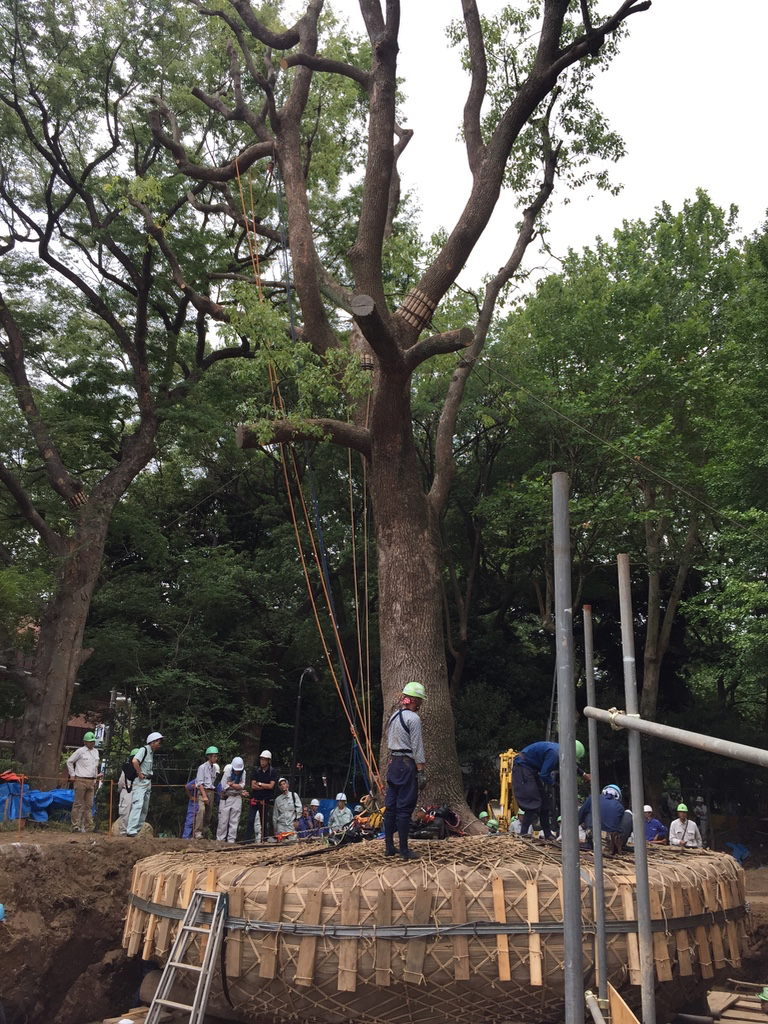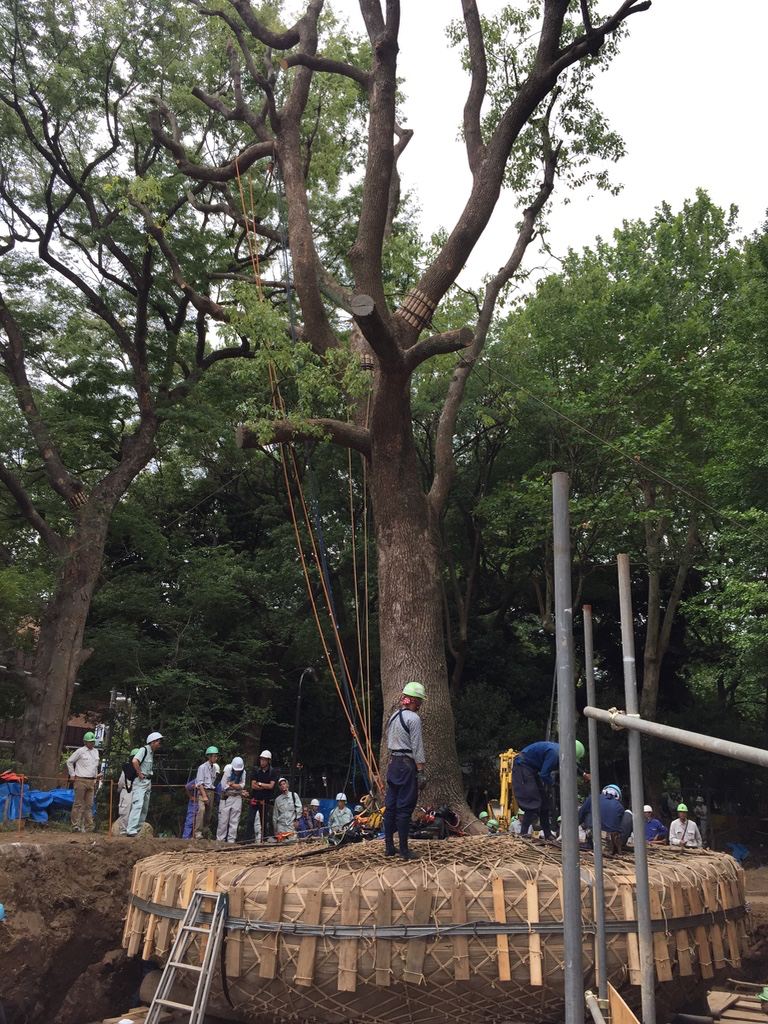 It's a matter of priorities.  Minato Ward has its right! Unbeknownst to me, the powers that are in Tokyo's Minato ward, where many Embassies are located, and many international residents of Tokyo live, decided that the venerable camphor tree in the historic Arisugawa Park needed to be moved.  By chance or no, I happened by on moving day and was astonished by the large group of helmets assembled around the mammoth tree which had been shorn of its foliage, its roots wrapped in straw bunting, as I drove by.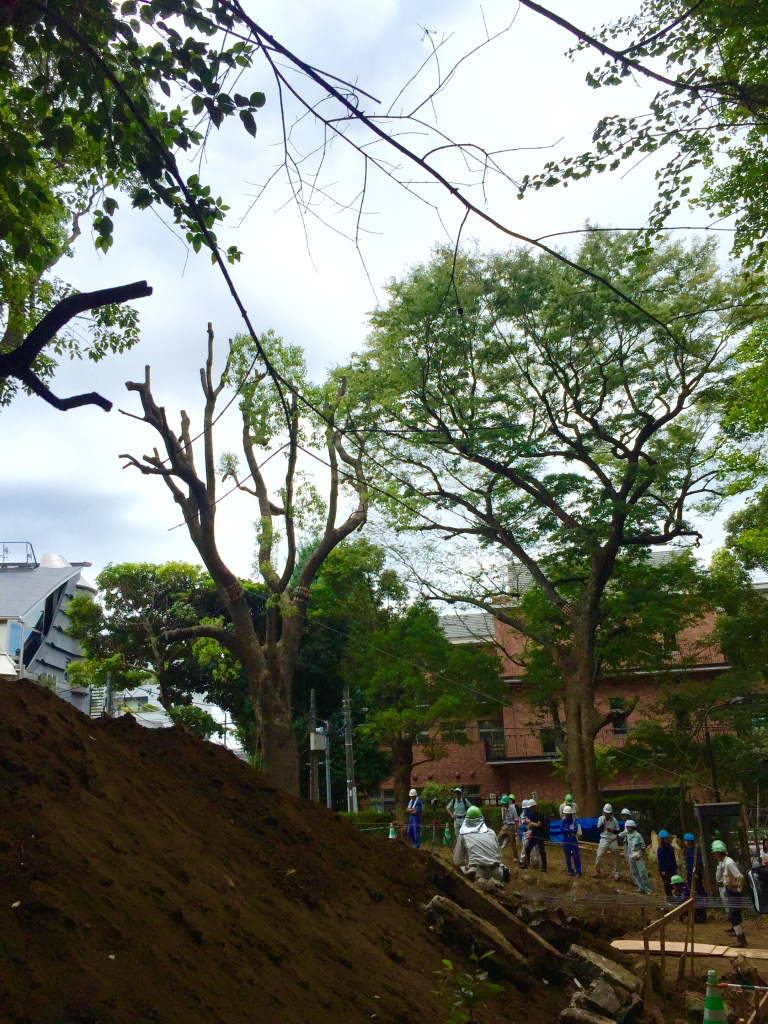 Not unlike many traditional festival machinations that I have witnessed over the years, moving the giant Mikoshi for Kyoto's Gion festival and Chichibu's night festival outside of Tokyo, the tree had been hoisted and tethered and set on stout horizontal wooden beams with rollers on wooden tracks to guide its movement 10 meters back into the park.  There were even traditional words for the front rollers – Kanzashi – and the back rollers Okagura!
A tall square mound of earth had been carefully prepared to be its new home.  Workers diligently swept away any stray stones or dirt that could impede the forward movement.
Ancient engineering which, though used infrequently, still has professionals who guard the secret.  10 or 15 had been assembled for the great move, along with 60 or so other gardeners, engineers and technicians who helped.
I rushed by later to see what was happening and found that the tree was moving.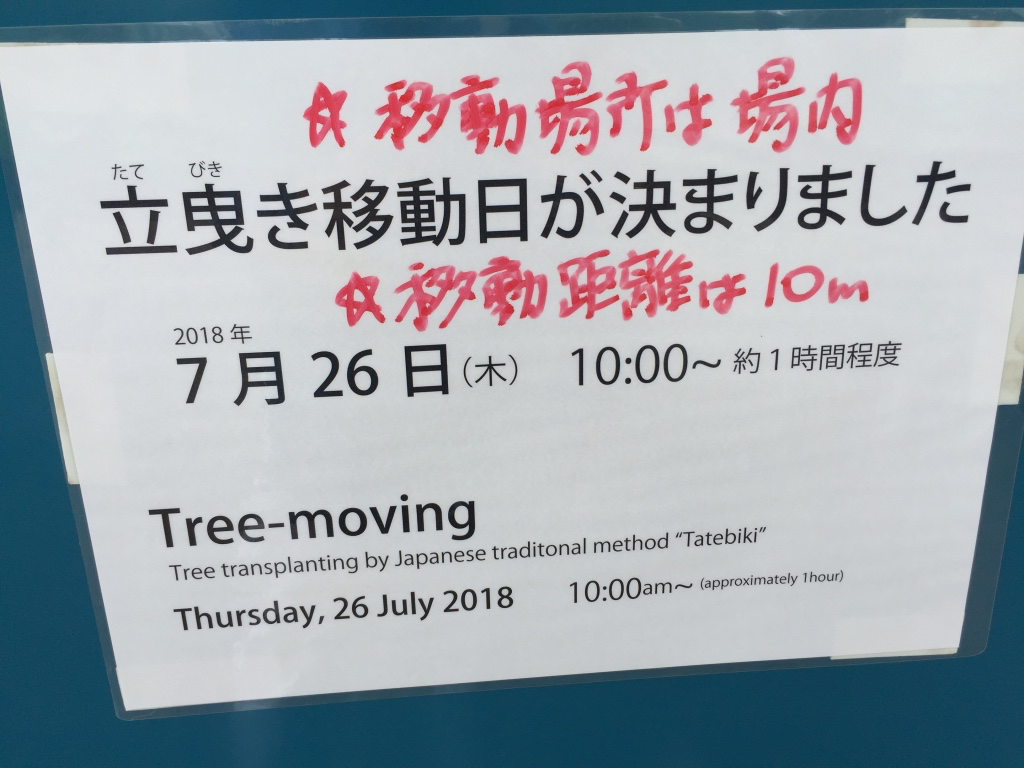 A sign had been posted to inform the neighborhood of moving day, yesterday, July 26 at 10 am.  The 70 ton tree was to be moved 10 meters.  By chance I had driven by the great assembly and the straw wrapped tree, so I walked back later just in time for the move.  I had lived in Azabu for 35 years, and feel a particular love for the neighborhood and the park and its trees where I have walked many dogs many days and many nights.
The retention of ancient wisdom, the reverence for ancient trees, the respect for nature, the persistence of ancient values rang out in the claps of the 70 workers who rejoiced at their success in moving the old tree and the joy of by standers who had watched the slow process, which had started months earlier.
And the tears that fell from my eyes as I watched yesterday and today as I tell the story of the tree that moved, are all a part of why I love Japan.