March, 2009
The foodie's foodie, Mora Chartrand-Grant, shares about her donabe.

Steve Beimel: Mora—So you finally bought a donabe???
Mora Chartrand-Grant: Yes, and I'm really proud of it. I always come back from Japan with yet another piece of rustic Japanese pottery to add to our home collection, which I regularly use in the kitchen…the crustier and grittier the better. I first spotted the donabe on JapaneseFoodReport.com. This donabe…made of Iga ware…has a sensuous balance between the black glazed portion and the rough butternut-colored clay. While in Kyoto last December, I found the exact same donabe at Gungendo, my favorite clothing and households goods store. It was destiny! Only 2 days in-country, and there I was, "donabe love sick" at Gungendo. I didn't care what it cost. It was going home with me.
SB: How is a donabe different from a hot pot?
MC: A rice donabe is slightly different from a donabe for hot pot cooking because it has an inner lid with 2 steam venting holes toward the lid edge. The outer lid that is dome-shaped has only one vent hole. The diagrams in the care/use guide made it clear that there is a very specific way to position the two lids…I love this Japanese care for detail. Also, the rice donabe is deeper and narrower than the hot pot.
SB: Did you need to prepare it before using it?
MC: You must "season" the donabe before ever using by making a rice porridge and then leaving it to cool in the donabe for several hours. The very fine rice starch particles fill the glaze and seal it.
SB: Can we eat yet?
MC: Right. I couldn't wait to cook my first pot of rice. I bought a bag of new crop Koshihikari haiga (rice with the nutritious germ left on). Only the best rice was going into my donabe. I followed the instructions exactly and used my instinct for adjusting the gas stove. My reward was perfectly cooked rice with a light caramel-colored okoge crust at the bottom. The world came to a stop when I had my first bite. I had recreated the taste and texture of the best rice I'd had in Japan…well almost, but it was darn close. Japanese rice and water really are superior. For just a moment I was transported back to the days of old to the kitchen of a Japanese minka country house. Yes, I had arrived. I had made real rice.


Photos courtesy of Linda Grant
---
March, 2015
SAKE: THE SOUL AND SPIRIT OF JAPAN
SAKE: THE SOUL AND SPIRIT OF JAPAN
……..By the Foodies' Foodie, Mora Chartrand-Grant………..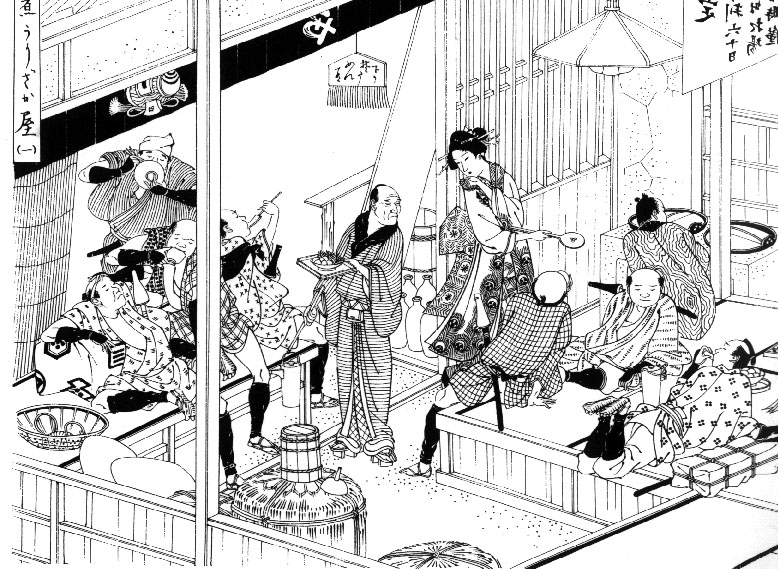 Sake, as ubiquitous as the cherry blossom in spring, is perhaps Japan's greatest contribution to the beverage world-a national beverage and elixir to many, the drink of the gods, and a virtual unknown and misunderstood beverage to most Americans. But what was once viewed as a pale, nearly flavorless alcoholic beverage has recently been embraced by an adoring American public looking for an alternative to wine or beer. Sake no longer is only found on Japanese restaurant menus. Its most recent incarnation has it holding court among fine wines at upscale, cutting-edge restaurants on both coasts.
Averse to calling sake a trend, I am convinced that it is here to stay. Sake has made its mark and found an audience that is beginning to understand its subtleties of taste, aroma, and regions. It is no longer enough to be knowledgeable about wine ( or even microbrews ), but the true gourmet and epicure now are adding sake to their repertoire. Sake is making inroads into American life at a respectable rate.
So just what is sake and how did it come to play such a leading role in Japan's culture? Let's talk about the letter first. Sake has been known since the down of civilization, and more likely since rice was first introduced to Japan from the Asian continent about 2000 years ago. It is an alcoholic beverage produced from rice and brewed much the same way beer is, from barley and wheat. But sake is termed a rice wine because its 16% alcohol content is similar to wine.
The first written record of sake in Japan dates from 300 A.D. Historic archives submit that this sake was "chewing in the mouth sake" ( kuchikami no sake ). As unappealing as it sounds, rice was chewed by villagers and then spat into a wooden tub where it fermented with the help of an element in the saliva. This early sake had the consistency of oatmeal, which necessitated eating your sake rather than drinking it. Sake's primary use during ancient times was for religious and social purpose in the Imperial Court. In fact, many temples and shrines used their rice-growing lands and monks to establish their own sake brewing operations. Over the centuries brewing methods became.