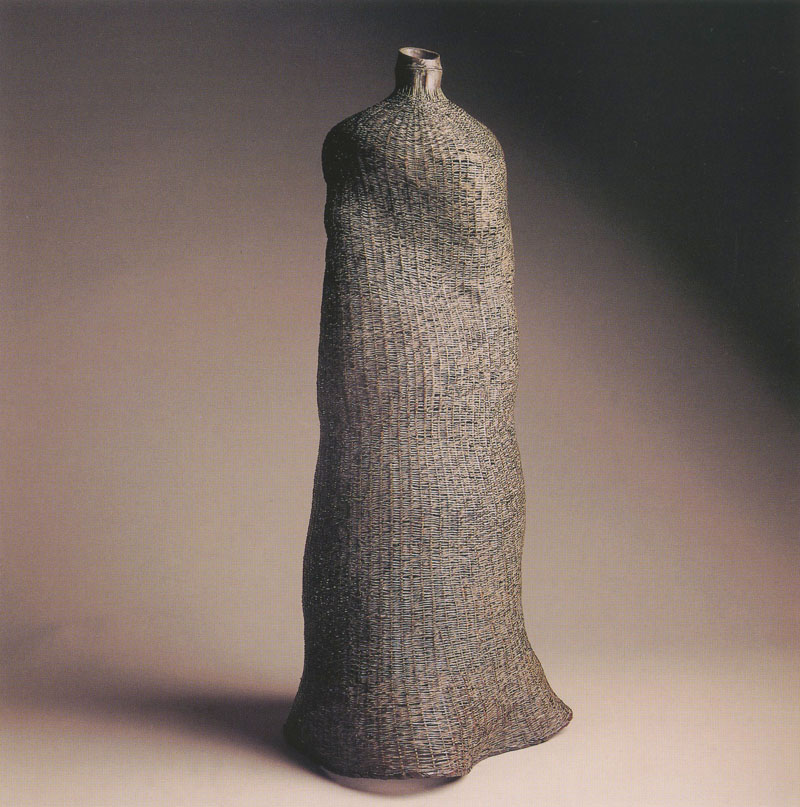 by Rob Coffland……………………………………………
Nagakura Kenichi was born in Shizuoka City and after completing high school, learned the traditional art of yUzen dyeing (a multi-colored paste resist process). After a few years, he became dissatisfied with this and decided to learn bamboo basket making by working with his grandfather. He worked diligently to master the techniques but soon realized that breaking away from traditional forms was his goal.
In 1982 he held his first solo exhibition at Takei Gallery, in Numazu. Numerous solo and group exhibitions followed at department stores, galleries, and museums, in Tokyo, Kyoto, Osaka, Nagoya, Gifu, Hamamatsu, and elsewhere, including Bourgogne, France. He is an independent artist by choice, unaffiliated with any of the craft arts organizations.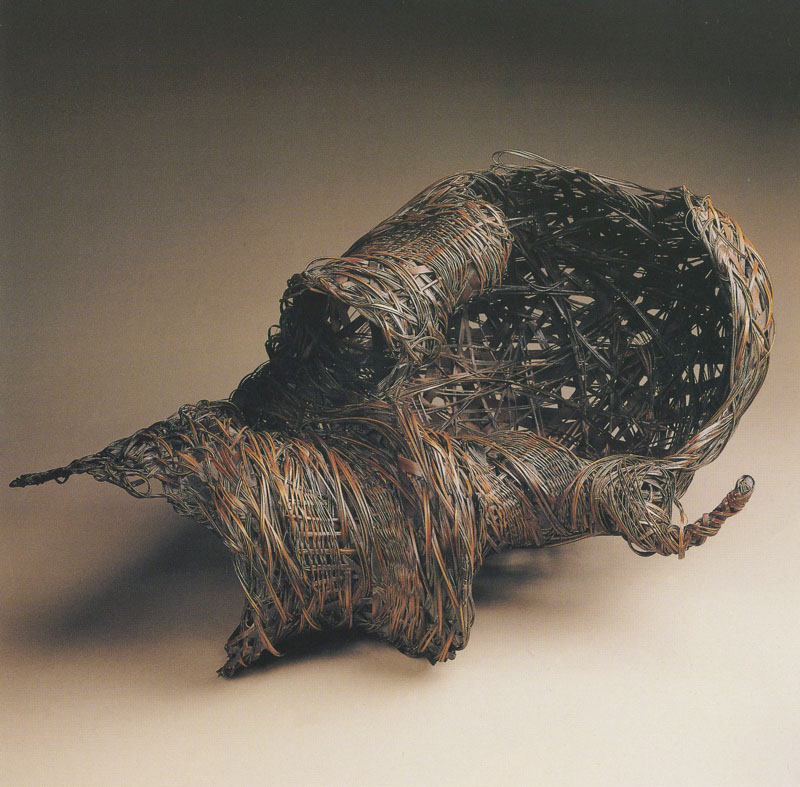 He explains his approach by saying that he has always been very interested in European art, and modern American art, including the Pop Art movement. He also studied the work of other cultures, which led him back to examine primitive indigenous forms, such as the energetic cord-patterned pottery works from the Jomon period in Japan, 3rd and 2nd millennia B.C. His most innovative works are based on naturally occurring shapes such as fallen leaves, emerging shoots, roots, cocoons, and decaying apples.
He acts quickly on his materials with an intuitive energy, saying, "I want to reduce the complexity of my feelings into my work like a poet does when writing a haiku. For me it is very important that I can use parts of a bamboo plant from above ground and parts from below ground. I like to add bamboo roots to some of my work as a reminder of the dark side of life. This creates greater harmony.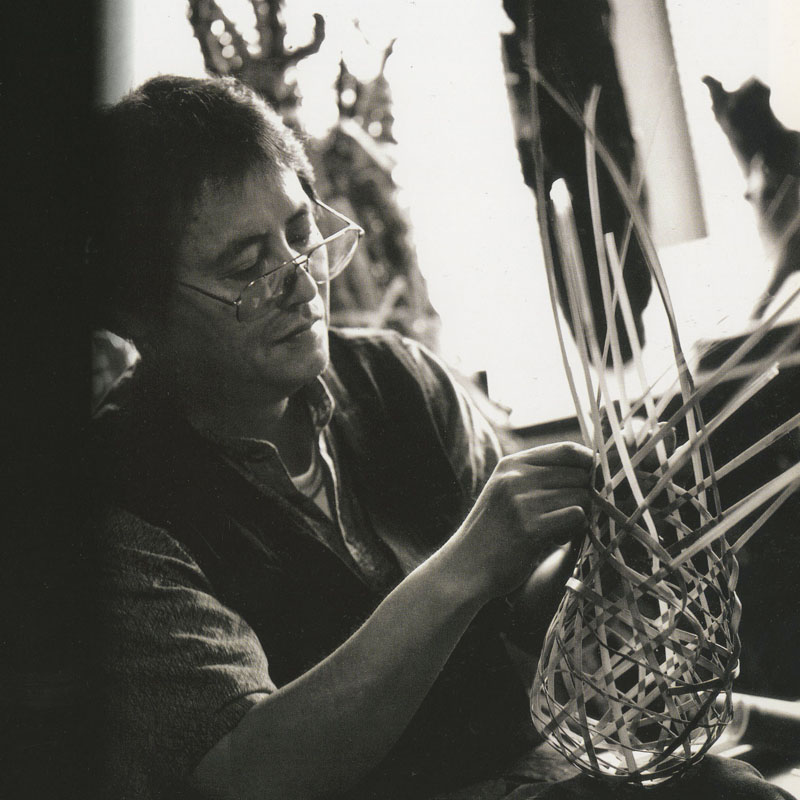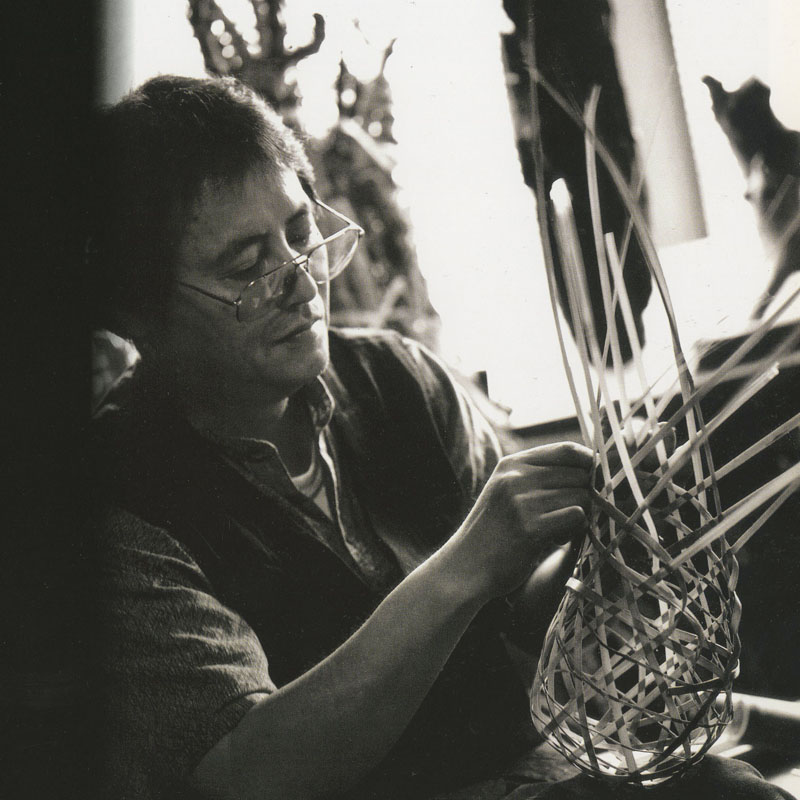 "I feel that the role of the artist is to revitalize the stagnation that comes into people's lives. I want to stimulate people to reconsider their relationship to the world. This is a source of inspiration for me."
Nagakura Kenichi is represented by Tai Modern, a Santa Fe, New Miexico-based fine arts gallery dedicated to exhibiting and supporting contemporary art in a variety of media, with a particular focus on Japanese bamboo art and baskets.