A Taste of Culture
Setsubun

© Copyright, 2016. All rights reserved by Elizabeth Andoh.
Dear friends, colleagues and those who have expressed an interest in the FOOD & CULTURE of Japan: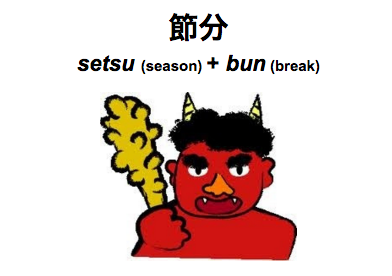 Setsubun marks the break between seasons and occurs several times during the year. Most Japanese today, though, think of setsubunbeing on February 3, corresponding to the start of the lunar New Year. In China and other parts of Asia this break is celebrated as New Years. But in Japan since the switch to using the Gregorian calendar in the Meiji period, Setsubun is celebrated quite apart from Osōgatsu (New Year activities, which come to a close in mid-January).
Rituals developed aroundsetsubun to insure that evil was left behind in the old year, and good things could (and would) happen in the year to come. In Japan, onimonsters personify bad things and are traditionally expelled by shouting and by
throwing dry-roasted soybeans (mamé maki).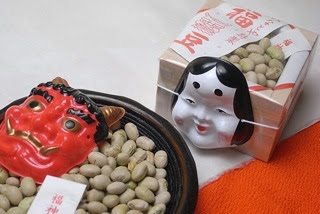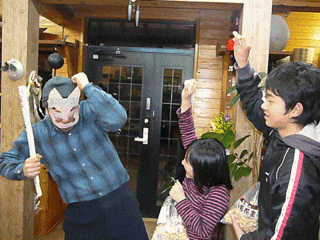 Kids get to pelt Oni (good-natured Grandpa) with roasted beans.
Want to make your own setsubun commotion? Buy already roasteddaizu (dried soybeans) called iri mamé ("roasted beans") in an Asian grocery… or roast your own. Place daizu (dried soybeans) in a dry skillet and place the skillet over low heat to s-l-o-w-l-y roast them. Jiggle and/or swirl the skillet gently to keep the beans in motion until the skins on a few beans begin to split (about 20 minutes). Remove the skillet from the stove and let the beans cool in the skillet (they will keep for several weeks and make a great beer snack….)
Take a handful of the beans and throw them outside while shoutingOni wa soto! (Demons, get out!). They then throw another handful inside, shouting Fuku wa uchi! (Good luck, come in!). Finally, everybody gets to eat the same number of roasted beans as their age… plus one (its a good thing I LOVE iri mamé…)

Although most of Japan does mamé maki bean-tossing with roasted soybeans, the Tohoku region (Iwate, Miyagi, Fukushima, Aomori, Akia, Yamagata) prefers to use roasted, unsalted PEANUTS (落花生rakkasei) in their shells. The nuts are not removed from their shells until AFTER they have been tossed, and collected — certainly makes clean-up easier!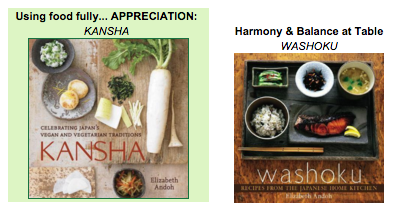 March & April
2016
A Taste of Culture
The March KANSHA Intensive Workshop is filled
but those interested in participating in a 3-Day Intensive Workshop later this year, please download a detailed description and application form.
Hands-On Cooking Classes:
Other foods associated with Setsubun include plump sushi rolls called éhō maki. These are meant to be gobbled, uncut, while facing the "auspicious" direction for that year. The auspicious direction for 2016 is: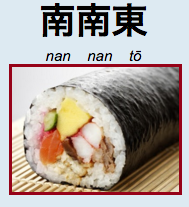 Download éhō maki recipe from
TASTEofCULTURE.com