THERE MUST BE AN OZU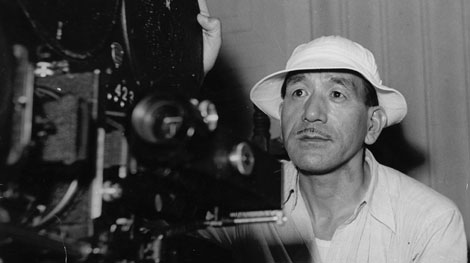 New York Japanese film maven, Leila Mustachi speaks about Yasujiro Ozu, one of the world's greatest film directors of the 20th century…
So many of the fans standing in lines stretching down the block hoping to get into some of the 36 feature films shown over 28 days at Film Forum in New York last year to mark the 50th anniversary of the death of master writer/director Yasujiro Ozu had to be turned away, that a two-week encore series was arranged to help satisfy the demand. Among other homages, the Lincoln Center Film Society included offerings of contemporary American, European and Asian artistic torchbearers and Wim Wender's 1985 documentary "Tokyo-Ga" in which he interviewed some of Ozu's collaborators wherein his cameraman, Kazuo Miyagawa, and the veteran actor Chisu Ryo wept remembering him. A list by 358 directors naming the ten greatest movies of all time includes Ozu's 1953 masterpiece, "Tokyo Story" for the honor.
"There must be an Ozu," wrote the late critic Roger Ebert.
"There must be an Ozu," wrote the late critic Roger Ebert, when asked once more in 2012, to name the ten greatest movies of all time for the "Sight and Sounds" famous poll. "It could be one of several. All his films are universal." Ozu (1903-1963) made 54 films starting with the silents in 1927. Of the 1959 remake of "Floating Weeds" (made first as a silent seen in link below), Ebert began by saying, "Sooner or later, everyone who loves movies comes to Ozu. He is the quietest and gentlest of directors, the most serene. But the emotions that flow through his films are strong and deep, because they reflect the things we care about the most: Parents and children, marriage or the life lived alone, illness and death, and taking care of one another."
"This was an artist who strove to show our species in all its melancholy, messy and magnificent modes …that successfully layered in social commentary among the laughs."
David Fear, writing in "Time Out New York" about the 2013 Film Forum retrospective salute, noted how Ozu was adept at comedies. "You'll also see characters talking about being horny, drink like fishes and ponder scatological topics at length….This was an artist who strove to show our species in all its melancholy, messy and magnificent modes …that successfully layered in social commentary among the laughs."
Ozu won a number of high rankings in the annual polls of the film journal "Kinema Jumpo" but he modestly thought of himself as just another Shochiku Studio employee. His films were not widely seen outside Japan until the early 1970s when his subtle, contemplative scenes–no pans, no tracking shots, no dissolves, the camera never moving but cutting from one composition to the next, and certainly no high-tech tricks to escalate drama and action– began to compel movie lovers all over the world to look and involve ourselves in the everyday events of our fellow human beings. A good place to begin your love for this man is in the sleepy, hot and dreamy summer village near the sea of "Floating Weeds."