A Taste of Culture
JULY, 2015 Newsletter:
Kampyo(Sun-Dried Gourd Ribbons)

© Copyright, 2015. All rights reserved by Elizabeth Andoh.
かんぴょう
干瓢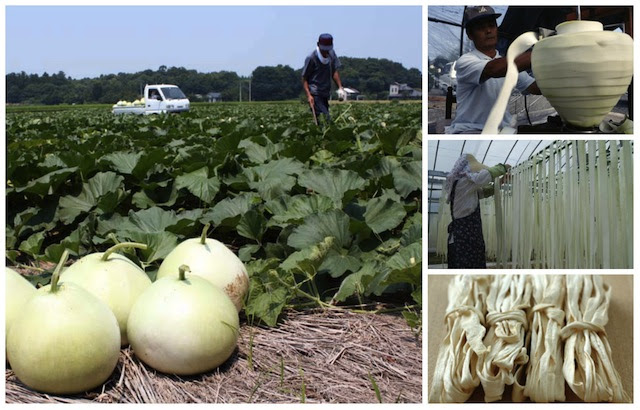 Looking a bit like a spool of thread set on a latge bobbin,pale green pumpkin-gourds called fukube are set spinning against a sharp blade. Ribbons of coiled gourd are then hung to dry in the sun. In this drying process minerals and sugars are concentrated yielding an aroma vaguely reminiscent of dried apricots. Kampyo (gourd ribbons) are used to tie up any number of edible packages in the Japanese kitchen.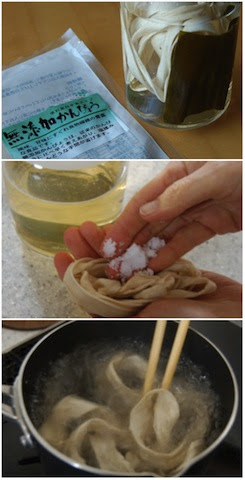 To tenderize the dried gourd it is soaked in water and given an abrasive salt rub.The salt is rinsed away and neither affects the taste, nor becomes an issue for those on a sodium-restricted diet. The liquid that remains after soaking dried gourd becomes a delicately flavored stock. Be sure to source naturally sundried gourd as the liquid from soaking chemically-dried gourd contains unwanted elements.
On-Line WORKSHOPS
At each of my websites I have created a Workshop page that featureskampyō. Recipes can be downloaded from each site. ENJOY!!!
At WASHOKUcookingkampyō is used to tie up "treasure bags" filled with meat and vegetables.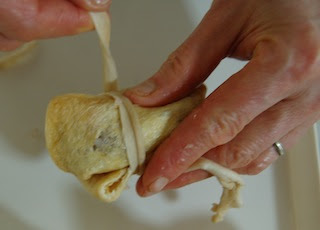 At KANSHAcookingkampyō is transformed into a sour and spicy pickle, hari hari-zuké.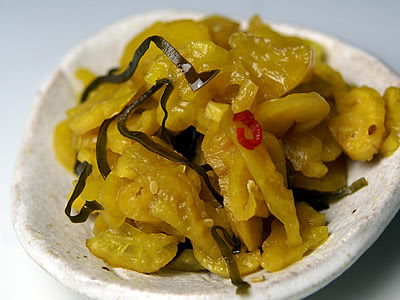 At KIBOcooking you'll find kobu maki (kelp rolls tied with kampyō) that can be made with kelp that is leftover from stock-making. Thrifty, and tasty.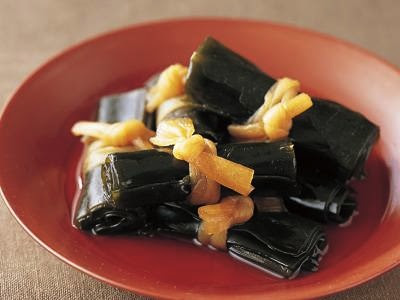 Born, raised and educated in America, Elizabeth Andoh has made Japan her home for more than four decades. A graduate of the University of Michigan (Ann Arbor), Andoh's formal culinary training was taken at the Yanagihara School of Classical Japanese Cuisine (Tokyo).
Andoh is the author of six books on Japanese cooking, including two IACP award-winners, An Ocean of Flavor (Morrow, 1988) and Washoku (Ten Speed, 2005). She was Gourmet's Japan correspondent for more than three decades and was a regular contributor to the New York Times travel section for many years. Andoh lectures internationally on Japanese food and culture and directs A Taste of Culture, a culinary program based in Tokyo, Japan.
Elizabeth Andoh's website, http://www.tasteofculture.com/