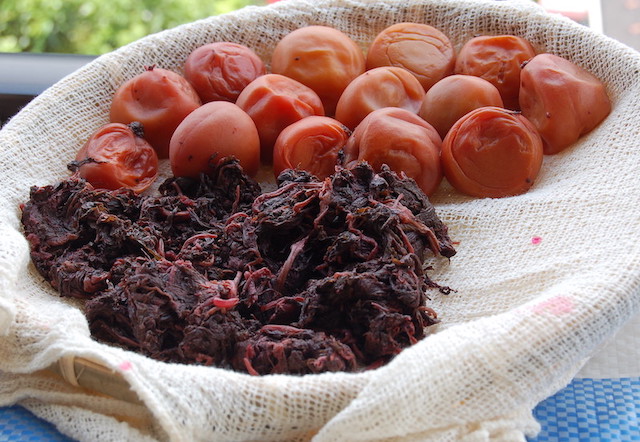 Incessant tsuyu rain is soon to be supplanted by sultry summer days. That's when the emphasis in the kitchen, shifts to sawayaka "refreshing" foods, and sappari "clean" tastes. By the way, these words can also describe someone's outlook or attitude to life, in general: sawayaka na kibun (a bright, buoyant mood) and sappari shita hito (a person who keeps interpersonal relationships straightforward and simple, clean and neat).
When it comes to sawayaka and sappari dishes, those made with mouth-puckering uméboshi and the by-products of making the salt-cured plums (momi-jiso and yukari) are my favorites. I admit to strongly held (and rather old-fashioned) opinions about what makes an uméboshi really great. I don't like those that have been sweetened with honey (and I have nothing but contempt for those made with artificial sweeteners). I prefer the larger, softer ones that have been pickled with ample amounts of momi-jiso (salt-cured red shiso leaves) that tint the plums pink and impart a refreshing aroma.
Yukari made by drying and crushing momi-jiso leaves cured along with the plums acts as more than just a refreshingly tart seasoning during the heat of summer. It thwarts spoilage because of its anti-bacterial properties.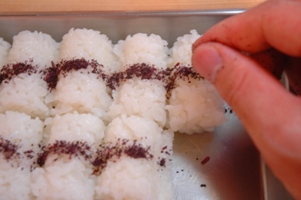 I have vivid, and fond, memories of my early forays into plum-pickling under the expert tutelage of my mother-in-law in Shikoku more than 50 years ago. I continue to engage in umé shigoto ("plum work") in urban Tokyo. If you don't make your own from scratch, source the very best, unadulterated uméboshi you can find; the label should have only 3 ingredients: umé plums, salt, and salt-cured aka-jiso (red shiso leaves).
Visit my KITCHEN CULTURE page for details on YUKARI and an overview of umé shigoto.
---
Stay connected.
I'm looking forward to your comments on the items I post to my Facebook page!
I do hope you like it!
Elizabeth Andoh
A Taste of Culture
Culinary Arts Program
Setagaya-ku, Tokyo 158-0095, Japan