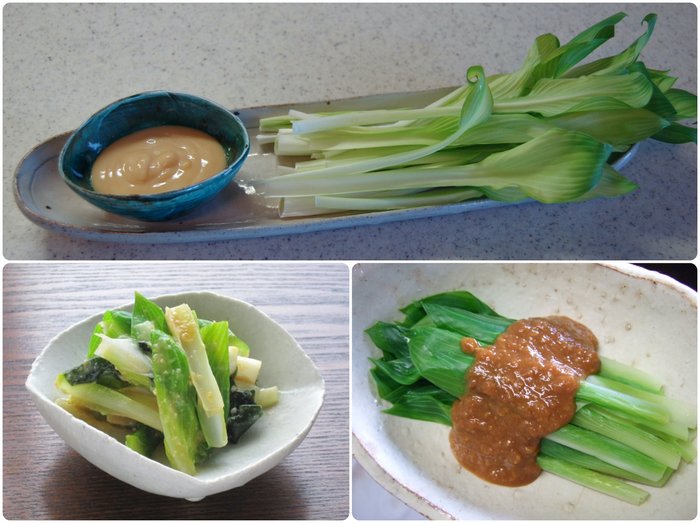 My early years in Japan were flooded with hatsu taiken (first-time experiences), especially at table. Among those were my first bite of URUI (Hosta sieboldiana), memorable for its elusive wild-grass flavor. Urui prepared as ohitashi showered with smoky flakes of dry-cured bonito was my very first encounter with this amazing garden green,. When, several days later I was served slender stalks of urui napped with a sharp, tart karashi su miso, I announced myself an avid fan.
Urui is in the lily family; it is often planted as an ornamental in gardens. It thrives in damp soil in areas of partial or dappled shade. It has been cultivated in Japan since the Edo period (1603-1868) though young shoots of wild urui have been foraged for food for thousands of years. In Japan, urui is a sign of spring to be savored at table.
One way of enjoying urui is to pair it with a nutty miso dip. Another is to make pork belly roll-ups to be seared in a skillet. Visit my KITCHEN CULTURE blog for details and recipes,
Visit Kitchen Culture Cooking Club for Project Flavored Miso where you will find instruction and inspiration for making all manner of flavored miso. For those who eat a plant-based diet exclusively note that one of the flavored miso mixtures includes fish, though all the others are vegetarian (or vegan).
---
Stay connected.
I'm looking forward to your comments on the items I post to my Facebook page!
Follow me on Twitter!
I do hope you like it!
Elizabeth Andoh A Taste of Culture Culinary Arts Program Setagaya-ku, Tokyo 158-0095, Japan