Jun Aoki has once again customized the luxury brand Louis Vuitton with another unique façade for Ginza Namiki Store. He has remade the façade of the building previously designed by him in 2007. The earlier design utilized painted aluminum sheets in a textural pattern that expressed both solidity and lightness. This remade façade is brilliant in its use of the latest glass technology to express liquidity. Unlike much of construction technology used to present a machine-like cold perfection Aoki uses it to let us feel a soft diaphanous quality. In all of the examples herein, Aoki's remarkable inventiveness is obvious and evident.
Read more here: https://www.designboom.com/architecture/louis-vuitton-ginza-namiki-store-jun-aoki-peter-marino-03-19-2021/
Compare this latest façade to the Osaka store which also expresses softness utilizing fabric sail-like forms.
Read more here: https://www.archdaily.com/934396/louis-vuitton-opens-new-flagship-store-in-osaka-designed-by-jun-aoki-and-peter-marino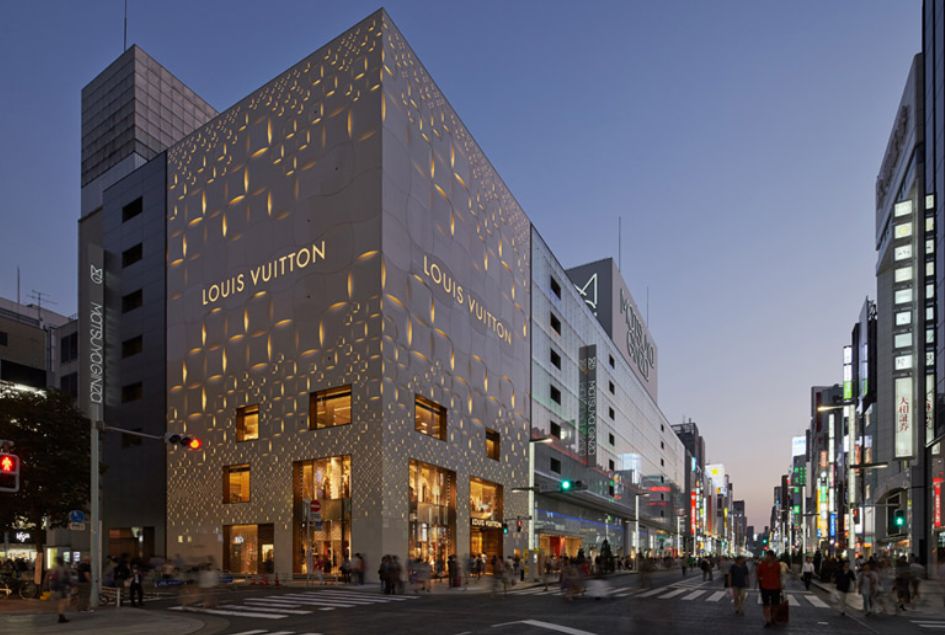 Read more here: https://www.dezeen.com/2014/10/03/aoki-jun-associates-louis-vuitton-tokyo-perforated-monogrammed-facade/