The word DOMBURI refers to both the deep ceramic dish and the food served in it. Typically a generous portion of rice is topped with sauced meat, fish, and /or vegetables to make a filling, satisfying meal. Often left-overs are re-purposed in making the topping — a frugal and quick way to get dinner on the table. As the history of domburi goes back several hundred years, it might be considered Japan's first contribution to the fast-food industry.
Centuries ago, the busy merchants of Edo (today's Tokyo) were so preoccupied with making deals that they hadn't time for a proper meal. They would stop at a roadside stand and slurp a bowl of noodles and broth, or devour an extra-large bowl of rice topped with cooked bits of fish, vegetables, and sauce. Toward the end of the nineteenth century, the Meiji Restoration industrialized much of Japan, and an increasingly busy yet frugal-minded middle class became devotees of domburi dishes. Workers, too, found this style of food filling, un-fussy, and inexpensive, while home cooks took advantage of leftovers from the previous evening's meal to make their rice toppings.
Today's busy home cook often depends on domburi to get dinner on the table quickly. My make-ahead and assemble-at-the-last-minute favorite is Soboro Don.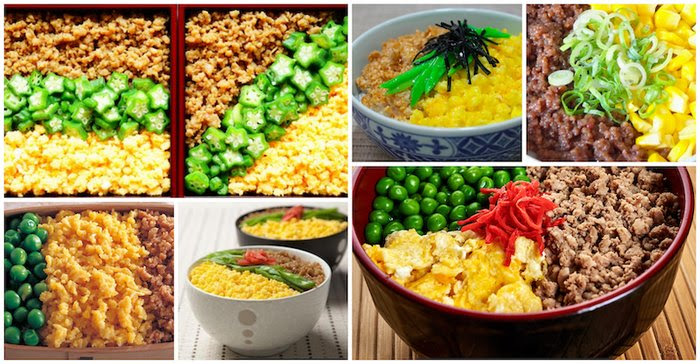 Soboro Don そぼろ丼 Colorful Big Bowl
Instruction and inspiration for designing your own meal-in-a-bowl posted on my KITCHEN CULTURE blog
---
Stay connected.
I'm looking forward to your comments on the items I post to my Facebook page!
I do hope you like it!
Elizabeth Andoh
A Taste of Culture
Culinary Arts Program
Setagaya-ku, Tokyo 158-0095, Japan