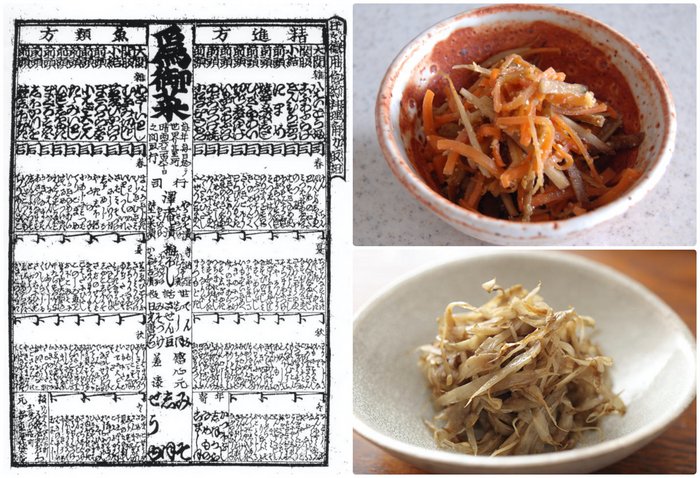 Gobō (burdock root; Arctium lappa) most likely arrived in Japan from the Asian mainland in the 10th century AD. Early written records indicate that gobō was, at that time, valued not as a food but rather for its medicinal (diuretic), anti-inflammatory properties. In addition to boiling the root and leaves, dried bits of peel were brewed and steeped into a tea-like beverage to treat a variety of ailments.
The shift to culinary use came about during the Edo period (1603-1868) along with improved agricultural practices and development of more tender, pleasantly aromatic varietals.
During the Edo period sumo was a popular spectator sport and the banzuké charts ranking wrestlers began to be used to rank various businesses and food as well. One such ranking sheet published in 1830 listed well-liked, frugal daily dishes. Kimpira gobō, a skillet-stirred vegetable dish finished off with an incendiary blend of seven spices, ranked third (komusubi).
Visit my KITCHEN CULTURE blog for details and recipes.
---
Stay connected.
I'm looking forward to your comments on the items I post to my Facebook page!
Follow me on Twitter!
I do hope you like it!
Elizabeth Andoh A Taste of Culture Culinary Arts Program Setagaya-ku, Tokyo 158-0095, Japan