Revitalizing crafts for the 21st Century
NEWSLETTER, Spring 2022
Journalist Richard Varner interviews Steve Beimel for an update on JapanCraft21 activities.
Varner: Well, Beimel-san, before you update us on what's been happening since the successful conclusion of last year's JapanCraft21 contest, could you clarify what you mean by the word "crafts?" It's a broad term that seems to describe anything from things kids make at summer camp to works by great masters.
Beimel: This is a question that many people ask and JapanCraft21 has tentatively divided "crafts" into the following four categories. We welcome any input about this from our members.
Master Artist Crafts — one-of-a-kind or very limited editions made by people with developed "takumi spirit" (a high degree of focus and a relentless pursuit of excellence developed over many years of training and honing of skills. Though such people exist throughout the world, the number of such people in Japan is truly astounding.) Master Craft Artists inspire Master Craft Artisans.
Master Artisan Crafts — production ware (nearly identical works made repetitively in moderate quantities) made by masters of "takumi spirit;" they are thus more affordably priced.
General Crafts — well-made, useful, inexpensive items made by people with a couple years of training.
Hobbyist Crafts — made by enthusiasts with some training; these useful and inexpensive works are an important part of culture.
Varner: Which do you lay emphasis on?
Beimel: JapanCraft21 is focused on the revitalization of Artisan Master Crafts.
Varner: Well, Beimel-san, update us on what's been happening since the successful conclusion of the JapanCraft21 Contest last summer.
Beimel: Things are happening very fast. First of all, we recently launched a brand-new website in record time, thanks to web designer and builder extraordinaire, Elaine Baran. www.japancraft21.com
Varner: Indeed, the new website is impressive. What else has been happening?
Beimel: The follow-up activities that followed our contest awards ceremony in early July turned out to be as interesting and rewarding as the contest itself, though at a much more relaxed pace.
First place Ronnie Prize winner Takuya TSUTSUMI-san has been awarded 5 million yen ($50,000 U.S.D.) in project funding as well as assistance from a team of mentors. All ten contest finalists (which includes the Ronnie Prize winner) are collectively being awarded support benefits valued at 5 million yen. We call this group our Craft Leaders.
Varner: Yes, the contest had two categories of "winners" — a useful approach in revitalizing traditional Japanese crafts — helping as many crafts people as possible to promote their endeavors. So, let's begin with the Ronnie Prize winner. How is Takuya TSUTSUMI-san doing these days?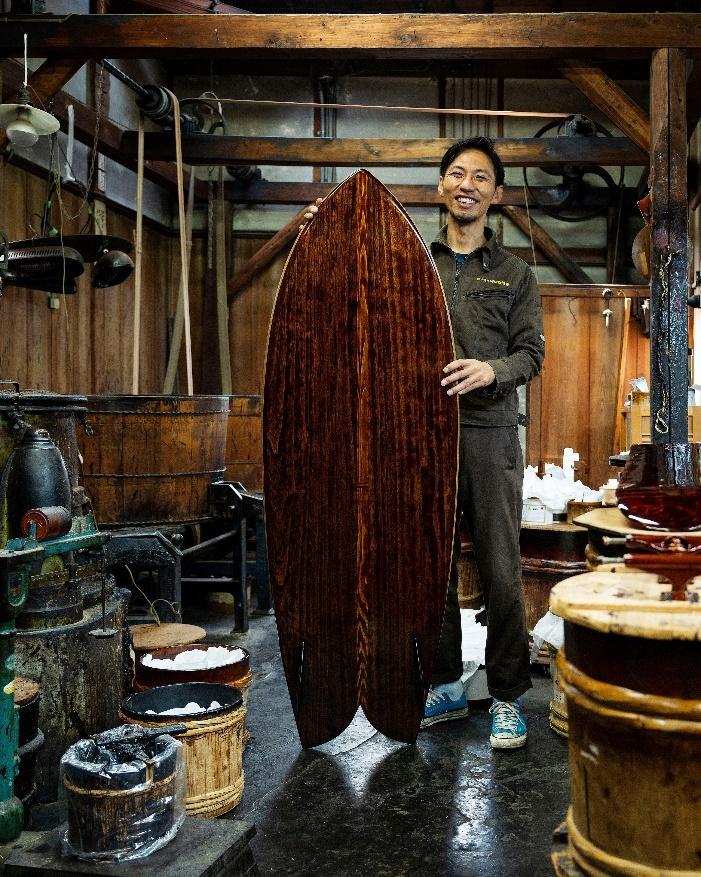 Beimel: We began meeting with Tsutsumi-san just after the July Awards Ceremony, assisting him to clarify and solidify his plans. With 5 million yen ($50,000) in contest prize funding, he is now creating a for-profit business which he hopes will eventually help fund the eco-culture of wood crafts-related people in the rural Keihoku district (a one-hour drive from Kyoto). The business, which he has already begun creating with his project partner, Sachiko MATSUYAMA-TAKAMURO-san, will produce wooden surfboards from local lumber and will coat them with urushi tree lacquer. The handcrafted boards are more durable than all chemical-based surfboards and the lacquer improves the board's durability as well as its maneuverability in the water. Since August, he has been renovating a 150-year old building to accommodate surfboard production and hopes to begin full time production in late spring of this year.
Varner: Give us an overview of the Craft Leaders group?
Beimel: As you can see from the following table, they represent many kinds of crafts.
Varner: How is JapanCraft21 supporting them?
Beimel: First of all, we hold quarterly meetings for them, to encourage the growth of peer support. Next we have created a new bilingual webpage for each of them. During the next few months we will be sending a professional photographer to their studios to capture their finished works as well as each one of them at work in the creation process. Last fall, we featured their works in a special exhibition at the Asia Society craft symposium in Tokyo. We have asked each Craft Leader to create a special work which we plan to place in a new private on-line showcase gallery to be shown to gallery owners, designers, architects etc. around the world. Each person will receive funding for their time and materials for this
project. We have arranged for a one-week exhibition of these works to be held at the Ippodo Gallery, located in the heart of Tokyo's Ginza district, in October of this year.
Additionally, we have partnered with a group of craft enthusiasts arranged by TOKo Santa Fe (Santa Fe, NM) who have come forward to assist Craft Leader and kimono producer Asako TAKEMI. Takemi-san's project is to save rarefied silk dyeing techniques by matching up elderly dye masters with already accomplished young dyers, who will master those techniques over the next few years as apprentices. The TOKo Santa Fe group is providing the first apprentice with one year's living expenses, enabling this project to move forward.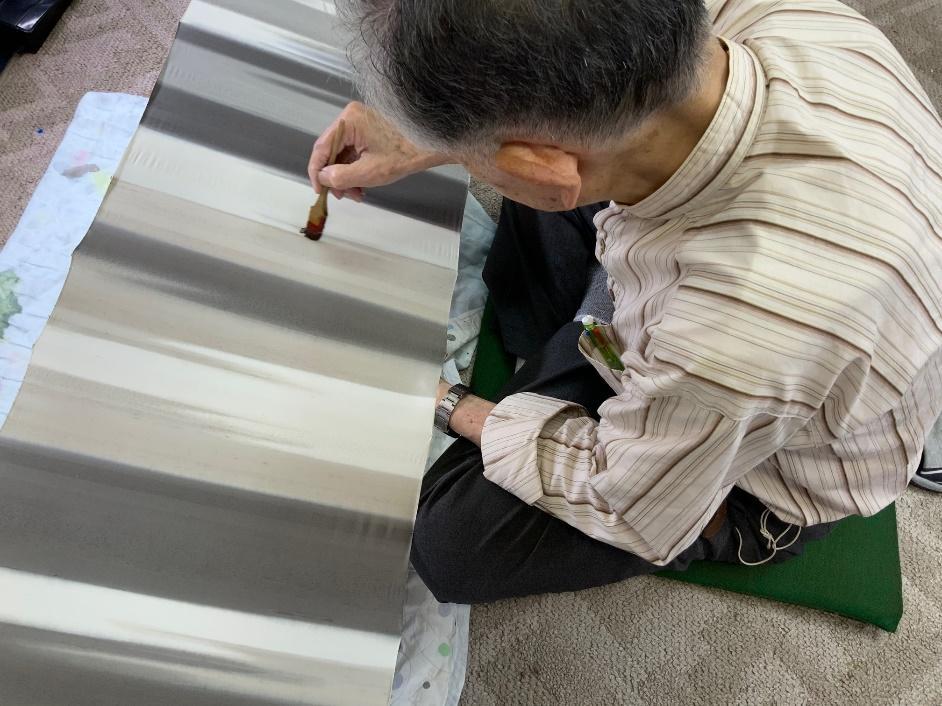 In another example, we have helped bring together one of our Craft Leaders with a well-known fashion designer and maker, and the two are collaborating on a new line of highly crafted handbags. In a similar way, we introduced one of our Craft Leaders to a renowned designer with whom they are now collaborating on an architectural installation in a high-end condo project.
Varner: How has the new contest been going?
Beimel: We began last fall by carefully clarifying our contest criteria and creating an informational flier, which we distributed to museums, craft-related facilities around the country, and individuals whom we call "introducers," people whose networks include crafts people and craft producers. The application period ended on April 20th and our team of qualifying judges have already begun preliminary
screening. The effort made in the criteria clarification prior to the contest has resulted in a high percentage of highly qualified applicants.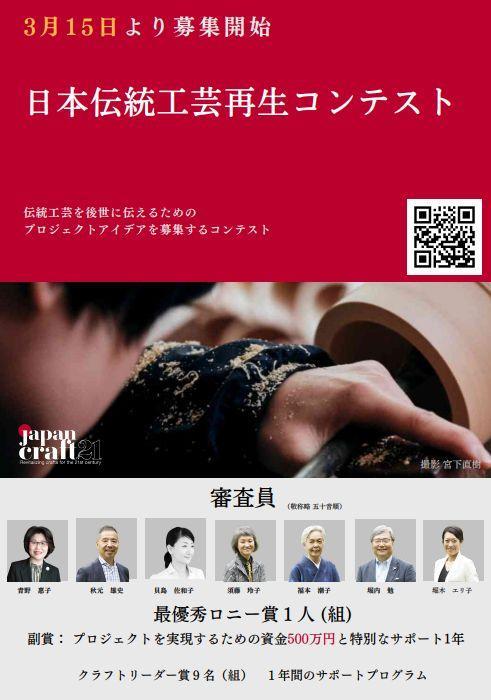 From this group of applicants, we will choose 20 semi-finalists from which our finalist judges will select our next group of Craft Leaders, including the first place Ronnie Prize winner.
Varner: Who are the finalist judges?
Beimel: We are honored to have such a distinguished panel of judges (see images in flier, above. See bios here: https://www.japancraft21.com/who-we-are#OurAdvisors)
Varner: What are your plans for the 2022 awards ceremony?
Beimel: The ceremony will be held on October 14th at the International House in Tokyo. A reception will follow, during which the 2022 Craft Leaders and Ronnie Prize winner will meet their 2021 counterparts and join them to become a 20-member peer-support group.
Varner: Can you give us some idea of the planning for your 2022 budget? And how is the fundraising going?
Beimel: Our budget for 2022 is about $460,000 and we have another $92,000 to raise by the end of December. Though we already have enough to run our 2022 contest and our school for the year, we need to complete fundraising for our 2023 contest before we announce it at the end of December, 2022.
Varner: How is the Building Arts School doing?
Beimel: Our current enrollment includes 6 advanced carpentry students and 5 bamboo mud wall plastering students. We just added 5 advanced garden building students, and starting in October we will begin a course in urushi lacquer for construction.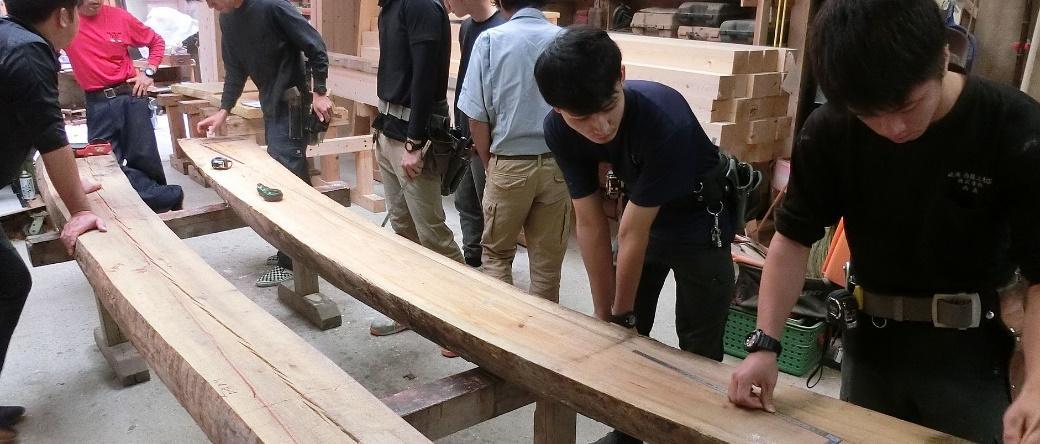 Another exciting announcement: we have just enrolled our first woman working carpenter in our advanced joinery class. Japanese master carpenters have traditionally been men, and we feel it is important to offer this path to mastership to women, as well.
Varner: Finally, please update us on your educational outreach program.
Beimel: Education is one of our primary focuses. Over the past few months, we have been featured in significant articles in the very popular Fujin Gaho magazine, a special New Year's Edition of Kyoto Newspaper, and the Japan Times; additionally, an article about us will soon appear on the website of the Foreign Ministry of Japan. This month Tsutsumi-san and I will be interviewed on a popular FM radio show.
So far this year, JapanCraft21 has held six online public seminars. We hope to hold at least one such presentation per month on such subjects as Understanding Japanese Gardens, Japanese Aesthetics, and Japanese Master Crafts: Traditional and Modern Versions.
Varner: I must say the launch of the JapanCraft21 movement has progressed nicely. In conclusion, why not give us a glimpse of how you see the course of development over the next few years.
Beimel: Our intention is to do a few projects well, and then build on the resulting cumulative successes. By holding one contest each year for five years, we hope to end up with a strong, self-sustaining Craft Leader Group of 50 people who will then inspire many others. In five years, we hope to have graduated enough young master building crafts people to spark a new wave of traditionally-inspired building in Kyoto and around Japan.