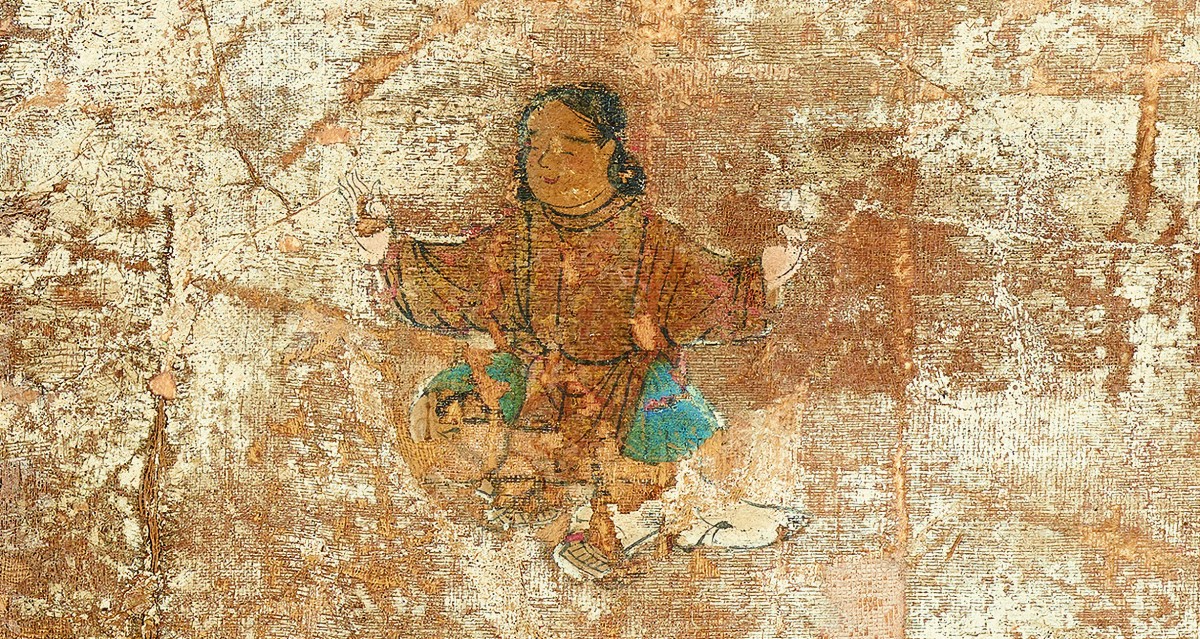 Levitation is among the miraculous feats ascribed to a child prince who lived more than a 1,400 years ago and grew up to become a great patron of Buddhism.  (Detail from "Illustrated Biography of Prince Shotoku," a National Treasure of Japan. Image courtesy of the Tokyo National Museum, Gallery of Horyuji Treasures.)
The Tokyo National Museum recently opened an interactive, technology-based exhibit on the mezzanine floor of the museum's Gallery of Horyuji Treasures, with an aim to improve access to masterpieces of Buddhist art in the gallery's collection that are now too fragile for regular display. Called the "Digital Gallery of Horyuji Treasures," the new space is currently featuring The Illustrated Biography of Prince Shotoku, a series of paintings completed in 1069 that tell the story of Prince Shōtoku (574-622), the son of an emperor who greatly encouraged the spread of Buddhism in Japan.  The originals once adorned an inner hall within Hōryūji temple in Nara, and are now in the collection of the Gallery of Horyuji Treasures. Due to their fragility and status as a National Treasure, they can only rarely be offered on public view and almost never with all ten panels together. Visitors to the gallery will be able to freely examine high-resolution photographic copies on true-to-life panels, and use a digital viewer to zoom in on details that can't be seen with the naked eye.
Read the full story on All About Japan. The project is part of the Japan Cultural Expo supported by the Agency for Cultural Affairs.