Steve Beimel: JLA shares Amy Katoh's life affirming view of "Found Japan".  Amy has spent nearly her entire adult life celebrating the treasures of Japanese indigo, as shown in the following re-post of Amy's blog.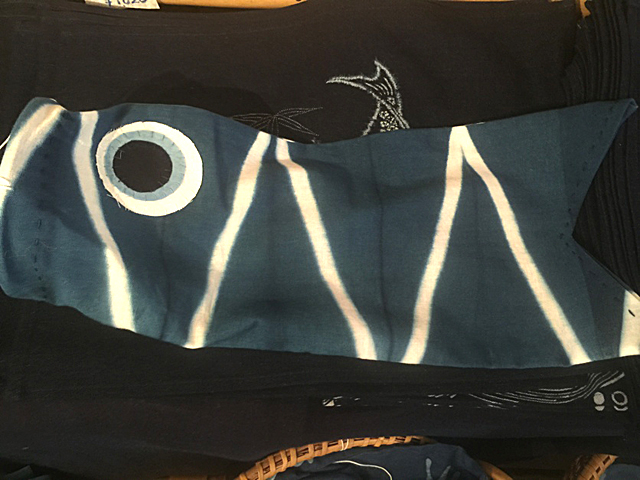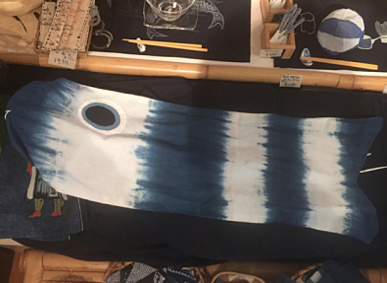 Far too soon to be posting again, but I must share the glorious indigo that has been pouring into my life this week. Today is Boys' Day, the 5th day of the 5th month when families celebrate their sons. Colorful carp banners fly in all the skies of Japan, signifying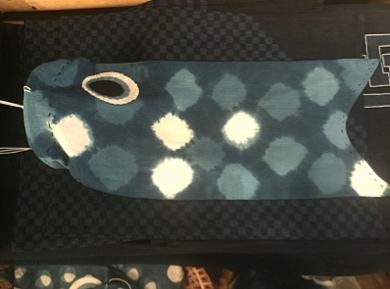 courage and bravery. The sight of lines of brilliant carp banners strung over rooftops and even rivers gives great joy.
At Blue & White our banners are indigo, cotton dyed blue and sewn by Ai Kobo, a workshop for people with special abilities. And needs. And one of their needs is to not only make things, but share what they have made with the outside world. They get plenty of this at Blue & White. The whole world comes to see what they have made.
Indigo is happening elsewhere in Tokyo this week through May 18. Above, a brilliant composition of small indigo squares with points of light collaged together into an indigo universe by Fukumoto Shihoko of Kyoto.
Below Fukumoto san's Indigo Space within a gossamer Tea House. Photos cannot capture the magic of space or the intensity of the indigo.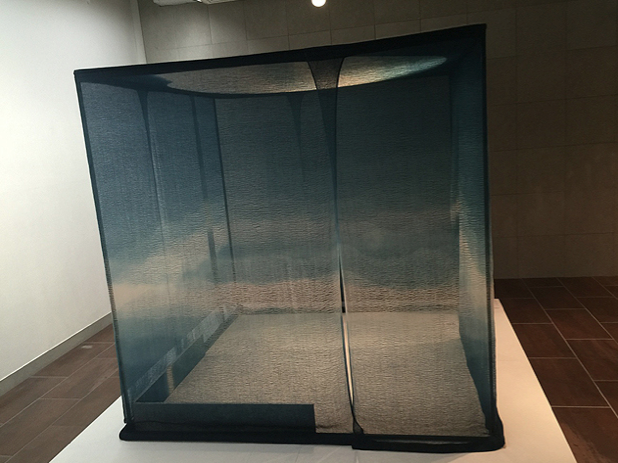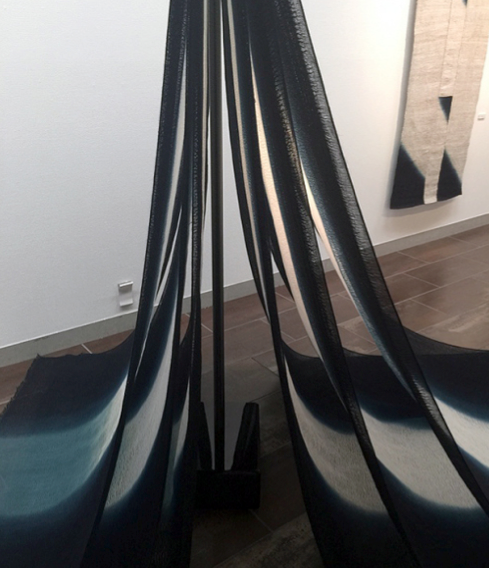 Fukumoto Shoko's multilayered lengths of diaphanous open weave cotton at Takashimaya Art Gallery, Nihonbashi, 6th floor.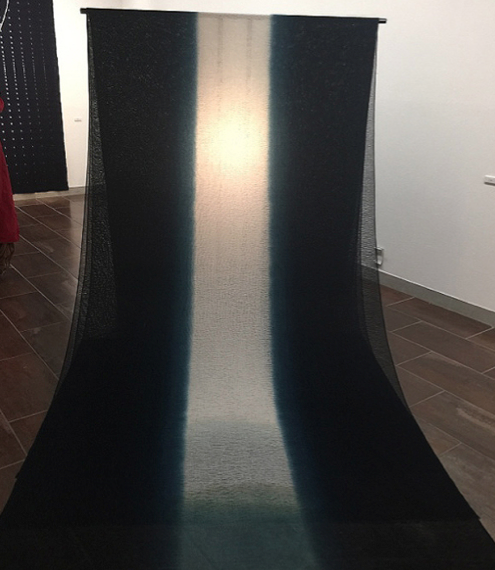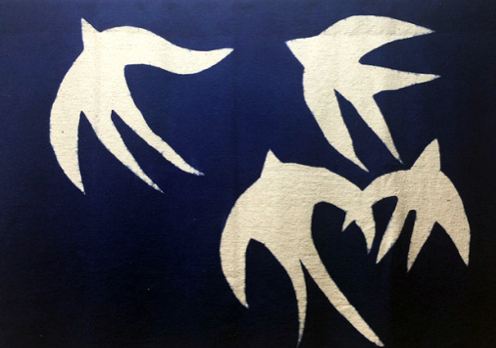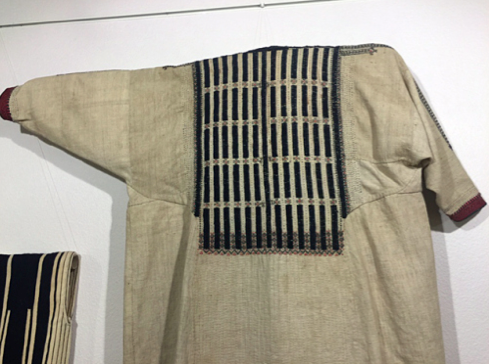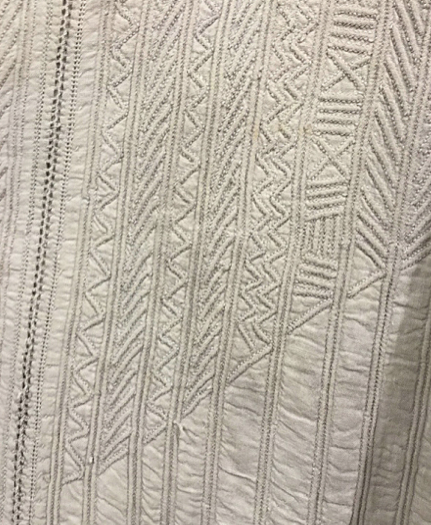 Above Flying Birds. Weaving by Samiro Yunoki at the Iwatate Folk Textile Museum in Tokyo's Jiyugaoka Details of Afghan Jacket show the subtlety of white on white.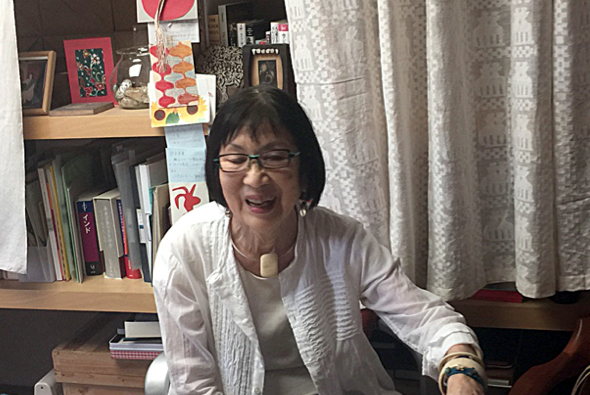 The incredible Hiroko Iwatate in her Museum of Folk Textiles office in Jiyugaoka. Her remarkable museum is filled with treasures she has single mindedly collected in Asia and Africa for the last 50 years. Exhibits change 4 times a year. This season features White on White (blue is hiding) – brilliant!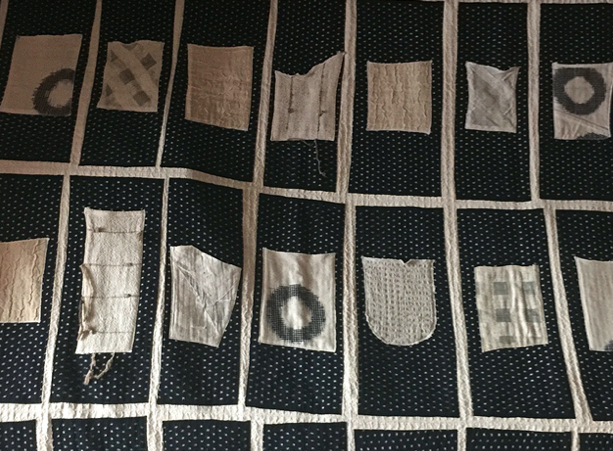 Textile collage of pockets of intriguing mostly white textiles on indigo kasuri by Ayako Takakuwa 30 years ago, hangs in the office of Hiroko Iwatate atthe Iwatate Museum of Folk Textiles in Jiyugaoka.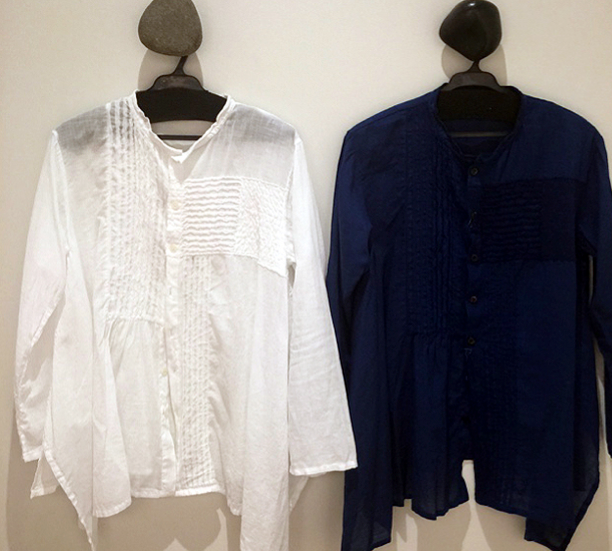 Which one to choose?
Blue & White shirts at Plantation in Jiyugaoka.
Of course I chose the blue.
Indigo shibori and clamp dyed T shirt at Blue & White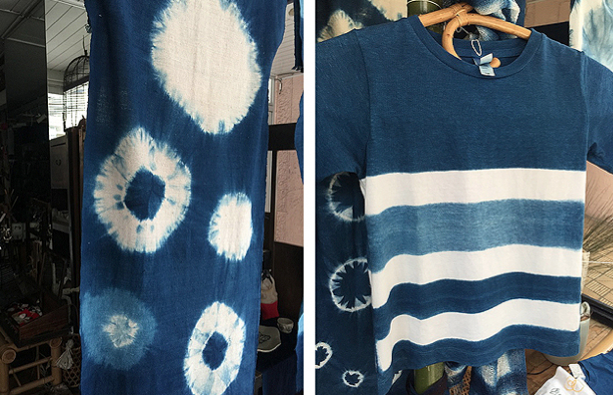 Author Amy Katoh is proprietor of Tokyo's iconic Blue and White Shop. Blue and White is like a salon for established and budding artists, craftspeople and collectors, as well as for newcomers to Japan who are trying to find their way through one of the world's largest and most exciting cities. It has created a much needed international forum for a generation of creative people to share their work.
Read more blog postings by Amy Katoh on her site :   http://blueandwhitetokyo.com