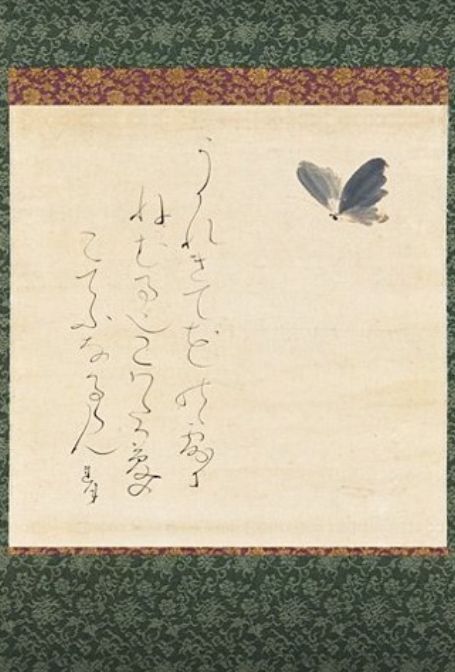 Many centuries ago, the Chinese Daoist sage Zhuangzi famously wondered, "Am I a man who just dreamed he was a butterfly or a butterfly now dreaming he is a man?" The Japanese Buddhist nun and artist, Otagaki Rengetsu (1791-1875), wrote the following poem, Cho (Butterfly) in her exquisite calligraphy, both on the scroll below and on many of her stoneware ceramic cups and bowls:
Ukarekite
Hanano no tsu ni
Neburu (nemuru) nari
Ko wa taga yume no
Kocho naruramu
Fluttering merrily and
Sleeping in the dew
In a field of flowers,
In whose dream
Is this butterfly?
---
Meher McArthur Bio
Meher McArthur is an independent Asian art historian and is Academic Curator at Scripps College, Claremont.
Previously she was Curator of East Asian Art at Pacific Asia Museum (now USC PAM) and now curates exhibitions for Southern California galleries, En Gallery at the Storrier Stearns Japanese Garden in Pasadena, and for the traveling exhibition company International Arts & Artists (IA&A), including Above the Fold: New Expressions in Origami (2015-2019) and her upcoming exhibition, Washi Transformed: New Expressions in Japanese Paper (from 2021). She is developing YOKAI: Spirits, Specters and the Supernatural in Japanese Woodblock Prints for Scripps College (2022).
Meher writes regularly for Buddhistdoor.net and contributes to KCET Artbound, Artillery and Orientations magazines. Her major publications include Gods and Goblins: Folk Paintings from Otsu (PAM, 1999), Reading Buddhist Art (Thames & Hudson, 2002) and The Arts of Asia (Thames & Hudson, 2005), Confucius (Pegasus Books, 2011), Folding Paper: The Infinite Possibilities of Origami (IA&A, 2012), New Expressions in Origami Art (Tuttle, 2017), and An ABC of What Art Can Be (The Getty Museum, 2010).