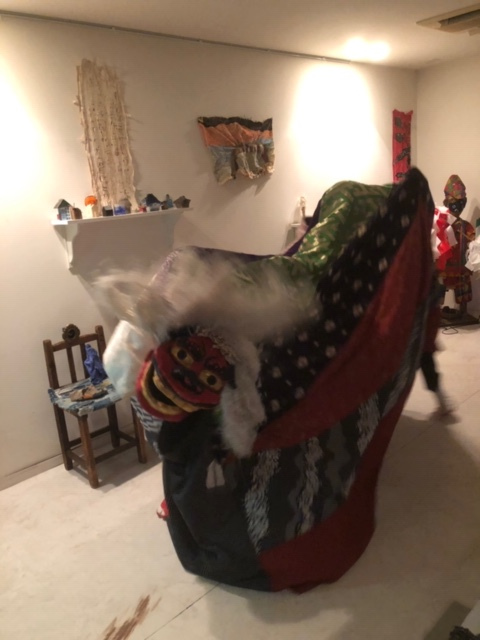 Things were different at our recent 10 Day Tokiwa Gallery! Silly! Quirky! Unexpected! Laughable! and Surprising!
Starting with a SPECTACULAR SHISHI MAI DANCE performed by Father and Son who live in the neighborhood. Son, an evolved and accomplished 40 year old Down's Syndrome artist, was the head. Father was the tail. Their teamwork, punctuated by a lively drummer and recorded music, was perfectly performed and deeply touching, to say nothing of hugely energetic! The two men were clothed in a long homemade body of colorful sewn together strips of varying patterns and fabrics, and a heavy red ShiShi mask of thick layers of paper mâché, they danced for maybe 20 minutes as they cavorted from the street to inside the shop, exorcising all evil spirits and protecting the celebrants as they pranced. How we all need it in these frightening Corona Virus times!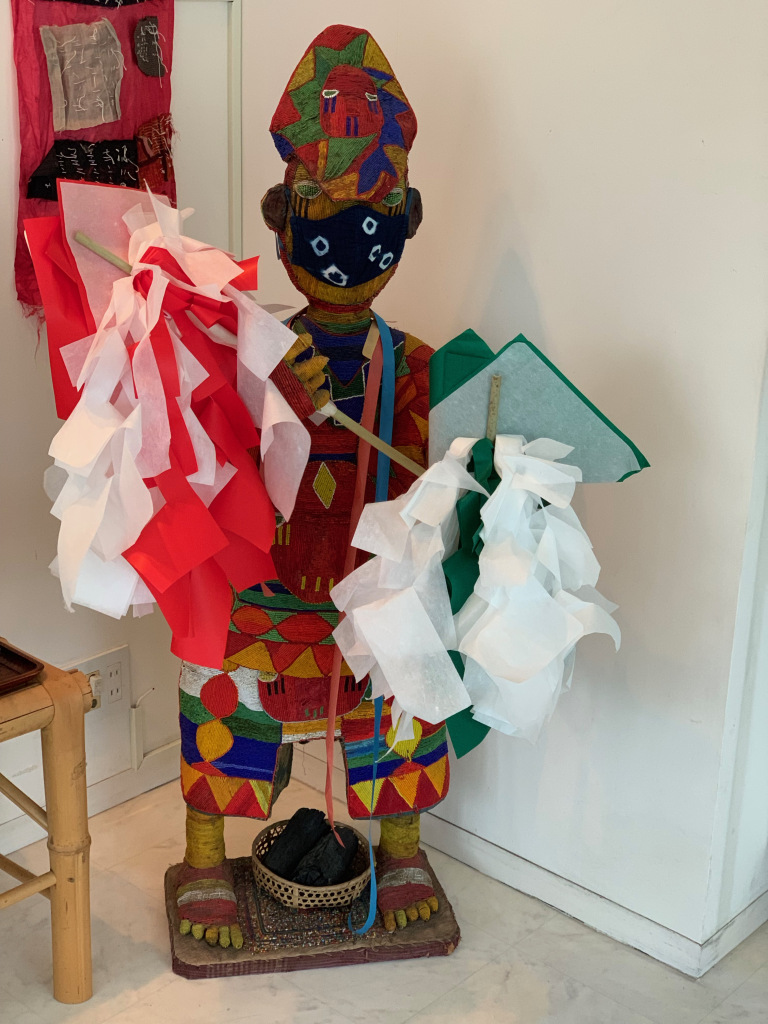 It was an exciting opportunity to show our collections, and Becky Well's imaginative reworkings of Flea Market treasures, as well as the works of two special abilities centers that we feature at BLUE & WHITE. Tamagawa Fukushi Sagyo Center and Sora to Umi in Funabashi. Plus a special room filled with BORO! So many images to share, that we will be quiet and let the photos speak for themselves with the occasional caption.
At the entrance, a beaded African Yoruba beaded prince from Nigeria welcomes visitors with his folded paper gohei from Shimane to purify, and his indigo shibori mask to protect him from any virus. Indigo is said to grant immunity from bugs and snakes and germs.
Next to the entrance, was an altar with a Goddess, perhaps, of colorful silk threads by a 19 year old woman, floating on a thread sampler cloud also from SORA TO UMI Special Abilities Facility in Funabashi, just outside of Tokyo.
Houses, houses, houses. A favorite thing to collect for both Becky Wells, artist, and my fellow collaborator, and me. In clay and cloth and glass and wood and stone – houses of all kinds, hold our lives and house our dreams together. Behind a backdrop of raw washi by an aspiring young washi artist in Niigata who makes thick indigo and natural color washi buttons as well!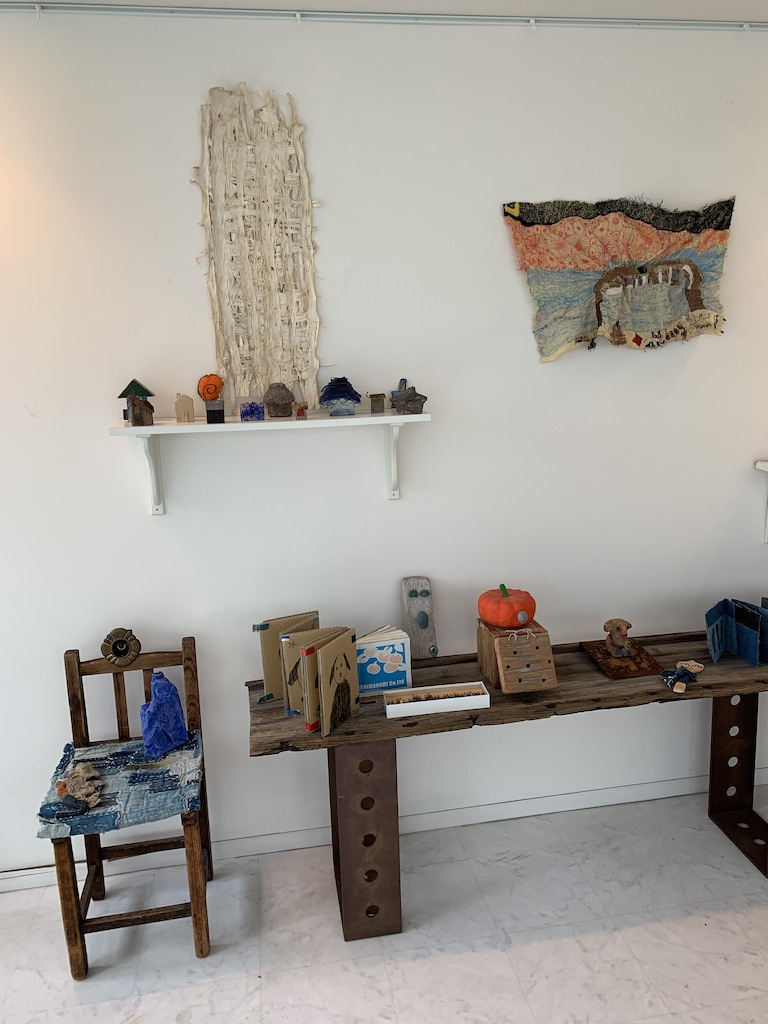 on the top right is a miraculous tapestry of the Sumida River sewn by the gifted young man who performed the ShiShi Mai dance. It took him three years to complete. The needlework is impossibly dense and brilliant! The waves and fireworks and bridges are all in sight in front of the gallery, just minutes away from where he lives. We share the river with the famous haiku poet Basho.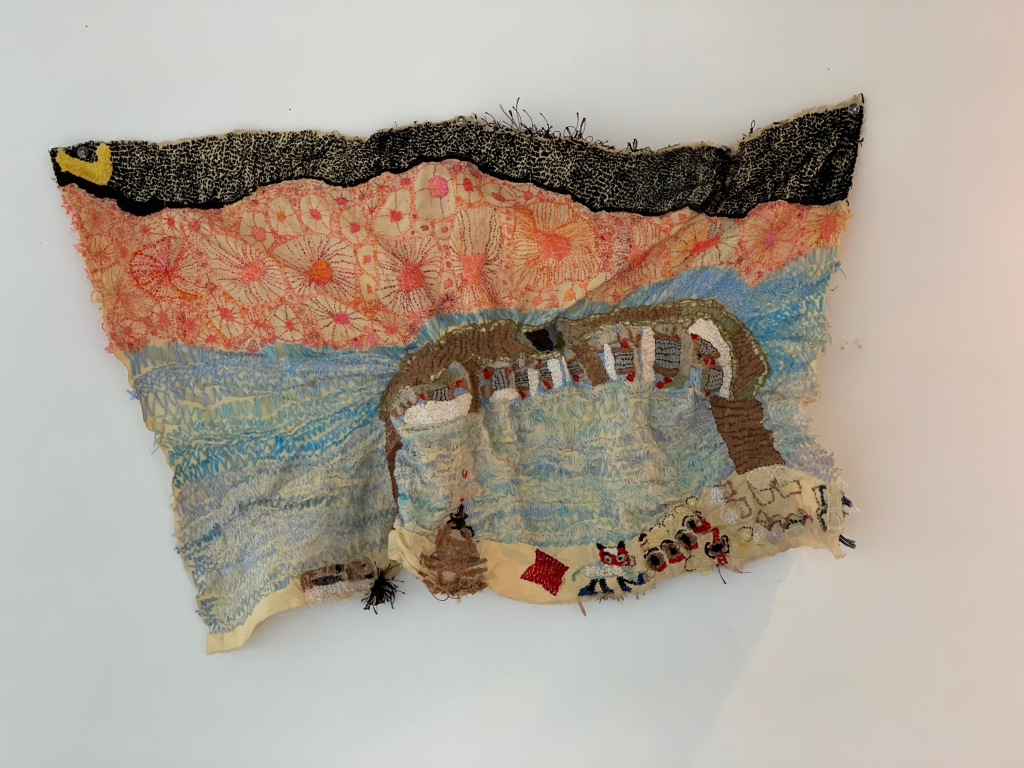 Whether it be a stitched length of cloth, or a carved wooden face, a button or a painting; whether it was created by a child or a person with disabilities, an old man or woman or someone without impairment, art comes from somewhere within. There is a spark of creativity that all these artists were born with. Conscious or unconscious, that spark can be encouraged and nourished. Our POP UP SHOP AND SHOW shone a light on a selection of artists who bring lightness and joy to our lives with no boundaries between able artists and others. We thank and encourage them all.
---
Author Amy Katoh is proprietor of Tokyo's iconic Blue and White Shop. Blue and White is like a salon for established and budding artists, craftspeople and collectors, as well as for newcomers to Japan who are trying to find their way through one of the world's largest and most exciting cities. It has created a much needed international forum for a generation of creative people to share their work.
Read more blog postings by Amy Katoh on her site :   http://blueandwhitetokyo.com