Call her works playful. Call them sensuous. Call them decorative, even, and ceramic artist Yuriko Matsuda won't mind a bit.  "It's such a shame that the term "decoration" is so often applied as a pejorative," Matsuda told me, using the Japanese word sōshoku. "The implication seems to be that anything that is decorative or ornamental can't be real art, because it lacks depth and meaning. I couldn't disagree more."
For more than half a century, Matsuda has fashioned unlikely objects out of porcelain clay, everything from bare feet and ladies' bums to watering cans and garden vegetables.  She decorates her forms lavishly, covering them with brightly colored patterns that reference traditional Chinese and Japanese porcelain.  In doing so, she says, she is seeking the original meaning and intrinsic power of decoration.
Born in 1943, Matsuda entered Kyoto City University of the Arts in 1962 and studied porcelain-making under Kenkichi Tomimoto (1886-1963), the founder of the university's ceramics department and an influential figure in post-war Japanese ceramics. While still a student, Matsuda traveled to Ishikawa Prefecture to learn Kutani overglaze painting techniques from master potter Tojiro Kitade, and to Tobe, in Ehime Prefecture, to study sometsuke blue underglaze.  Although her work has often been described as avant-garde, Matsuda doesn't see it that way. "Keep in mind that I don't make abstract forms; everything I make is something recognizable. And in my materials, motifs and even my subjects, I'm generally firmly within the Japanese ceramic mainstream."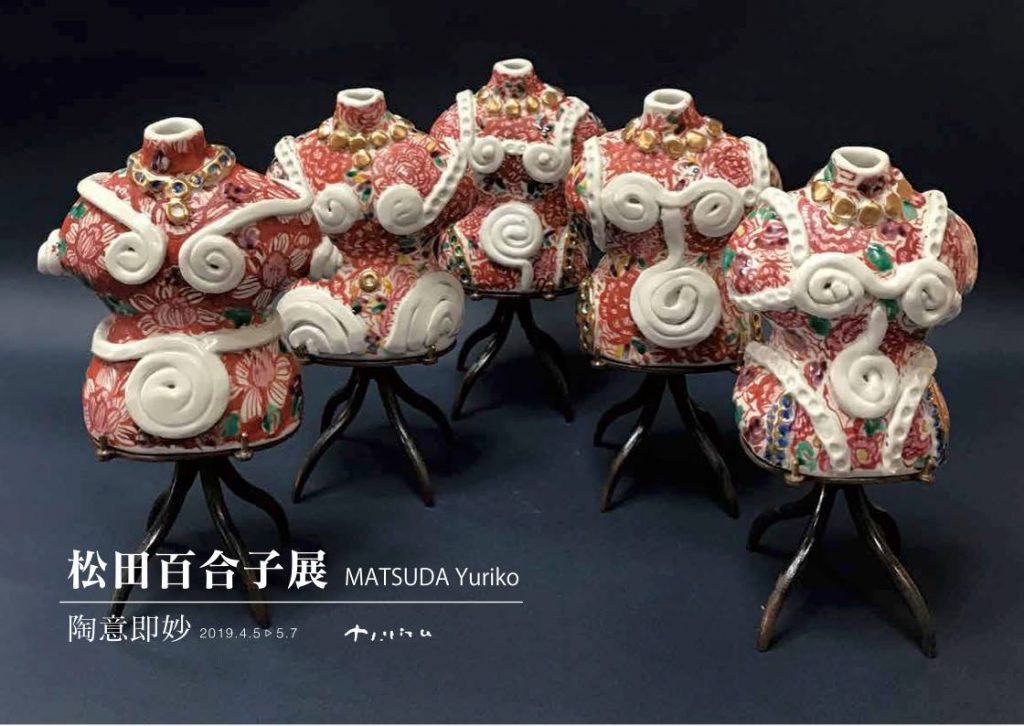 READ the full article on Artscape Japan.
SEE THE EXHIBITION: Through May 7, you can see Yuriko Matsuda's work at her solo exhibition at Gallery Nanorium in her home ground of Yamanashi Prefecture. The gallery is located at  4583-6 Kami Yoshida in Fuji-Yoshida city.  Tel: 0555-24-2938
This post is the fourth installment in an occasional series on Japanese women artists, from both the present and the past, who ought to be well known but are not.  Earlier posts in this series were on Edo-era painter Noguchi Shōhin, Franco-Japanese Art Deco artisan Eugénie O'Kin, and surreal collagist Toshiko Okanoue. If you would like to contribute by introducing a Japanese female artist who deserves a wider audience, please contact the manager of this blog.