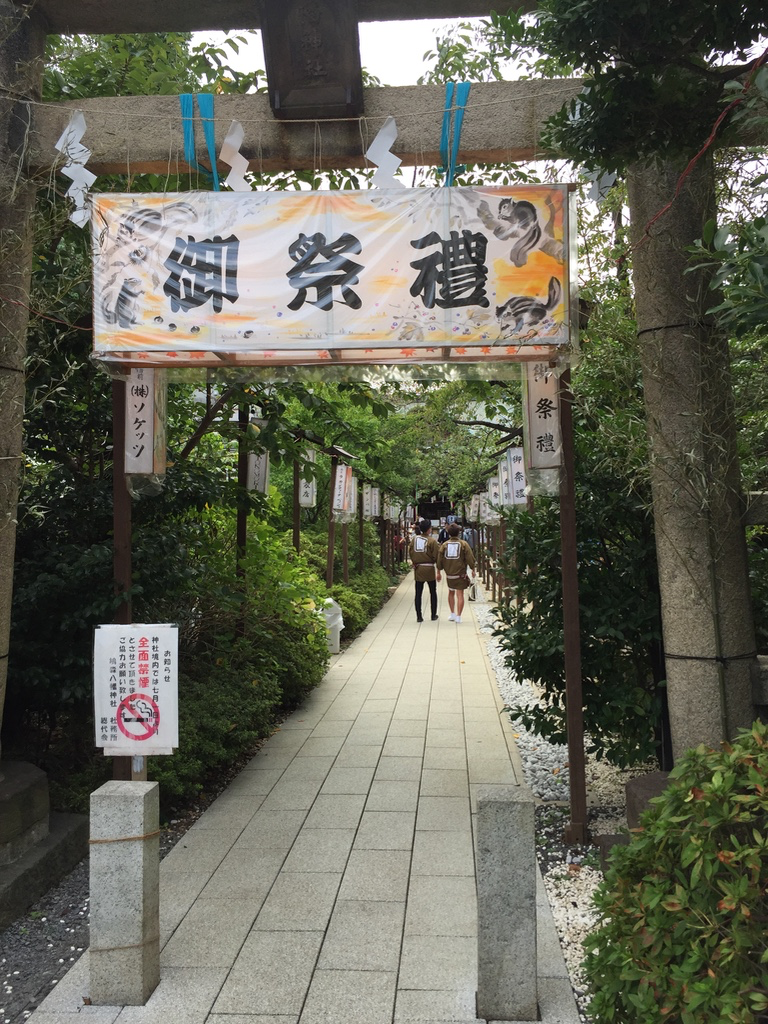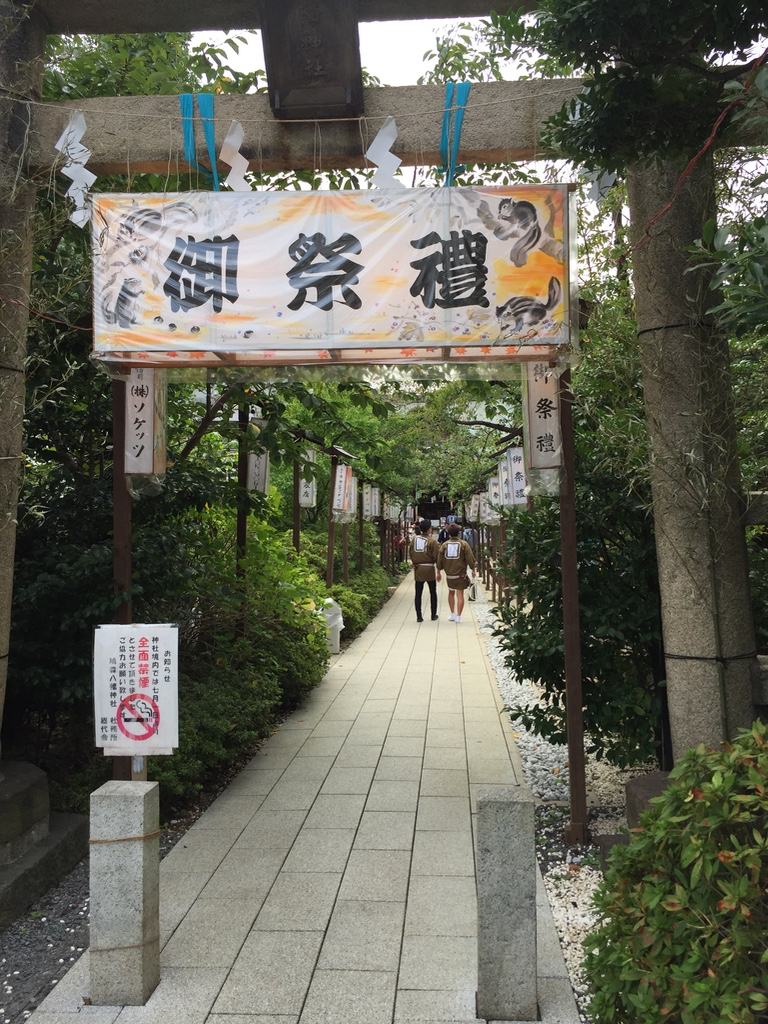 Some work is infinitely more exciting than other jobs. Watanabe san, an enthusiastic and insistent customer at Blue & White urged us to take part in the Hatoyama Jinja/ Shrine market that he was helping to plan on the 15th and 16th of September. With scant enthusiasm, we agreed to bring Blue & White to the market. Hayasawa san, the unadventurous manager of Blue & White who luckily prefers to stay in the shop, unfortunately for her, went to the festival on Saturday, the rainy day of the weekend, while Sunday was the only day I could attend and fortuitiously it happened to be a perfect Matsuri day. Bright sun and even brighter spirits and dress!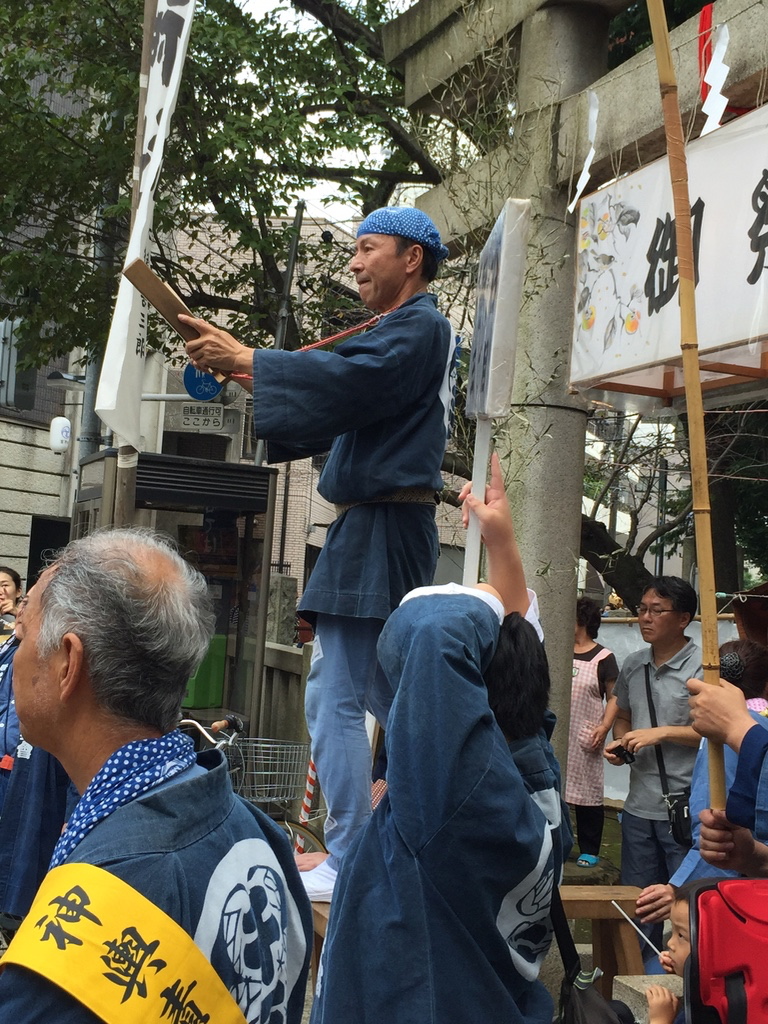 Enthusiasm was palpable and all ages were decked in their best Matsuri gear.
Sakura and her Father wore matching yellow festival jackets to lead the parade from Takashimaya in Nihonbashi to Sendagaya, a long hot walk for a 10 year old dog! They were followed by the 10 portable shrines of Hatoyama Shrine.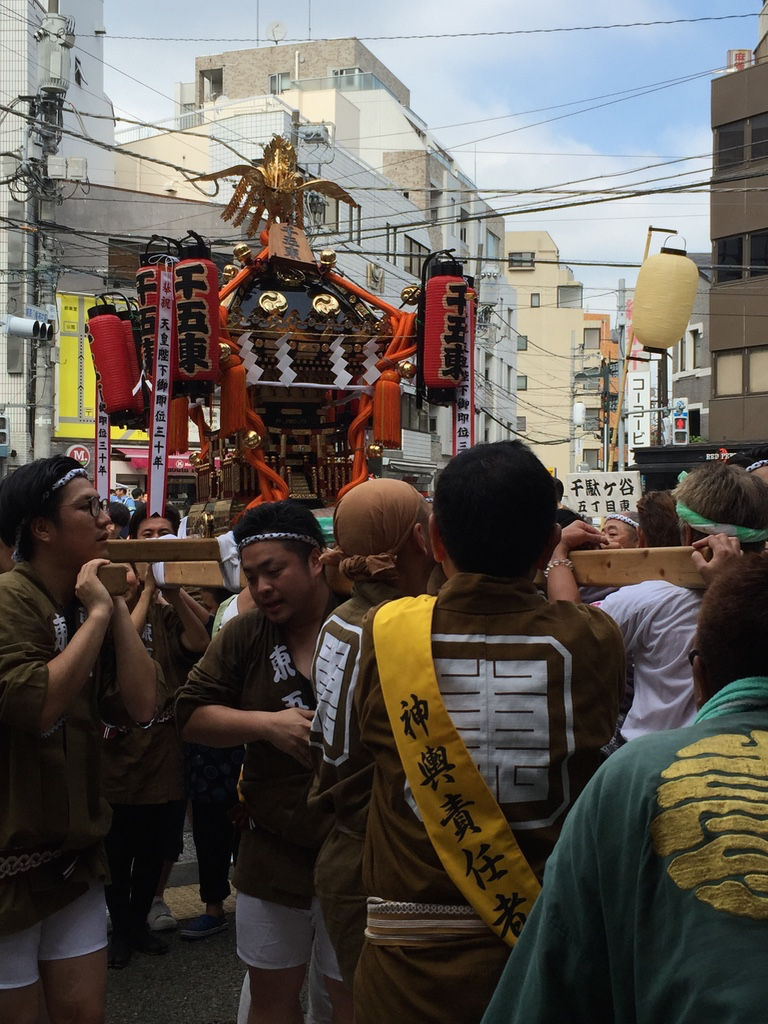 Each Omikoshi has its distinctive costume as well as its own house at the shrine, which also boasts a miniature Mt. Fuji that you can climb and accrue blessings.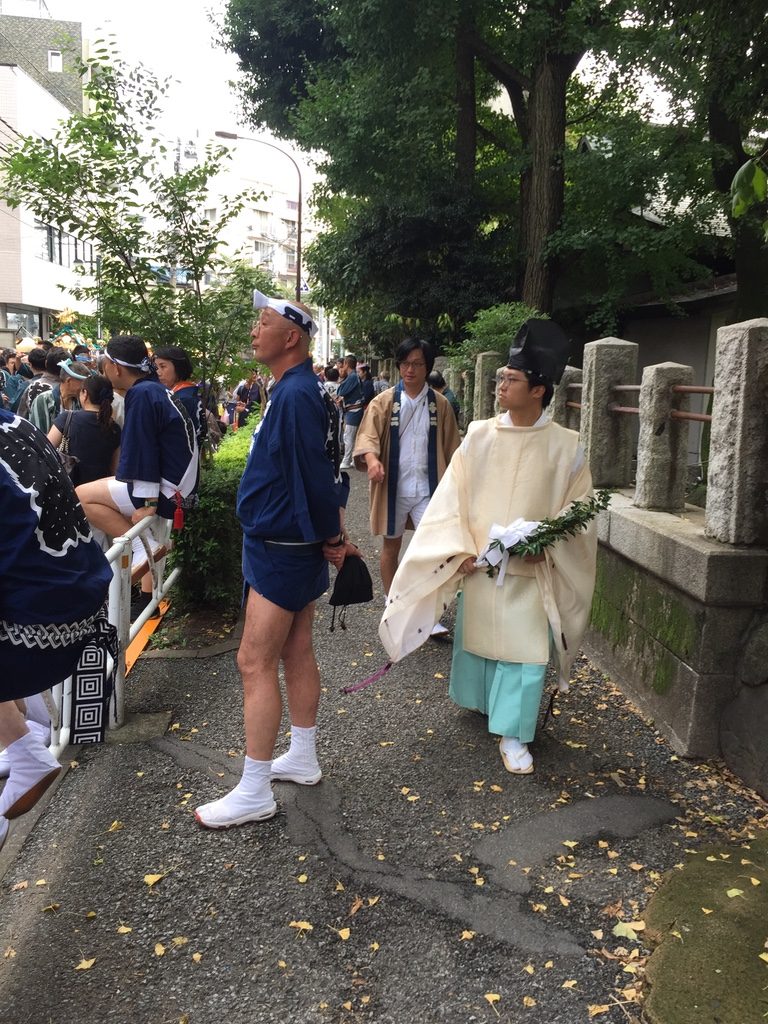 5 Shrine priests blessed boy scouts and matsuri participants, even me! Everyone was decked out in their special outfit. And they were all spectacular.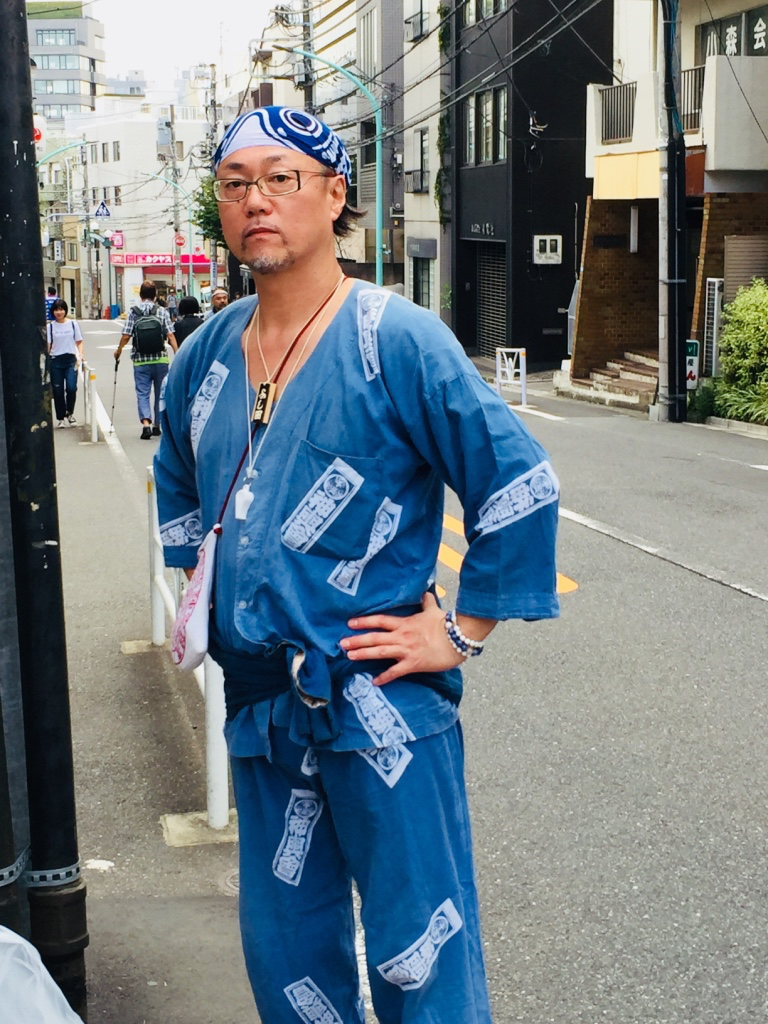 Costume was stunning!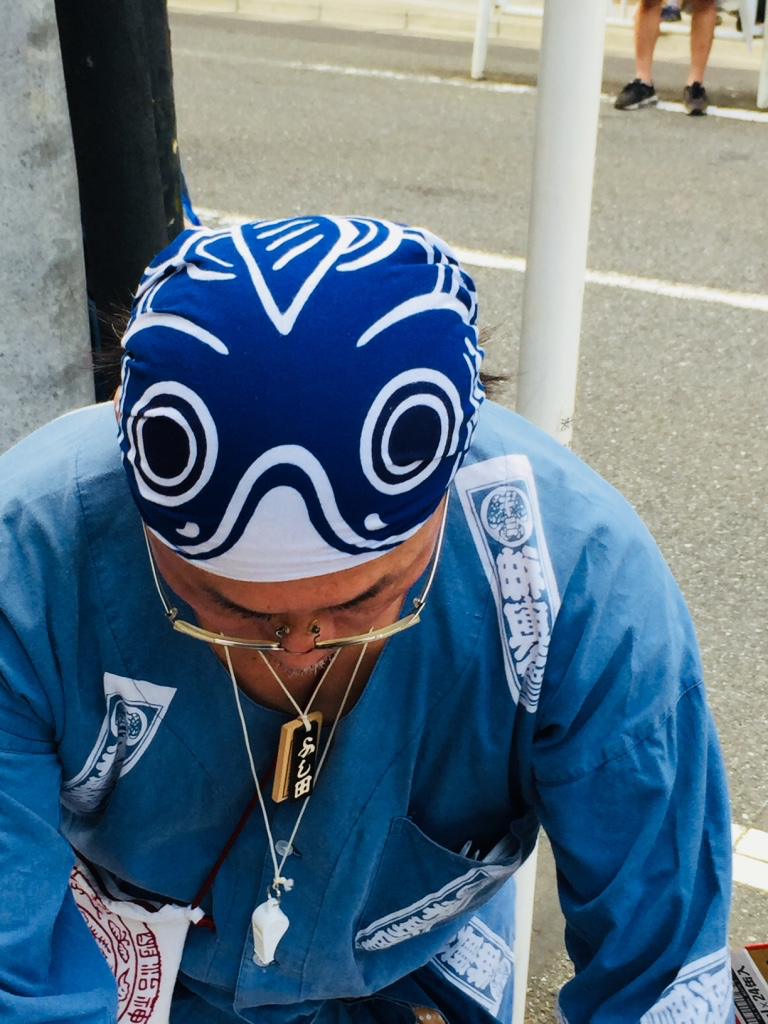 Everyone was pleased to pose!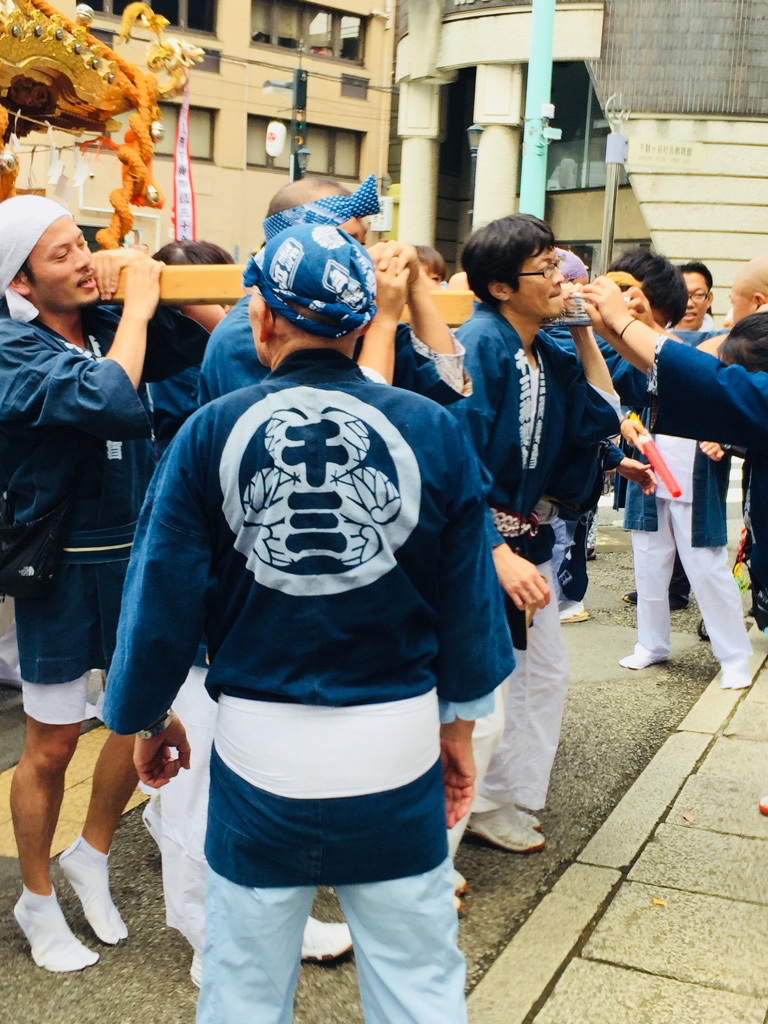 The bold bravado of people and their outfits was on parade. Japanese indigo and design at their jaunty best. They strengthened the sense of community identification.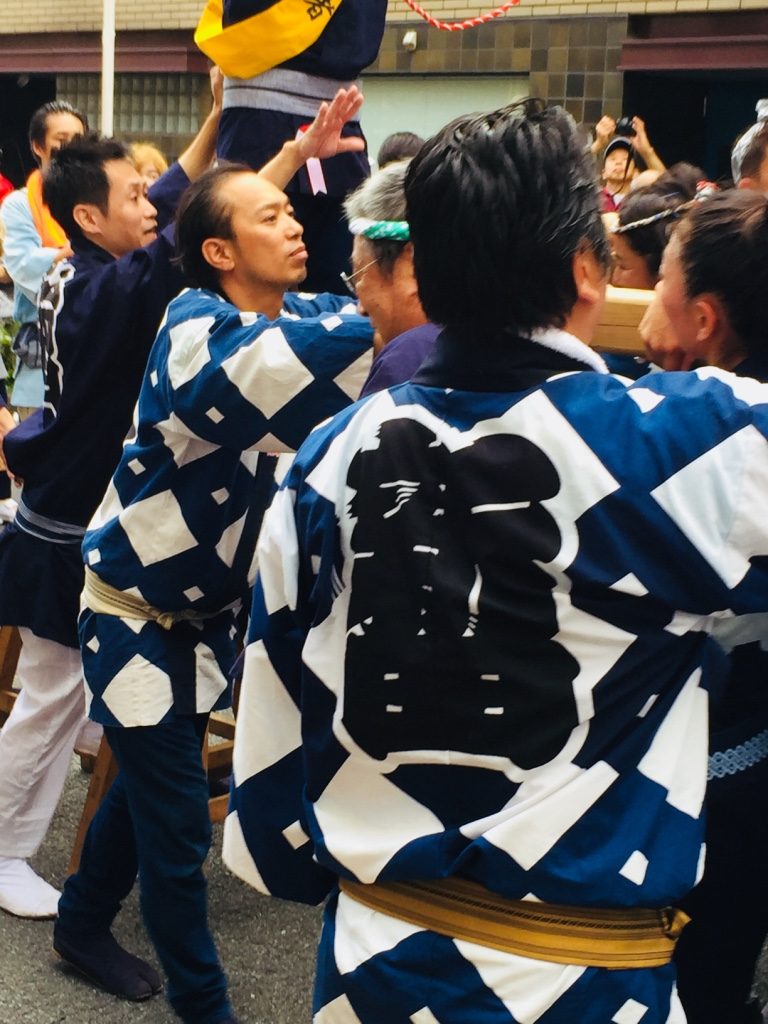 Brilliant design. Blue & white, of course!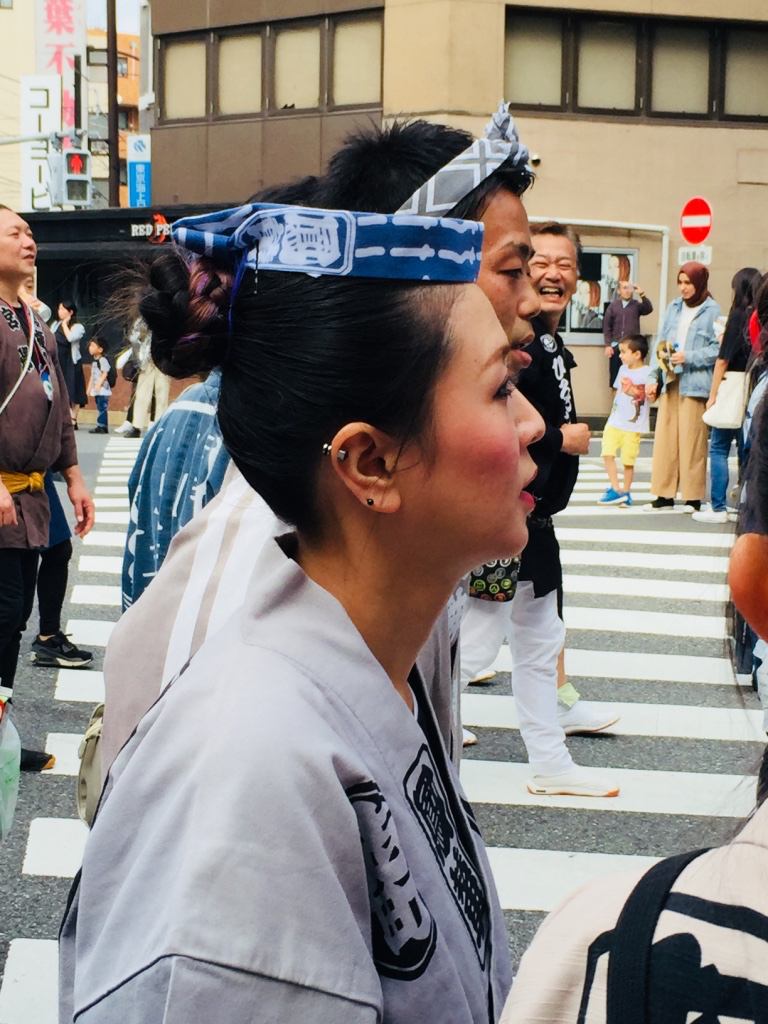 Women brought their own chic. Old men, young children, everyone took part.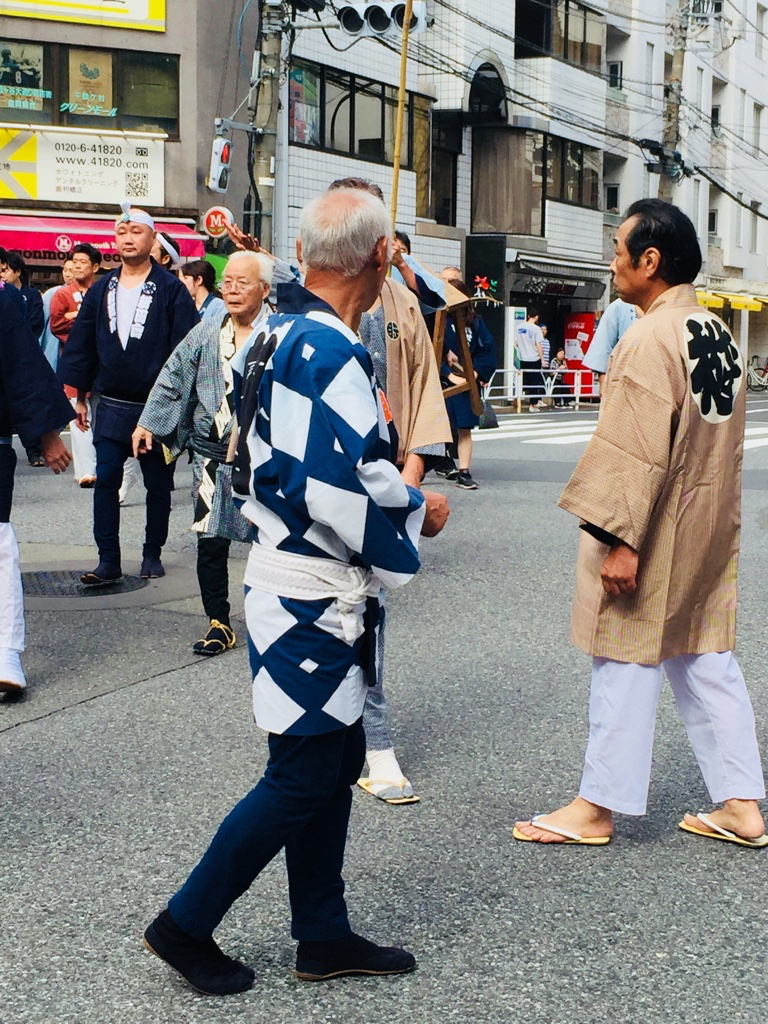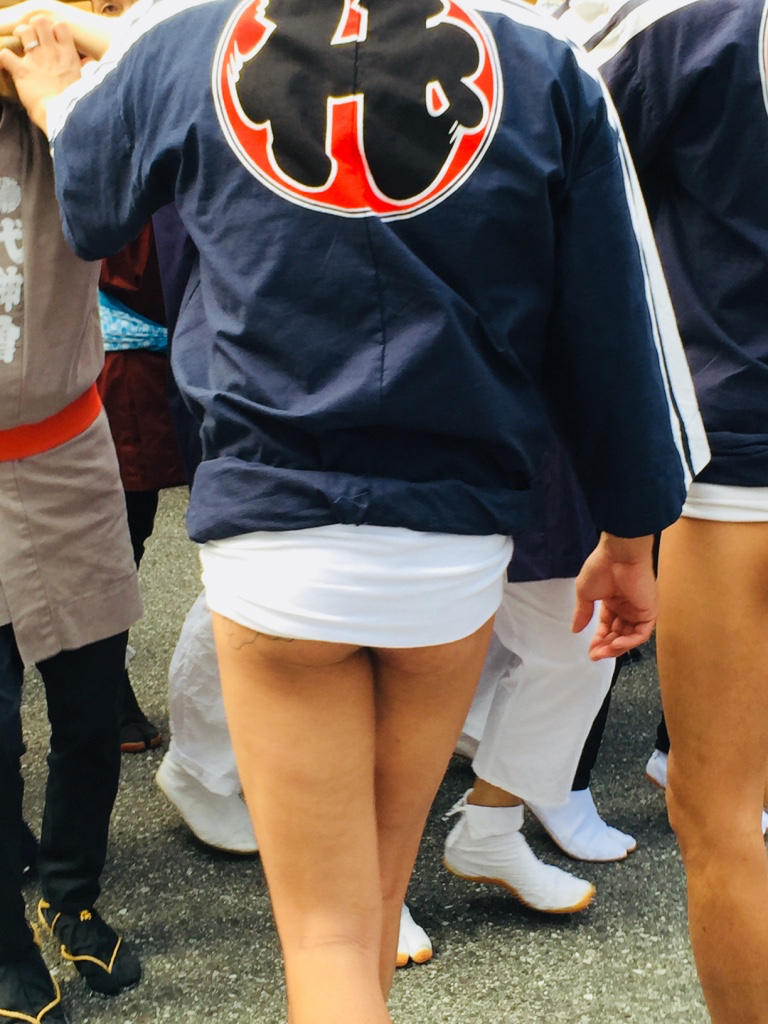 Style options.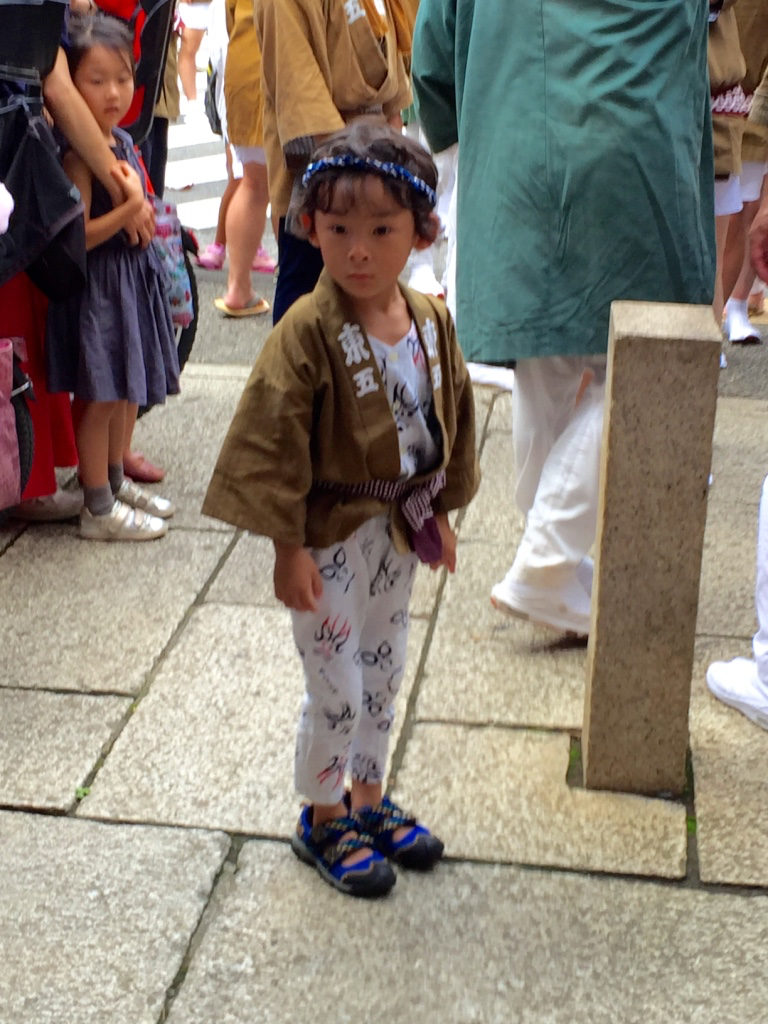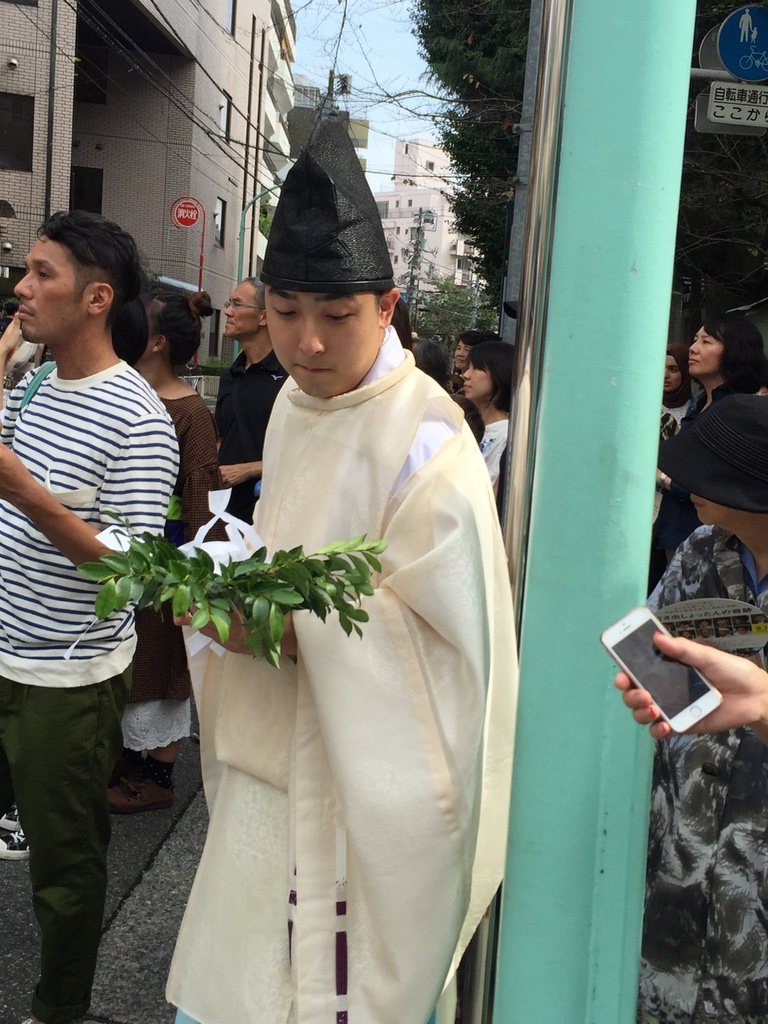 The 5 shrine priests waved their branches of sacred Sakaki to bless the convocation.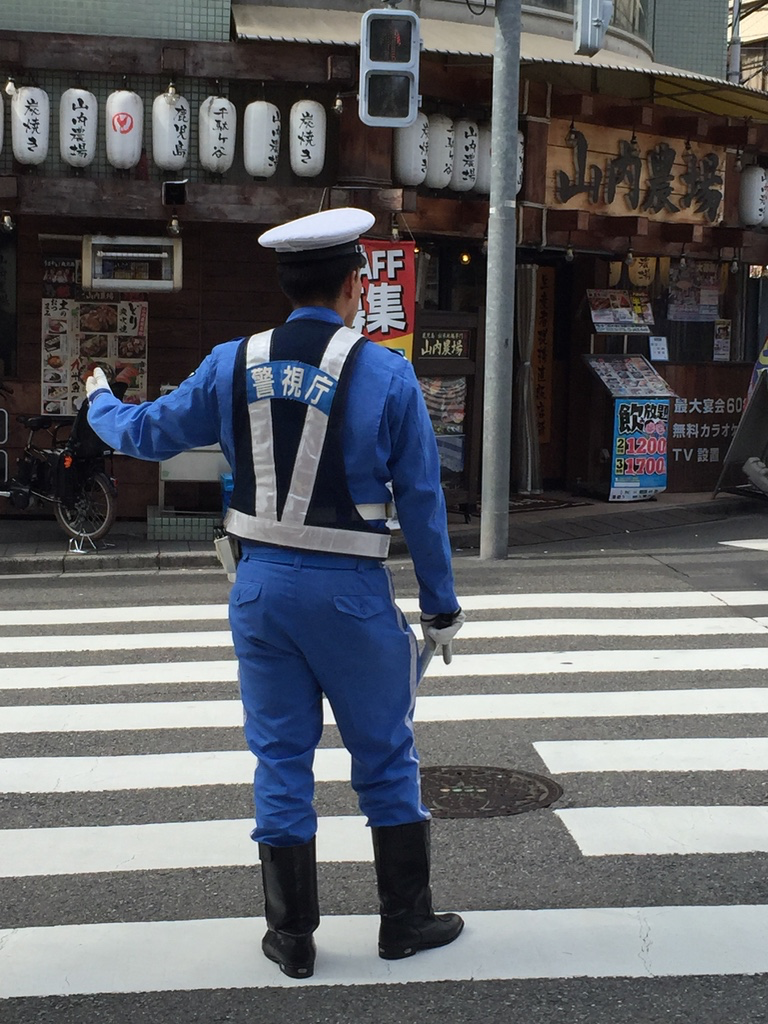 There is costume for most occupations in Japan. The police warm my heart with their stand out blue and white, except when their lights are flashing behind me!
After leaving Hatoyama Matsuri, I rushed back to Blue & White in Azabu Juban which was also having its own children's festival. I was surprised to see plain white festival jackets and a fairly lackluster parade, though admittedly it was the 2nd festival in one month after the HUGE and famous Juban Matsuri at the end of August. They may have been festivalled out.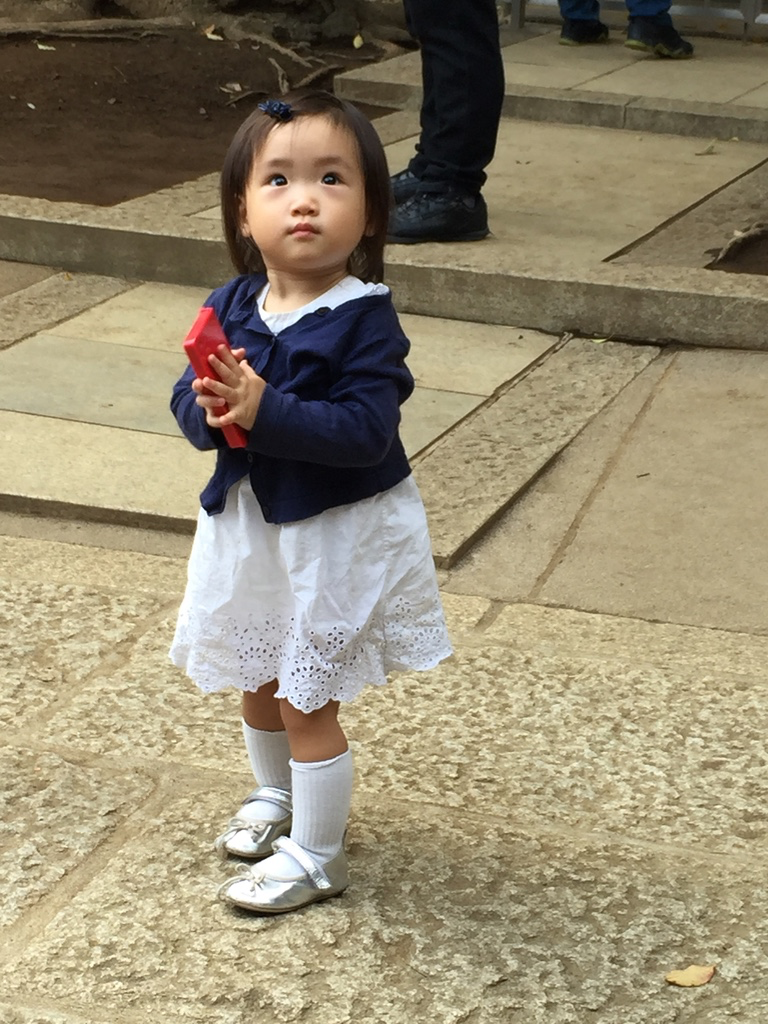 My heart had been won over by this winsome little girl in blue and white at Hatoyama Jinja (shrine) Matsuri in Sendagaya, a new future destination when I have visitors looking for natural, authentic, genuine Japan!
---
Author Amy Katoh is proprietor of Tokyo's iconic Blue and White Shop. Blue and White is like a salon for established and budding artists, craftspeople and collectors, as well as for newcomers to Japan who are trying to find their way through one of the world's largest and most exciting cities. It has created a much needed international forum for a generation of creative people to share their work.
Read more blog postings by Amy Katoh on her site : http://blueandwhitetokyo.com