My first teacher in Japan: Mari Horie by Nancy Craft

The news headlines about this summer's brutal heat wave in Kyoto reminded me of the first summer I spent there 32 years ago. I had spent a magical 3 weeks in Kyoto during cherry blossom season a few years before, and that had led to a burning desire to return to Japan and study textile arts. I arrived without any kind of plan, but I did have the phone number of a friend of a friend who happened to be leaving for France, who offered me a summer house-sitting job in her old house in the eastern foothills, atop Yoshida-yama.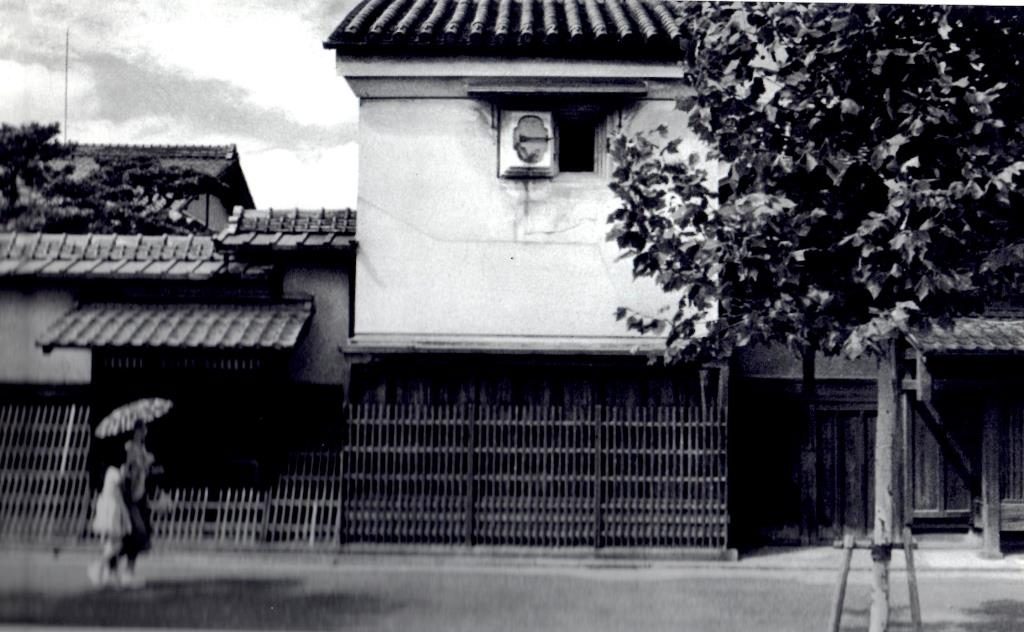 That summer, I ended up spending countless hours lying on a damp futon in the lovely dark house with sweat pouring off me, a giant, benign spider presiding in the bathroom and mass choirs of cicadas shouting out their mating calls, a cacophony that somehow made it feel even hotter. I also shared the house with huge flying cockroaches called gokiburi (one of the first words I learned) who careened around making an ominous hissing sound.  I explored Kyoto's lanes on a creaky borrowed bicycle and learned to navigate my way around Kyoto and through Japanese language and culture.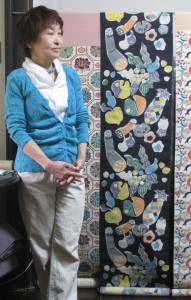 After only a few days, I found a job teaching English conversation downtown on Shijo Street, even though my only two qualifications were, A., that I spoke English, and B., that I could start work immediately. After his first lesson, my student, Mr. Yamamoto, invited me to join his family on vacation at a seaside resort on nihonkai (the sea of Japan) where I met his friend Yuko. We instantly bonded, and she offered to introduce me to her close friend Mari Horie, a teacher of katazome stencil dyeing, one of the very things I had come to Kyoto hoping to study.  I didn't realize it at the time, but this was the beginning of a positive and fortunate chain of events that has lasted even beyond my actual tenure in Japan.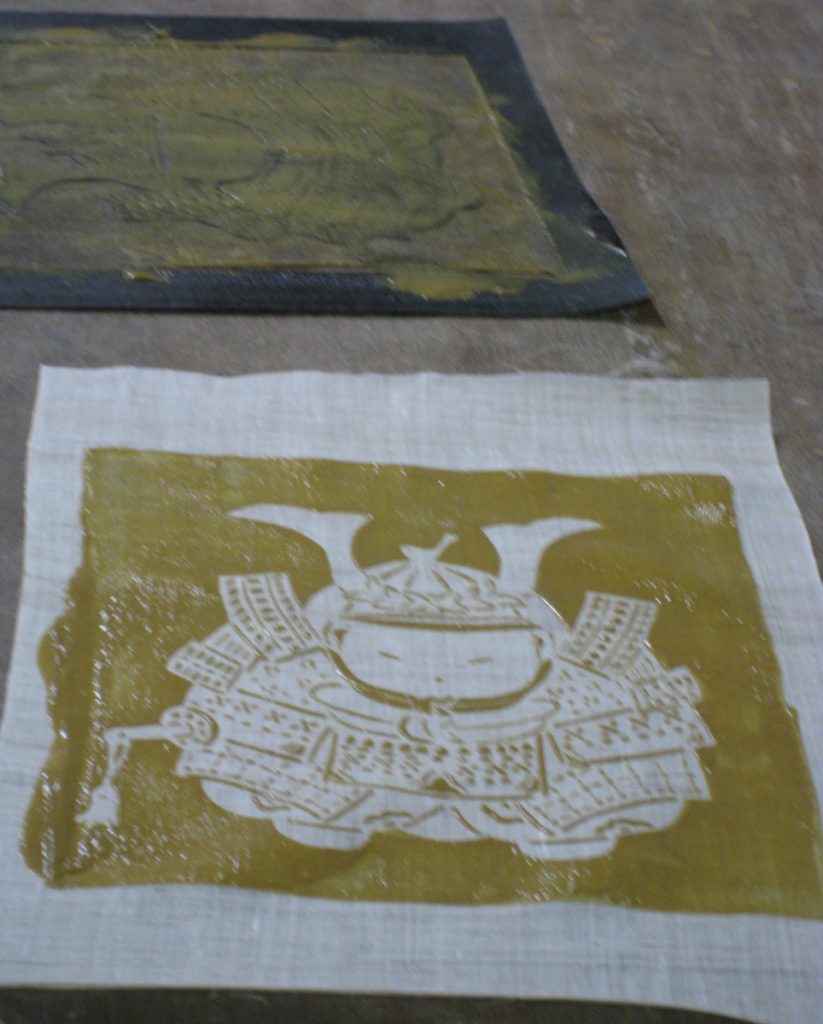 In Japan, and especially in Kyoto, an introduction is EVERYTHING. Mari-san is a great teacher, and an accomplished artist who had studied with the Living National Treasure, the late Keisuke Serizawa.  I would never have met her on my own but because Yuko asked her to, Mari-san became my first Japanese sensei.
Katazome is a dye technique unique to Japan, where a resist paste made from rice is applied through an intricately cut washi paper stencil to create a pattern on cloth.  On Saturdays, I joined other students in her beautiful old house near the Philosopher's Walk, and practiced making the rice flour paste, mixing the dyes, cutting the designs from stencils and using the beautiful hand-made tools of the craft.  Mari-san is one of the kindest people I had ever met and her studio was a warm, feminine and inclusive space during my first challenging summer in Japan.
I continued to study with Mari off and on over the seven years I lived in Kyoto. Some of her students became very accomplished and have gone on to on show their own work at solo exhibitions.  As is customary in Japan, they always recognize her as their sensei as do I when I return to visit Mari-san and her studio with tour  groups that I lead.
Photos by Denise Oyama Miller, Participant: Textiles of Kyoto 2014
---
Nancy initially went to Japan in 1986 to live for one year and study indigo dyeing but ended up staying for six years, also studying weaving, papermaking and more. After moving back to Telluride, Colorado, Nancy joined Esprit Travel as a planner and tour leader and has now worked for Esprit for 20 years. She continues to create and exhibit her artwork in Telluride and is active in a number of community organizations, including the Ah Haa School for the Arts and the Telluride Open Space Commission.