Stagiaire, literally "trainee" in French, often refers to short kitchen stints where a cook works for free.  This labor exchange is generally to learn from a great chef or as part of the process to obtain a job.  I was in Tokyo for the former.
The only issue was I had no contacts, knew no Japanese and basically had no idea what to do.  But I was in Tokyo … step one, check.  Step two …
Alone at tempura lunch in Roppongi, at a small counter service shop named Mozu-te, I met Shojitsu-San, the chef and owner.  He took an interest in me and asked where I was from and what I was doing.  His interest grew as he learned I was from New York City and a chef traveling with no plan.
He asked me what I was doing after lunch.  I had no idea, no plan.  He lit up and told me he would introduce me to Taiga, "he speaks good English."   He led me out of the restaurant and across Roppongi to his other restaurant Mozu where they specialize in sous-vide and grilled meats and soufflés.
Shojitsu sat me down at the counter, Taiga-san meet Dabido-san.  He thanked me and left.  I spoke with Taiga for a while over a beer.  We discussed food and travel and New York and Tokyo and kitchen culture.  We exchanged info and he invited me to join him and his friends for dinner the following week.
I travelled to Shimokitazawa and found my way to Salmon & Trout.  As I entered into the restaurant, I felt transported by the vibe.  A small restaurant with a 7 person counter and one table, it felt more Brooklyn than Tokyo, with warm dark wood, tall stools, mounted vintage bicycles and other eccentric decor.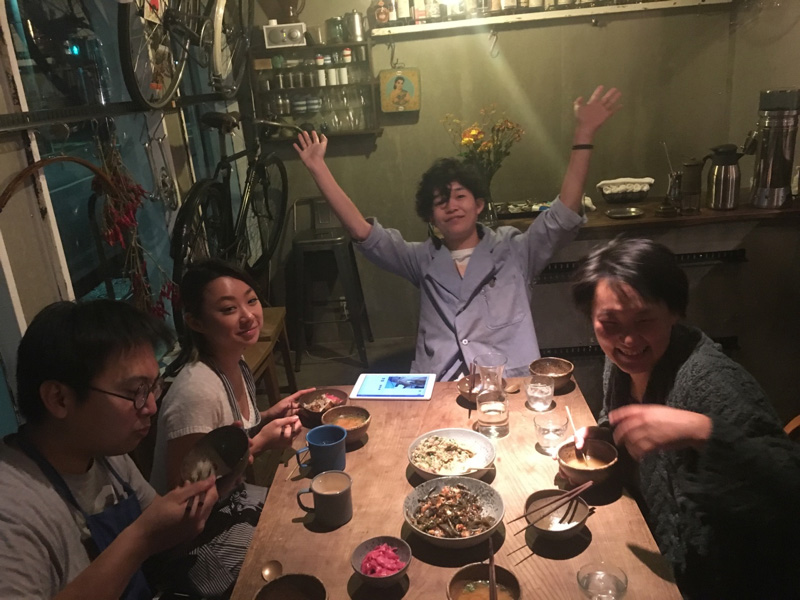 I was invited to the table and joined Taiga and his group of friends.  The quirky sommelier / server / bass player / host confirmed that we would be enjoying the drink pairing with the chef's tasting.  He followed quickly with our first drink.  Kampai!
The chef, Kan Morieda, came out to explain the first course.  He was tall with big glasses and a wide smile.  Taiga had previously explained that he and Kan were friends and introduced us.  We chatted briefly as we began our meal.
The food, matching the decor had a unique vibe to it.  Once it was explained it was clear we weren't in Brooklyn.  Distinctly Japanese ingredients were prepared using techniques that Kan had learned from his diverse work and travel experience.  The result, delicious.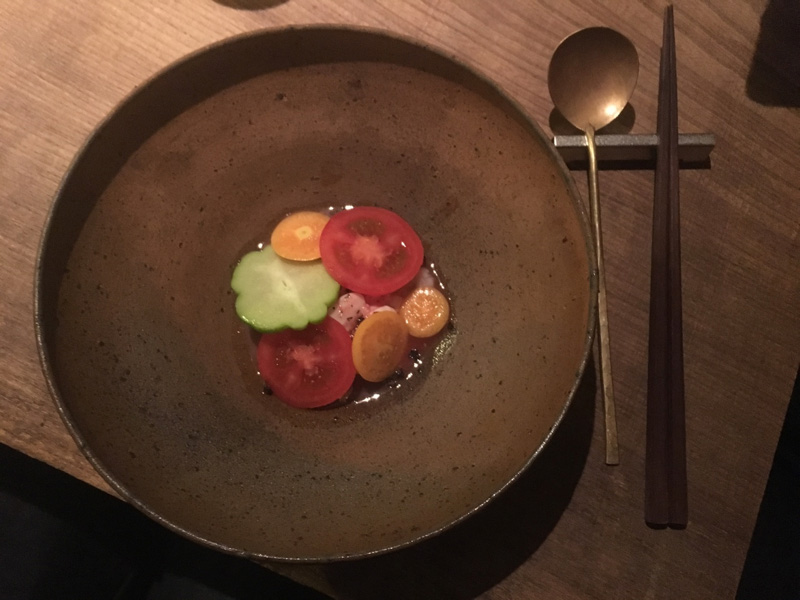 The food and pairings continued and the intrigue grew.  "Taiga, what do you think, could I stagieire here?"  Ok, let me ask the chef!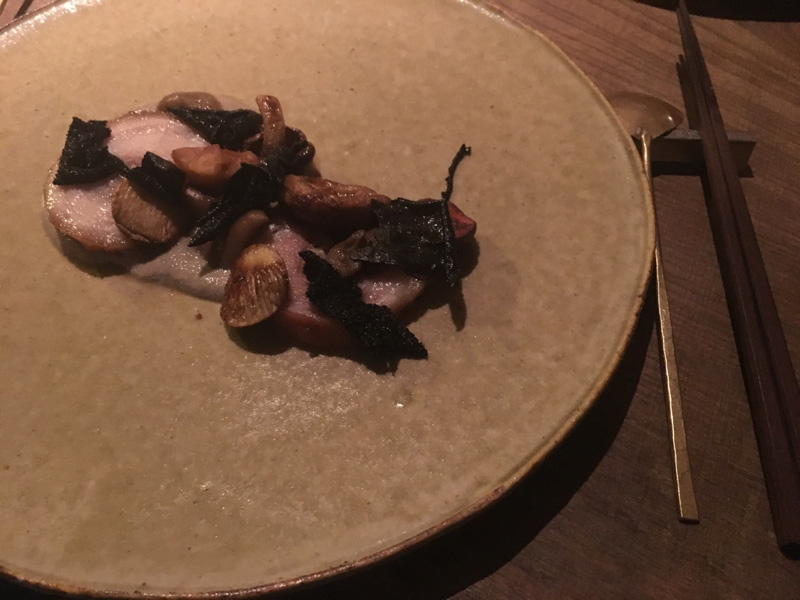 Following the meal, Kan returned and brief conversation in Japanese between Kan and Taiga ensued.  Afterwards, Kan looked over with his big eyes and said, "Ok, tomorrow?"
The next day, I was in the kitchen prepping fish with Kan's then part time prep cook / full time magician Jun-San.  That's how I ended up stagiairing at Salmon & Trout !
(prepping fish for service)
(in the kitchen with Kan)
(first mackanai – family meal, in Japan)
---
David Israelow is based in New York City.  He has spent time cooking in restaurants and pop-ups in the US, Japan and India.  He recently completed a farming apprenticeship in the Hudson Valley.  In 2018 he won the World Washoku Challenge, held in Tokyo.  David is a graduate of the International Culinary Center and the Tokyo Sushi Academy.