by Gail Rieke
Japanese design demonstrates its genius in myriad ways when it comes to reusing materials.
The pottery town of Tokename in Aichi Prefecture has an area of town called Dokanzaka
that is paved with recycled clay rings and walls of recycled imperfect shochu bottles.
This street transforms into an installation piece.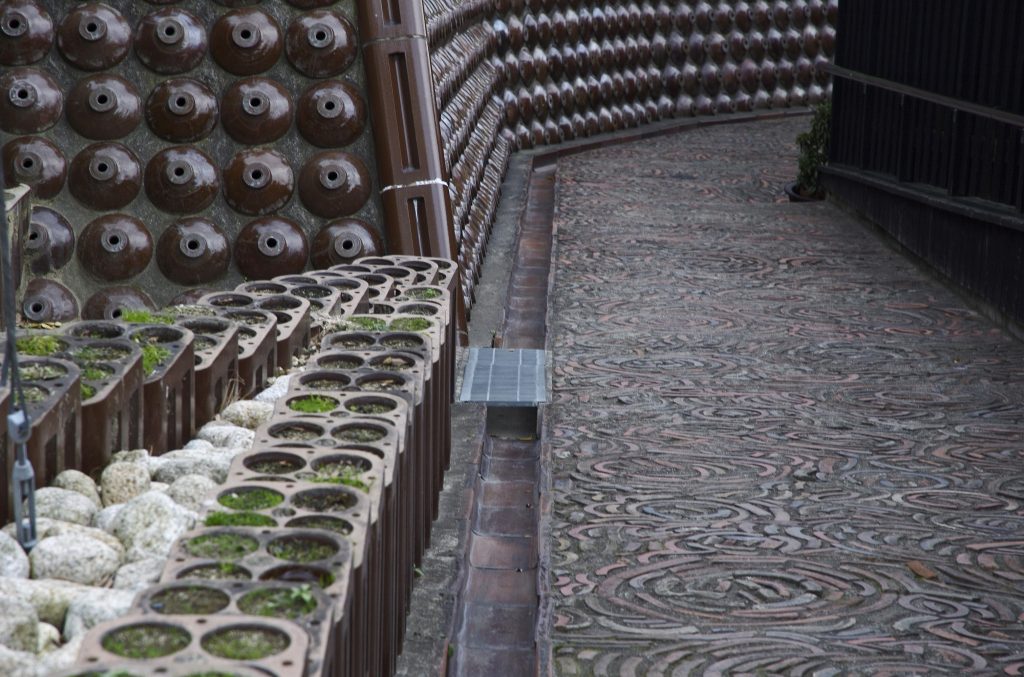 Often old millstones are used to provide geometric accent and a sense of nostalgia in Zen Japanese gardens.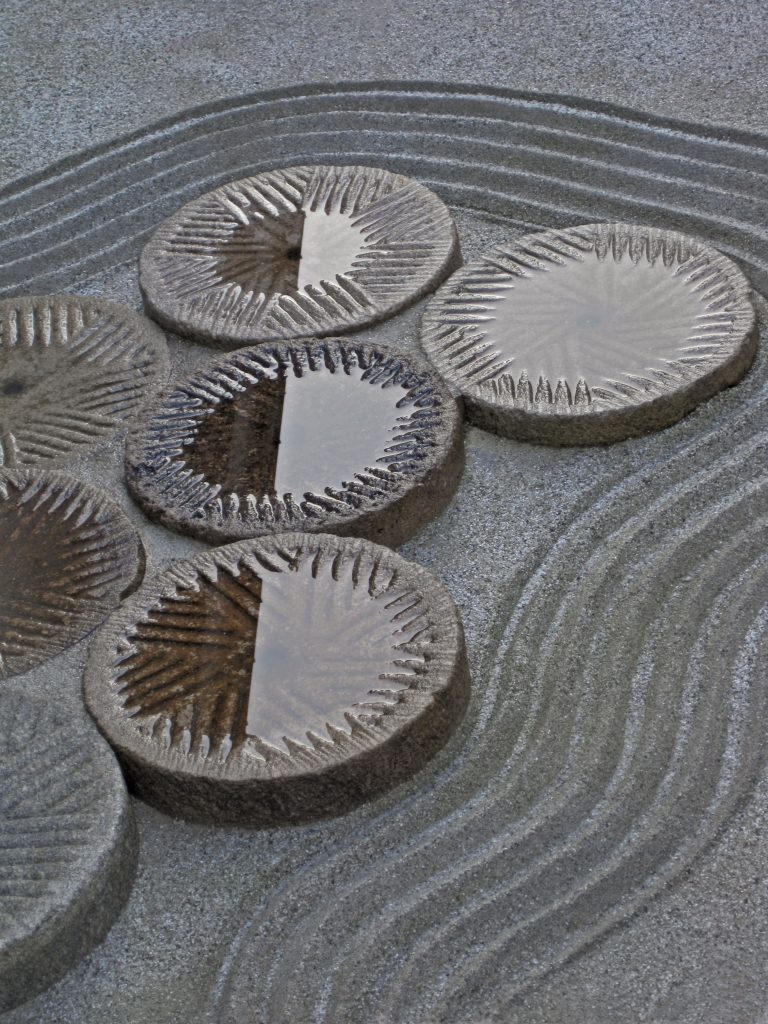 A favorite wall at Tenryuji Temple in Kyoto is a rhythmic composition of old Japanese roofing tiles.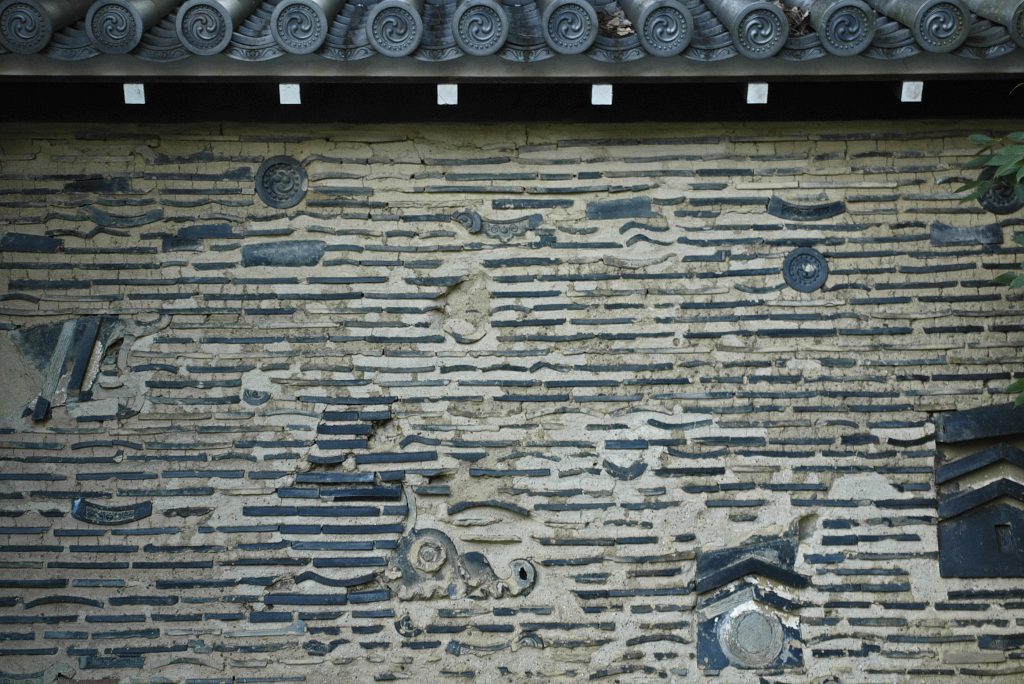 The practice of  recycling cloth is described extensively in
Mottainai: The Fabric of Life
Lessons in Frugality from Traditional Japan
curated by Kei Kawasaki (Gallery Kei) and Stephen Szcaepanek (Gallery Sri)"…Japan was a poor country. People recycled everything. Nothing was wasted, and "Mottainai"
[waste nothing] was a ubiquitous exclamation…" —Diane Durston writes in the catalogue
Amy Katoh, author, collector and owner of Blue and White in Tokyo,
shares her collection of boro antique textiles with us in her home in Tokyo.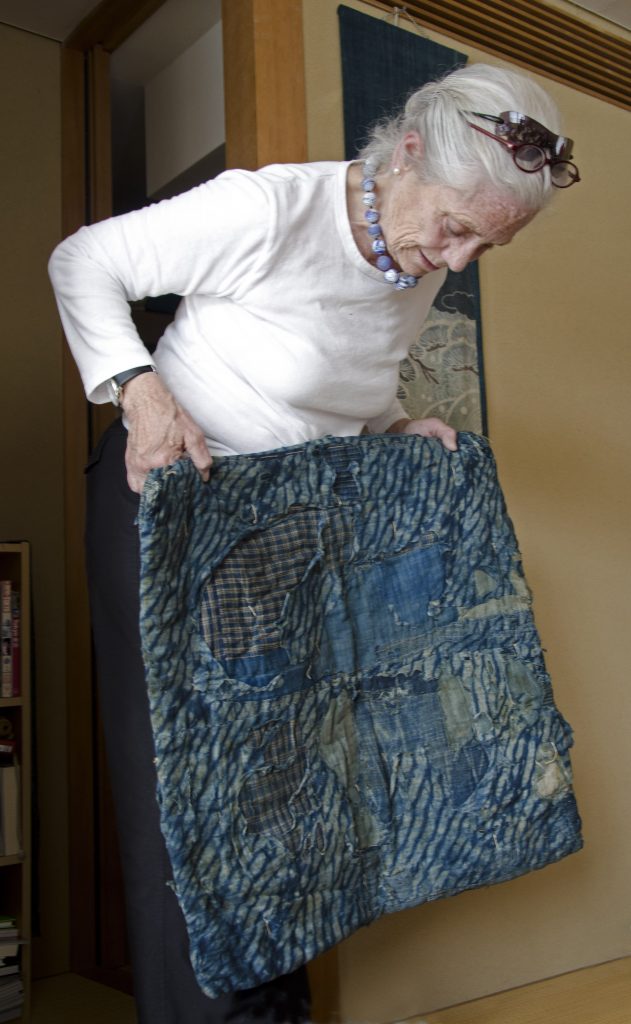 An elderly woman in her boro coat was photographed at the Kyoto Flea Market.
a patient collection of moments…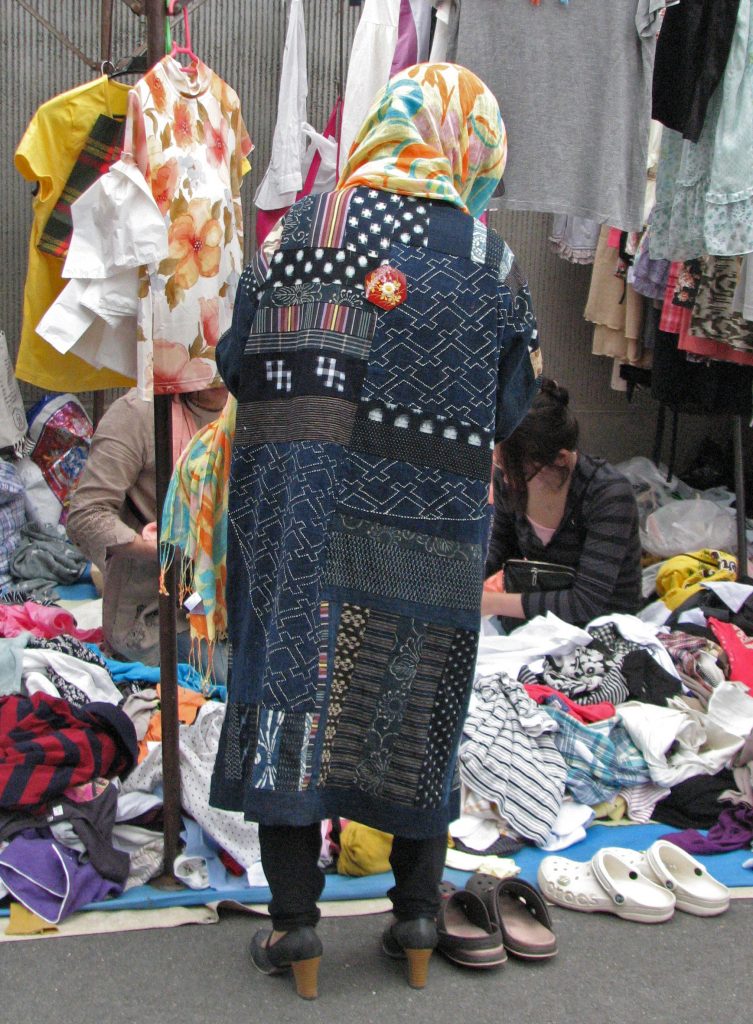 We were dazzled when we saw a young crazy quilter's bag on the train going somewhere.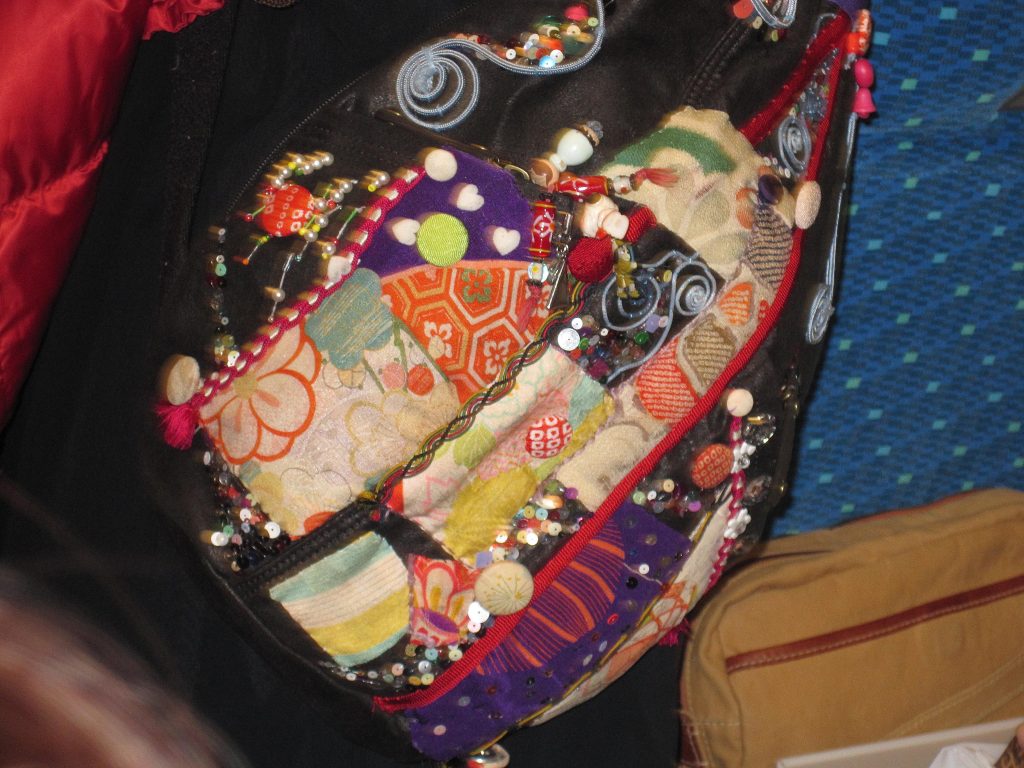 Tenugui are traditional Japanese printed cotton cloths with many uses.
Some people enjoy collecting them as souvenirs.
This yukata was made by a lucky traveler who visited many pilgrimage sites.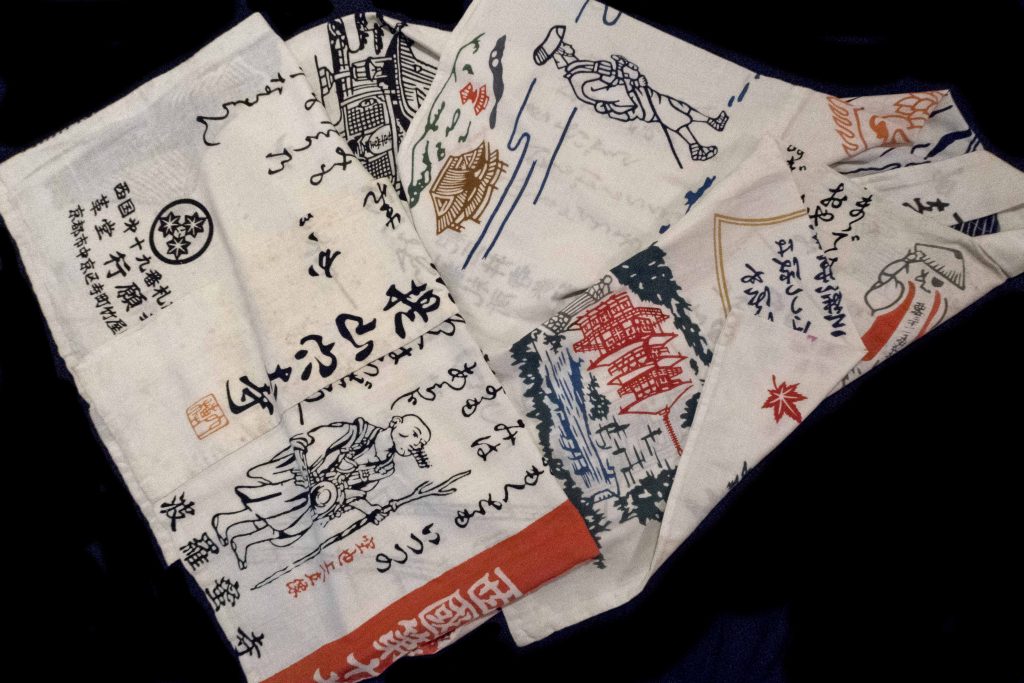 After many trips to Japan I had enough tenugui to recycle into a quilt.
I got the inspiration when I was laying them out on the bed in the hotel
so I could pack them in my home-bound suitcase!
Omori-cho is a town in Shimane Prefecture that has been completely recycled.
Steve eloquently describes it here: https://japanlivingarts.com/wordpress/wp-admin/post.php?post=8192&action=edit
A walk on the main street takes you to a previous time of reverence
and delights the eye with many examples of recycled and reused Old Japan.
The heart of this once nearly forgotten town is made alive again.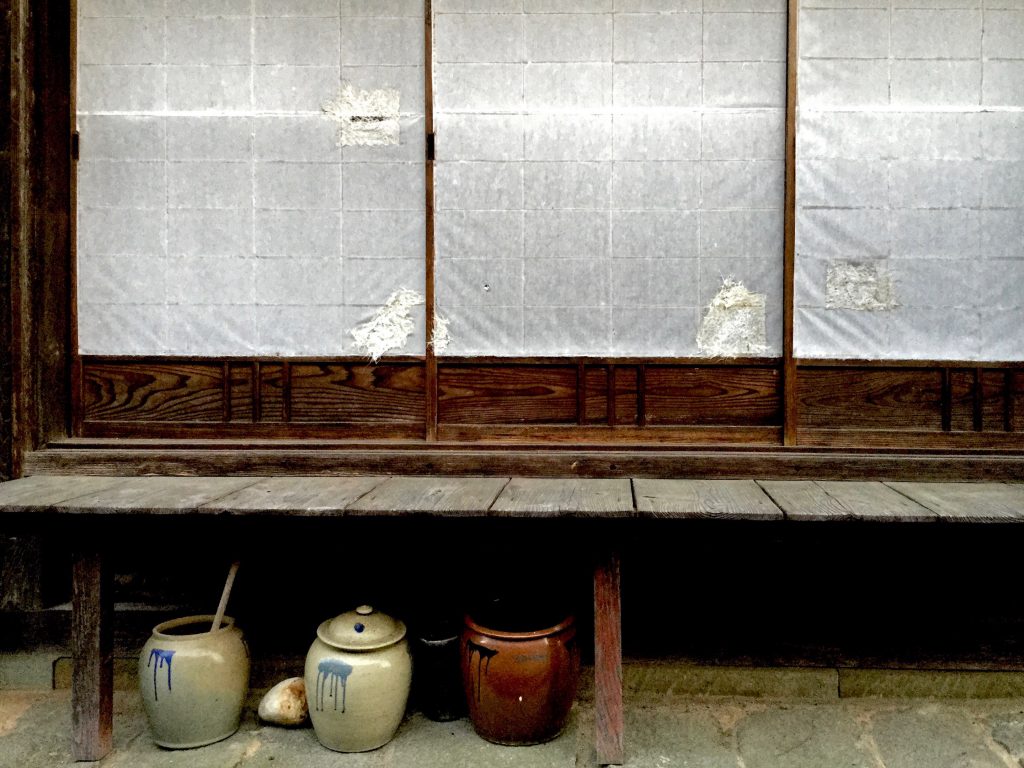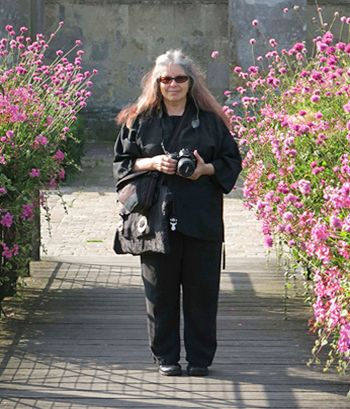 Gail Rieke is an internationally recognized collage/ assemblage/ installation artist and teacher who lives and works in Santa Fe, New Mexico.  She also publishes a monthly blog,
ridetheflyingcarpet.blogspot.com
.   Gail has traveled to Japan many time over the years, and has co-led numerous tours with Steve Beimel.