Commentary by Charles Bernstein, A.I.A.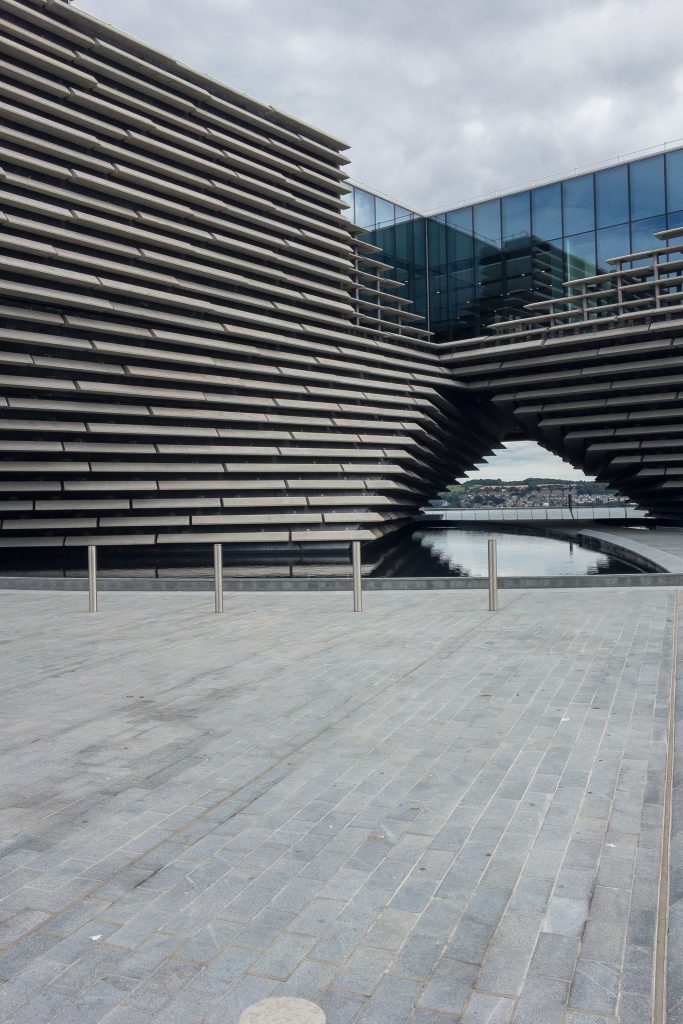 Japanese architect Kengo Kuma won the international design competition in 2010 for a new design museum in Dundee Scotland. Eight years later its doors are about to open. It will undoubtedly become a symbol of the city's attempted renaissance.
The soon to be opened museum was conceived as a catalyst to transform the city through an iconic cultural statement. Inspired by the success of Frank Gehry's Guggenheim Museum in Bilbao, it is also located on a river waterfront.
Driving to the museum along the River Tey ring road, weeks before it was scheduled to open, I was struck on how isolated the museum is from the city. Sparsely placed, mediocre new buildings, surrounding the museum lend a sense of desolation to the area. Time will tell whether or not the new museum will spark a more urban or cohesive setting to the redevelopment area of which it is the focal point.
The ambitious sculptural form set in a large plaza and water pool seems both ancient and futuristic. Two inverted pyramid- like forms clad in horizontal concrete slabs join together creating a triangular archway that frames views of the river. Kuma states the form was inspired by the rocky cliffs of Scotland. Nevertheless, this magnificent abstraction of nature needs no such reference to be effective. The museum exterior is impressive as large-scale iconic sculpture. It is unforgettable. Interestingly, its massive, aggressive, almost windowless form is unlike the signature transparent lightness of many of Kuma's earlier work. Only weeks away from opening I was left wondering what kind of interior spaces would result from such a definitive container. Could this be another example where the desire for a powerful exterior statement takes precedent over interior function; sculpture over an integrated architecture that gives equal weight to both exterior and interior function?
Note: Mixed reviews subsequent to the Sept 15th opening have been mixed, questioned the success of the building as a well-functioning museum being limited by its dramatic envelop. Similar concerns have been levied at a number other contemporary museums over the years, perhaps the most famous being Wright's Guggenheim.