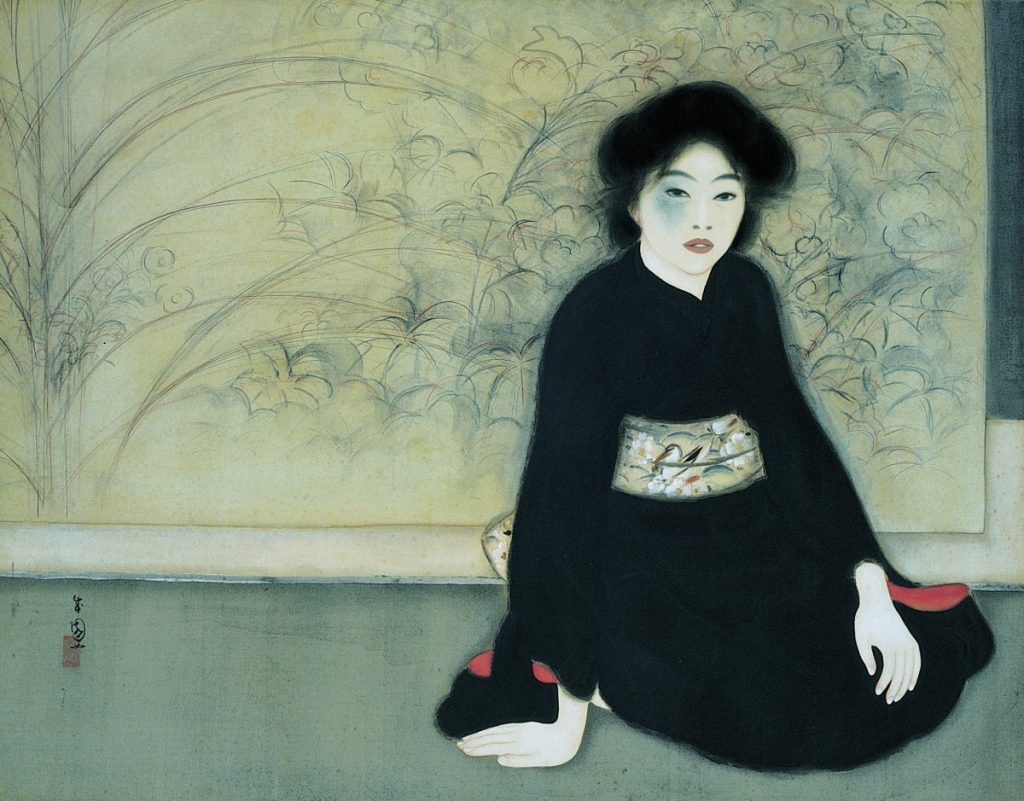 By Alice Gordenker
Shima Seien (島成園, 1892–1970) worked as a Nihonga painter at a time when few women in Japan were able to pursue art as a profession. Throughout her career, she struggled against overt discrimination against women artists. This frustration is palpable in her 1918 painting "Untitled" (無題), in which a woman in a black kimono sits on the floor, her hair disheveled, staring directly at the viewer. Under one eye spreads an ugly bruise, as if she has just been struck. The bruise, Seien said, was symbolic of the many abuses routinely inflicted upon women by men. This remarkable painting is currently on view at the National Museum of Modern Art, Tokyo, part of a new exhibition titled Ayashii: Decadent and Grotesque Images of Beauty in Modern Japanese Art.
Shima Seien, Woman (Black Hair Passion), 1917, Fukutomi Taro Collection (on view at the National Museum of Modern Art, Tokyo March 23-April 4, 2021)
Because Seien lived and worked in Osaka, her name is better known in the Kansai area of western Japan that includes Osaka and Kyoto, and it is not often that her work is exhibited in Tokyo. So it is particularly welcome that curators chose to include three of her paintings in the current exhibition, which presents approximately 160 works that pushed the boundaries of how beauty was portrayed in Japanese art. The exhibition runs through May 16 but, due to a change in exhibits, "Untitled" is on view only through April 18. Most of the paintings, prints and illustrations in the exhibition date from the Meiji and Taisho eras (1868 to 1926), a time when many artists in Japan, buffeted by rapid social changes and influenced by new ideas from the West, sought to move beyond superficial loveliness and probe emotions that were previously left unexpressed. Also on view, through April 4, is Seien's "Woman (Black Hair Passion)" おんな (旧題名・黒髪の誇り), a large vertical portrait of a woman combing her extremely long black. The woman's body is not quite covered by a thin kimono embellished, eerily, with Noh masks. She seems to be lost in unhappy thoughts. From April 20-May 16, Seien's 1920 work "Blackened Teeth" (鉄漿), also from the Osaka City Museum of Fine Arts collection, will be on view. Two other Japanese female painters are also represented in the show, Uemura Shōen (1875-1949) and Kajiwara Hisako (1896-1988).
For more on the exhibition, see the author's March 19 review in The Japan Times. "Ayashii: Decadent and Grotesque Images of Beauty in Modern Japanese Art" runs March 23- May 16 at the National Museum of Modern Art, Tokyo, and July 3-Aug. 15 at the Osaka Museum of History. For more information, visit https://www.momat.go.jp/english/am/exhibition/ayashii/. This post is the fifth installment in an occasional series on Japanese women artists, from both the present and the past, who ought to be well known but are not. Earlier posts in this series were on Edo-era painter Noguchi Shōhin, Franco-Japanese Art Deco artisan Eugénie O'Kin, surreal collagist Toshiko Okanoue and ceramic artist Yuriko Matsuda. If you would like to contribute by introducing a Japanese female artist who deserves a wider audience, please contact the manager of this blog.